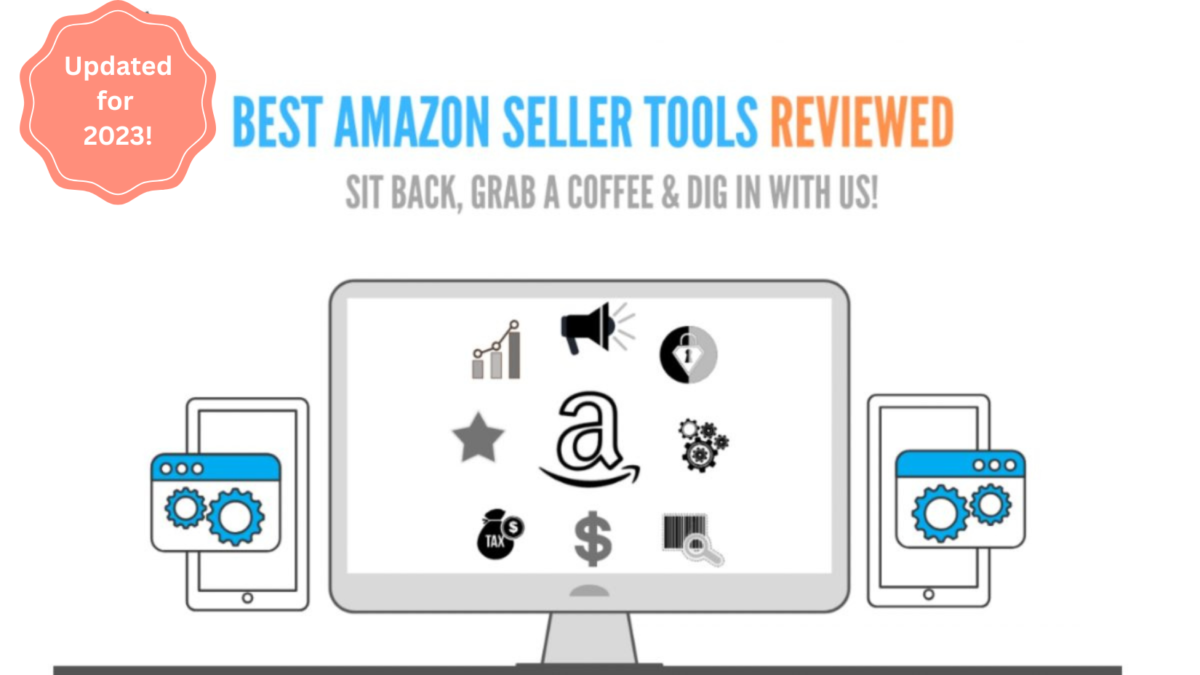 Last Updated April 4th, 2023
We have painstakingly reviewed the best Amazon FBA seller software tools on the market and ranked the results in an extensive list!
Here at Amazon SEO Consultant, we have helped over 500 Amazon sellers and brands improve their sales week after week. In that time, we have come into contact, been approached by and reviewed dozens of Amazon tools and software packages that claim to be able to help you sell more. In this post, we outline the ones we like, ones we hate and ones we cannot live without, with the hopes of providing a complete resource of the best software and tools for all Amazon sellers. If you have any questions about ranking higher on Amazon, Amazon SEO or anything you'd like to know, feel free to contact us! If you're looking for the best Amazon seller tools, free or otherwise, you're in the right place:
Who is this for?
This guide is for every current and future Amazon seller and brand. Even if you aren't initiated in the world of technical analysis and optimisation for Amazon listings, you will still find here pretty much all the information you will need to pick, choose, buy and use the best Amazon tools available out there.
I get dozens of emails every day from Amazon sellers who don't really know where to get started. Worse yet, many use wrong, inefficient and misleading software. A part of this blame should shift to software sellers that charge you premium money for substandard products or works in progress.
At any rate, it sucks to be stuck in a place where you end up with expensive software or a tool that doesn't do much of what you need. If you have ever found yourself in that place (or want to avoid being there altogether), you should bookmark this guide to Amazon seller tools right now! We will be updating it consistently to provide an ongoing, reliable guide to Amazon seller software.
Just to assure you we know what we're talking about, we also offer details of our case studies so you can read exactly how we have ranked thousands of competitive products on Amazon.
If you'd rather us boost your rankings for you, freeing your time to work on other aspects of marketing, you can also request a proposal to learn how we can boost your rankings and profits quicker than ever!
Small Business Owners
Small business owners who sell products on Amazon use seller tools to help them manage their inventory, track their sales, and optimize their listings. They use these tools to ensure that their products are visible to potential buyers and to make sure that their listings are competitive in terms of price and quality.
Entrepreneurs
Entrepreneurs who are just starting their e-commerce businesses also use Amazon seller tools to help them get off the ground. These tools can help them with product research, keyword optimization, and analytics, which can help them make informed decisions about what products to sell and how to price them.
Large Brands
Large brands that sell products on Amazon also use seller tools to help them manage their inventory, optimize their listings, and increase sales. They use these tools to ensure that their products are visible to potential buyers and to make sure that their listings are competitive in terms of price and quality.
Third-Party Sellers
Third-party sellers who sell products on Amazon use seller tools to help them manage their inventory, optimize their listings, and increase sales. These sellers may sell products that they manufacture themselves or products that they source from other suppliers. They use these tools to ensure that their products are visible to potential buyers and to make sure that their listings are competitive in terms of price and quality.
If you'd rather learn more about the best Amazon seller software in order to do this yourself, just read on!
Why have we done this?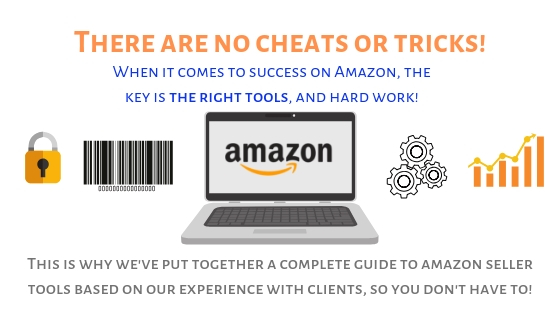 Well, everyone seems to be desperate for the next 'hack' or 'trick' that is going to send their productivity and effectiveness through the roof – but things aren't always so easy. There are no shortcuts or tricks when it comes to having the right Amazon FBA tools. In fact, choosing the best FBA tools and software for your arsenal can be the difference between a 6 figure and a 7 figure business.
Despite being aware of this, many Amazon sellers ignore the power of the best FBA tools only because it takes a while for the results to start coming in. But that's okay – with this guide, you have one less thing to worry about. We have spent quite a few sleepless nights analysing, comparing, reviewing and compiling hundreds of Amazon FBA tools and software, and the fruit of all that effort is right here.
We have gone ahead and done this so you don't have to! 
Furthermore, we have proven that you do not have to break the bank to use the top FBA solutions. Some of the Amazon software tools here are a very low price in relation to the competition. We have also included the top free FBA tools, as well as the best paid FBA software.
We have even suggested a couple of ideal packages for different budgets, so whether you're a small startup looking for the best value cheap or free Amazon tools, or an successful marketing agency looking for the absolute best option regardless of price, you'll find something here that can transform your business.
Some Amazon seller tools and software offer more features than just the task we have allocated to them. We have listed additional features too, so you have a good overview of what each tool offers at a glance. In some cases, we have also provided links for more in-depth Amazon tool reviews so you can read more about the tool that interests you.
So without further ado, let's get started! – Here's the most definitive review of all the software tools an Amazon seller should know about.
The 4 Tools We Can't Live Without and Why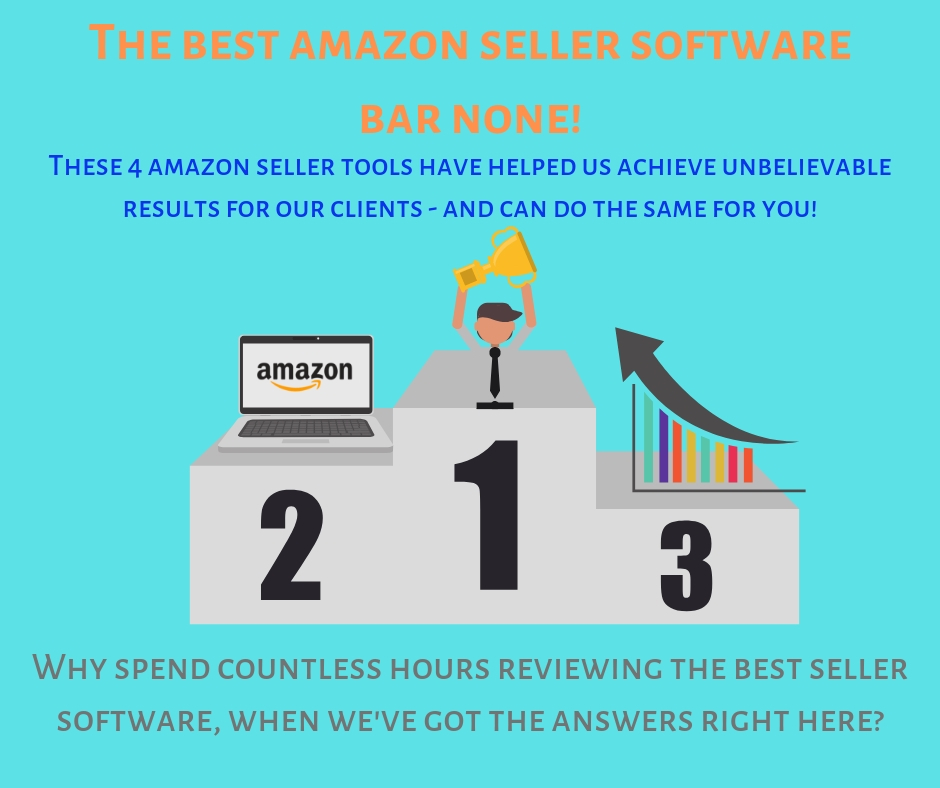 Before we go more in-depth and start showing you all of the best options and breaking down their pros and cons, we thought we'd show you the top 4 Amazon seller tools that we literally use on a daily basis!
These will be explained in more detail below, including full stats such as how much they cost and what is included – but if you don't have time to go through the whole list and just want to quickly find out which ones are the best, here they are:
If you're short on time, we'd recommend going with one of those as they are all winners, but otherwise, get comfy and let's get on with the full list:
Best FBA Total Management Tools
Total management tools are sold as a one-stop shop for all your FBA needs. However, some are more comprehensive than others, with some of the worst perpetrators adding useless tools and small features in an attempt to beef out their offerings. We have picked out the best 4 on the market today so you can avoid all that:
Best Amazon Ranking Service – Leverage Organic Rankings to Explode Sales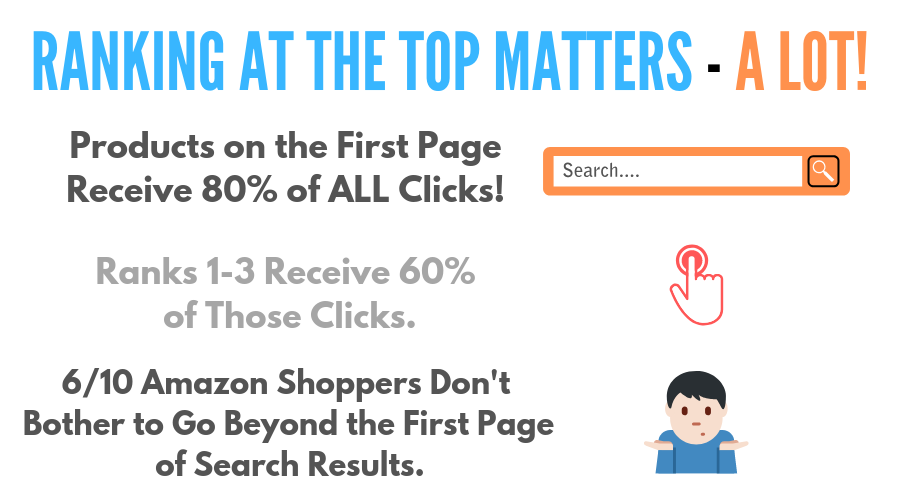 Nothing beats organic traffic. When a customer actively searches for a product, they clearly want to buy it. In other words, this is when the purchase intent is the highest – and if you can put your product in front of them at that exact time, you've more than likely got yourself a sale.
There are dozens of Amazon ranking tools out there that offer a host of features. Unfortunately, not a lot of them can actually tweak their services to suit your needs, nor can they skyrocket your products to the top of Amazon SERPs. This is where our bespoke, ground-up RANK service really shines. To learn more about how improved organic rankings can explode sales for your Amazon business, check out our previous results to see the huge boosts to the revenue we have achieved for previous clients.
You can order rankings directly from us, allowing you to handle other aspects of your business while your rankings and profit grow. This can be a great start and allow you to get huge profits while you get your Amazon tools set up to help scale your business further.
If you'd rather us help with your Amazon strategy as a whole and help you to optimise listings and more, check out our process page and consider submitting a proposal request so we can detail exactly how we can help you.
Best Amazon Rank Boosting Products
Sometimes you just need some help climbing the rankings, but with competition increasing by the day, you don't want to spend any money on a rank-boosting product without knowing it's 100% reliable and has already achieved better results for a wide variety of customers than you ever could for yourself.
Finding a reliable, effective and efficient rank boosting product is the difference between spending all your time scraping and fighting for minimal ranking increases, or letting your Amazon listings blossom into highly profitable products by themselves while you focus on researching new products and scaling your business.
The trustworthy options for this type of seller tool are pretty limited right now, but they are growing by the day, in part due to how crucial this is to any Amazon selling brand.
Here we list the best options available, so for a reliable, fast and easy way to boost the rankings of your Amazon products, look no further:
Best Amazon Profit Tracking Tools
There are so many different facets to a solid FBA strategy, that it can be easy to forget little factors and spending streams here and there. This means your profit calculations will likely never be 100% right.
A good profit tracking tool takes away the guesswork and gives you exact figures - a vital point to get your pricing spot on. CashCowPro, Sellics and Hello Profit all have built-in profit tracking tools, but if you want a great standalone, check out the following:
Top Tools to Protect Your Business from Amazon Listing Hijackers
A couple of years ago, Amazon made some policy changes to restrict the use of black hat techniques, limiting hijackers' ability to rip off your listings and damage your sales or reputation. Unfortunately, the black hat ninjas will always be a step ahead of the curve, and you need to actively safeguard your listings from this menace.
If you want to make sure your listings are not being hijacked, we would recommend looking at one of the following Amazon seller tools:
Best Amazon Feedback Software (Manage Amazon Reviews)
You do not need us to tell you how important feedback is. Entire FBA businesses have risen and fallen based on feedback. Sellics includes some feedback software as a part of their overall package, but if you want to make sure your feedback is maximised, having an Amazon review software worth its salt is a must.
Here are our selections from some of the best Amazon feedback software going around.
Best Amazon Listing Language Translation Tools
Oh, you thought it was just English speaking markets that spent serious money online?! Think again!
Moving into another language can be an incredible way to scale your FBA business, but you've got to make sure your translations are perfect or your conversion rates will struggle.
Top Tools for Creating Amazon Product Descriptions That Convert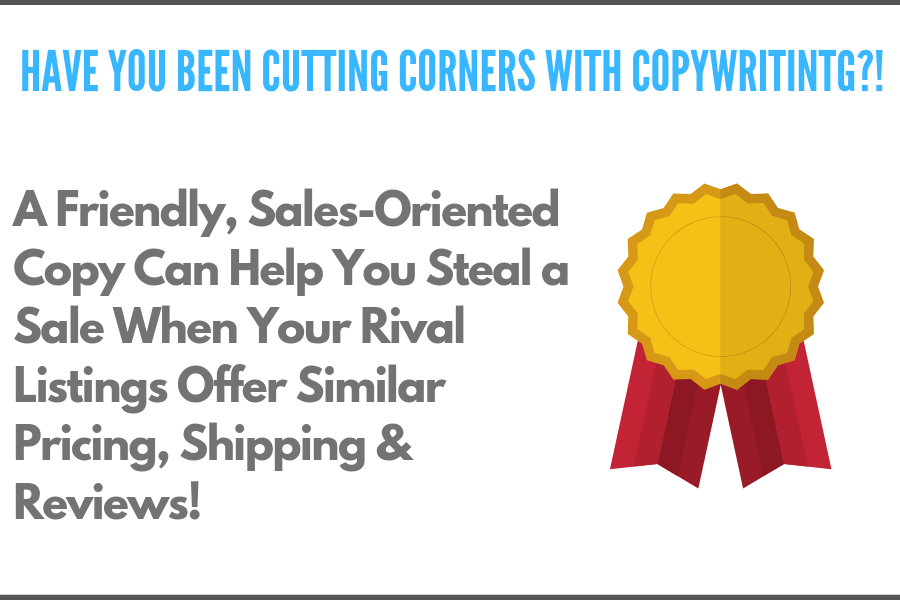 25% of buyers have what is considered an 'analytical' personality type. For example, they want to know every feature, dimension and intricacy of your product before they place their order. Even if many other buyers focus on reviews, rank and feedback, you can be sure that the description is the first place they head for when they have a question.
Readable, coherent, logically sound product descriptions that show your products in the best light rarely fail to convert. Here's our round-up of two of the best Amazon seller software and tools that help you achieve just this.
Top Amazon Keyword Software
Understanding and utilising the right keywords can be the difference between becoming an enterprise level FBA seller and kicking around the low ranking areas wondering why the magic is not happening for you.
Getting the right keywords for your listings is absolutely crucial if you want your FBA business to fly, as we discussed at length in our Amazon Production Optimisation Guide. While there exist dozens of Amazon keyword tools, these are the ones we can vouch for:
Best Amazon Conversion Rate Improvement Tools
If you know a little about Amazon promotions, you probably know you can spend a lot of time trying to get something to work perfectly to only be left unsure whether or not it has performed significantly better then your standard listings.
And, when you do get it right, you're again left guessing about what it is that's working. Both Sellics and CashCowPro have some built-in tools that will help, but if you want to eliminate the guesswork completely, consider one of these stand-alone conversion rate improvement tools.
Best Amazon PPC Software On the Market As Of 2023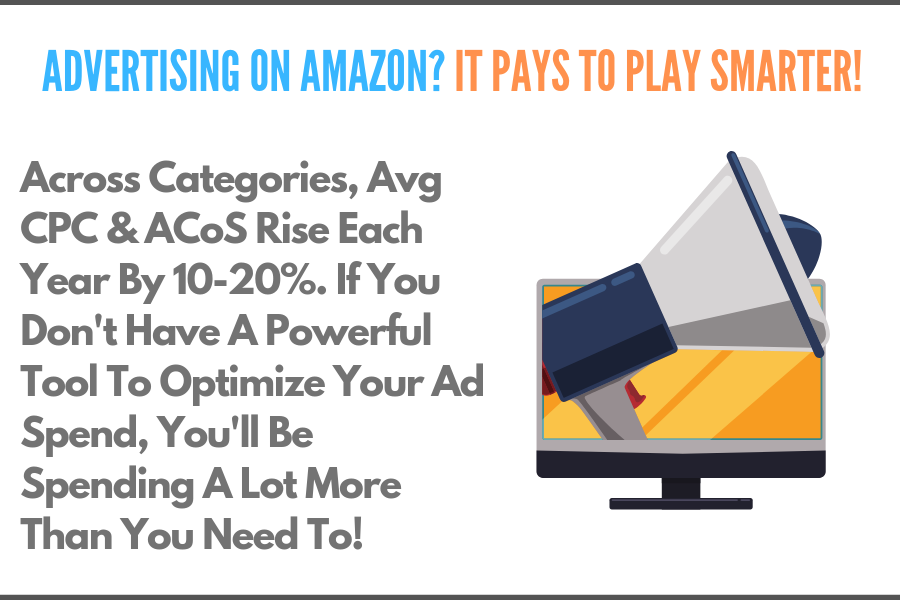 Pay Per Click can do one of two things for you as an FBA seller. It can either send your business level, reputation and profits through the roof, or empty your marketing budget faster than you can say 'sponsored'. A good starting point to get on top of the uncertainties in the PPC game is to follow our in-depth Free Amazon PPC Guide. Due to popular demand, we have also put together customised training programs for Amazon sellers looking to take their business to the next level. Of course, if you don't have the time or desire to do it yourself, you can also just request a free proposal from us and have industry leaders building you guaranteed rankings.
If you want to get PPC right, you will need the right PPC software for Amazon sellers. Sellics has some built-in PPC features, but if you want a dedicated application, check out one of the following:
Best Amazon Seller Software and Tools to Register and Gate Your Brand
Having a trademark which is then acknowledged by Amazon might seem like a big step for the more casual FBA sellers. When your business grows to a certain level, however, it is a natural progression that allows you to keep your listings and products safe from hijackers, ASIN squatters and counterfeiters.
It is not something everyone chooses to pursue, hence, it is not included in any of the total-managements tools listed here. Yet, there are two standout services that will make the process much simpler for you:
Best Amazon Reimbursement Tools
Errors happen, even with the biggest online retailer on the planet. Whether it is due to stocking issues with Amazon, delivery issues with couriers, or some other human errors along the way, mistakes can, do and will crop up. If you are not going to keep tabs on them, it is unlikely anyone else will.
Recent Amazon Terms of Service changes have phased automated refund requests out. We have shortlisted the following tools as ones that automatically check if any reimbursements are due. These tools only monitor the dues and notify you of them, without violating the latest ToS by auto-initiating reimbursements.
Top Amazon FBA Pricing Tools
Pricing is difficult. Go too high and all those projections you have chalked up become daydreams. Sink too low and your profit margins become thinner than thin air. Pricing products is part science, part art and part experience. It's easy to get wrong - and this where these a good Amazon pricing tool comes in to help you stay on the right side of market trends.
Top Email Automation Tools and Software for Amazon Sellers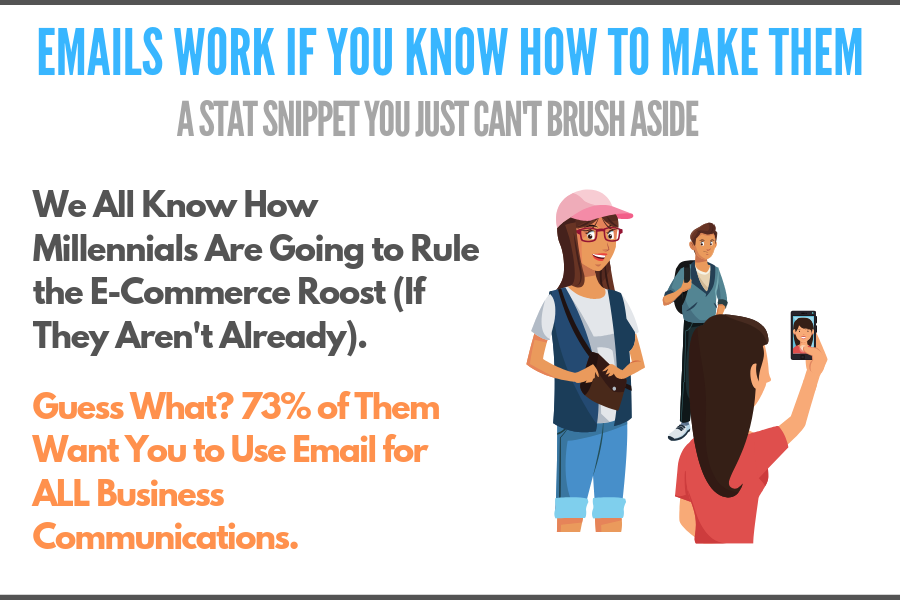 Email is likely to be your primary means of communication with those all important customers. It is also going to be the only place you have to rectify order issues, seek feedback and drive repeat sales.
It really does pay to have a good Amazon email marketing tool in your kit. CashCowPro is the only one of the total management solutions above that has this built-in. If you would like a dedicated tool instead, consider one of the following:
Best Amazon FBA Tools to Deal with Tax Paperwork
Ah! Tax returns. it's unlikely to be your favourite part of being an FBA business owner.
Cumbersome, tedious, annoying, confusing, time-consuming and frustrating - preparing FBA paperwork for tax filing is often one, more or all of these. So, tools that take care of this for you are always more than welcome.
Best Amazon Inventory Trackers
Keeping an appropriate inventory is the key to making sure you are making money tomorrow as well as today. Inventory management via a central portal isn't a luxury - it's a need for every Amazon business that clocks a decent sales volume each month. If you're looking for Amazon stock tracker software and similar tools to help you out in this regard, here are our suggestions:
Best Amazon Seller Softwares to Manage Multi-Channel Selling and Fulfilment
It doesn't matter how many really good Amazon FBA tools you have in your kit, you'll still always be at Amazon's mercy.
A good way to mitigate that risk is to diversify your sales channels. I know that many of you already sell on platforms like eBay and Shopify. Here are a couple of multi-channel sales and fulfilment softwares that help you combine them all with your Seller Central/Vendor Central account. A few of the tools we've discussed in other categories do offer the same services, too. So, make your choice based on relative pros and cons.
Top Tools to Help Avoid Amazon Suspension or Get Reinstated
As an FBA seller, you know that a suspended listing - worse yet, a suspended account - can bring your business to a painful, grinding halt. Here are a couple of tools that will help you steer clear of this fate and address it if the worst comes to pass.
Top Tools to Help You Source Products from China
The Chinese manufacturing market is huge. No, wait - 'huge' doesn't even begin to describe the might the Chinese wield in this regard. With the size comes confusion.
Sure, you can dig into AliBaba and start searching for manufacturers yourself, but that alone could be a full-time job for just one product. Even the best Amazon product research tool will fall short when it comes to anticipating last mile hurdles, unexpected manufacturing setbacks and general anxiety that surrounds international trade.
If you are serious about finding quality products from China, we recommend looking at the following resources that rely on local expertise and contacts.
High Quality Product Photos and Videos for Amazon Listings: Best Tools and Services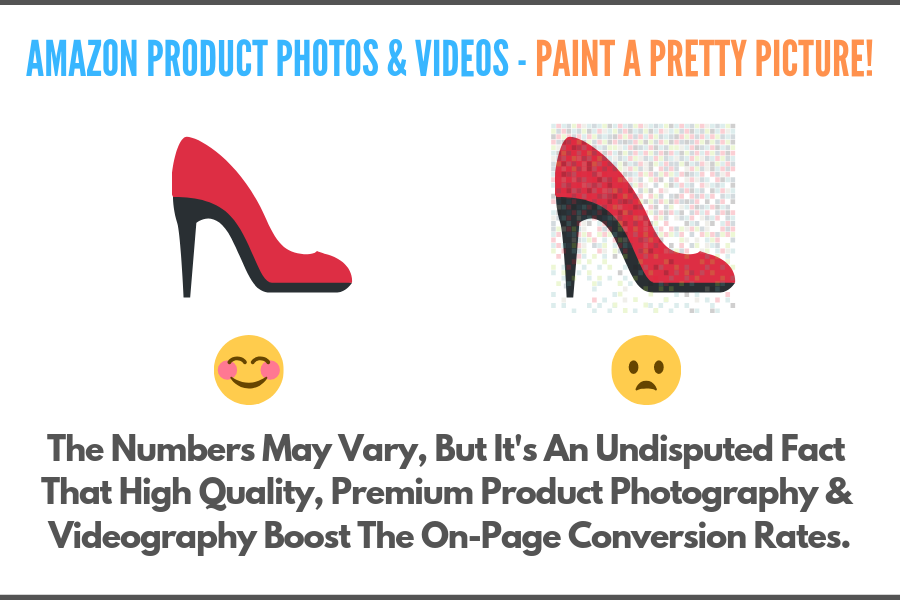 They say a picture speaks a thousand words and with poor quality photos, those negative words could be causing your traffic to move promptly along. Here are a few tools that you can use to equip your Amazon product listings with photos and videos to help you close more customers.
Best Software for Amazon Competitor Research
Spying on what your competitors are doing certainly isn't going to break any of Amazon's ToS. Here are a few tools to give you little sneak peeks into what your competitors have been up to:
Top Amazon Product Inspection Solutions
There is nothing that quite matches 'boots on the ground' when you are looking to make sure that the products and companies you're working with are fit for purpose. These services will help you achieve exactly that:
Octoparse is a robust web scraping tool which also provides web scraping service for Amazon sellers. Data extraction includes but isn't limited to product categories, price, images, ASIN list, shipment, customer reviews and many more. You can also use it to scrape information on other websites, for example, eBay, to find a lucrative marketplace for your business. Amazon sellers can enjoy the convenience of its built-in Amazon task template to extract data from Amazon within figure tips. Octoparse can help you achieve automatic inventories tracking, price monitoring and leads generating without programming skills.
[/su_note]
So, These Are the Best Amazon Seller Tools Out There. 
Phew! This has been a long haul. Hopefully, all those sleepless nights we spent trying these services out, logging the results and talking to respective teams will help you cut to the chase and find the tools, services and software that suit your needs the best!
I genuinely believe that every single option on this list is worth trying and has a lot to offer to your FBA business. Our one overarching piece of advice would be to try and consolidate as many tools into one place as you can. If you are looking for a keyword research tool and there is a product description creator that will cover keywords too, it makes sense to bundle them together. If you can't figure it out, do let us know down below in the comment section.
Finding the right combo of tools is difficult, but when it all comes together you feel like you have got a well-oiled machine. We promise you it will free up huge amounts of time for you – time that you can invest in bringing in more sales and profits.
If this seems like a lot to track & manage, we have an affordable management solution that can be customised for your requirements.
Request a proposal to see what we can do for you or check out our process page to learn how we do it.
You can also purchase product rankings directly, allowing us to quickly and reliably boost your ASIN rankings, boosting your revenue in the long term no matter how competitive your search terms may be.
Missed Anything?
While this list of the best of the best Amazon seller software and tools is pretty comprehensive, it's quite possible that there are dozens of other options we just couldn't fit in here. If you think your favourite FBA tool deserves a mention on this list, do let us and others know below.
Also, do share this post within your FBA networks. Remember – we're all in this together!