We Help Amazon Brands Grow Their Profits Through organic rankings.
Our full Amazon SEO & ranking solutions are designed for businesses looking to expand organically within Amazon. Throughout this process page we'll explain exactly how we've helped clients built 7 figure brands on Amazon and helped others grow 400-2,800% a year through ROI focused organic ranking campaigns. If you have any questions about this process or the partner application process please feel free to get in touch at the bottom of this page.
To start we'll reference some of our case studies & results, more of which can be seen here.
An Amazon SEO Service that works. Everytime.
Case Studies & Results
This case study shows the impact we had on a brand new premium supplements brand. The partner was a brand new business without an online presence of any sort. Within 6 months we were able to grow profits from zero to $55,000/month in sales on Amazon solely, generating an 11X ROI within this time.

The below screenshot is from another health brand we've partnered with. This partner is in a very different niche, but saw even greater results as it was not a brand new product line. Growing from $1,700/day in sales to well in excess of $6,000/day. Generating a 23X ROI (based on revenue).

More case studies and results are provided within each of our custom built proposals.
How We Work
Our core goal with our Amazon ranking solutions is to generate a 10X ROI within 6-12 months based on an increase in organic sales within the Amazon A9 algorithm. Brand new products and brands can take slightly longer, although as you can see from the first screenshot above, it is possible to grow these at a very rapid rate, assuming quality products, branding, reviews and processes are in place.
We work on a per ASIN (parent listing) basis. Implementing a granular ranking solution for each group or batch of keyword selections. The keyword selection process is fully explained within the proposal, but in essence, we first estimate the sales you are able to achieve from each keyword with your current rankings. This allows us to directly compare your current situation to the potential sales you could reach when each keyword gains a ranking increase, allowing us to set the most efficient and effective targets, giving you the quickest profit growth and most long-lasting results possible.
The Process Itself
The overall campaign process varies from brand to brand. All strategies are custom-built by our internal team, but there are some core strategies and systems that remain the same regardless of brand variation.
Analysis of Your Listings & USPs
 The first stage simply involves an in-depth look at your listings, selling points, and any specific target audience aims you may have. This allows us to get an intimate understanding of your products and aims, allowing us to come up with a personalised strategy on how best to grow your rankings and profits. This stage also involves creating a fully dated project management campaign, allowing you to see the results we will achieve each step of the way.
Advanced Keyword Research
As mentioned above, this is the most important phase of any optimisation campaign. We search for the keywords and rankings that will give you the best possible results in both the long and short term. Based on your current rankings, we are able to get accurate estimates of how many sales each keyword is generating, allowing us to target specific keywords and positions to get you the most immediate and most reliable long-term growth. We have several internal software tools and self-built systems that allow us to do this more effectively than anybody else. 
Amazon On-page Optimisation
This stage focuses on the on-page optimisation of every individual product listing on the Amazon account, making the most of each of the following elements to maximise conversions;
Keyword Research
Competition Analysis
Copywriting
Title creation
Bullet Point Optimisation
Description Writing
Search term creation.
Amazon Organic Ranking Campaigns
Organic rankings are directly related to sales – the more sales you can make in a given period, the higher your product will rank inside of Amazon's A9 Algorithm. Sales with a discount larger than 20% do not increase organic rankings, which is one of the elements that Amazon changed in 2017 and cost sellers millions in lost funds, yet people still continue to use this method. In my opinion, this harms your brand's equity far more than the simple loss in monetary terms.
Instead, we built a process called keyword focused sales – This is what you can see in detail on our single campaign order page.
Timing Is Key
Timing of these keyword focused sales is ultimately what will rank products. Timing sales over a 5-15 day period can result in extremely positive movement in organic rankings for specific terms. When implementing this for multiple keywords, across multiple ASIN's of a brand, you can quickly and effectively increase the overall rankings and hence revenue of a brand. Such as the screenshot below which shows a product ranking 34th initially, which has since moved into 3rd position, 10X'ing sales in the process.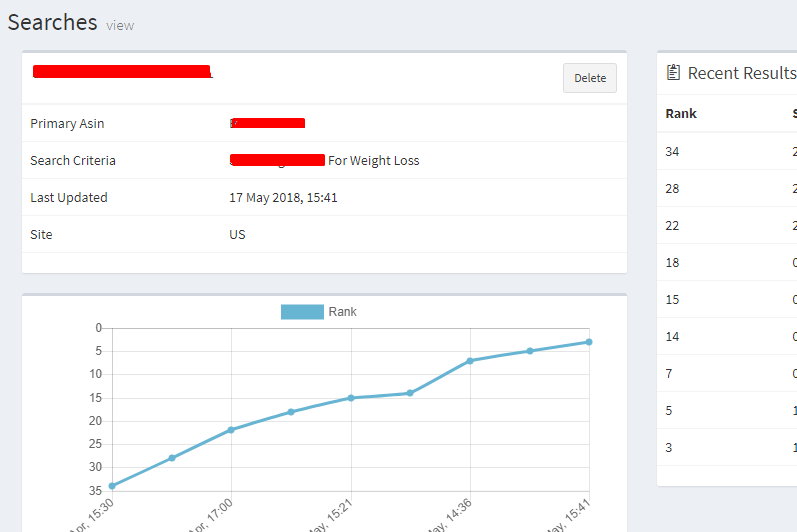 Organic Ranking Results – 18,000/Month search term. Screenshot from Keyworx.org
Guaranteed Ranking Increases
Our self-built process and custom-designed research tools have allowed us to become the only Amazon ranking service that is able to 100% guarantee a ranking increase. While your ability to keep these rankings will depend on things like reviews and your product listing optimisation, the initial ranking increases will succeed every time. If you are unsure whether your rankings will "stick", please feel free to contact us via the form below to discuss how we can optimise your listings to help you maintain your ranking increases and even continue to grow in the long-term. Check out this video for more on the process we use to make rankings stick!
Our Amazon Marketing Campaign Process [In More Detail]
Above is an in-depth overview of what's included in specific campaigns but the core Amazon marketing campaign hinges on a process we've built in-house and coined as "RANK".
RANK is the process we've developed over the past 2 years of testing, refining and streaming rankings in Amazon and offers guaranteed results every single time.
As the majority of profits for Amazon businesses come through organic search, it's essential to implement the majority of your resources into improving these organic rankings.
The algorithm that manages all organic rankings within Amazon is called A9. This isn't like many other algorithms, but it's something we've done extensive research on and have an industry-leading content piece on, which you can view here. In short, A9 is very different from Google, Youtube or any other search algorithm. As a result, it's very difficult to analyse and manipulate.
Based on this research and years of due-diligence, we've developed our RANK methodology. In essence, it's a guaranteed ranking solution for Amazon sellers that we've used to successfully rank 350+ products within Amazon over the past 2 years. It's entirely based on our extensive research in the Amazon SEO fields, which has allowed us to find which techniques actually genuinely drive results and which are simply a myth, drawing a line between us and other Amazon consultants when it comes to results.
The RANK process has 2 core stages:
Stage 1; Keyword research, competition analysis & listing optimisation
This stage involves everything that goes into a listing itself, commonly called on-page optimisation or copywriting. 
It also includes everything that is complete before a product starts selling on Amazon. It doesn't matter if the stock has been launched on Amazon in the past, we complete the on-page optimisation element regardless of whether you make zero sales a month, or 100,000+. At this stage, we optimise the listings for conversions in line with Amazon's algorithm. We do this in the following way:
1). Keyword Research
The first part of any successful optimisation campaign is keyword research. This includes determining what keywords we are looking to rank inside of Amazon's search engine both long and short term. The more competitive the keywords, the more profitable they will be long term, but the more difficult they will be to rank in the first place.
We start with a process called: common sense. This involves simply analysing what the potential keywords would be for a specific product. Having close to 10 years experience with keyword research, this has now become second nature for the company. Once we are out of ideas we move onto the next keyword research stage.
Next is Google's Keyword Planner. This is a piece of software that generates keyword ideas from seed keywords. Taking our seed keywords from the process above we can use Google's tool to generate hundreds of variations and more importantly other keyword ideas that may not have been picked up during the first step. The Google keyword planner is the smartest tool. Although it is not directly related to Amazon, during the final keyword research stage we can get mostly accurate data for monthly search volumes inside of Amazon.
By this point we have a large sample of keywords related to your product(s). The final stage of keyword research involves using a proprietary keyword research tool we have built in-house. This tool pulls data directly from Amazon and performance semantic intelligence on these keywords to come up with variations that you can not find by simply typing variations into Amazon.
By the end of the keyword research phase, we usually have between 50-500 keywords, depending on the campaign, that we can use in the PPC (pay per click) campaign later on, as well as in the listing optimisation.
2). Optimisation Of Product Listings (Onpage Optimisation)
Part 2 of stage 1 is the optimisation of the product listings. This is, of course, essential for long term Amazon profits, ensuring you rank for the correct keywords once we move onto the next stage of the campaign.
Our optimisation works as follows:
Optimisation of an Amazon listing requires implementing your keywords and copy in such a way to, on one hand, rank highly in Amazon, but on the other, to convert visitors into customers.
We optimise keywords in the following way:
Title – The title is the most important place to implement your primary keywords. We want to build listing titles that both draw attention for users but also contain a number of our primary keywords.
Bullet Points – The bullet points are essential for copy. Many Amazon consultants miss this key element, only writing for the search engines. With over 5 years of experience writing ads, we pull principles from experts such as Cialdini, Luntz, Ariely, Ries and many more. The aim is to write bullet points primarily for users, but also to write these to implement our keywords without affecting readability or conversions.
Search Terms – After the title, the search terms in the back-end of your listing should be optimised for specific profitable keywords related to your product.
Description – The product description is where we can be more free in our keyword usage. 90% of buyers in Amazon do not fully read product descriptions. And 80% make an instant buying decision based on reviews, price and images. This means that we want to write these descriptions with the final 5% in mind, talking more about the story of the business, whilst at the same time liberally including all of our remaining keywords we have yet to implement into the listing.
Benefit Driven Images – BDI's are images that show the featured benefits of a product in the image itself. This improves conversions by around 30% in almost every case when correctly implemented. A very simple tactic to implement and since 90%+ of consumers do not fully read an Amazon listing, we should be looking to get across as many positive benefits of the product in the images themselves.
Copywriting – Another essential element to a high converting Amazon listing is having the right type of copy. We build the listings from a copy first, optimisation second mentality. Increasing the percentage of people who hit your listing who go on to buy.
3). Competition Analysis
Another element to the pre-launch is analysing the competition to reverse engineer profitability (as well as time to rank). We use tools such as Helium 10 to analyse the competition and see if there is a large enough market for our keywords.
Stage 2 – Rankings & Keyword Focused Sales
Once the listing has been optimised, we need to solve the second, most difficult part of Amazon's ranking algorithm, this is generating real sales related back to your primary keywords. As mentioned earlier on this page, these KWFS act as trust signals to Amazon, signalling what specific keywords this product should be ranking for.
Keyword focused sales themselves involves leveraging the single largest Amazon ranking factor (full priced, real sales through organic search).
You can see a full range of our KWFS results and case studies on this page.
If you would like to benefit from our unmatched Amazon experience but don't want to work with us in other ways, you can also simply buy rankings for your products, allowing you to focus your time and attention where it's needed while the profits from your Amazon products keep growing.
For more serious prospects looking to partner with us, feel free to get in touch below and let us know any questions you have.