The Complete Solution To Managing Your Amazon Platform Efficiently, Profitably and Affordably
Our Amazon management solutions are designed to enable sellers to receive weekly and in-depth monthly reports about the condition of their Amazon seller account and actually be so in-depth that they never have to even login to seller central, giving you more time to focus on product development, external marketing and high level business decisions. Below are the exact details we report on for management clients.
Weekly Reporting
Each week you will receive a report from us that gives you a brief overview of your Amazon account. Below are the specific elements that will be included in the weekly report.
In-depth Inventory Reporting – Amazon Inventory management solution

Our in-depth inventory reporting ensures you do not have excess inventory, ensures you are not charged long term storage & analyses all elements of your inventory based on age, stock and selling volume. This enables us to determine when new inventory should be ordered to ensure you do not have any out-of-stock products, but also to avoid any long term storage fees.
Inventory Recommendations & Ordering

Based on the above reporting we will recommend when each ASIN should be re-ordered. We can even arrange the inventory shipment creation process. Enabling the client to simply forward this information onto the supplier for a fully hands off Amazon account. This adds to our Amazon supply chain management service and allows business owners to spend less time on inventory management and more time on building new products.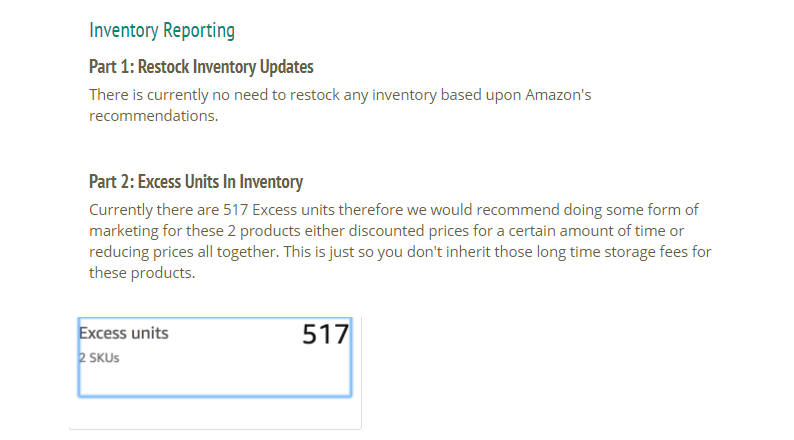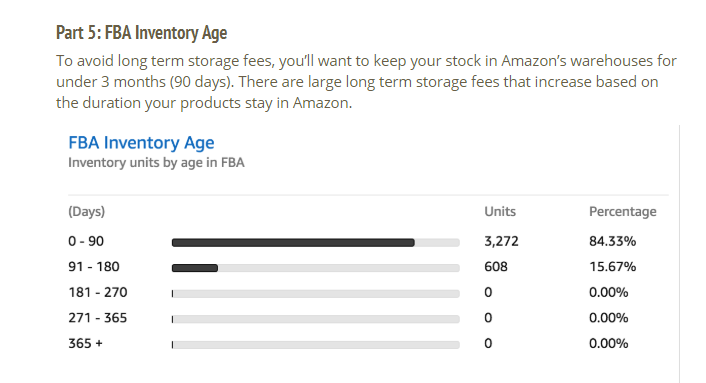 Review Monitoring & Tracking
As reviews are such an integral part of an Amazon business, we track these for each ASIN on a weekly basis. We track both total reviews per product as well as track negative reviews of each ASIN. If negative reviews are increasing, we will build out custom recommendations to resolve this, or outline specific actions for the client to take.
Weekly Custom Action Report
In each weekly report you will receive a custom actions section. This will include the specific actions to take for your seller account. Such as ordering XX Numbers of ASIN, monitoring ASIN for negative reviews as well as any other issues or elements we've monitored.
Monthly Reporting
Each month, on a selected date (usually the 1st for the majority of clients) – You will receive an advanced, in-depth report of exactly what is happening inside your Amazon account. Below are the specific elements that will be included in the monthly report.
Sales Statistics Per ASIN
A high level overview of the revenue of your Amazon account, broken down by each product. This enables you to view overall increases or decreases in revenue of each product before getting into the details of conversions, traffic and profit margins.

Traffic & Conversion Stats Per ASIN
Alongside the sales reporting for each ASIN we build out the traffic & conversion statistics broken down by ASIN. This enables clients to view which listing could potentially need some optimisation which may include; image tweaking, pricing changes, copywriting, keyword optimisation. This can then easily be tracked each month to understand what changes resulted in increased or decreased conversions.
High Level Profit Breakdown Per ASIN

A clear overview of the profitability of each ASIN. This enables you to see more clearly than a simply revenue or sales report, what is going on in your Amazon business. This also enables you to tweak or invest in marketing strategies where needed for specific products that may have lower profit margins than first anticipated.
Granular, Accountancy Level Detail Of Product Profitability
A report that is an extreme in-depth look at the profitability of each product based on every cost and profit element associated with a product. This requires initial input from the client on what areas and costs are associated with each product.
Organic Rank Tracking of Major Keywords

Organic rankings inside Amazon's A9 Search engine are one of the major KPI elements that sellers do not track. We've built a tool that helps us track the major organic keywords for sellers. These keywords are directly related to the profitability of an Amazon business and hence should be tracked on daily basis & reported on each month.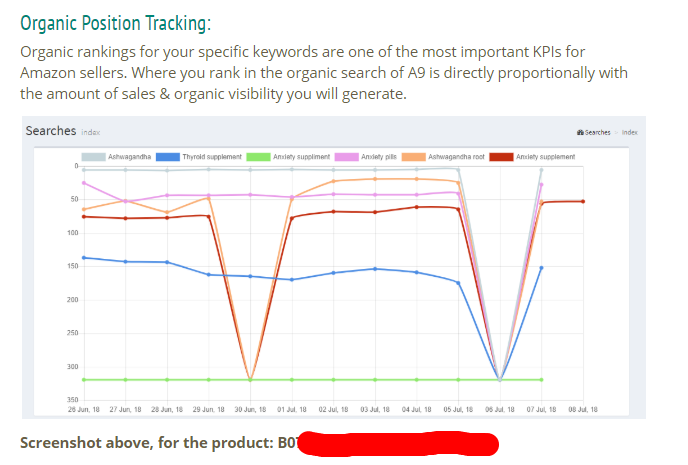 PPC – Sponsored Products Reporting

If you have PPC Set-up and running for your Amazon store, you'll likely be monitoring this closely. Each month we build out an overview report of the PPC you are currently running, split by each campaign & it's profitability. This enables you to tweak, increase or stop campaigns that need specific actions taken.
Advanced Search Term Data from PPC Reporting

Amazon's sponsored products (or Amazon PPC) has an incredible amount of data on the back-end of their reports, this data is usually left unused by many sellers, simply because they do not know it exists. We build out these reports and show you the specific search term data for the EXACT keywords that are generating positive (or negative) ROI's for your advertising budget.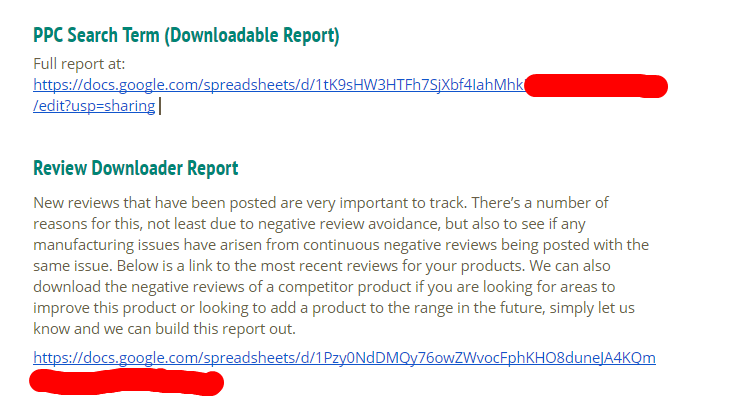 Competitor Analysis & Pricing Reporting

A smaller report that involves creating some custom pricing reporting elements and competitor analysis options for specific products that may be decreasing in sales. In many management campaigns these elements are not needed based on the knowledge of the client and correct pricing structure already established.
Custom Advice, Actions & Solutions

This deliverable involves building custom reports & advice based on the current situation of your Amazon seller account. This deliverable changes based on the goals and current condition of the client. Inside this document we'll also have solutions and recommendations around what specific marketing or optimisation to take for specific products.
Amazon Marketing Solutions
At AmazonSEOConsultant we also run multiple successful Amazon marketing campaigns, depending on your needs. If you already have these elements solved there is no action to be taken. If you'd like our help for marketing and management services combined, please check out our partners page.
Next step
We've ranked over 150 products on Amazon & managed dozens of brands to enable business owners, eCommerce managers and even individual founders to free up their time to build highly innovative products with unique selling points and improved benefits for their marketplace. This management solution enables you to market on Amazon without ever logging into seller central. If you are interested in having your Amazon brand fully managed, please check out our partners page to learn more about how we can push your brand to the next level!