Feedbackwhiz is an Amazon seller solution that aims to help Amazon sellers gain more reviews and feedback, therefore gaining a better reputation on Amazon and more sales in the process.
Here's an introduction to the tool by FBW themselves (watch for marketing speak!)
Whereas the tool focuses on getting more feedback (as the name implies) it is also a competent order management and email automation package.
The first thing we have to bring up is the pricing options. Whereas Feedbackwhiz has multiple different sized pricepoints like we've come to expect from most online tools, they are surprisingly reasonable, and the reason for this is the fact you aren't limited to how many emails you can send no matter which package you go for:
This is a pretty big plus to us because it means you can scale your business consistently without having to worry about switching packages when your email list gets too large.
They do limit the ASINs you can monitor and the individual email campaigns you can have running though, so something had to give somewhere I guess!
So what exactly does Feedbackwhiz help you to do?
What Does Feedbackwhiz Do?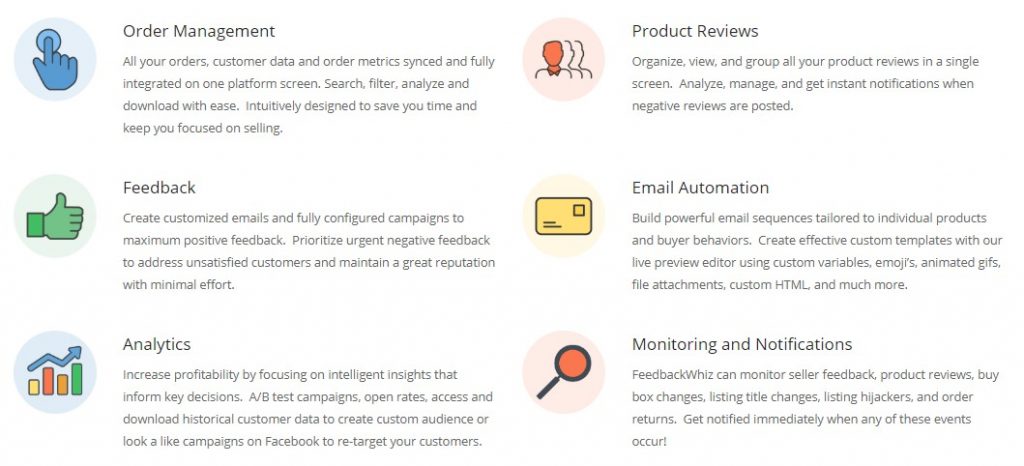 The software uses a (very clean and well designed) user interface and dashboard to allow you to easily create automated follow-up emails.
If you read our guide to getting more reviews on Amazon a couple of weeks back, you'll be aware that follow-up emails are one of the most reliable and easy ways to drive positive feedback.
Feedbackwhiz is one of the best solutions to do this thanks to its simple design, no-nonsense A/B testing functionality, and a variety of other quality of life features including but not limited to:
Integration of order details
Simple, clear dashboard design
Backlist functionality
Major event alerts
Fully customisable email design tool
Duplicate email detection and alerts
Automated email campaigns, both for marketing and remarketing
Graphs and stats
Automatic buyer opt-outs
Custom buttons, GIFs, attachments and emojis
Variable inserts
Tracking & analytics that we really enjoyed, as stat nerds
Seller feedback notifications
Graphical customisation (logos, branding etc)
All in all, it's a very complete and well-executed tool for managing your Amazon feedback strategy, and can be used for things beyond just getting more reviews, for example sending reminder emails a set time after a purchase to cross-sell or upsell a related item.
We also found that the statistics provided around things like email opening rates very useful, especially since they can be refined further over time by using the A/B testing functionality.
As an Amazon seller, your time is likely pretty limited already, and we really like that Feedbackwhiz respects your time. Whereas some tools seem to be laid out as if you already know exactly what to do, making in-depth tutorials or hours of experimenting a necessity before you can really get any actionable data, FBW has a very friendly, logical and well-explained design so that you'll never really struggle to find any of the features or functions.
It would be nice if there were some more variety and options in regards to the email templates, however. The ones they do have are pretty good but sometimes it feels like you want to try something slightly different and you realise you've already used the bulk of the relevant templates.

The thing Feedbackwhiz does better than most other Amazon review management tools is to allow you to analyse, manage, and act on all of your reviews from one page, while also allowing you to look at one review in more detail or group reviews by product.
They also provide immediate email alerts when reviews are posted, and these emails link together the reviewer's pseudonym with the order details, allowing you to immediately respond without needing to dig around for further context.
Let's look at some of the individual features provided by Feedbackwhiz and see how they stack up to those offered by competitors!
Email Automation & Analytics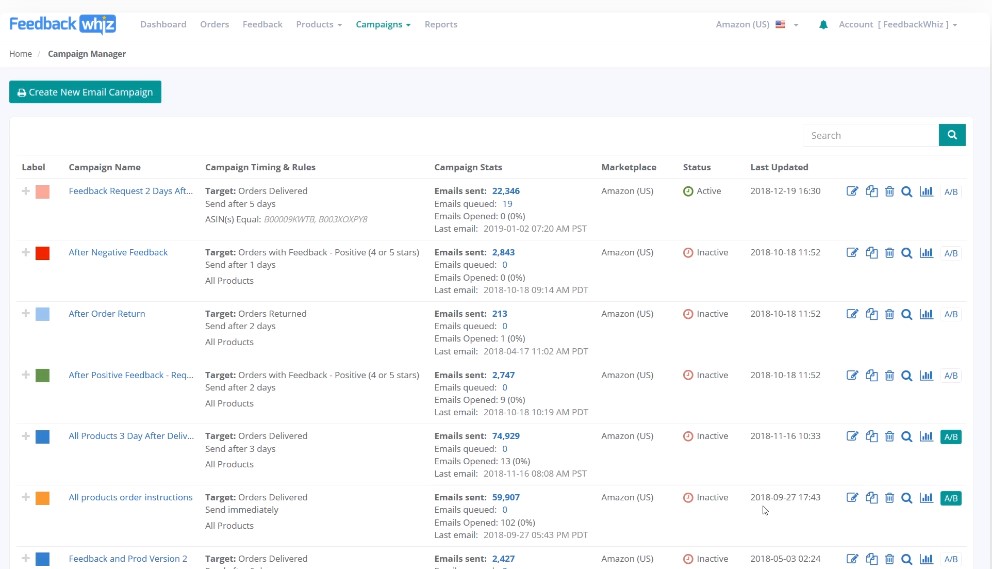 The email creator is very simple to work with and uses drag and drop functionality to make it easy to create high-quality email designs (think Canva).
It's also super easy to include variables, graphics and other content without any coding knowledge – although custom HTML is possible too. The analytics is where FBW really shines though, and working through your data to refine and optimise your email content and subject lines is a pleasure.
Variables include names, order history, order details, unique links or comments, and more. You can target emails by delivery type, SKU, destination, product category, and buyer behaviour, making segmentation simple.
As mentioned previously, some more email templates wouldn't go amiss but regardless, this is a solid offering.
Amazon Feedback Management Tools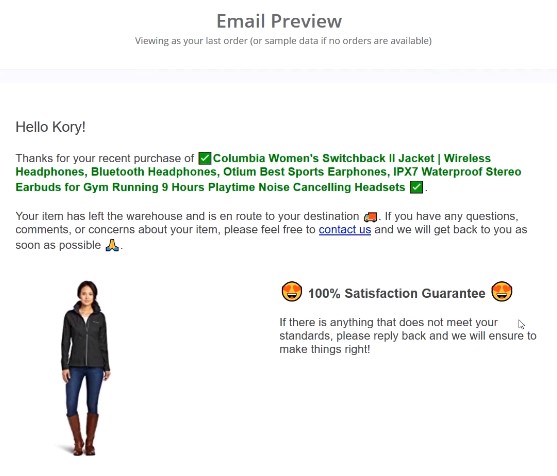 The all-in-one review management tool is where FBW really shines, giving you full control over a variety of analytic and response tools and allowing you to customise your alerts and notifications to respond immediately to negative reviews and other events.
You have the option to set up segmented selective feedback requests based on which type of request has previously worked best for certain types of product or customer. The buyer-review matching tool allows you to immediately link the user behind specific reviews to an order, making it simple to engage with them and resolve any queries or issues.
This is where we spend the majority of our time on the software and we imagine you will too.
Order Management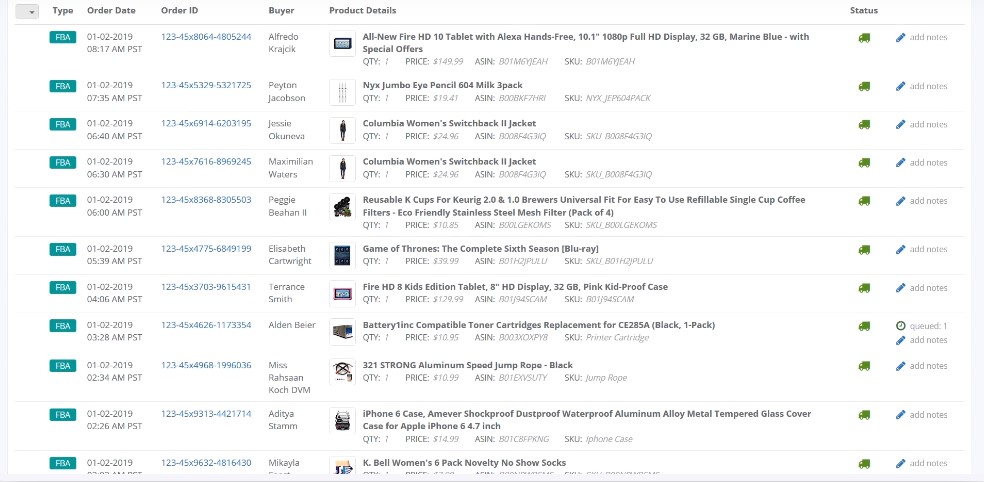 The order management tool is a massive timesaver, allowing you to spend more time running your business and less time clicking around through different tabs trying to reconcile data from different tools.
It also allows you to instantly search for orders and see their current status, analyse which products are selling the best, market them to existing customers, and check information on returns, all from one clean window. This even cuts down on pointless and fiddly timesinks like logging into Seller Central every time you want to check a customer's details.
The combination of the order management tool and the email tool is incredibly effective when it comes to making it easier than ever to respond to customer issues. Your Amazon order database is synced in real time and fully integrated into Feedbackwhiz itself, allowing everything you need to know to be immediately accessible and beautifully presented.
There is a full variety of filters and sort tools, allowing you to browse by order type, order status, review rating and more.
This is what earned Feedbackwhiz a spot in the "total management tools" section of our guide to Amazon seller tools and what elevates it far beyond a simple review management solution.
Negative Feedback Repair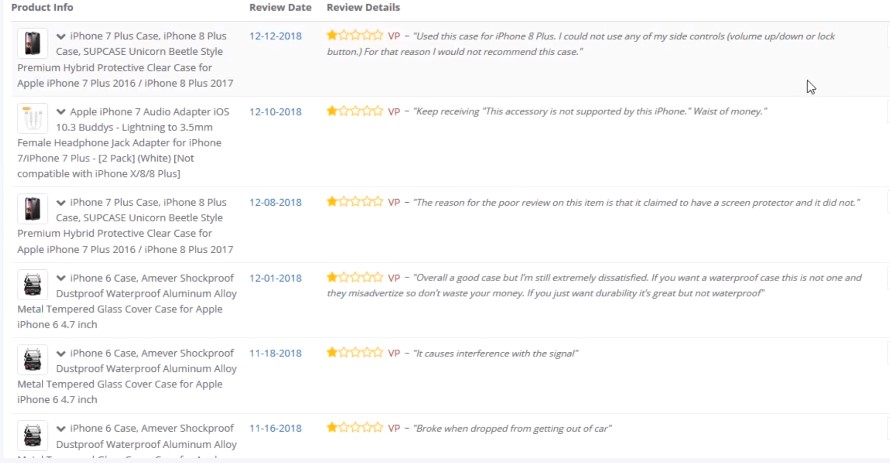 The automated alerts are obviously a huge deal, as engaging with your reviews and responding to negative ones is likely to help increase positive reviews and increase trust in your brand.
Equally important, though, are the tools and processes for responding to these alerts.
The email alerts contain buttons that allow you to react immediately with one click and over time, the analytics will help you to cut down negative reviews and identify the email marketing and follow up email strategies that increase customer satisfaction.
It's worth mentioning that alerts are only provided for reviews from 1-3 stars. For the vast majority of people, this is exactly what you want as there is no action to be taken when you receive a positive review – but some newly launched Amazon businesses who are trying to build up a decent amount of reviews may actually prefer to get alerts for all reviews, and it's a shame this isn't an option. An admittedly small shame, but still, freedom and options are always better!
Customer Support

This is a fundamental aspect of any software tool, and even a 10/10 piece of software can become a no-go if the company behind it aren't providing the support you need.
Luckily we have no real complaints here – customer support staff are friendly, knowledgeable and quick to respond. They also post regular tutorial and educational videos too, which are highly recommended to get the most out of it.
There is a live chat available in the tool at all times and a complete knowledge base, so the help you need is never more than a few minutes away.
Is Feedbackwhiz Secure Enough for My Customer Data?
Feedbackwhiz is powered by Amazon Web Services, so in a word, yes.
It is fully secured and encrypted using industry standard technology and is no more likely to leak your customer data than Amazon themselves.
Which Marketplaces Are Supported?
US, Mexico, Canada, UK, Germany, Italy, France, Spain, Australia, Japan, and India are all supported – and the number of marketplaces you can access isn't limited to your pricing package at all. In fact, a button in the top corner of every page lets you quickly switch between marketplaces and see the appropriate data.
Are There Contracts?
Nope – you can cancel at any time.
Is it a Software Download? Which Operating Systems and Devices Are Supported?
Nope – Feedbackwhiz works entirely through your browser, meaning it can go wherever you go.
All major browsers are supported including Google Chrome, Safari, Firefox, Internet Explorer, and of course any smartphone, tablet or similar device with a browser works fine too.
How Far Does the Data go Back?
Feedbackwhiz displays data and orders from the past year (365 days). This works fine for us and we haven't experienced any situations where we felt limited or needed data from further back.
Can I Extract Data to Run Campaigns Elsewhere?
Yes, all data can be easily downloaded as a CSV file and used for social media campaigns or through another email marketing service if you wish.
Conclusion
A tight, well designed and comprehensive package that makes it easy to protect your brand and limit the impact of negative feedback, Feedbackwhiz is at the top of the game when it comes to review management, and the slew of other features it offers make it a borderline must-have.
It's user-friendly and simple, yet still powerful and full of clear data, which is potentially one of the best things you can say for this sort of tool.
Amazon sellers need to way to respond appropriately to reviews and control the dialogue around their brand, while also saving time and reacting as quickly and easily as possible.
Feedbackwhiz doesn't only make this as easy as it realistically could be, but it does so for a very reasonable price, and with a variety of extra benefits.
The AmazonSEOConsultant Verdict: 9/10
Do you struggle to find the resources or time to manage your Amazon feedback?
Would you rather have the #1 Amazon marketing agency handle this for you?
Take a look at our case studies to see the results we've already achieved for our clients with our unique, self-developed Amazon ranking process.
Or, to get in touch directly and discuss what we can achieve for you, request a proposal now!