When you sell products on Amazon, your business will only ever be as successful as your product is high-quality.
As we all know, Amazon buyers rely heavily on reviews and star ratings to make purchasing decisions, so the quality of the products you sell really can make or break your business.
After all, nearly 95% of online consumers read reviews before making a purchase, and 73% trust a business more after reading positive reviews.
With that in mind, you better have a good quality product that does the job it's sold for well, otherwise your reviews will suffer, which will hurt your conversion rate, which will hurt your rank….you get the picture.
Even after questioning many manufacturers on Alibaba, building a shortlist, going with the one you trust most, and discussing quality with them at length, can you really 100% trust that your products will turn up completely flawless?
If you're sending your products directly from China to Amazon, you may not even get the chance to check them, meaning manufacturing flaws, damages and more can completely slip past you. You will be completely unaware of this until Amazon lists it as unfulfilled or a buyer returns it.
With the leading cause of Amazon product returns being damaged or faulty goods, you really do need a way to judge this, or you're immediately at a disadvantage against competitors who do.
Luckily, there are things known as Amazon FBA product inspection services, and they are available (both in China and elsewhere) to receive your goods, check them individually, and send them onwards to Amazon for a small cost, giving you photos and notes on the quality and condition of the products and helping you to rest assured that your products are suitable for sale.
We will take you through some of the best FBA inspection services today, giving you recommendations for product inspection in China and elsewhere, as well as tips on how to use them.
Let's start with the basics:
What is an Amazon FBA Product Inspection Service?
Amazon product quality inspection services tend to offer services such as:
Inspecting products to ensure they are in good condition and suited for purpose
Inspecting shipments to ensure they are set up and packaged correctly for Amazon's regulations
Forwarding on to Amazon's distribution centres
Many of them also offer useful shipping and packaging solutions for Amazon FBA beyond a simple quality inspection service such as:
Attachment of labels and barcodes
Splitting products into separate poly bags
Branding/custom labelling
Sourcing products to sell on Amazon often consists of getting quotes from different manufacturers and going with the cheapest one, especially in a price sensitive niche where quality is less important, so the products we receive are often given the bare minimum attention with no labels or individual packaging etc.
Inspection companies provide a handy solution to this problem without us having to ship our products from the supplier to our own office, dedicate our own time to doing this, then send them onwards.
The nature of selling on Amazon also means some businesses are run from home by small teams or sole traders, so if one of these businesses experience sudden growth and a huge increase in the amount of inventory they're dealing with, they may literally not have the manpower to do this themselves.
So, if you're looking for an FBA prep service or inspection solution, which are the best ones to go with?
Since we've been arranging shipments and inspections for our clients for years now, we can give you some good recommendations for the best Amazon product inspection services in 2020:
Top 10 Amazon Product Inspection Services
NBN Inspection
NBN is one of the best inspection companies in China and offers not only the basic product inspection checks but full factory audits and even container loading supervision services, so if you want somebody to really start breathing down your factory's neck, these are the people to call.
They are also experienced at specialised in mechanical parts and machinery so that's something to take into account too.
If you want to get your products checked immediately in China and then split and sent to several different FBA marketplaces, this is a good option.
Product inspections start at $209 per person per day and full factory audits are available at $229 per person per day.
The AmazonSEOConsultant Verdict: 6/10
FBAInspection.com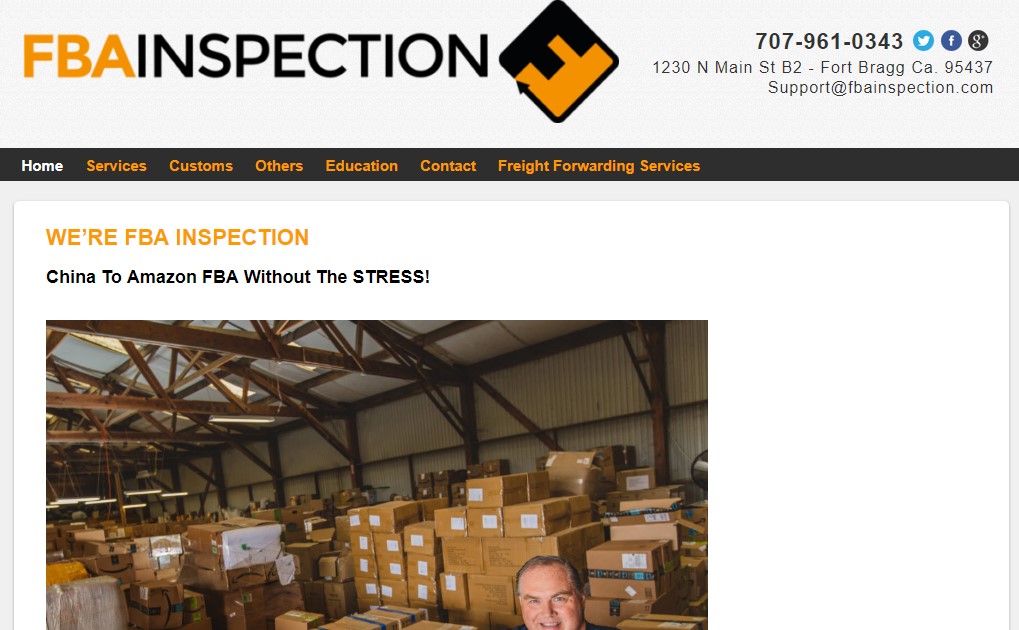 Based in Fort Bragg, California, FBA Inspection is a great option for our Western-US Readers.
They offer a fully comprehensive service including inspection, fulfilment, product photography, labelling and splitting/repacking of deliveries.
They are a pretty affordable option too, able to inspect a product, remove existing labels and price tags, wrap individually, and label correctly for around $1.25 per item.
They have a loyal user base and great, friendly customer service staff which can only help too!
The AmazonSEOConsultant Verdict: 7/10
Kistop Inspection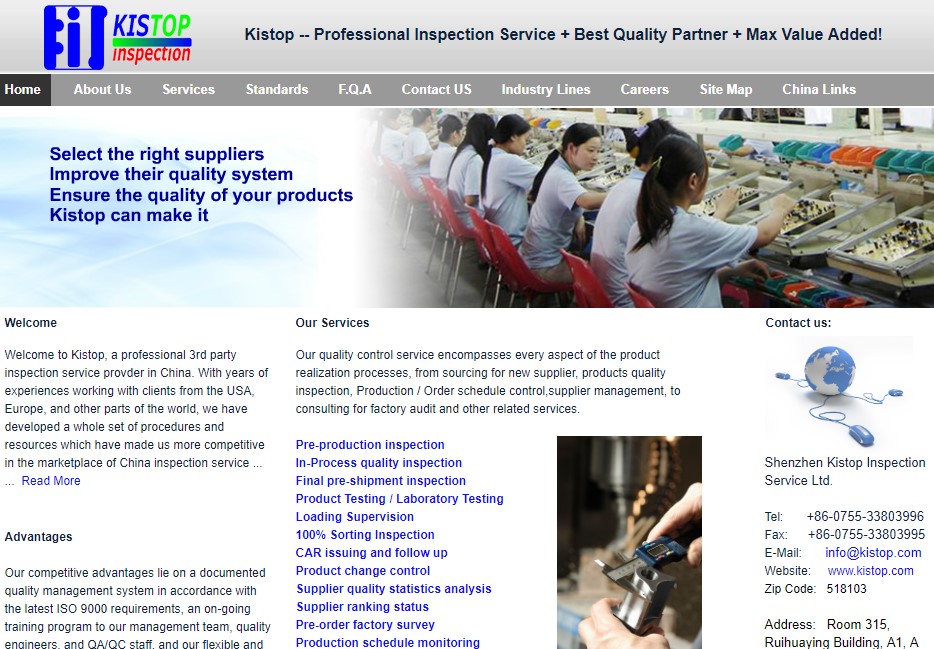 Another excellent China inspection service, Kistop is based on Shenzhen which is very convenient if you want your Alibaba products inspected close to the source.
They offer laboratory testing which may be of interest if you're selling cosmetics or health products, as well as offering to inspect your products at any stage of manufacturing – immediately on completion, mid-production process or even in the pre-production stage to ensure absolute compliance and the best quality possible.
Kistop is a premium inspection service with an extremely professional and accurate service.
The AmazonSEOConsultant Verdict: 7/10
QC-I (Quality Control & Inspection)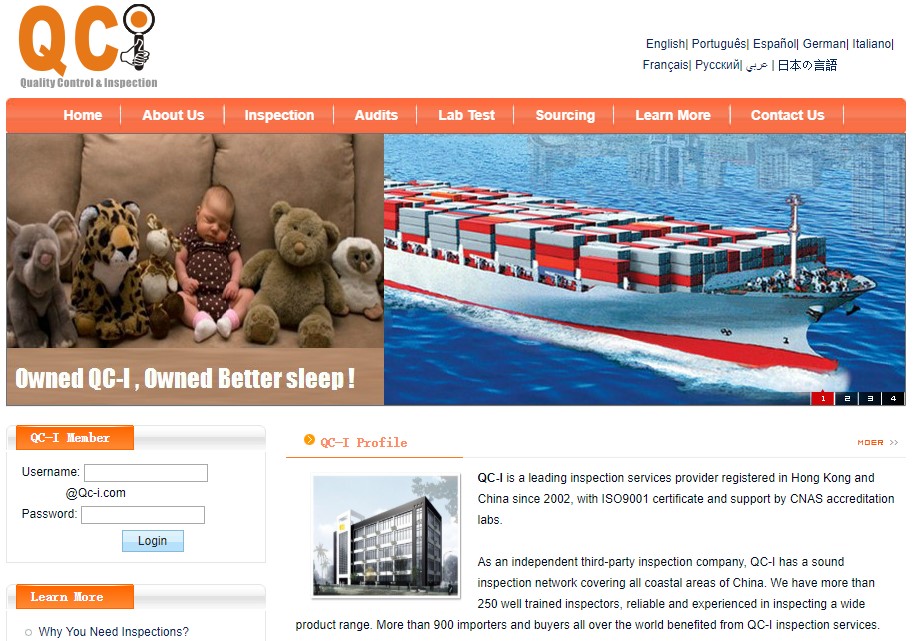 QC-I is a pioneer of China quality inspection and has been providing product quality and fulfilment services since 2002.
Alongside full product inspections and container loading supervision, they also offer full factory and social compliance audits, and multiple laboratory safety tests for electronics and consumer safety.
They even offer sourcing services, so may be able to help you find a product in the first place. Prices vary depending on the services you want and you'll need to contact them for a quote, but they are generally reasonable and all of the services are reliable.
The AmazonSEOConsultant Verdict: 7/10
InTouch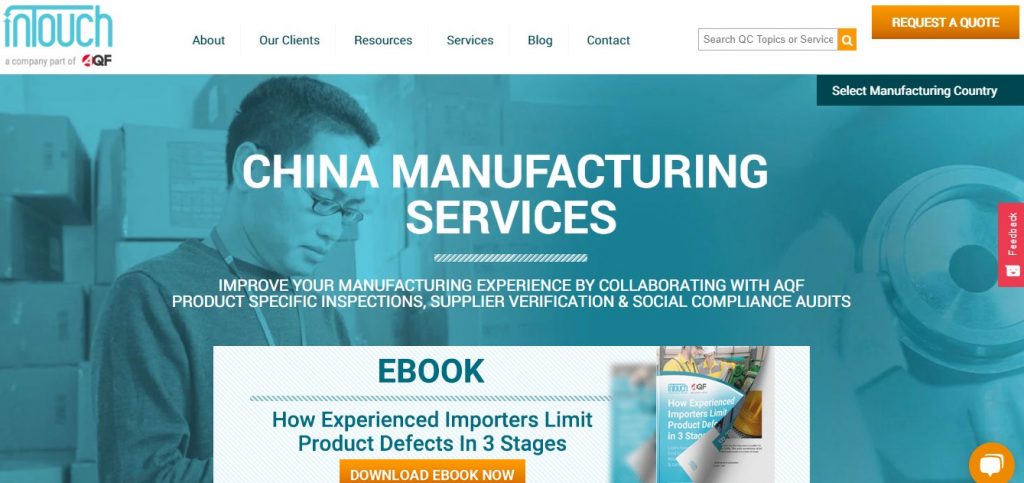 Out of the China quality inspection companies listed here, InTouch is by far the easiest to deal with for Westerners, with an easy to use website and great English-speaking team members.
They are a more engineering-focused company and have long-term experience working with Chinese oil and gas providers and are qualified to examine maritime equipment and even automobiles.
This means they may be a little pricey if you're looking to inspect small, simple products, but for more complex projects they are a must.
The AmazonSEOConsultant Verdict: 7/10 (would be 8 if they were a little cheaper!)
V-Trust Inspection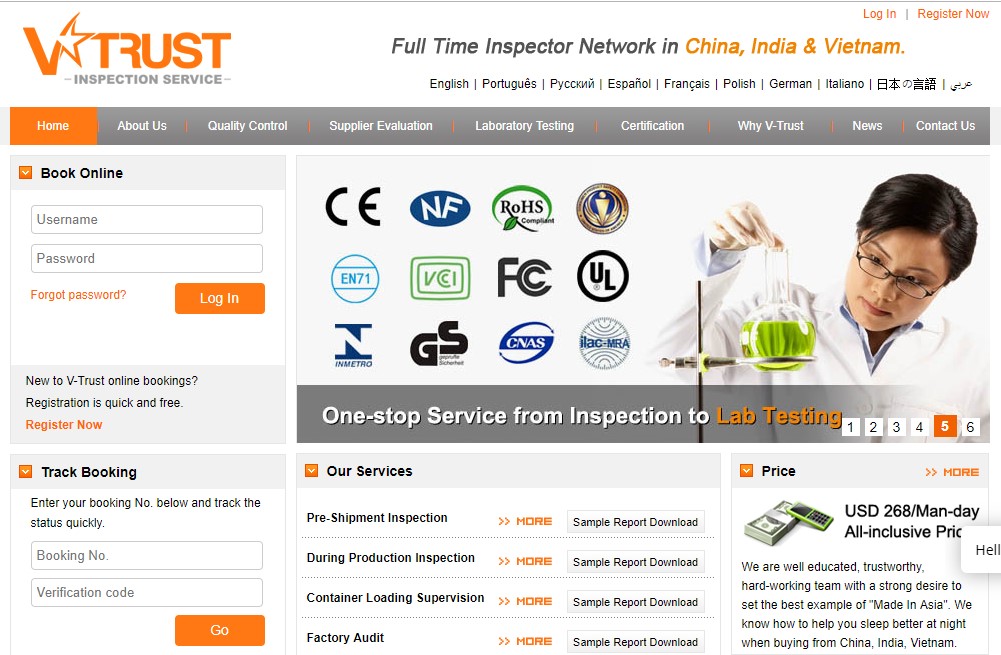 V-Trust has Amazon prep centers and inspection staff across China, Vietnam and India. They are able to inspect your products during production, supervise container loading and provide factory audits for between $368 and $598.
Product inspections are about $300 per person per day and social compliance audits are reasonably affordable too.
They are also one of the easiest China inspection companies to deal with and have a simple online quoting system. V-Trust also offers several more specialised services including mechanical inspection and testing of clocks and watches.
The AmazonSEOConsultant Verdict: 6/10
China Inspection Service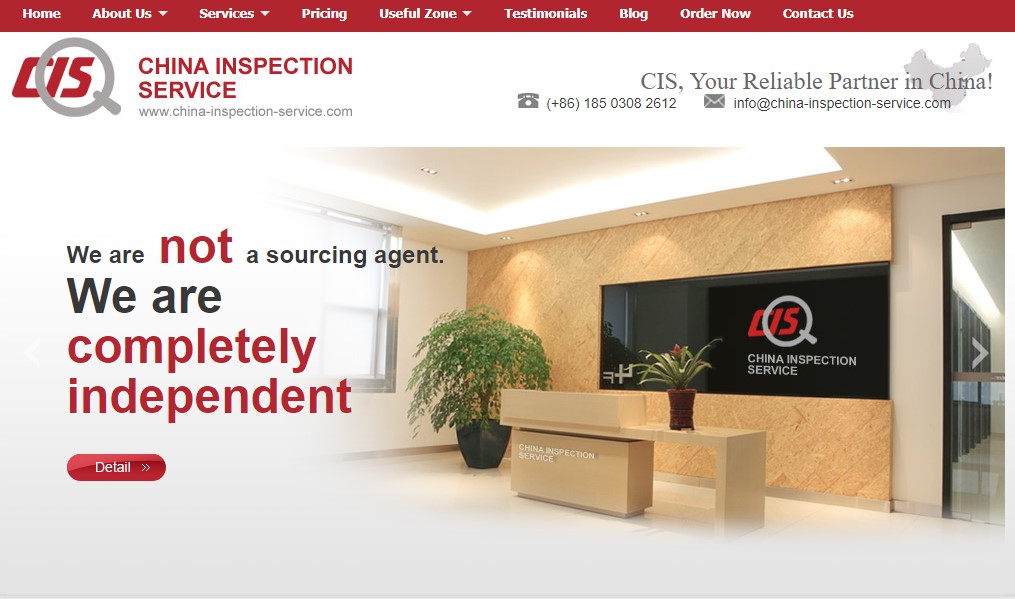 For many people, China Inspection Service is the first name in China quality inspection solutions. They start at $258 per person per day which is one of the cheapest options around, and prices can get quite a bit lower on larger jobs.
They can offer pretty much all of the inspection and auditing services that have been listed here, along with engineering support and even part design.
The price does go up a little bit for a full factory quality system audit ($498 per person per day) but this is still very reasonable and the quality and reliability can't be questioned.
The AmazonSEOConsultant Verdict: 8/10
Asia Quality Focus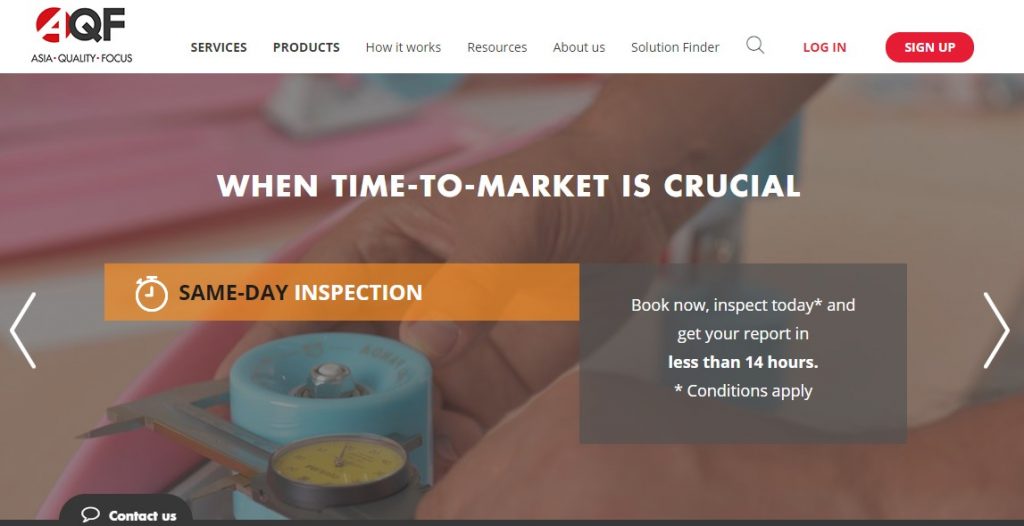 Asia Quality Focus's marketing is all based around time-to-market. They aim to be the inspection service you go to when you need things done as quickly as possible and are able to book same day inspections and get a report to you within 14 hours.
It goes without saying that working at this sort of speed is going to require some compromises in reliability and overall quality, and while we haven't seen any examples of this, we wouldn't expect them to be as meticulous as other inspection companies.
They do, however, offer full social, safety and environmental audits, production monitoring and more.
When time is of the essence and you need to get your products on the market as quickly as possible, AQF are your guys, and they deserve a spot on this list for that reason alone.
The AmazonSEOConsultant Verdict: 7/10
Effition Inspection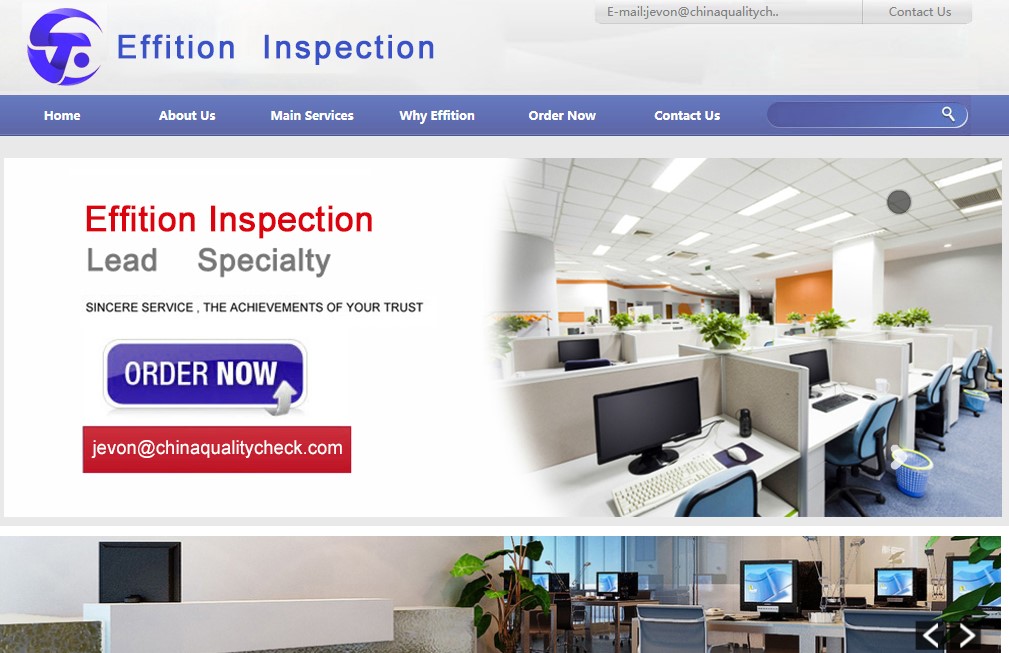 Effition Inspection charges $110 per operator per day making them one of the cheapest options here by far.
While it's natural to be hesitant about this and assume the quality will suffer, in our experience, they deliver a high-quality service just without some frills, and with offices dotted around China, you'll never have to worry about extra travel charges or time.
They provide a great option for those who are looking to sell on Amazon but are worried about the cost of product inspections – after all, subpar products leads to negative reviews and loss of sales – the cost of this is really negligible in comparison.
The AmazonSEOConsultant Verdict: 8/10
Asia Inspection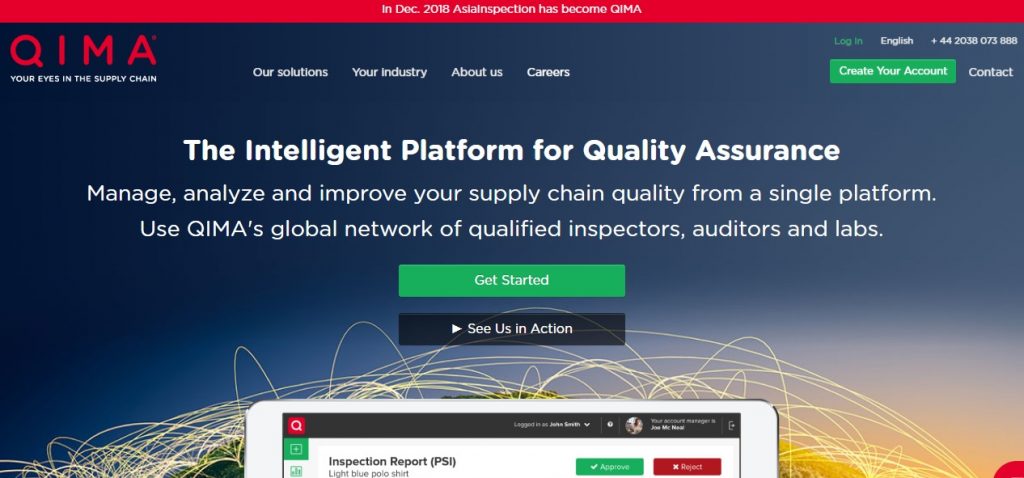 Asia Inspection, while more expensive than Effition, is extremely broad in their offerings and the reliability of their services is unmatched. If you are willing to pay a little more for a comprehensive solution including checks for ethical sourcing and similar extras, AI is a great option.
They offer full production monitoring, shipment inspection, container loading and more for a cost of $309 per day.
If the main thing you want from your inspection service is peace of mind and not having to worry, you won't do any better than Asia Inspection, and their legions of satisfied customers say the same.
The AmazonSEOConsultant Verdict: 8/10
Hiring a product inspection company can protect your brand from bad word of mouth and your Amazon listings from negative reviews.
While the cost may feel inconvenient to your business plans, it is much better than coming to market with an untested and unproven product.
Quality products can separate you from your competitor rapidly, and going with one of these companies is the best way to achieve that!
Check out our list of the best Amazon seller tools for more companies, software tools and services that can make it easier than ever to succeed selling products on Amazon!
Don't forget to also check out our unique ranking process and our client's case studies to see the unbelievable results we've been able to achieve in highly competitive search terms!
And if you'd like us to do the same for you, request a proposal now to see what the #1 Amazon marketing agency could do for your business!