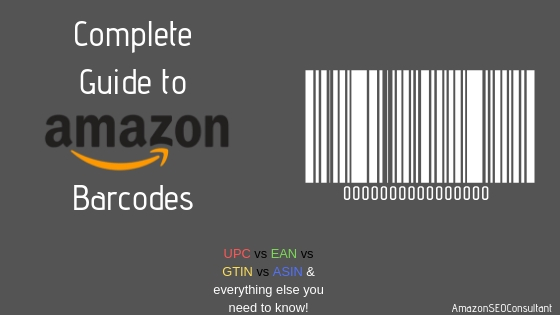 Amazon product barcodes can be quite an obstacle for new sellers.
You are trying to list your new product and you get asked for your UPC barcode, and this is potentially the first time you've heard that acronym.
Add FNSKU, GS1, EAN and GTIN to the mix and all of a sudden you have a messy situation that seems designed for causing confusion.
But in all honesty, this isn't something that's complicated at all, you just need somebody to break it down for you.
Enter AmazonSEOConsultant!
We've spent years using our custom ranking process to boost our clients' product rankings and profits, as you can see by taking a look at our case studies.

As you'd expect, we've become naturals at selling products on Amazon during this time and have created hundreds upon hundreds of UPC barcodes for Amazon.
It's your lucky day because today we're going to break down what we've learned for you and make purchasing barcodes easier than ever.
Let's dive right in with the basics:
What is a UPC Barcode?
When you start trying to list your products in Amazon seller central, you will pretty quickly be asked for your UPC.
This stands for Universal Product Code and isn't just an Amazon thing or even just an online thing.
The UPC is the most common barcode format in the world and can be found in most supermarkets and physical retail stores. Retailers ask suppliers to add UPC codes to their products so that they can keep track of everything, and Amazon does the same thing to its suppliers (you if you're an FBA seller).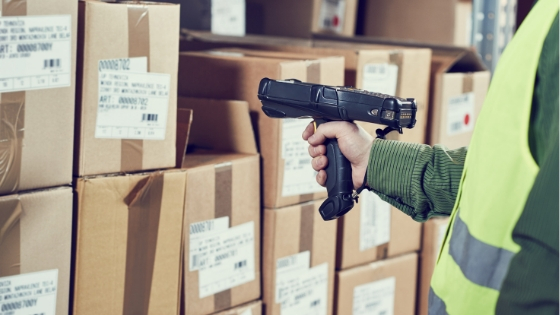 We often get asked what an "Amazon GTIN" is and other people sometimes think GTIN and UPC are interchangeable, but GTIN stands for Global Trade Item Number and refers to the numbers at the bottom of the UPC barcode. These are unique for every product and help to identify your product via entering the numbers if the barcode itself fails.
If you are hoping to grow your business beyond Amazon at some point, it's worth being aware that other online marketplaces and even physical stores will usually want one, so purchasing UPC barcodes early on is always a good investment.
Either way, if you got here because you were wondering "do I need a UPC to sell on Amazon?", the answer is yes!
So, the natural next question is:
How to Get A UPC Code for Amazon

In order to get a UPC barcode and GTIN for your product, you need to purchase them from GS1 (UK Site) (US Site).
You might be asking "what does GS1 stand for" right about now, and the answer is Global Standard 1, but since this acronym is the entity that sells the barcodes as opposed to the code itself, you can forget about even needing to remember this one.
We told you it wasn't as complicated as it seems!
First, you need to buy a Company Prefix, which identifies your company and goes at the start of every GTIN.
From there you can create UPC barcodes for Amazon directly in the GS1 site, and you should create one for every possible variation of your products (size, colour, etc) so that they can Amazon can use them to identify exactly what is in each box.
UPC Barcodes for Sale Elsewhere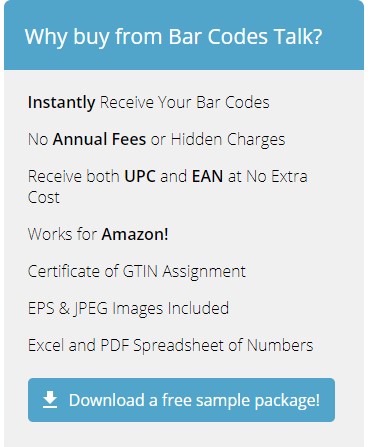 You will often see UPC barcodes for sale in places other than GS1, especially if you google "Buy a UPC barcode".
These often have SEO-targeted names and URLs such as "cheapbarcodes.com" or "buyabarcode.com".
They are often much cheaper than GS1 and are often advertised as being suitable for use as Amazon barcodes, but Amazon themselves say differently:
" Product IDs will be confirmed against the GS1 database. U.P.C.s that do not match the information provided by GS1 will be considered invalid."
These companies are often selling barcodes that have already been used and therefore are useless for identifying your products. Amazon reserves the right to ban your ASINs or suspend your entire seller account if they find an instance of this, so honestly, just stick to GS1 and pay the other sellers no mind.
Of course, some of these sellers may be fine, and it's your risk to take, but when the cost is so low already, we personally wouldn't recommend it.
What's an EAN barcode?
EAN stands for European Article Number.
They are essentially the same as a UPC code but with an extra digit identifying that the seller is from Europe.
Outside of this, there isn't much difference and they are even sold by GS1. For US & Canadian sellers, you're better off sticking to UPCs and pretending EANs don't exist, unless you're planning to sell in Europe in a big way. That just helps to keep things simple for you.
Similarly, European sellers can just use an EAN and forget about UPC – the most important thing is that you have one of these, whichever it is.
What is an FNSKU?
FNSKU stands for Fulfilment Network SKU and is a code used by Amazon to identify everything in their warehouse, directly corresponding to your ASIN.
For all intents and purposes, it can be considered an ASIN barcode.
You can send products with just a UPC/EAN if you wish, but if your competitor does the same thing with the same type of product, Amazon won't be able to tell the difference and they'll all be stored together.
This can be a major issue, especially if your competitor's products are of lower quality than your own.
FNSKUs identify the product and the seller to Amazon's warehouse staff, avoiding this issue entirely.
So, while an FNSKU isn't necessary if you sell a unique branded product that nobody else is allowed to sell on Amazon, for everybody else it is pretty necessary.
What Needs to be on Amazon Product Labels?
Each product label needs to contain the item name, the condition (e.g. new), and the FNSKU.
For example: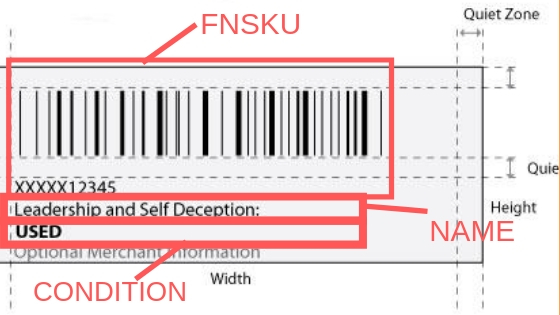 Fixing Labels to Amazon Products
When it comes to affixing your labels, you have 3 main options:
If you're sending your products directly from the manufacturer to Amazon, you can get your supplier to affix the labels for you, although this will likely incur an extra cost
For a fee, Amazon will take care of it for you
You can, of course, label them yourself for free, but only if you are sending the products directly from your own home or office
Generally, we recommend simply paying the Amazon fee, since it is pretty low and makes labelling products something you don't really need to worry about. However, any of the above options will do the job as long as due care is taken.
How to Print FBA Barcodes
You can print labels directly from Seller Central, either from the Label Products page while creating a shipment or on the Manage Inventory page at any other time. You can get the individual product labels here if you are looking to label them yourself or get your supplier to do it.
On the other hand, if you are getting Amazon to label the products for you, you'll still need to come here to get the outer box labels for shipping the products to Amazon in the first place.

Simply follow these instructions:
How to Print Amazon Labels from the 'Manage Inventory' Page
Select the appropriate products via the leftmost column
Go to the Action on Selected Items dropdown
Choose Print Item Labels
How to Print Amazon Labels from the 'Label Products' Page
Go to your Shipping Queue
Select the shipment you're printing labels for
Confirm how many of each item you're sending in the Items column
Click Print Labels and print directly onto label rolls or sheets
What Size Labels to Use for Amazon FBA
One of the most important things to remember when labelling your Amazon FBA products or asking your supplier to do so is to make sure any original/previously existing barcodes are 100% removed or covered.
Amazon makes a point of requesting this in order to avoid any issues related to scanning the wrong code.
In this case, it might be easier to use a nice big label in order to fully cover the previous one, but if you have no existing barcodes on your product you can use any size label you like within reason.
They do, however, ask that you keep white space of 6.25mm on the sides of your barcode and 3.1mm from the top and bottom, as less than this can cause issues scanning the barcode.
Printing via your seller account supports the following sizes (taken directly from here), and as long as you have no original barcode issues, you can use any one you like:
21 labels per page (63.5 mm x 38.1 mm on A4)
24 labels per page (63.5 mm x 33.9 mm on A4, 63.5 mm x 38.1 mm on A4, 64.6 mm x 33.8 mm on A4, 66.0 mm x 33.9 mm on A4, 70.0 mm x 36.0 mm on A4, 70.0 mm x 37.0 mm on A4)
27 labels per page (63.5 mm x 29.6 mm on A4)
30 labels per page (1 inch x 2 5/8 inches on US Letter)
40 labels per page (52.5 mm x 29.7 mm on A4)
44 labels per page (48.5 mm x 25.4 mm on A4)
Tips for Attaching FBA Barcodes & Labels
Once it's time to actually attach your labels, pack your products and send them to Amazon, here are some pointers to keep in mind:
Don't place barcodes on corners or curved packaging, or they might peel off in time or be unable to scan
Leave enough space around the edge of the barcode and cover any previous barcodes as discussed
Use a laser printer if you have access to one – they are more accurate and print in a higher resolution, whereas inkjet printers often smudge which can render your barcode useless
What to Do if You're Sold Sketchy Amazon UPCs
As previously mentioned, you should only buy UPCs from GS1 as mandated by Amazon.
But what if you already found some cheaper ones elsewhere before reading this guide?
Chances are Amazon has already rejected them, and if this is the case, here's what you can do:
Make the Product Private Label
If you're selling private label products, you can decide everything yourself in terms of:
Whether any products are bundled together (get UPCs for the bundle)
Not needing to get UPCs from the brand owner like you would with a white label product
If you have Brand Registry, you can even contact Seller Support to get help listing your product without the need for a UPC
Retry Your Listing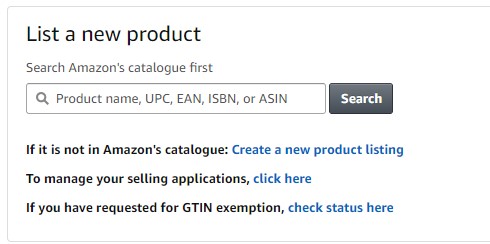 After learning that your UPC was incorrect, you might find that a correct listing for your product already exists.
This makes things a lot easier as you can simply list the product again against the existing ASIN, with no need to get your own UPC.
At this stage, even if there isn't a correct listing, you're probably better off creating one with an appropriate UPC from GS1 and giving up on your previous listing attempt.
Conclusion
We hope we have provided adequate answers to questions like "do I need a barcode to sell on Amazon?" and "how to create a UPC code for Amazon". The answer is yes, but it's not as confusing a process as it often first seems.
As the #1 Amazon SEO Consultant we have spent a lot of time setting up UPC barcodes for small businesses and larger clients, so you can rest assured everything here is both accurate and time tested.
Here are some final reminders on those acronyms and when you need them:
A UPC barcode is required when creating a new product listing
If you sell unique (private label or self-made) products or your manufacturer doesn't provide a UPC, you will need to create one yourself via GS1
You will also need a GTIN if this is the case
If you are Brand Registered you can apply for GTIN exemption
You can send your items to Amazon with only the UPC codes attached but it is a lot better to use the FNSKU which is created in seller central
Remember, if you don't want to waste time handling this stuff, you can check out our Amazon account management services to learn more about how we can manage your Amazon listings, including managing shipments, and help rank your products higher, leading to more profits than ever and freeing you up to spend time doing what you do best.
We are the only Amazon SEO Consultant who is able to provide 100% guaranteed ranking increases, every single time. If your products are good enough to maintain this ranking, working with us is a no-brainer. Contact us now to learn more!
Further Resources: