If you've been following our posts for a while, we likely don't need to explain that selling on Amazon is one of the most lucrative ways to make money via eCommerce.
With a global reach, billions in annual revenue, and an almost perfected conversion funnel, if you have a product worth selling, chances are you want to get it on Amazon.
Even with the level Amazon has grown to and with the amount of competition on the site, there are so many potential niches and longtail keywords available that there are still countless profitable ideas that haven't been tried.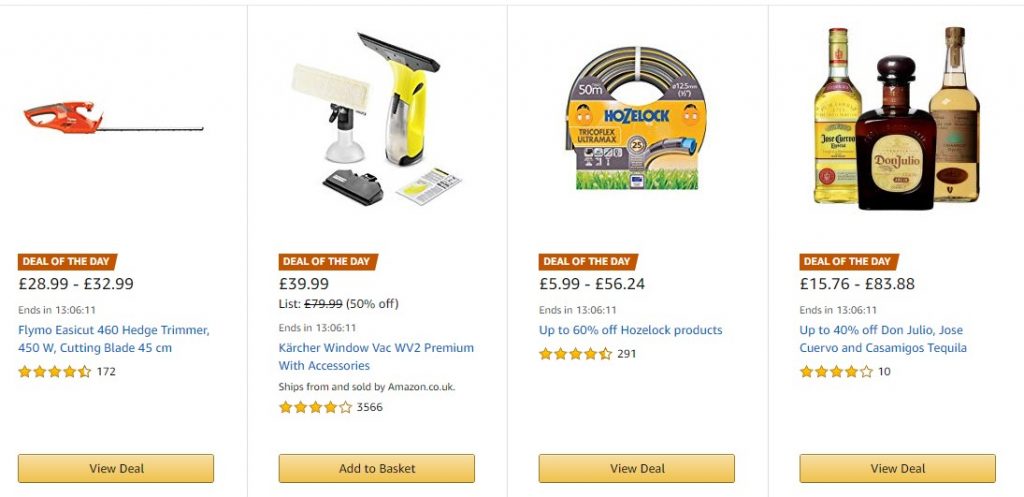 Many new Amazon sellers often wonder how they can stand out and make a splash amongst all of this competition, and while boosting your rankings is crucial, it all starts with doing your product research correctly.
If you know your product is one that's in demand, you can work your way past most other issues.
But if you don't, your Amazon strategy could well be dead in the water before it even starts.
Not to worry, because in our experience as the #1 Amazon SEO Consultant we have helped hundreds of customers launch and rank their products on Amazon, picking up some amazing data and strategies along the way, some of which we are going to share with you today!
While this article is going to be based around product research for Amazon, the basic principles of product research and which products can sell well is universal, so most of the tips here can be applied to your own website or other marketplaces just as easily.
How to do Product Research
There is a tool that stands above most others when it comes to Amazon product research, and that tool is JungleScout.
While many tools do the same thing as JungleScout and you may prefer the design or layout of a different one, in our experience JS provides the most accurate data and is an incredibly powerful benefit to have behind you as an Amazon entrepreneur, letting you analyse potential products along with your competition from one convenient window.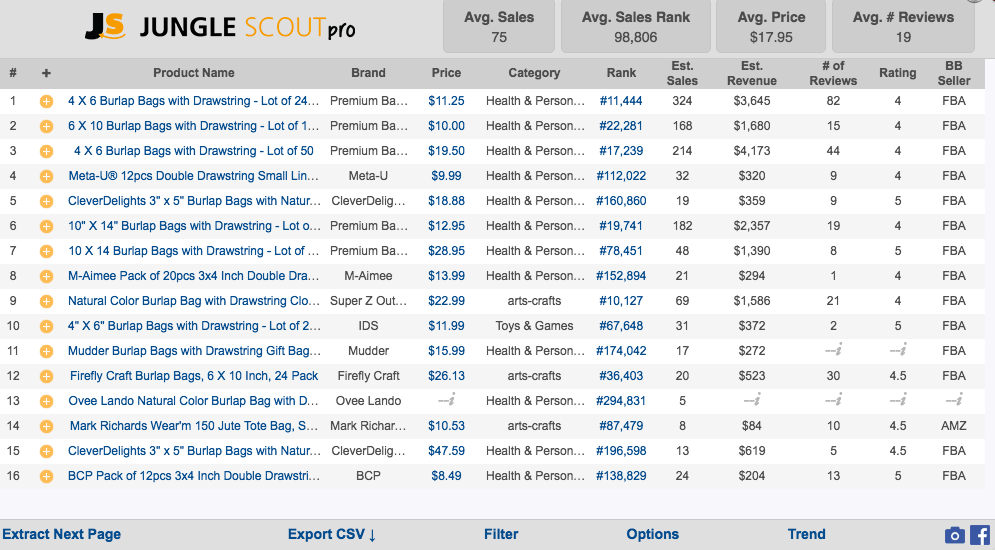 We recommend checking it out or at least getting an equivalent solution as it can take a lot of guesswork out of product research.
Back on topic, the first thing to consider when planning your product research is your ideal selling price:
Pricing Your Amazon Products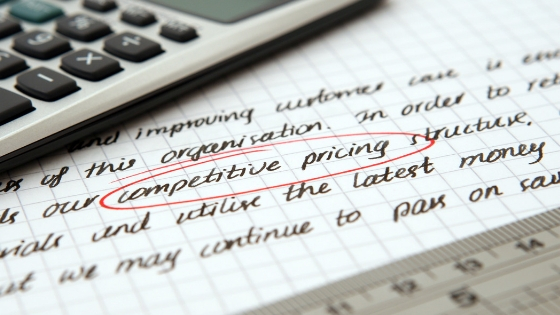 In general, you should always add up all of your costs to figure out how much you can sell your products for, and compare this to other online offerings to see if you can afford to price them in a way that is attractive next to the competition.
However, this is even more important at the very start, since a miscalculation here can lead to a huge loss and end your Amazon journey before it starts.
Anything that sells for under $15-20 will make your margins extremely tight and make it difficult to make any money.
Anything that sells for above $70-80 will make your startup investment very high, which makes the whole thing riskier and can mean you lose a lot of money if your product doesn't sell as well as you were expecting.
As a result, we would recommend staying between those two numbers at first, at least until you gain more experience.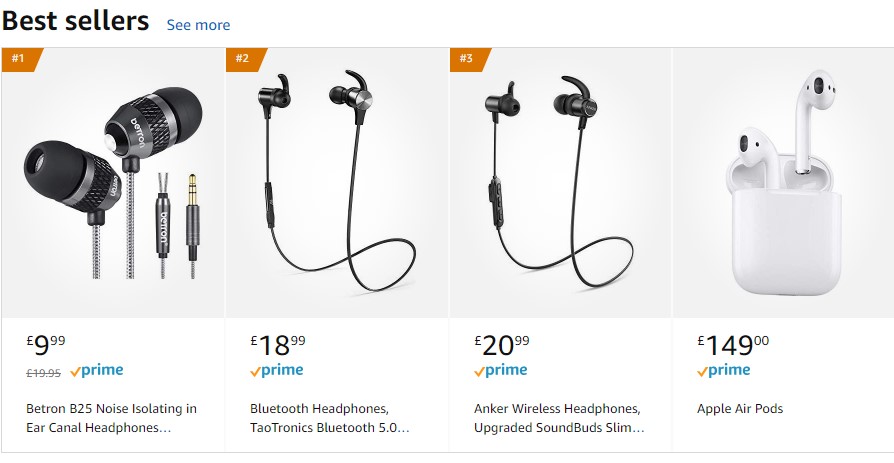 Stick to Easily Shippable Products At First
Always bear shipping costs and other shipping related issues in mind.
When you first start out, it is better to stick to smaller items that aren't too fragile and can be shipped around easily and cheaply.
This minimises your initial investment and the risk when it comes to shipping your items from your supplier to Amazon.
Once you are more experienced, you may go the complete opposite way, finding that large/awkward to ship products have less competition and more potential for profit, but it's good to get some experience with simpler products first and get some capital built up before tackling the more risky options.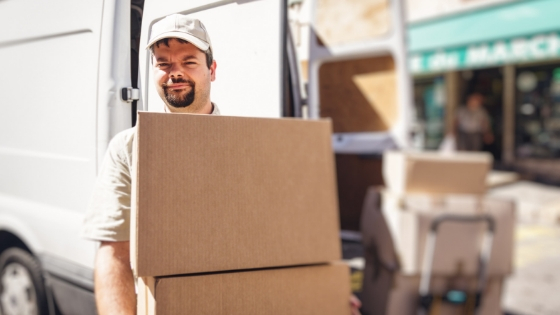 How to Use Google Trends to do Product Research
A lot of popular products are seasonal, meaning they sell more or less at specific times of the year.
This can be trouble because you could be researching a new product idea and find that it has a huge amount of search queries, then purchase the products and realise that 90% of those searches take place in December, and nobody cares about those products for the rest of the year.
A quick search on Google Trends will help you identify this, simply by searching your product's keyword and looking for any regular peaks or troughs in its past performance.

Google Trends can also help you to determine whether a particular product is increasing in popularity or declining – simply change to the filter to the longest possible period of time (2004 – Present) and you should be rewarded with a pretty clear graph of the product's historic popularity.

A constant upward trend that's still going upward and showing no signs of slowing is probably a good sign you should get onboard now!
Google Trends also allows you to find niches that are relatively new and that most people aren't aware of yet, which may well be the perfect time to jump on board.
Look for Products with High Demand But Low Review Scores
Think about it, if a product has high demand and is purchased often, but all of the options on Amazon have a fairly low review rating, what does that mean?
It means a lot of people want to buy this product but the existing options aren't satisfying them.
This is a golden opportunity for you or me, as all we need to do is read through the reviews to find out how customers aren't being satisfied, or what they are expecting but not receiving.
From there you can improve the product yourself to take care of the complaints, and all of a sudden you have the best value version of that product available – sing it from the rooftops and the sales will come!
We try to stick to product types where the best selling examples combined are selling at least 2,000 per month.
This should be enough to ensure strong enough demand, while also giving you enough wiggle room to win some of those orders away from the competition.
This can easily be done with JungleScout or similar, by adjusting a few filters.
For example, you can search for products with a minimum price of $20, that sell over 400 per month, and with under 100 reviews.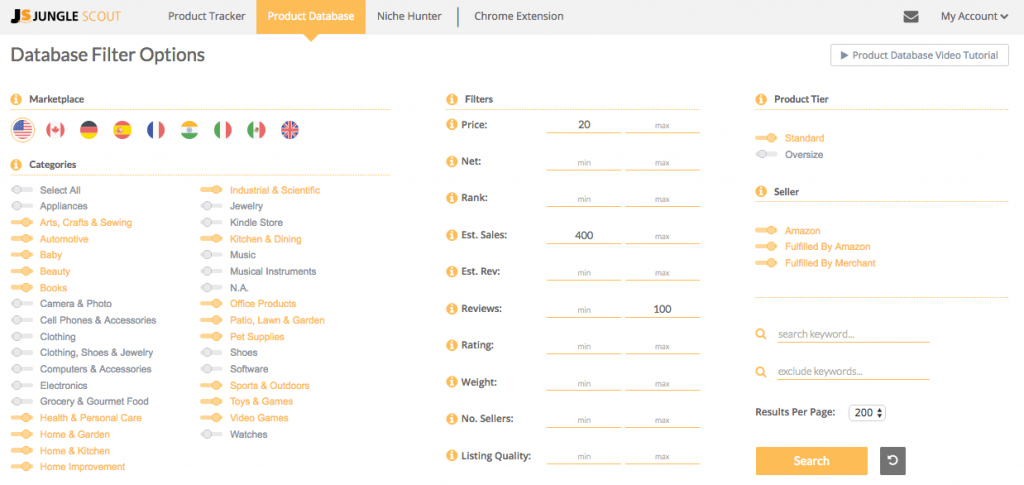 All of a sudden, you have a list of product ideas that are both in demand and not entirely satisfying their target audience – your perfect time to strike.
Avoid Any Potential Legal Problems
It might seem obvious, but if you're working on your first product this is something that could be fairly easy to miss.
You certainly don't want to attempt any launch of a product that's already been trademarked or to use a trademarked product name without realising.
Once you've settled on a product you think could sell well and are ready to look deeper into it, you should also be sure to check into any brands that are already selling similar products and be sure not to use any of the names or marketing terms they do without checking if they are copyrighted first.
This shouldn't be a big problem since you want to stand out amongst them anyway, just make sure you do your research!
Using Amazon's Bestseller List
If you're just starting out and don't have access to JungleScout or a similar tool, not to worry!
Amazon's bestseller list gives you a ready-made list of the best selling products on Amazon.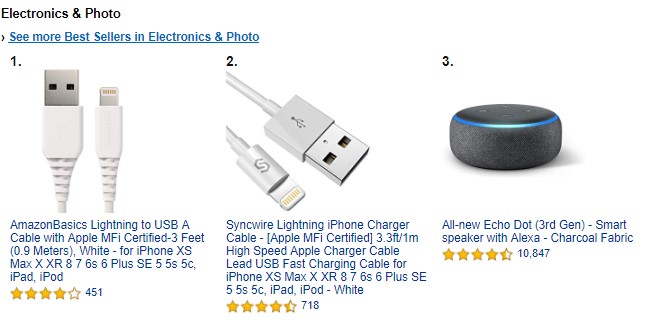 Although, most of these will be very high competition, so it's a good idea to look for ones with slightly worse reviews to see if you can improve on them.
Another good tip is to use the category listings to niche down further, seeing if you can find related products that are less competitive.
You can even check the related items to get some ideas on how you can continue to expand your business!
Use Other Marketplaces, Retail Stores & Physical Markets
Sometimes the perfect idea for an Amazon product already exists, it just isn't on Amazon yet.
Browsing what's selling well via other channels can be a great way to find effective product ideas.
Some places to look include:
eBay
Retail stores
Physical marketplaces (these are often full of cheap novelty products that are worth looking into, and could even be a place to find a supplier)
Alibaba (Why not look for ideas here? There are millions of products listed that sell in any and all countries. Even better, if you find one you like you can message the supplier immediately)
Reddit (finding a subreddit for your niche can be an amazing way to learn more about what your audience wants, and Keyworddit is also worth its weight in gold here.)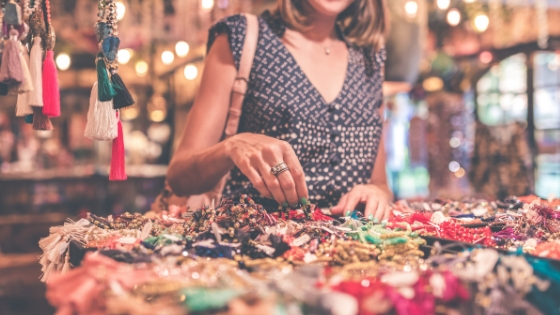 Another popular idea is retail arbitrage.
This is where you scour cheap market stalls and the discount or stock clearance sections of supermarkets, finding products that have huge discounts to sell for full price online.
You are never going to scale this or build a big business from it, but if you're starting out and want to make some quick and easy profit to invest in manufacturing your own products, it's an amazing way to start and often comes with incredibly high margins.
Keep "Sharpening the Saw"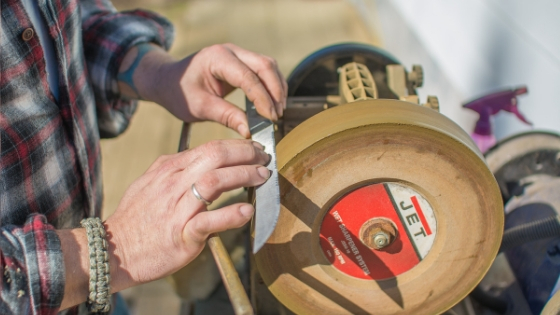 Once you've selected a product you like, improved it as best you can and launched it, you might think your time of researching and developing that particular product is over.
Unfortunately, this mindset is what leads a lot of people to fail.
After all, if your product launch went well and you are winning orders from the competition and growing, they will be thinking of ways to win those orders back, which will inevitably lead them to new marketing campaigns, improving their product, or both.
In this case, you will need to keep track of your negative reviews, survey your customers, and do anything you can to keep improving your product offering to stay ahead of the game.
If your product launch didn't go as well and you are struggling to win orders, this is equally the case as it's likely your offering isn't as attractive as the competition for some reason.
Either way, to get ahead of the competition and stay there, constant proactive dedication to growth and improvement is required and will be rewarded.
That's all for today but keep the above tips in mind while researching your products, and always stick to the numbers.
If a product is related to your hobby and you're super knowledgeable about it and would love to sell it, but the numbers are bad – forget it.
If you stick to using a data-driven approach, your chances of success will increase massively.
To learn more about the Amazon process and how to succeed, check out our full guide to selling on Amazon, and remember the more you read, and the more you use data, the more of a chance you have.
Knowledge is power when it comes to Amazon!
If you need help managing your Amazon account, consider filling in our proposal form to see how the #1 Amazon marketing agency could help you grow your business!