Sellics is by far one of the most popular and well-known Amazon marketing software packages in 2020, but has it truly earned this title?
As one of the leading Amazon SEO agencies worldwide, we have worked with hundreds of clients to rank products in highly competitive search terms and help business owners to get the absolute most out of their Amazon business.
During this time, we've spent a lot of time using the vast majority of Amazon seller packages that are available. As a result, we have decided to share this experience with you, our lucky readers, in order to help you make accurate, educated decisions about which tools are best for you.
Here is our complete breakdown of Sellics, what it does, what it does well, what it could do better, and how valuable it is for you.
Without further ado, let's start with the basics:
What is Sellics? And What Can it Do For You?

Sellics is a complete Amazon FBA management solution, providing tools and features to manage:
Amazon Sponsored Products/PPC Campaigns
SEO & Listing Optimization
Review Management
Keyword & Product Research
Competitor Research
Inventory/Stock Management
That's a lot for one tool to handle!
So is it a case of, jack-of-all-trades, master of none?
Or, have they actually managed to create the perfect all-in-one solution?
Well, one of the most positive things about using Sellics is how it pulls accurate data and metrics from Amazon and translates them into clear, easy to digest insights. It would be incredibly easy for a tool that does this many different things to be a "can't see the wood for the trees" situation, with so many data and different functions going on that it's difficult to understand what's going on – it's commendable that Sellics doesn't fall into this trap and manages to prioritise user experience and design almost as well as the more specialised tools.
Although, Sellics only shows data for the past two months, which is a bit of a shame.
It's also important to note that Sellics comes in two main packages, the "Seller Edition" and the "Vendor Edition". As you would image, these are aimed at people who sell through Amazon's Seller Central, or Vendor Central respectively.

This is a good sign because it is born from the fact that Sellics is equally experienced in providing solutions for small businesses, lone Amazon sellers, and huge, multi-million dollar brands (existing clients include L'Oreal, Bosch & more).
They even provide an "Agency Edition", but this is more for people like us, and if you don't help other people to sell on Amazon, it will be of little interest to you.
When we ask our clients what they find the most difficult aspect of selling on Amazon, one of the most common responses is that it feels a bit like juggling too many balls at once with all the different factors that have to be optimised and tracked.
Sellics goes a long way towards solving this problem, arguably further than most other tools, and deserves points simply for allowing you to manage such a wide variety of aspects from one dashboard.
What Are the Main Features of Sellics?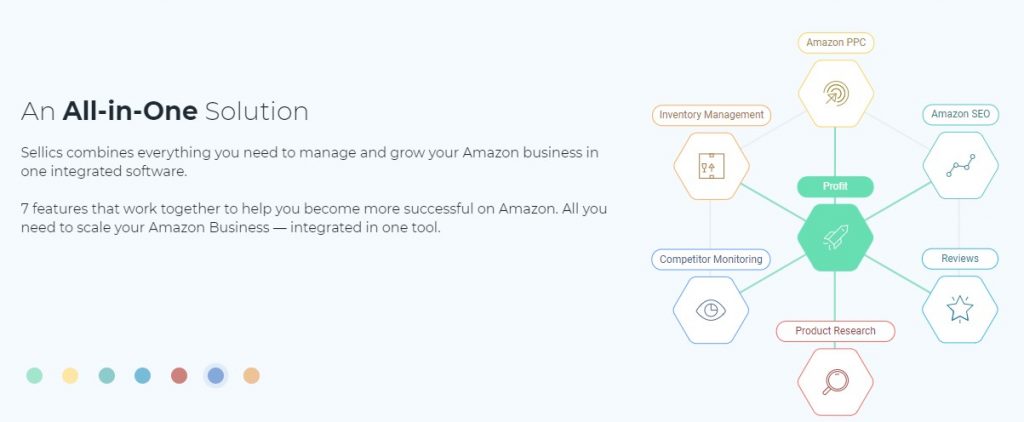 Included in all Sellics packages is:
A user-friendly A/B testing suite
Keyword research, rank tracking and analytics functions, including for your own listings and those of competitors
Listing analytics and optimisation tools
Complete sales data from Amazon including information on your BSR, competitor comparisons, PPC costs and performance, refunds, profits and more
An Amazon Sales Rank Tool that covers sales volumes, sales history, price history, product rank tracking etc
The Sellics Experience

As soon as you sign in to your Seller Account for the first time, you'll land on the main dashboard that can be easily switched between the spy tool, niche analyzer and product detector.
There is also the "cockpit" which is essentially a dashboard full of metrics, data and widgets, and a great place to get insights about your Amazon business as a whole.
Let's take a look at the individual features and tools:
Niche Analyzer

This is a fairly simple tool that analyzes the potential sales volume and strength of the competition within your chosen niche.
It's not a tool you'll spend a great deal of time in, but when you are considering entering a new niche or launching a new product it's invaluable, giving instant insights into:
How many sales the niche as a whole makes
How many sales the biggest players in that niche make
How difficult it will be for you to rank in the top keywords
How many sales you are likely to achieve if you do this
Product Detector

The purpose of this tool is to give you a detailed breakdown of the products that are currently listed on Amazon. Its main use is to find profitable niches with low competition.
It's the most simplistic tool in the package and we certainly wouldn't recommend getting Sellics if this is the main thing you'll be using it for, but it's not horrible and as part of the entire package, still provides good value.
There are some filters that give you agency over how the products are sorted though, allowing you to order products by sales rank, number of reviews and more.
Keyword Rankings

This section is all about researching keywords, finding who's ranking well for what, and finding all of the possible keywords for your niche, including which ones have the most traffic, and which ones have the least competition.
It provides you with search volumes of over 200 million Amazon keywords, and can also track your products ranks over time in order to see what works and what doesn't in terms of your listing optimizations and other improvements.
Like the product detector, this isn't as good as it could be and provides decent value as part of the whole package, but doesn't rank highly at all in the world of keyword rank tracking.
If you are looking to track your competitors' product ranks and analyse which changes improve your rank and which don't, we would recommend using a specialised tool that focuses on that as opposed to Sellics (our favourite and by far the best value is KeyworX).
Inventory Management

Inventory management can be one of the biggest hassles for an Amazon seller, especially if you have a broad range of products across multiple manufacturers and multiple Amazon marketplaces and languages. That's when it can be a real headache!
This tool puts all of your stock information in one place and allows you to calculate the ideal reorder dates and receive alerts when it's time to replenish stock based on current inventory, production and delivery time, and sales velocity.
This is one of our favourite Sellics features and makes juggling multiple product ranges as easy as it could reasonably be.
PPC Manager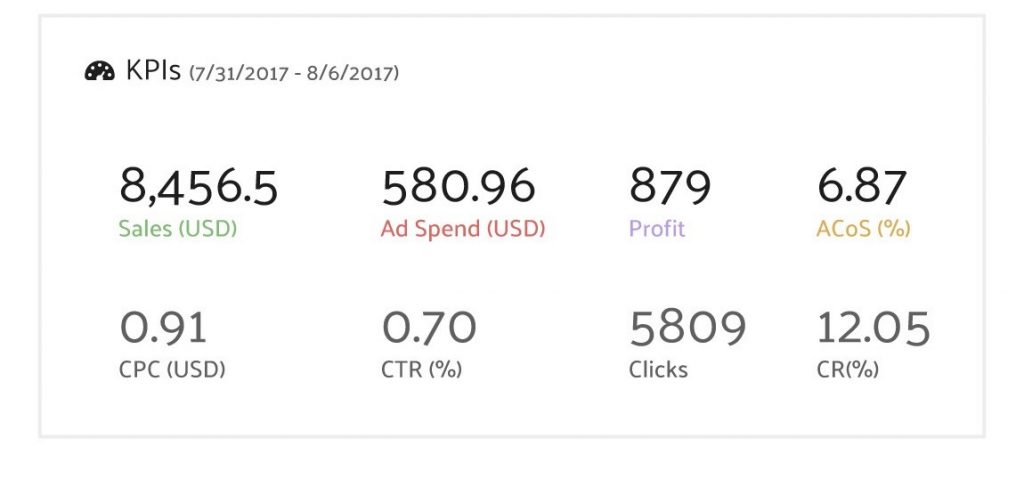 The PPC manager pulls data and metrics from your Amazon Sponsored Products campaigns and allows you to analyse and optimize them from within Sellics.
It also alerts you of keywords that aren't performing well and suggests alternatives based on search volume and impressions, which is a nice touch.
It also has some basic automation functions that allow your bid prices to adjust themselves based on their performance.
All in all, we didn't have that great of a time with PPC Manager and it doesn't provide too much that you can't get just as easily via Seller Central.
If you have Sellics and use the bulk of the other features, you'll probably end up using it just for convenience's sake, but besides that we wouldn't recommend it.
Once again, if you're looking for something to help with your PPC strategy, you're probably better off looking for a specialised PPC management tool, although our favourite, Jungle Hustle, isn't a tool at all!
Profit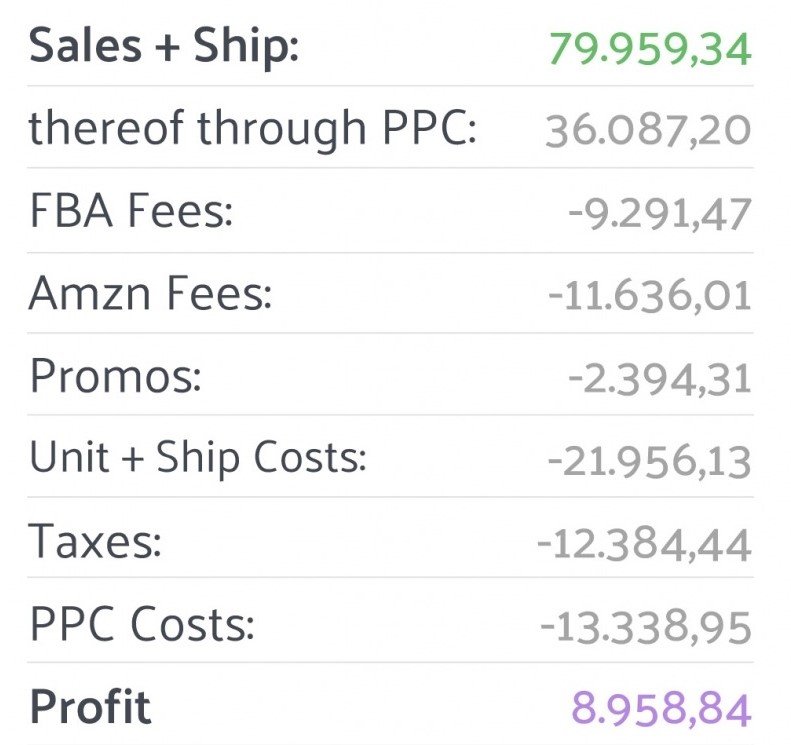 Sellics' Profit dashboard provides running totals on all your profit margins that are updated every 5 minutes. You can manually input the individual unit cost of your products and any other cots from outside of Amazon such as inspection services etc.
Profit Dashboard will then automatically deduct all costs that are from Amazon, including:
Amazon fees
PPC costs
FBA fees
Shipping fees
…and anything else that's relevant, allowing you to easily and quickly check your profit margins and discover which products are your biggest moneymakers, and which are potentially not worth continuing with.
It all works seamlessly and updates constantly, and we think this is one of the most impressively executed parts of Sellics.
Review Management

This tool works like a simpler version of Feedbackwhiz. While it doesn't have any of the email segmentation and automation tools that Feedbackwhiz does, it still gives instant notifications and alerts when negative reviews, allowing you to rapidly take action to defend your brand with a single click.
What About Privacy? Is Sellics Secure?
When all of your customer's details and your own financial details are being stored in a third-party piece of software, this is rightly a major concern.
There is actually nothing to worry about here, though, as Sellics runs off Amazon Web Services, meaning it pulls certain data directly from Amazon's API and displays them for you, but they are never actually stored within Sellics itself.
To learn more about this or if you're still concerned, check out Sellics' privacy policy, which is actually more of an FAQ based around data security.
How Much Does it Cost?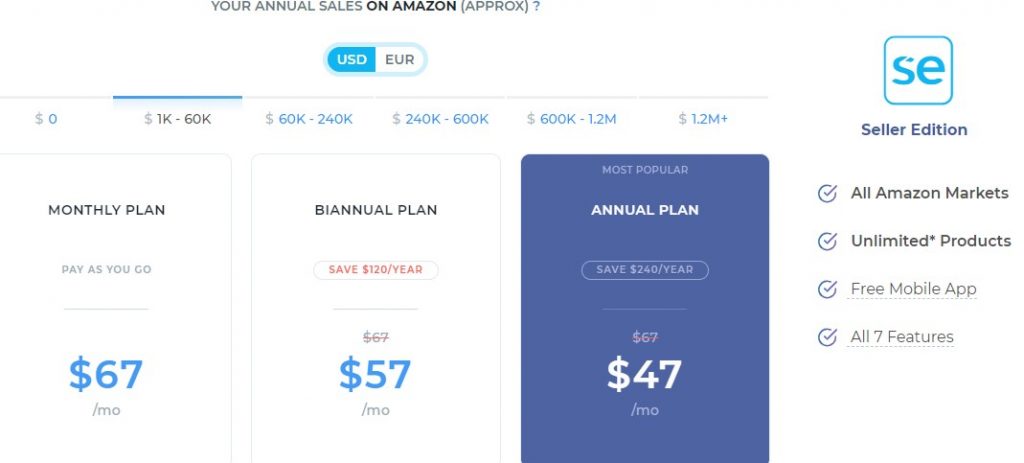 By now, you'll likely be aware of whether Sellics is right for your requirements or not, and as such, this is likely the final piece of information that will decide whether or not it could be a good investment for your business.
The first important point to make is that you can try every single feature of Sellics for free in their 14-day free trial, with no credit card necessary. This means there is no reason not to try it out for yourself and see what you think!
If you do decide to subscribe afterwards, the price changes quite a lot depending on whether you go for the Seller Edition or Vendor Edition as well as the average sales volume you make per month.
Since the majority of our readers will likely be on the Seller end of things, we will focus on that edition, but all of the pricing can be found on Sellics' website.
All prices listed below are per month.
| | | | |
| --- | --- | --- | --- |
| Annual Sales | Monthly Plan | Bi-Annual Plan | Annual Plan |
| $0 | $57 | N/A | N/A |
| $1k-60k | $67 | $57 | $47 |
| $60k-240k | $97 | $87 | $77 |
| $240k-600k | $157 | $137 | $117 |
| $600k-1.2M | $217 | $187 | $157 |
| $1.2M+ | $317 | $287 | $257 |
We hope you have enjoyed our Sellics review and are a little more aware of what the package offers and whether its a worthwhile investment for you.
Let's finish up with a breakdown of the good and the bad, as well as a final conclusion:
Positives:
One of the most complete and comprehensive Amazon selling tools on the market – a no brainer if you want everything in one place
An excellent range of metrics and data, including conversion rates on all of your products and insights on how to improve them
Amazing customer support – Live chat, a great knowledge base and regular blog posts make learning about Sellics and how it works a walk in the park.
Instantly switching between marketplaces without needing to pay extra makes you feel like a global magnate
Negatives:
It's a bit of a jack-of-all-trades, master-of-none, meaning most of the tools are blown out of the water by some individual, more specialised ones such as KeyworX
Only provides 60 days of data, so if you want to go further back you're out of luck
You have to connect your Seller Account to be able to do anything, even while on a free trial and just trying to tinker around with it
There are no downloadable CSV reports which is a strange omission
Conclusion
While you can do much better on an individual tool basis and some of the self-contained parts are lacking, what Sellics excels at is putting everything you need in one place, and making it all super easy to access.
Since selling on Amazon can be so time-consuming and feature so many moving parts, this is not something to be shrugged off and if consolidating all of your analytics and performance metrics into one place is your priority, you are very unlikely to do better than Sellics.
For that reason alone, we give Sellics a hearty recommendation.
The AmazonSEOConsultant Verdict: 9/10
Is it difficult for you to find the resources or time to manage your Amazon business and scale it the way you'd like?
Would you rather have the #1 Amazon marketing agency handle this for you?
We provide services ranging from full partnerships and Amazon seller account management to one-off product rankings and listing optimization.
To learn more about how we can offer results and rank positions that nobody else can, take a look at our case studies to see the results we've already achieved for our clients with our unique, self-developed Amazon ranking process.
Or, to get in touch directly and discuss what we can achieve for you, request a proposal now!