Continuing our series of reviews looking at the current state of Amazon seller tools in 2019, today brings us to CashCowPro.
Another total management tool like Sellics, CashCowPro is also another of the most well-known names in Amazon seller tools. In other words, it's one of Sellic's biggest competitors.
But does it do the same thing, or go its own way?
What does it do better or worse, and which is the best value for money?
We've spent plenty of time with both, and we're about to breakdown CashCowPro for you.
Let's take a look:
What is CashCowPro? And What Can it Do For You?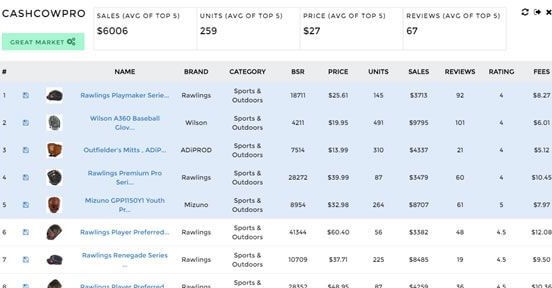 CashCowPro is a complete Amazon management solution, offering tools and functionality for automated messaging, keyword tracking, real-time data tracking and more.
This is one for the data nerds and algorithm lovers, as CCP provides large amounts of data to allow you to really dig in and analyse your entire Amazon strategy, figuring out what's sustainable and what isn't.
Admittedly, we are algorithm lovers who spend most of our time experimenting with ways to get the most out of algorithms, as you can see in some of our case studies.
It's worth keeping this in mind if you aren't, as some of the data features that are impressive to us may be less so to you if you aren't willing to sit down and really analyse everything.
Let's take a look at what exactly CCP allows you to do:
What Are the Main Features of CashCowPro?
As a complete Amazon management tool, CashCowPro offers features to view, track or manage:
Real-time sales data such as stock levels, sales velocity, Best Seller Rank etc
Monitor your performance with keyword rank tracking, listing analysis and optimization tools, and find new ways to reach customers with keyword suggestions
Automated, unlimited follow-up emails for feedback management
Data on the best sellers on Amazon to help you find new products with high demand and low competition
Inventory management and low stock warnings
Compare your performance to that of your competitors with data like conversion rates, page views, pricing and more
Automated and simple to use A/B testing options
It's also worth noting that CashCowPro's pricing setup is a lot simpler than others such as Sellics, with only two reasonable options to consider: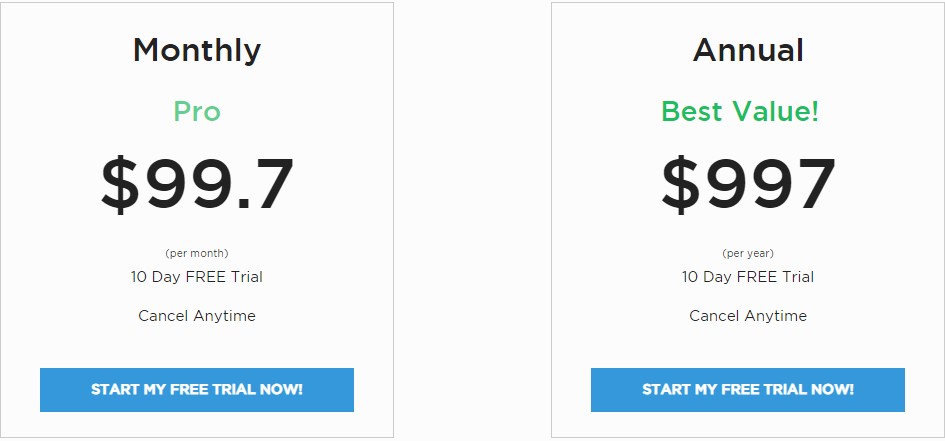 Not too shabby…but how good are the individual options and tools?
Here's a quick breakdown:
Sales Data

As mentioned briefly, CashCowPro gives you a lot of data and some great ways to play with it. It is one of our favourite tools when it comes to simply getting a good overview of your business.
You are provided with Net Profit figures in multiple currencies and it uses this data along with your costs to calculate your ROI for each individual product, product type, marketplace etc.
This is very useful when it comes to diagnosing your overall FBA business and finding aspects that could be improved.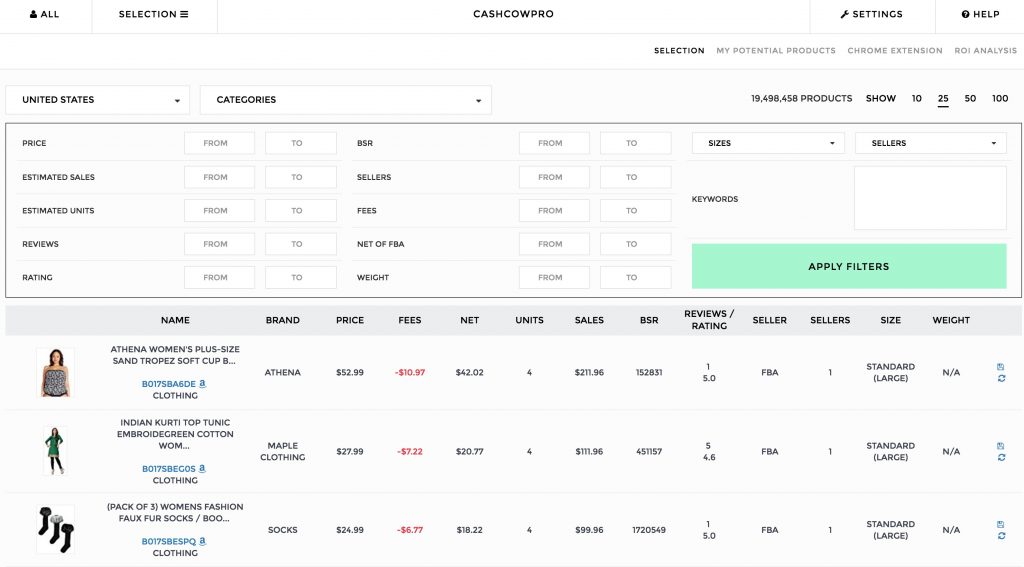 Sales data also includes promotions and refunds, so the results are more accurate than some other tools that don't necessarily take this into account.
It also has a great inventory management feature, which constantly tracks your stock levels and sales velocity to remind you when you should be reordering.
This is by far our favourite aspect of CashCowPro, as it offers more data and more to do with it than any other Amazon seller tool we can think of.
Keyword Tracking

CCP's keyword tracker allows you to track 100 keywords per product, so you can monitor their performance and make adjustments if necessary, such as switching out highly competitive keywords for ones you can more easily rank in.
As keyword tracking tools go, this isn't great. Sellics' offering is a bit more usable, but generally, the best keyword and rank tracking software is more specialised to the task at hand such as KeyworX.
If keyword research and rank tracking are the main things you want out of a tool, definitely go for something like that, but as one cog in the overall CashCowPro machine, what you have here is decent enough!
Automated Feedback Collection & Management

CCP's Automated Feedback Collection feature works similarly to Feedbackwhiz. In a similar manner to the keyword research tool mentioned above, it's not quite as good as FBW and some other specialised feedback software, but it still does the job when it comes to setting up an email campaign that will increase your positive reviews and simultaneously help to prevent negative ones.
One cool thing about this is that emails are sent based on the best practices that CashCowPro have discovered based on their own A/B testing, so all of their templates and default settings have pretty good open rates and engagement, and continue to improve.
The Top 20 Million Amazon Best Sellers

This section is exactly what it sounds like – a list of the top 20 million best selling products on Amazon, complete with a suite of filters and sort tools to help you do with it what you will.
This makes product research a cinch because you can see what sells well and which products amongst those bets sellers have the lowest competition.
You can also look for products that are aligned for your brand for an easy way to get product ideas that you potentially never would have thought about otherwise.
This is a little different to most Amazon product research tools and frankly, the simplicity combines with the power it provides are pretty impressive. There is also a Chrome Extension so you can analyse products while in Amazon itself, which is very convenient.
Inventory Monitoring

This one is perhaps self-explanatory, tracking your sales volume and velocity, your stock levels and lead times in order to provide accurate reminders when you need to order more stock.
Time spent with no stock is time spent with no profit, and the last thing you want is a customer interested in your product to be unable to buy it.
In that sense, this is a super important thing to have despite seeming so simple and minor. CCP's offering isn't the best option out there in terms of inventory management, but it's more than cut out for the job.
Page Views & Conversion %

If you want to know how your product listings are performing and find some ways to improve them, this is the tool for you. You get full access to metrics such as how many page views your listings have, how long people are spending on them, conversion rates, and even how your sales and pricing compare to those of your competitors.
This is one of our favourite parts of CashCowPro as it's so comprehensive, well-designed and simple to use that it almost feels like the Google Analytics of Amazon!
A/B Split Testing Tool

The split testing tool does exactly what it says on the tin, letting you compare different titles, descriptions, prices etc to help you determine which way of doing things will be the most effective.
Honestly, we didn't get a great deal of usability from this and find that most standalone split testing tools are exponentially better.
Regardless, it does the job and if you're just starting out and want an easy way to manage your Amazon business all from one place, this will do the job until you decide you need something better.
That's it for the individual breakdowns of CCP's features and tools.
As you can see, a few of them fall down compared to other options out there and none of them really compare to some of the more specialised optipns but then that is to be expected.
If you're just starting out and having everything in one easy-to-manage place is more important than having the best tools available, then this is still a great option and the power you can get from the data provided certainly wins it some extra points!
What About Privacy? Is CCP Secure?
You can find CashCowPro's privacy policy here but they are 100% Amazon compliant and data comes directly from the API of your Seller Central account, meaning as long as you keep your passwords secure etc, there should be nothing to worry about here.
Which Marketplaces Are Supported?
Existing support is for the US, UK, Canada, Mexico, EU and Japan. Support for Australia, India and China is incoming.
Is There a Free Trial?
Yes, although you need to enter card details and the trial is only for 10 days. Most tools these days offer 14 days as a minimum and up to 30 days for a free trial, and most don't require card details either, so this does come across a little stingy.
Still, if you want to mess around with the software and see how it works without paying a penny, it does the job.
Final Breakdown
Positives
Well priced: At $99 per month or $997 per year for a full suite of tools, you really can't shake a stick at the value.
Nice UI and design: Getting around CashCowPro and finding the data you need is as smooth and responsive as we could ask for
Comprehensive and complete: There is at least some form of all of the major Amazon seller tool types here
Negatives
Some inconsistencies in the layout: For example, inactive listings can't be hidden and some of the information layouts can be slightly confusing
No overall data: You can check your sales for each marketplace individually, which is fine for most, but if you want to check your total from all marketplaces, you're out of luck
Does everything pretty well, but nothing excellently: It often comes with the territory with these all-in-one tools, but most things here are bested by standalone software like KeyworX and Feedbackwhiz
Conclusion
While CashCowPro can feel a little basic sometimes, it is more than comprehensive enough to help you manage your Amazon business and face most problems that can arise.
One thing that majorly sets CashCowPro apart is the way it provides Net Profit figures for everything around your business, meaning you are constantly aware of the overall health of your business and don't need to do your own calculations to check on this.
Apart from this, CCP is pretty similar to other complete solutions like Sellics so which one is best for you will depend on the information you are most interested in, and of course, your budget.
In fact, the budget is a major point here because CashCowPro is quite a bit cheaper than the competition, and might be the right option for a new Amazon seller for that reason alone.
This fact combined with the strength of the data make this a good overall solution for new Amazon sellers.
The AmazonSEOConsultant Verdict: 8/10
Is it difficult for you to find the resources or time to manage your Amazon business and scale it the way you'd like?
Would you rather have the #1 Amazon marketing agency handle this for you?
We provide services ranging from full partnerships and Amazon seller account management to one-off product rankings and listing optimization.
To learn more about how we can offer results and rank positions that nobody else can, take a look at our case studies to see the results we've already achieved for our clients with our unique, self-developed Amazon ranking process.
Or, to get in touch directly and discuss what we can achieve for you, request a proposal now!