In some ways, AMZAlert is comparable to Listing Eagle since it's all about monitoring your Amazon account and providing notifications when something requires urgent attention.
However, it's perhaps a bit fairer to call AMZAlert a complete listing security package for Amazon, since whereas Listing Eagle focuses on listing hijacks and suppression, AMZAlert provides notifications for a much wider range of important events.
Not only that, but AMZAlert does have some automation features too, allowing it to react autonomously to certain events, for example firing off C&D letters if your Buy Box is hijacked or responding to negative reviews.
But how well does it provide this service, and can you trust it with the future success of your business?
Join us in our review of AMZAlert and we'll go through every feature in detail so you can make that decision for yourself!
Let's jump right in:
What is AMZAlert and What Can it Do For You?

If you're already mentally comparing AMZAlert to Listing Eagle, you'll be surprised – whereas AMZAlert isn't quite as attractive a proposition for newcomers and smaller Amazon businesses, and doesn't feel quite as well-designed and smooth to use, it's actually considerably more comprehensive than Listing Eagle and has many, many more useful features.
Here is their full list of features, broken down into four main categories: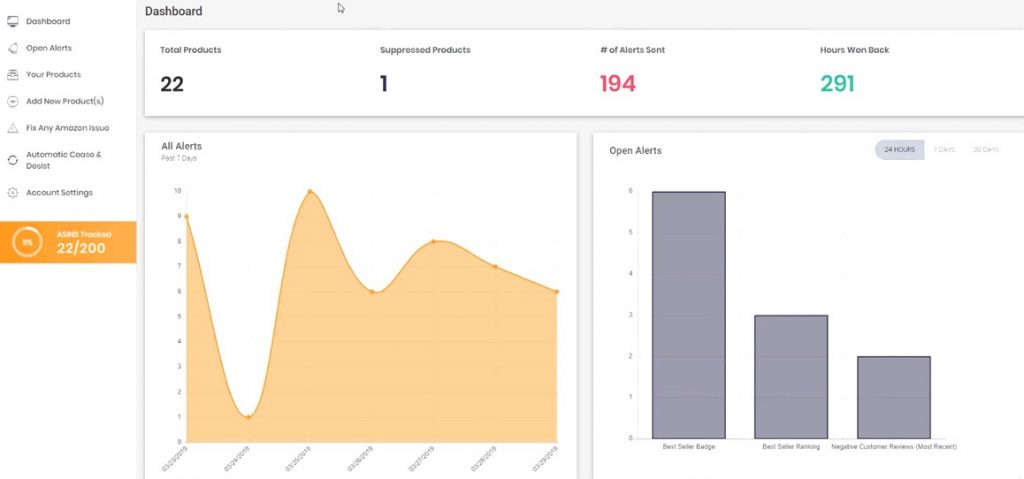 Amazon Product Listing Alerts
AMZAlert provides automatic alerts, sent every 15 minutes, if any of the following things are changed or altered:
Product title
Product image
Product category
Product bullet points
Product description
If your product is marked as an add-on item
Amazon Review Alerts
There is also a full review section that provides notifications when any of the following occur:
New negative reviews are received
Existing negative reviews appear as top rated
Changes to overall review score/star rating
Removed reviews
General Marketing & Sales Alerts
Alerts can also be sent for any of the following events:
Stock/inventory changes or reorder alerts
Product suppressions or removed listings
Losing or winning the Buy Box (hijacked listing alerts)
New sellers appearing on your listing (piggybacking alerts)
Changes to Best Seller Rank or badge
Changes to ranking for specific keywords
Price changes or violations
Products flagged as against TOS or Adult etc
Business Automation Features
In addition to the above notifications, you can also set up automatic actions so AMZAlert can do things like:
Send immediate automatic cease and desist letters to listing hijackers
Leave automatic instant comments on negative reviews
Customise your alerts by team member so that nobody gets irrelevant alerts and everybody is made aware of what they need to be
….Phew! That's quite a lot of features for an Amazon tool that specialises in alerts!
This is a very useful tool for Amazon sellers that will help you to be aware of important activity around your business, even when you are away from work or your desk.
That's definitely something that comes with a lot of value, so how does the pricing work out? Is AMZAlert a must-have or too expensive to be truly valuable?
Let's look at their pricing options:
AMZAlert Pricing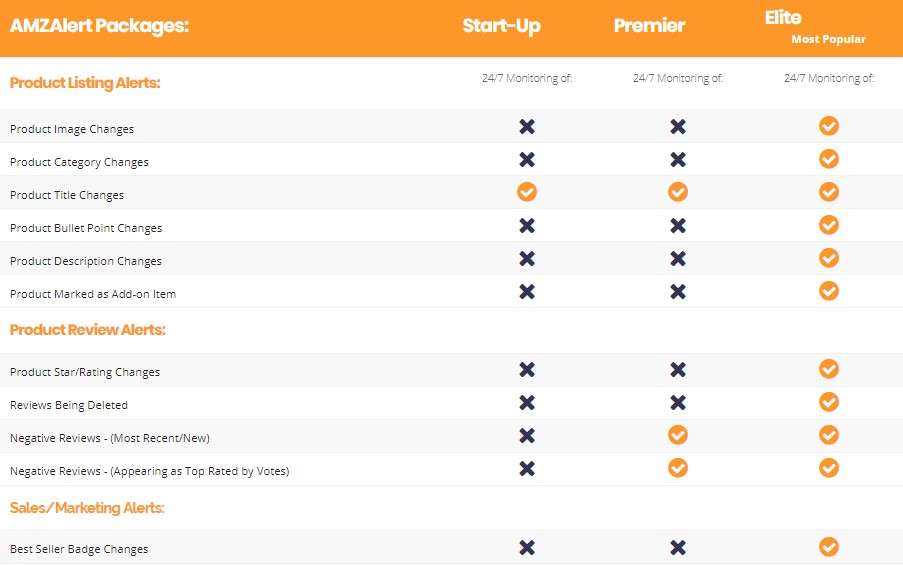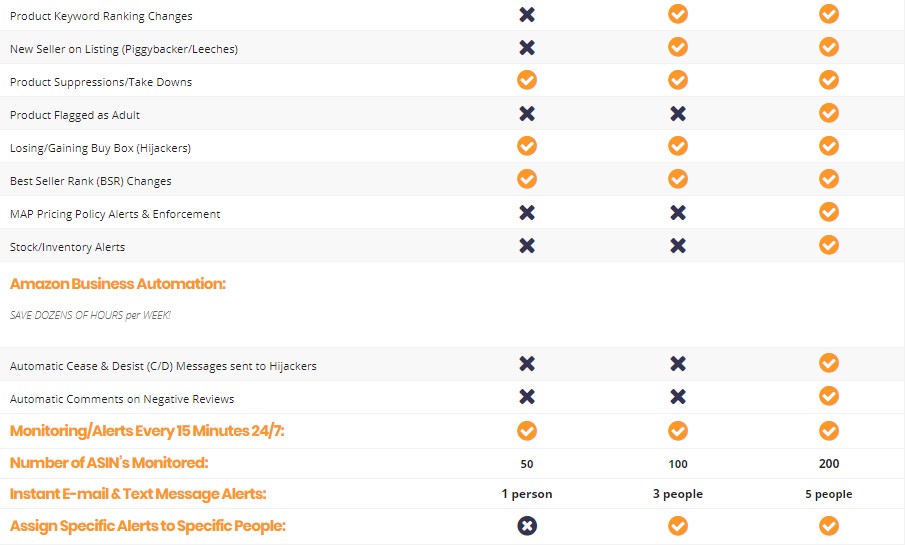 We have to be honest, a few things stand out here, and not necessarily in a good way:
That start-up package is stingy – $80 a month is quite a big ask for a newcomer to Amazon or somebody who is just started out making sales, and that package is listing the vast majority of options. It still gives notifications for listing hijacks and listing suppressions, which are arguably the most important features, but Listing Eagle does those too, for a lot cheaper.
The Elite package is much better valued since it allows you to do anything, but $200 a month is still quite a hefty charge, so it's likely only the bigger Amazon businesses who are moving serious volume will find this a valuable deal.
Only the largest package offers a free trial!! In other words, they are hoping startups who want the smaller package will sign up for the larger one just for the free trial with the intention of switching back to the smaller later one, and the only reason they could want this is, is if they're hoping some people will forget and pay the full price – this is ripoff behaviour and not how you should act when you have confidence in your product (and they should, it's great!)
Despite the above, AMZAlert is certainly complete, taking care of everything you could possibly want an alert for regarding your Amazon account and even handling some of them for you.
This is obviously a huge benefit to the busy Amazon seller and with that in mind, you might find the price agreeable, seeing it more as an insurance policy for your listings than anything else.
Let's go further into the individual features and see if it's really worth the asking price:
AMZAlert Features
Since the complete list of features is too long to talk about each individual one in detail, we will break down the main categories of features and how easy they are to use, starting with Product Listing alerts:
Product Listing Alerts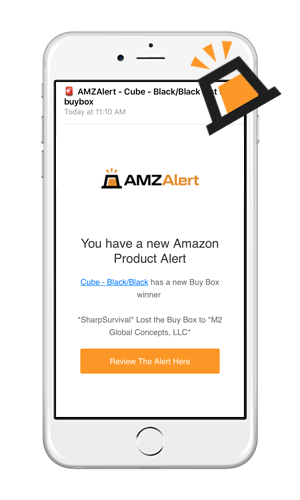 AMZAlert will make you aware immediately via email or SMS if it detects hijacker activity, allowing you to take back control in minutes as opposed to days.
At the end of the day, watching and managing your Amazon store is time-consuming and difficult and anybody with a large amount of ASINs needs something like this, and we'd be lying if we said AMZAlert wasn't one of the most comprehensive solutions out there.
Alerts aren't sent immediately like they are with Listing Eagle, but they are sent every 15 minutes which in our opinion is quick enough.
These alerts are also fully customizable and you can turn them off for low-risk listings if you dare or decide who on your team receives which alerts, which is a nice touch and helps to streamline things a bit since otherwise, you might find yourself forwarding alerts to team members constantly.
Review Monitoring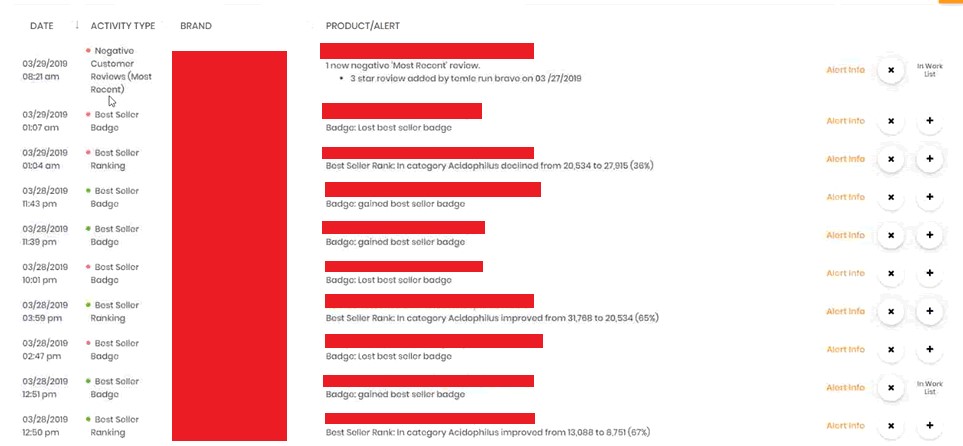 In a very similar manner to the above alerts, AMZAlert will also instantly notify you when you get a negative review, your star rating changes, a review gets removed, or anything else that you might need to be aware of.
As we're sure you know, your reviews are a major conversion factor and as such, being able to react quickly to changes in your rating is crucial.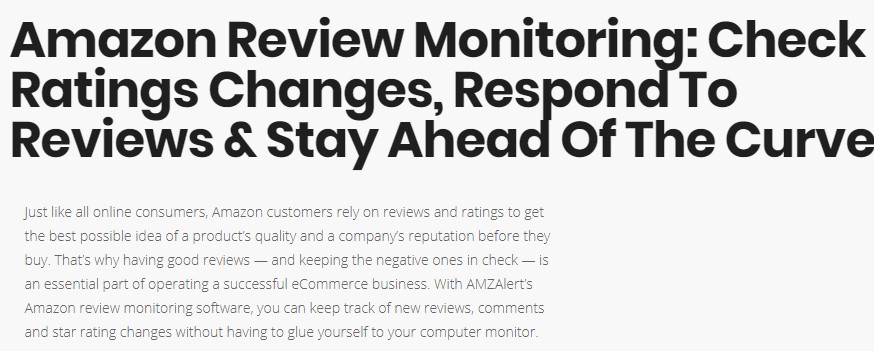 This works very similarly to the previous section, so there is not much to say here except it works well and can be considered somewhat of a Guardian Angel for your reviews and star ratings!
Amazon Sales/Marketing Alerts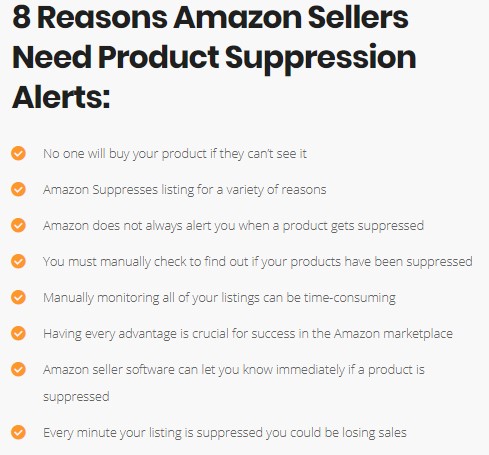 In our opinion this is the meat of the whole package, where you can get alerts for things like products being suppressed, losing or gaining the Buy Box, piggybacked listings, and even inventory management (on the more expensive package).
Once again this is well-designed and hard to fault, with everything being customisable and easy to manage. There is even a bulk upload so you can quickly and easily add all of your ASINs without having to spend time doing it manually – saving you time really is the aim of the game here and it does show!

Business Automation Features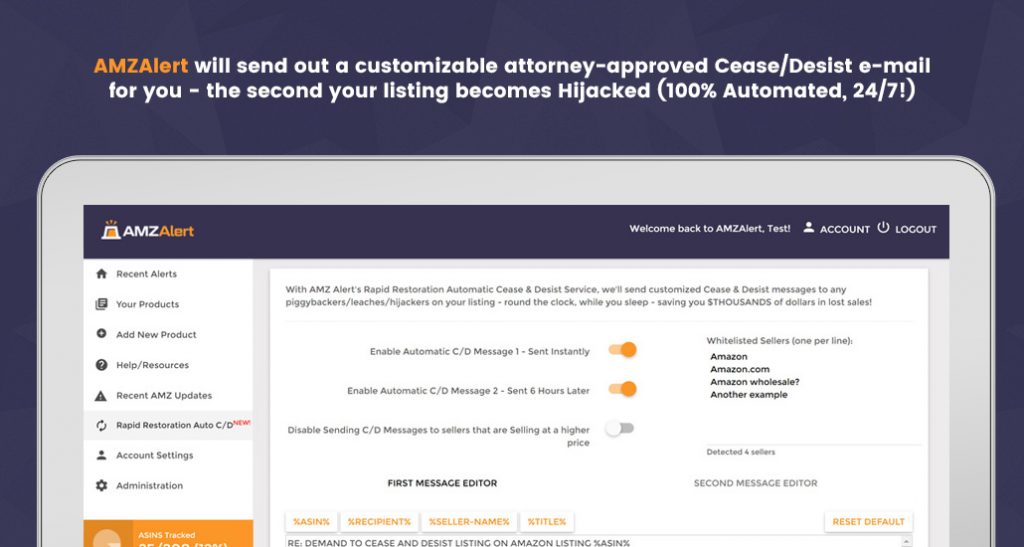 AMZAlert includes multiple cease and desist letters that are pretty well written, although not quite as impressive as Listing Eagle's range.
The ability to either respond immediately to an alert by blasting one of them off or manually writing your own letter is very powerful and AMZAlert's layout makes it as easy as we could reasonably expect to actually do.
It also allows you to blast off automatic responses to negative reviews that you can custom-write yourself, but we didn't use this as often as the other features and found that it was often a lot more effective to custom write these each time for the specific instance at hand.
After all, if a customer makes a negative review and gets an immediate response that's generic-sounding and not directly related to what they said, this reflects on your brand in a negative way.
If you write your response template well, there are certainly times when it will come in handy, but this was the part of the whole package we were the least impressed by in all honesty – a custom touch makes all the difference.
What about customer service?
The staff are friendly and knowledgable enough but also very slow to respond and often vaguely answer questions in ways that lead to more questions, and they won't reply any quicker the second time, making some queries go on for a while.
Can my team use AMZAlert? What if they work remotely?
Yes, AMZAlert provides full access for 10 users and you can personalise what each team member sees or the alerts they receive.
How often are my listings scanned?
Every 15 minutes
What about privacy? Is AMZAlert secure?
They don't sell any data and they work directly with Amazon Web Services, so there shouldn't be much to worry about here. If you are unsure, you can find their privacy policy at the very bottom of the page here.
Final Breakdown
Positives
Rest easy knowing your listings are protected 24/7
An ideal insurance policy for established Amazon sellers who can handle the cost
Comprehensive, complete and customisable
Well-designed and easy-to-use
Negatives
All packages are a bit too expensive
The lower package especially is pretty bad value, meaning this isn't an ideal solution for new startups
Conclusion
AMZAlert does exactly what it says on the tin, it does it well, and it does it with a good user interface and simple design.
As a product alone, this would probably be a 9/10.
Unfortunately, some overpriced packages, stingy practices around free trials, and a very limited startup package make this difficult to recommend for new Amazon sellers or those with smaller amounts of ASINs.
Despite this, for established Amazon businesses who can afford to swallow the cost, it remains an excellent insurance policy and a strong competitor among listing hijack tools that is complete, easy-to-use, and will save you a lot of time and lost profits, in the long run.
The AmazonSEOConsultant Verdict: 8/10
Is it difficult for you to find the resources or time to manage your Amazon business and scale it the way you'd like?
Would you rather have the #1 Amazon marketing agency handle this for you?
We provide services ranging from full partnerships and Amazon seller account management to one-off product rankings and listing optimization.
To learn more about how we can offer results and rank positions that nobody else can, take a look at our case studies to see the results we've already achieved for our clients with our unique, self-developed Amazon ranking process.
Or, to get in touch directly and discuss what we can achieve for you, request a proposal now!