Feedback Genius is a software tool for Amazon sellers that automates buyer-seller communications, using automated emails sent at specific times to help increase the number of reviews received.
Feedback Genius is one of four tools created by Seller Labs, also including Ignite, Scope and Quantify.
All four of these solutions are included in the Seller Labs Pro package, which may well be a great option for a lot of you in terms of overall value, but today we are specifically looking at Feedback Genius alone and how it compares to other Amazon feedback management tools.
It works by tracking every single review and piece of feedback you receive and allowing you to assign statuses to them, such as waiting, ticket opened, responded, resolved, or will not fix.
But how well does it actually work, and is it worth the monthly cost?
How does it compare to Feedbackwhiz?
Let's take a look:
What is Feedback Genius and What Can it Do For You?

Feedback Genius aims to help you manage your Amazon feedback as efficiently and smoothly as possible, allowing you to save a lot of time while keeping your brand and listings safe.
It's a relatively simple piece of software that looks a little barebone on first use, but this is simply efficient design and it does everything you'd want it to do, and perhaps a little more.
Let's look at the individual features and how effective they are in practice:
Seller Feedback Notifications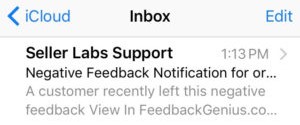 Perhaps the most important part of the whole software package, Feedback Genius provides immediate notifications every time a customer leaves feedback.
You can set this to only send notifications for negative reviews, or allow it to notify you of everything, but we'd recommend only setting it to notify you of the negative reviews.
This is because they're the only ones that require immediate attention and it can get a little spammy if you have a high sales volume and leave it to send alerts for all reviews.
Automated Emails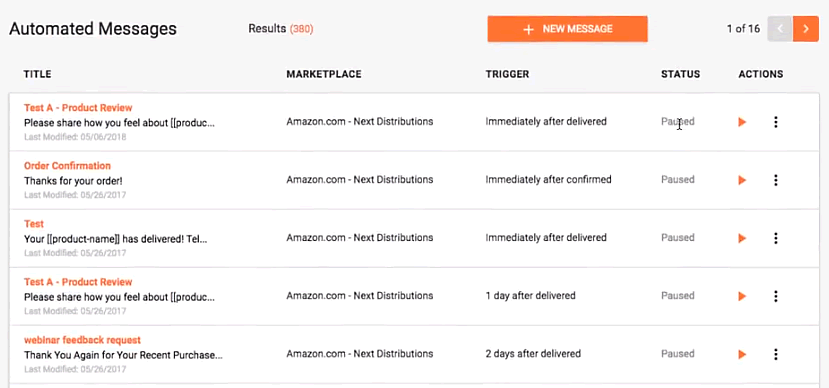 Feedback Genius has a full email automation suite that allows you to:
Solicit reviews a specific amount of time after an order
Automate emails a set time after an order to invite the buyer to contact you regarding any issues, reducing the chances of a negative review
Use emails as a marketing tool, for example upselling or cross-selling an item to a customer who previously purchased a related item (you can set emails to automatically send whenever you like, for example immediately on shipment, 14 days after dispatch, etc)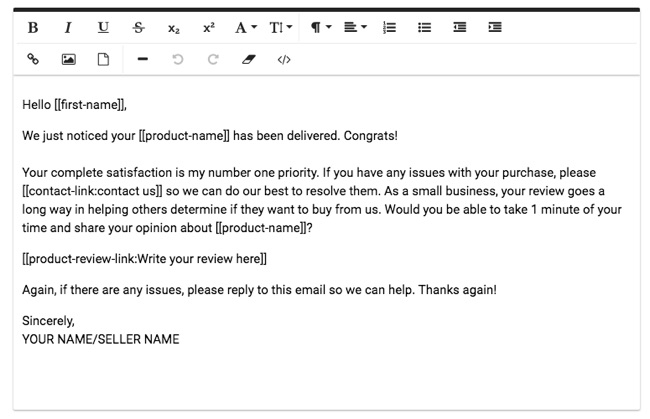 It doesn't provide the full range of segmentation and A/B testing tools that you'd likely get in an email automation tool aimed specifically at marketing, but for a tool whose main focus is review management, the email automation for marketing is surprisingly in-depth. It certainly isn't 100% focused on feedback related templates as you might assume.
Feedback Genius also comes with a range of proven email templates that have come from their data regarding the most effective emails sent by users of the service, and they're fully customizable giving you full control.
Optimized templates for each potential goal allow for the highest possible engagement rate and effectiveness.
Actionable Message Analytics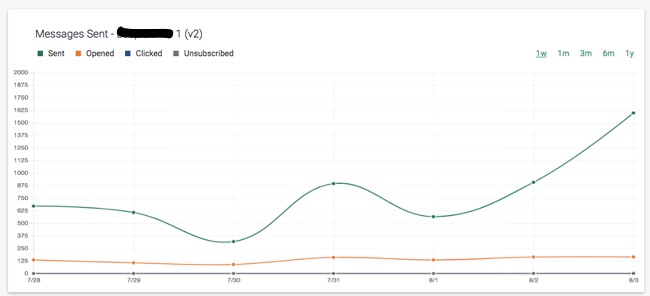 There is a full analytics section that allows you to analyse your previously set emails including metrics such as:
Open rate
Click through rate
Unsubscribe rate
This is very handy for analysing the effectiveness of your emails and working out which ones need to be further improved and which ones are doing the job you wrote them for.
It also offers monthly reports, displaying the total number of emails sent and the appropriate statistics.
This is a well designed and easy to use feature, although we will say the reports are a little slow to load on larger accounts with a lot of orders(emails).
Another downside is the fact you can only see the overall reviews you're getting overtime, instead of being able to break this down by product – but this is relatively minor.
A/B Testing

Feedback Genius comes with a nice A/B testing tool that allows you to test two emails against each other, then save the most effective one as a template.
This allows you to constantly test new ideas and gain insights on what works and what doesn't, making your emails naturally improve over time.
Once again, it's surprisingly fully-featured for a product that seems to only focus on review management and will be a real boost to your customer retention/review management strategies in the long term.
You can also get super granular with 10 filters that let you send certain templates to certain buyers, increasing the effectiveness even further if you are willing to get stuck in to the data to that extent (which you should).
Feedback Genius Pricing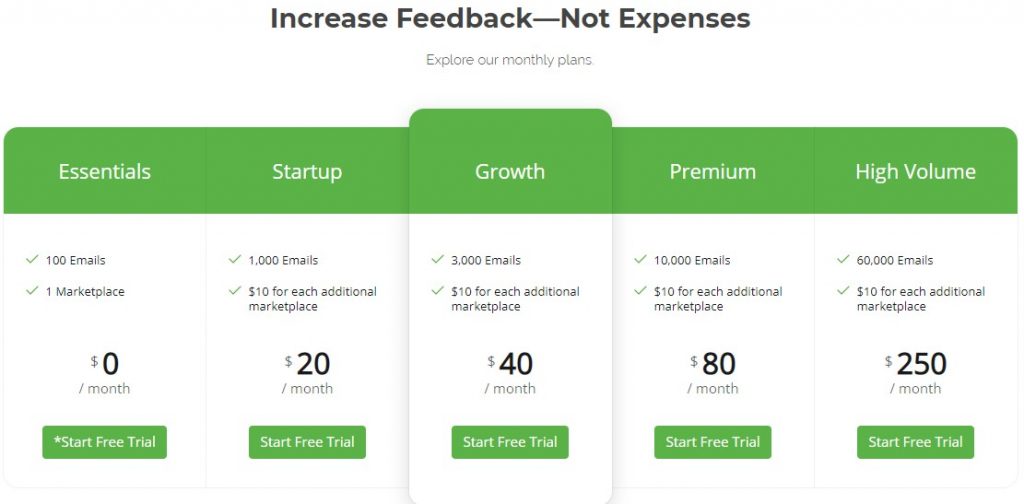 As with most comparable products, the price you'll pay for your Feedback Genius subscription depends on the volume of sales you receive (or in other words, the volume of emails you need to send).
There is a free package that allows you to send up to 100 emails on one marketplace, so this is a great way to test out the software's user interface and see how well it could work with your business.
It's not worth much more than that though, and even a newcomer to selling on FBA with a small amount of ASINs will want to go for the next package up ($20 per month for 1,000 emails)
From there onwards, there is $40 for 3,000, $80 for 10,000, and finally, a high volume package that overs 60,000 emails for $250 per month.
Unfortunately, all of these packages are for one marketplace only, and if you want to use Feedback Genius to help sell on further marketplaces, it will cost an extra $10 per marketplace, per month.
It's worth mentioning here that you can save money overall by signing up for the
Seller Labs Pro
package that contains all 4 tools by Seller Labs, but this is obviously only a good idea if you will benefit from all four, so consider comparing them before signing up to see which route suits you best.
It's also worth noting that there are microtransactions allowing you to purchase additional emails when you run out and that you will typically be sending an average of around 3 emails per order (any more than that will start to annoy people), so for example, if your sales volume is around 1,000 per month, you'll need the Growth package, not the Startup one.
What about customer service?
There are a lot of negative reviews on the internet regarding Feedback Genius's customer service, although most of these seem to originate from 2015-2018.
It seems like they have improved their game in the years following, because they replied quickly to all of our queries and were knowledgeable and friendly, but it's still worth being cautious here because their reputation is less than stellar and there's rarely smoke without fire in situations like this.
Which marketplaces does it work with?
Feedback Genius works with the following Amazon marketplaces:
The US
Mexico
Canada
The UK
Germany
Italy
France
Spain
India
However, only one marketplace is included for free, with each additional marketplace costing $10 per month – something that adds up quickly if you're selling in multiple marketplaces.
Can I send emails to buyers of Amazon Kindle books?
Unfortunately not, Feedback Genius does not support this.
Which order events can I use as email triggers?
Order events that can cause an automated email to send to the buyer include Order Confirmed (payment complete), Shipped, Out For Delivery, Delivered, Returned, and After Positive Feedback is Left.
Do SMS alerts work even when I'm on vacation abroad?
Yes, texts can be received anywhere you have phone service.
How long does data stay in the system?
Due to Amazon's privacy terms of service, you can only send emails to buyers of orders from the past 60 days.
What about privacy? Is Feedback Genius secure?
They work with Amazon Web Services which means they're as secure as you can reasonably expect. If you're unconvinced, read through their Privacy Policy here.
Final Breakdown
Positives:
The wide range of filters and custom email options. Being able to filter certain messages to return customers is powerful and few other email automation tools allow it
The user interface is simple and a pleasure to use
The free plan is a generous offering despite being limited and allows everyone an easy way to try the software
Fast, reliable and consistent, even when firing off thousands and thousands of emails per day
Negatives:
Product specific reports would be a huge improvement
Reporting does load very slowly on larger accounts
Customer support opening hours are limited
Conclusion
We think Feedback Genius is an awesome tool and provides a ton of value to Amazon sellers, whether as a standalone tool or as part of Seller Labs Pro.
Once you have all of your appropriate settings, templates and processes set up, managing your Amazon feedback and reviews becomes a systematic and structured affair, as opposed to the panicked rush to respond that it can be when managed by yourself.
At the end of the day, the one thing that all of the best Amazon selling tools have in common is that they essentially take something off your hands while still keeping it within your control, freeing up your time to focus on other things, such as growth, marketing, product research and scaling your business.
Feedback Genius does this in spades and makes managing your incoming reviews a simple process, and for that, it earns a strong recommendation.
If you're looking for a new review management solution, this and Feedbackwhiz are both excellent options, so we'd recommend reading that review too, paying special attention to the few downsides each tool has, in order to decide which one suits your business best.
One thing is for sure, using Feedback Genius will mean you never have to waste time manually digging through feedback again, and no matter your starting point, scaling and growing with the tool is a pleasure thanks to the well thought out price points.
The AmazonSEOConsultant Verdict: 9/10
Is it difficult for you to find the resources or time to manage your Amazon business and scale it the way you'd like?
Would you rather have the #1 Amazon marketing agency handle this for you?
We provide services ranging from full partnerships and Amazon seller account management to one-off product rankings and listing optimization.
To learn more about how we can offer results and rank positions that nobody else can, take a look at our case studies to see the results we've already achieved for our clients with our unique, self-developed Amazon ranking process.
Or, to get in touch directly and discuss what we can achieve for you, request a proposal now!
Prefer to get out of the Amazon business? We can help you sell, too!