As the leading blog and marketing agency for Amazon FBA sellers, we bring you regular in-depth reviews of Amazon seller tools based on our experience using them to generate results for actual clients.
In the process of posting these reviews, we have already brought you reviews of several leading feedback management tools, including Feedbackwhiz, Feedback Genius, and some all-in-one Amazon tools with feedback management options such as CashCowPro and AMZShark.
Outside of a few unique downsides, each of these offerings has done pretty well, with all of them being decent options, and which one is the best for you is mostly a question of how your business is run.
However, FeedbackFive is another contender, and it's this tool's turn to face the gaze of our review procedure.
It has a secret weapon up its sleeve, however.
More on that shortly, but first:
What is FeedbackFive and What Can It Do For You?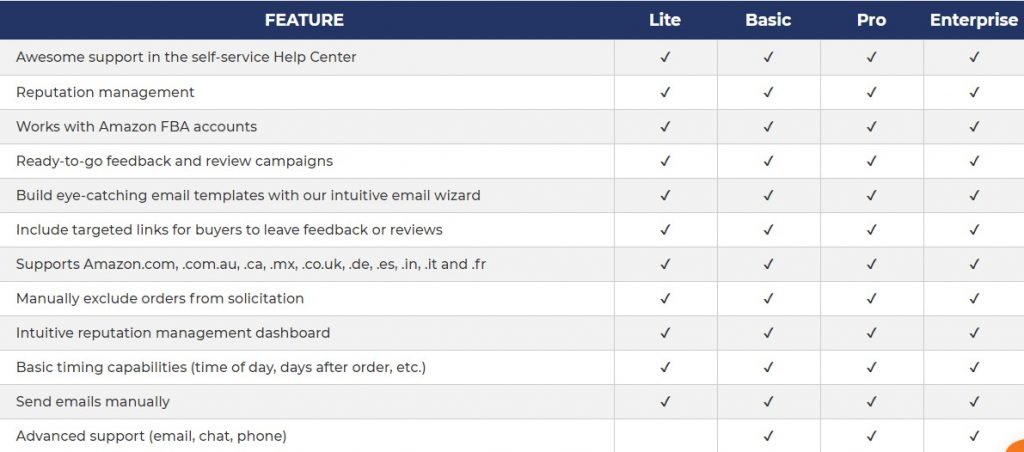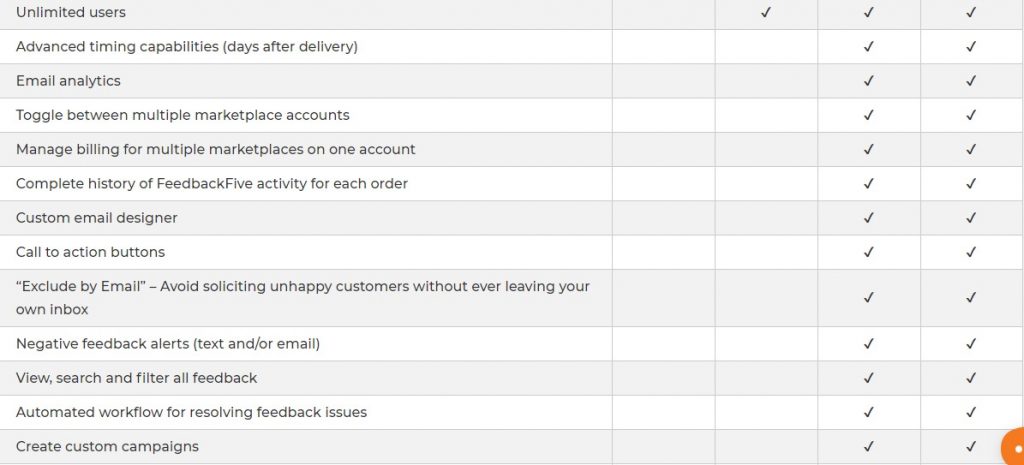 FeedbackFive offers a full Amazon feedback and review management solution, with the intention of:
Making you aware of any negative reviews as early as possible
Allow you to react immediately with custom email templates and automated responses
Protect your brand's reputation (and Buy Box!)
Allow you to analyse past performance and make data-driven changes to your strategy
Providing call-to-action buttons to generate a response directly from an email's content
It's one of the oldest existing Amazon tools, having been in use since 2009 and with over 50 million feedbacks managed!
As anyone who sells on Amazon knows, if somebody has been at the top of the game for that long, it's probably not by accident.
Before we continue onwards with the review, let's break down the individual features of FeedbackFive, what they do, and how well they work:
FeedbackFive Features
Email Automation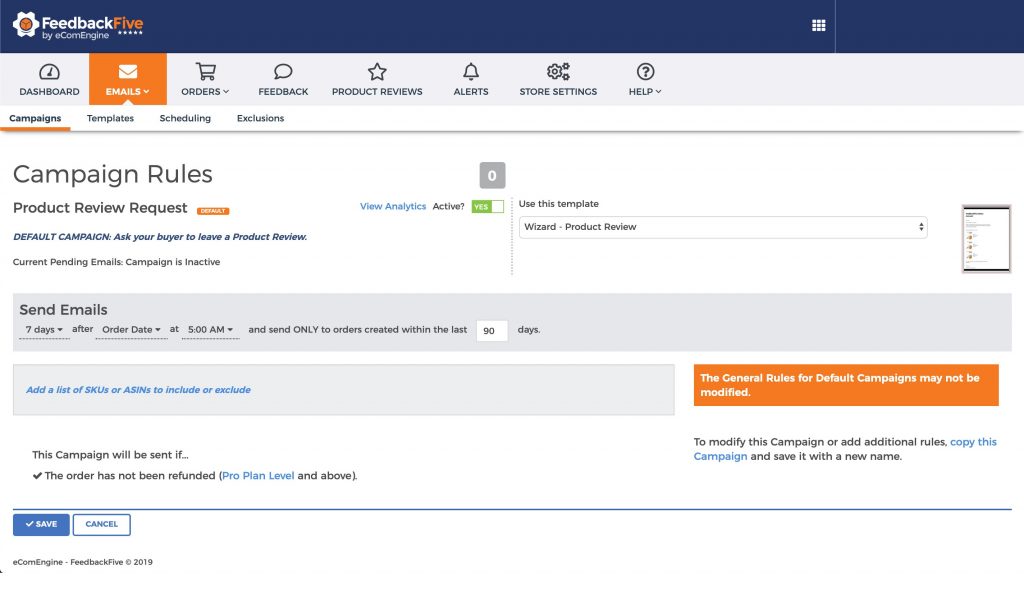 The backbone of any feedback management software.
As you can probably make out in the screenshot above, the layout and general UI is very easy to use and understand.
It's also super easy to create customized email campaigns in the Campaign Rules Editor, making sure different customers receive the most personalised messages possible, although this is only an option in the Pro package or higher.
FeedbackFive includes a fully searchable email template gallery, making it easy to find a background theme that suits the situation and appropriate, effective text to match – although you can write emails from scratch too if you prefer.
Emojis are an option too, which sounds minor but is great to have, considering research suggests they can increase email open rates.
You are also able to use and customise your own call-to-action buttons, increasing engagement and giving your emails a clear objective.
Text Alerts for Negative Feedback (& Neutral If You Wish)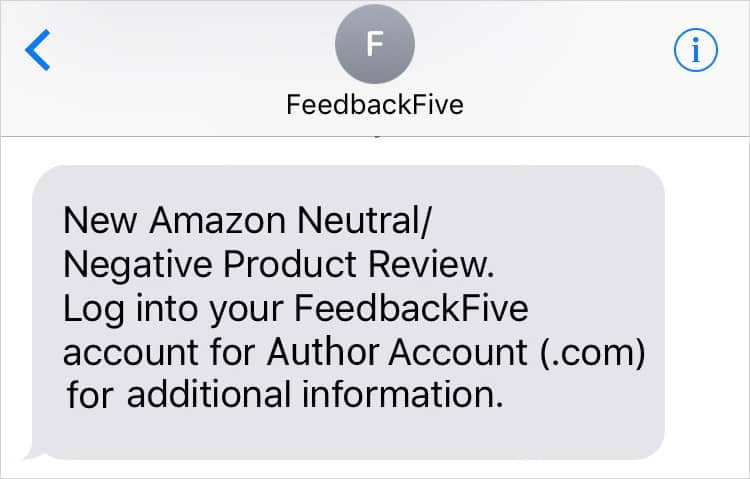 You get full control over how FeedbackFive notifies you about any negative (or neutral) reviews.
You can be notified via email or SMS.
You can also get an individual alert for each piece of feedback, or get them all together as a daily digest.
For customers who leave a negative review, getting a friendly, sincere response rapidly, with no generic copy-and-pasted content, is likely to put across a good company image and depending on how you go about it, could even lead to the negative review being removed.
We really enjoyed the freedom you get with FeedbackFive's alerts, and it allowed us more space to set them up exactly how we wanted than most other tools we have experience with.
Data & Analytics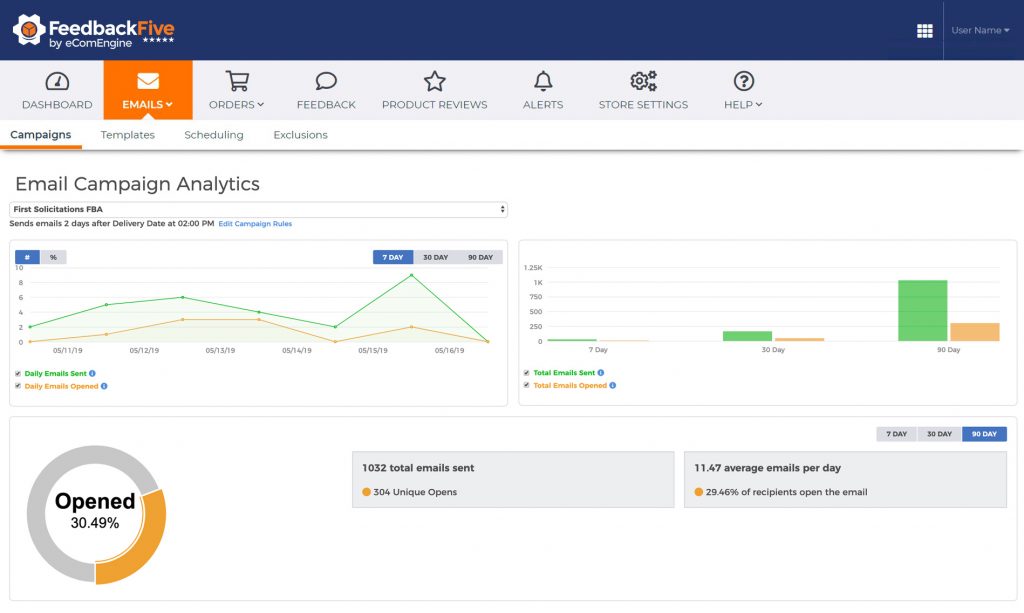 FeedbackFive subscribers who have access to either the Pro or Enterprise plans have access to an email analytics section including detailed breakdowns of:
Open rates
Click-through/conversion rates
Blacklist/unsubscribe rates
…and a host of other metrics that help you to see which emails are working, which aren't, and further develop your strategy over time.
If you're using a lot of personalisation and segmentation in your email strategy (which you should – 90% of adults find personalisation in marketing to be very appealing), it can get complicated keeping track of who's receiving what.
The analytics functions make this easy, showing you convenient summaries and breakdowns such as:
Total emails sent
Total unique email opens
Percentage of recipients who have opened
Using the engagement metrics to tweak your email templates is really convenient too, and if you do get confused there are a ton of help articles and training content available.
Overall, the level of monitoring you get here is impressive when compared to FeedbackFive's competitors, and the dashboards are well-designed and easy to understand from a quick glance.
Professionally Translated Email Templates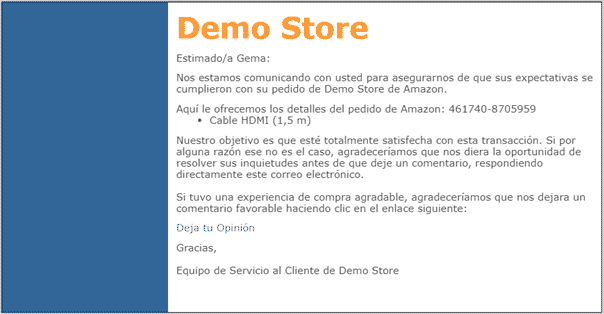 Here's something else that helps FeedbackFive stand out among the crowd!
Launching your products in new Amazon marketplaces is a great way to get more sales, but often can be quite challenging, especially if you don't speak the local language.
In order to help with this, you will get full access to professionally translated email templates if you launch on the following marketplaces:
France
Germany
Italy
Mexico
Spain
This means you can simply spread your existing email automation strategy to new countries, confident in the knowledge that the messages are well-written and will help boost engagement from wherever your customers may be.
The Secret Weapon!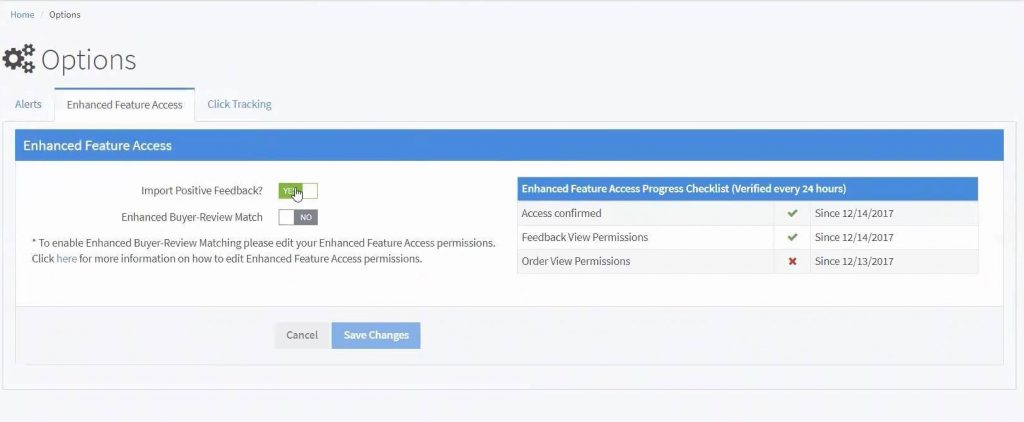 Above, we mentioned that FeedbackFive has a secret weapon up its sleeve that it's competitors don't.
So, what is it?
As we're sure you know, Amazon buyers who leave a review are often able to do so anonymously or under a different name, making it often very difficult to know which order has led to a negative review.
FeedbackFive helps you to match your reviews to buyers on your Seller Account, telling you exactly which order led to each review.
This is highly impressive because Amazon does not calculate or give away this information at all – it's all entirely worked out by FeedbackFive's own algorithm.
This allows you to do something as simple as email the buyer behind a negative review to acknowledge their concerns and attempt to put things right – something that can work wonders for your brand image and customer satisfaction.
This is something you can't really do anywhere else, and may well be a reason to buy FeedbackFive over any of its competitors, depending on how valuable this benefit will be to you personally.
FeedbackFive Pricing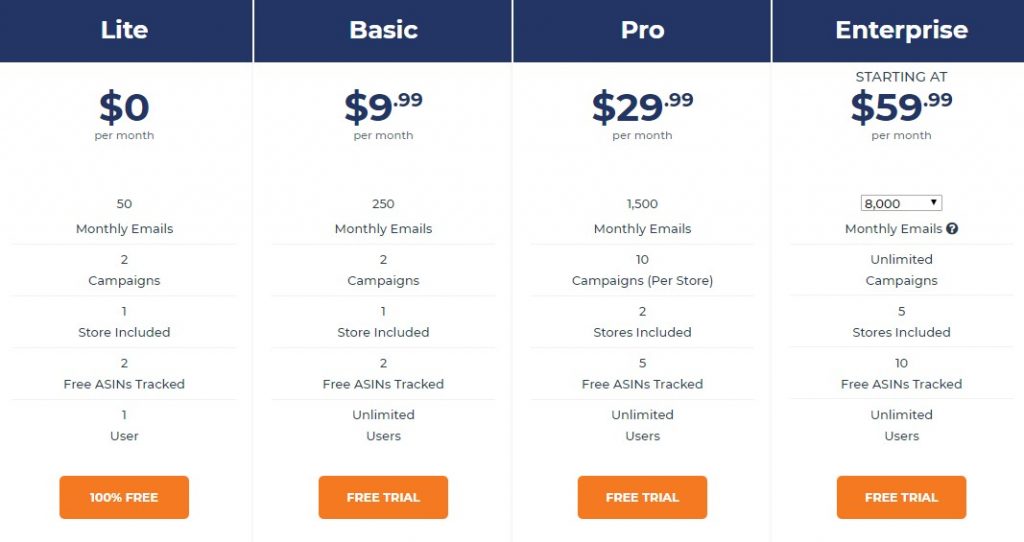 Feedback Five is billed in two separate ways.
For feedback management, you have the choice of the above-listed subscriptions.
The free one is a good way to try things out, although all of the packages have a free trial, meaning you can try out a larger one if you prefer.
Outside of the options listed above, product review tracking is billed separately and costs are listed here: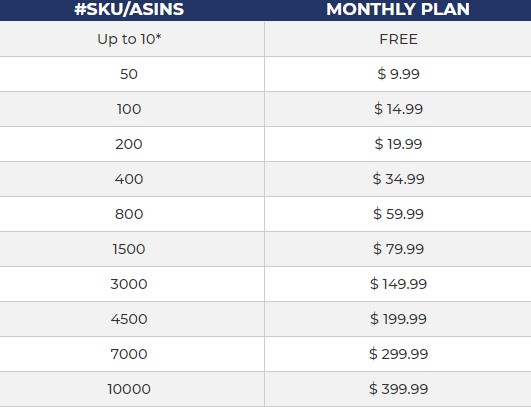 This is admittedly a strange pricing structure and it may be a little confusing at first, but the positive is that it's highly customisable and this makes it easy to choose the right price point that provides value for your business.
What about customer service?
Honestly, we were as impressed by FeedbackFive's customer service team as we have been by any other.
They react quickly, they take the time to understand your business and aims, and they are knowledgeable and friendly. Customer service staff that are willing to go the extra mile is a good sign for a company's intentions, and FeedbackFive is at the top of the game in this regard.
Can I track a competitor's ASINs?
Yes, you can track any product that is sold on Amazon, and it doesn't need to be your own. This is a great way to research buyer's opinions on competing products and learn about what they are looking for.
What about data privacy? I FeedbackFive secure?
There are no issues here as far as we are concerned, but feel free to check out their privacy policy for yourself.
Are there contracts? What if I need to increase/decrease my monthly emails?
There are no contracts and you can cancel at any time. This also means it's no issue to change your plan as your business grows. There are also alerts when you get close to your monthly limit that help with knowing when to do this.
Which marketplaces does FeedbackFive work with?
FeedbackFive includes support for:
Canada
The US
The UK
Germany
France
India
Italy
Mexico
Spain
They also offer reputation management solutions for Amazon sellers in over 100 countries.
Final Breakdown
Positives
Highly customizable pricing
Most well-established feedback management tool available
Great analytics features
Matching buyers to reviews is a unique feature
Comprehensive, with an excellent user interface
Amazing customer support
Negatives
It's not the most attractive software visually, but this is being very picky
Conclusion
FeedbackFive is the original review management tool and has been serving Amazon sellers for a decade now.
This pedigree really does show in the sense that, while aesthetically the software is slightly dated, in terms of features and development it's really ahead of the game. This is especially the case thanks to its secret weapon that you won't find anywhere else.
FeedbackFive gives you all the data and insights you need to protect your brand's reputation, get more positive reviews, and grow your Amazon business.
It does this in a well-rounded package that's simple to use, fully-featured and provides excellent value for any Amazon seller.
Whether FeedbackFive or FeedbackGenius is the best feedback management tool on the market is a tough question and depends on your own requirements, so we'd recommend going through both reviews and making your own decision (or trying a free trial for both).
With that said, they are clearly both at the top of the feedback management game right now and there is little point looking further than one or the other.
FeedbackFive is simple to use, extremely effective, and ahead of the game when it comes to features – it's just that simple.
Highly recommended!
The AmazonSEOConsultant Verdict: 9/10
Is it difficult for you to find the resources or time to manage your Amazon business and scale it the way you'd like?
Would you rather have the #1 Amazon marketing agency handle your feedback management strategy or other aspects of your Amazon business?
We provide services ranging from full partnerships and Amazon seller account management to one-off product rankings you won't find anywhere else.
To learn more about how we can offer results and rank positions that nobody else can, take a look at our case studies to see the results we've already achieved for our clients with our unique, self-developed Amazon ranking process.
Or, to get in touch directly and discuss what we can achieve for you, request a proposal now!