If one overriding theme has arisen in our reviews of the best Amazon seller tools, it's that an all-in-one tool such as Sellics or CashCowPro is never going to be able to manage keyword rankings like an all-in-one, specialised tool could.
It's with high expectations and bated breath, then, that we come to analyse Splitly, the highly-regarded all-in-one Amazon A/B testing tool.
Is it the undeniable standout in its field, near the top of the game like FeedbackFive, or just another competitor that fails to stand out amongst the crowd at all?
There's only one way to find out!
Let's take a look at the software in detail:
What is Splitly & What Can It Do For You?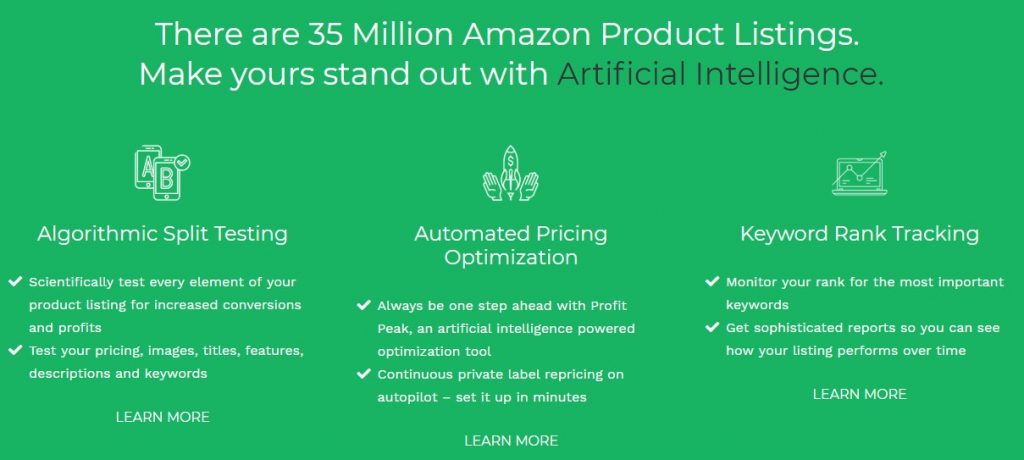 Splitly is an Amazon A/B testing (or split testing) tool that allows Amazon sellers to:
Test selling prices against each other and automatically set the price that will provide the most profit
Use an AI-driven split testing algorithm to do the same for product titles, descriptions, images etc, in order to quickly and scientifically ascertain the most effective product listing possible
Track keyword ranking positions based on the above changes and instantly see how each change affects your business
Sounds good right?
But how well do these features actually work, and can you get the same functionality elsewhere for cheaper?
We'll answer this and more, but first, let's break down the individual features to see how well they work:
Splitly Features
Algorithmic Split Testing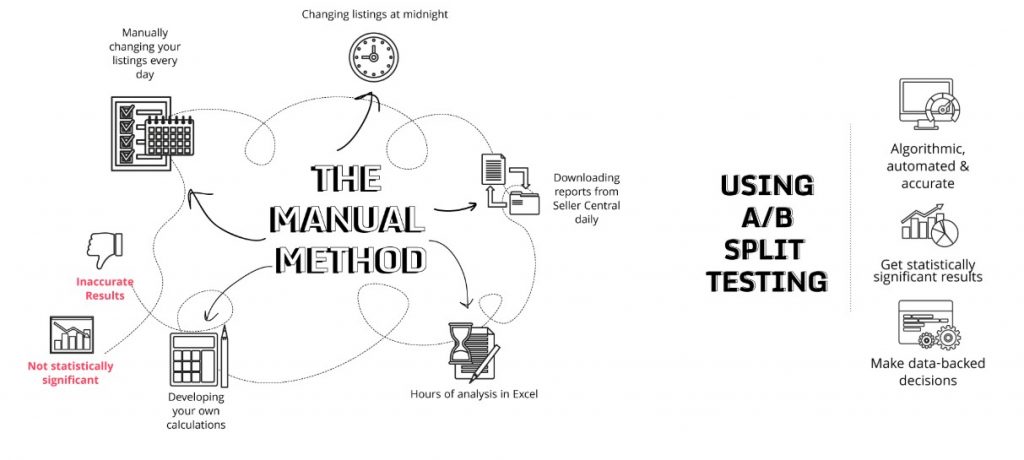 This section stands out immediately because it isn't just a standard A/B testing tool that lets you run two things at once, see the conversion or engagement rates for each, and decide which one to continue with.
No, the split testing function in Splitly uses artificial intelligence to do this for you, running different images, titles, descriptions and prices, rotating them in out without your input, and recording the customer behaviour caused by each.
Once it has enough data to know which listing is the most effective, it will continue to run that one, maximising your business, sales and traffic.
You can then run new tests within the context of the results of the last one in order to find the next step of optimization development and any potential other ways to improve your listing.
Even better?
We did this for the first time just a few short minutes after signing up – it really is unbelievably easy.
In our opinion, this is a highly impressive offering and earns Splitly a spot at the top of the list when it comes to split testing tools.
After all, very few compting tools use complex algorithms to evaluate the results and make decisions on them, instead preferring to simply display the results and let you do the rest.
This is the most intelligent way to approach optimization and A/B testing because it ensures you never rest on your laurels or get too satisfied with a listing that can still be improved.
And let's be honest, any listing can still be improved! Optimizing is an ongoing journey where you build off of what you've learned previously and find new ways to take it.
Doing this manually can range from being a nightmare to being impossible since you can't be expected to remember everything you've ever tried and the associated statistics.
With Splitly, you don't need to – and that's a huge bonus for any Amazon seller.
Automated Pricing Optimization (Profit Peak)

Even if you get to a stage where you're happy with your listing and decide not to run the split testing any more, you'll probably still want to keep the price management function running.
This is because it ensures your prices are always in the right spot to be as attractive to customers as possible while also ensuring your profits are as healthy as they can be.
It's also simply because, once you experience never having to worry about tweaking your pricing again and knowing it's always handled, you won't be able to go back.
Profit Peak can also help with inventory management since it automatically takes supply and demand into account, increasing prices slightly if you (and sellers of similar products) are low on stock but demand stays the same, for example.
Profit Peak is super easy to use and another powerful benefit for any Amazon seller. Personally, we would recommend any Splitly user keeping it running 24/7.
Failing to do so will likely lose you some money pretty quickly.
This means that no matter whether you're sleeping, working, socialising or vacationing, Splitly is keeping an eye on everything and making sure your prices are at the ideal level, so you don't need to.
Keyword Rank Tracking

Splitly also offers a keyword rank tracking solution.
It updates you daily with accurate keyword rankings for your products and those of your competitors. Historical reports help you to track your ranking over time and see what events have had the biggest impact.
It is best used alongside the above features to measure how your listing optimizations affect your rank since this has a major effect on your sales volume.
For example, what if you test two listings against each other, and Splitly tells you one is more effective, so you apply it permanently which then causes your rank to increase?
This tells you that the new listing is not only an all-round improvement on the old one in terms of customer engagement metrics, but Amazon's algorithm prefers it too – which is exactly what we're looking for,
In other words, this listing is your new gold standard, and while you can certainly continue to test new tweaks and improve it further, you should keep what you've learned and never roll back any improvements or go back to how things were previously.
You can continue to do this over time, boosting your conversion rates and your Amazon ranking, but you can also track the rank increases and decreases that happen to your competitor's listings, then check those listings for the alterations or optimizations that caused the rank changes too.
Through combining these two strategies, you can learn from every change that happens within your niche, and well, it's difficult for anybody to compete with that!
Very difficult.
If keyword ranking is the main thing you're looking for, KeyworX does that a lot better and is a lot cheaper – don't forget that.
But, if you want both keyword ranking and split testing in a high-quality package that allows both of these functions to work together to the benefit of your listings, you will struggle to do better than Splitly, and for some, especially some larger Amazon businesses, that is likely to be worth the extra cost.
Speaking of value and pricing, how much does Splitly cost anyway?
Splitly Pricing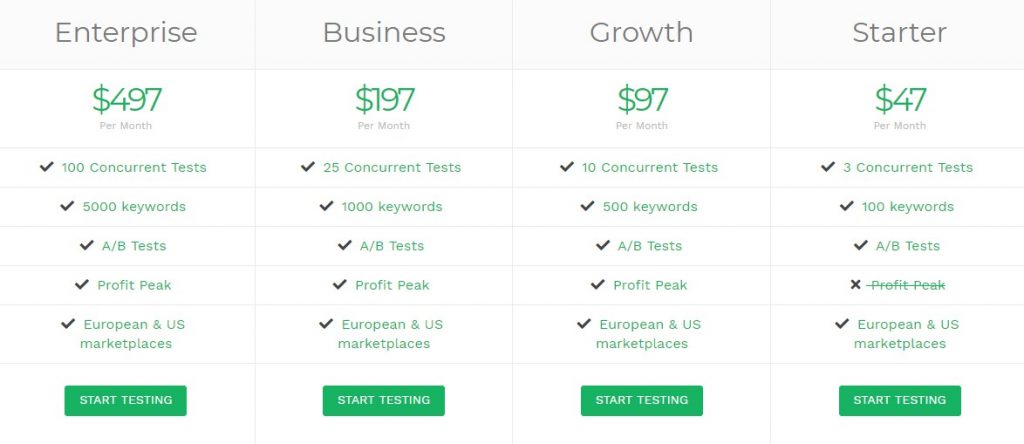 As you can see, there are a few different price packages.
At first glance, it seems that the amount of keywords you can track and the amount of concurrent tests you can run are the main differences, but be sure to also note that you don't get Profit Peak, the price optimization tool, in the smallest package.
The biggest (Enterprise) package is a beast at 100 concurrent tests and 5,000 keywords – even we struggled to reach the maximum for this package with our wide range of clients selling on Amazon, so chances are that this will be more than enough for most of the biggest Amazon sellers.
What about customer service?
As part of the JungleScout umbrella, Splitly has an excellent customer service team who are quick to respond and happy to explain any part of the tool you are struggling with.
What about data and privacy? Is Splitly secure?
Splitly and JungleScout work closely with Amazon Web Services to securely read data from Amazon. They also use OpenSSL AES 256-bit encryption (government/bank-level encryption).
You can read up on their privacy policy here.
Which marketplaces does Splitly support?
The United States
Canada
Mexico
The United Kingdom
Germany
Spain
Italy
France
How much can it change my pricing? What if it messes up?
On first use of Profit Peak, it will make very minor changes as the algorithm continues to learn. This stage typically involves gravitating towards the price point that will give you the most profit, before other factors come in and potentially change this slightly.
The algorithm behind Profit Peak is very intelligent and we find it extremely unlikely you'll get any bad results, but you do have the ability to set a minimum and maximum price to keep it under control if that makes you feel safer.
Can I manually edit my listings while testing is ongoing?
No – doing this will cancel the test, although we don't know why you would need to. If you have ideas that might be better than the test you're currently running, note them down and give them a chance in the next test.
Final Breakdown
Positives:
A huge standout in the Amazon A/B testing niche
Smart AI decisions create a scientific testing environment
Maximise your listing for conversions
Maximise your price for profits
Well-designed and intuitive to use
Saves you hours per week of careful tweaks
Offers keyword tracking for related insights
Negatives:
The keyword tracking is beaten out by KeyworX, but then keyword tracking isn't the main objective of Splitly
Nothing else significant enough to be worth mentioning!
Conclusion
For those who waste a lot of time every week tweaking their listings and trying to figure out what works best, Splitly is an absolute must-have.
Even if you do have a lot of experience and knowledge around Amazon product listing optimization, you can still benefit a lot from the testing Splitly provides.
The combination of proven, data-driven insights on which listing features work and easily trackable changes in keyword ranking make boosting your Amazon sales and profits as easy as it is likely to be any time in the near future.
At the end of the day, your product listing is your shop window, and you can't expect to build and scale a successful business without maximising your listings.
Splitly makes this not just manageable, but laughably easy, and for that, it earns a strong recommendation for any Amazon seller or business.
The AmazonSEOConsultant Verdict: 9/10
Is it difficult for you to find the resources or time to manage your Amazon business and scale it the way you'd like?
Would you rather have the #1 Amazon marketing agency handle your feedback management strategy or other aspects of your Amazon business?
We provide services ranging from full partnerships and Amazon seller account management to one-off product rankings you won't find anywhere else.
To learn more about how we can offer results and rank positions that nobody else can, take a look at our case studies to see the results we've already achieved for our clients with our unique, self-developed Amazon ranking process.
Or, to get in touch directly and discuss what we can achieve for you, request a proposal now!