As one of the leading Amazon marketing blogs, we've spent the last week or two bringing you some in-depth reviews of some of the leading Amazon selling software.
We've done this in order to help you sort the game-changers from the copycats and find tools that can genuinely help you scale your business.
So far we have reviewed some all-in-one Amazon seller software packages that try to do a bit of everything, such as:
…some standalone, more specialised Amazon software tools including:
Today, we're focusing on something a little different: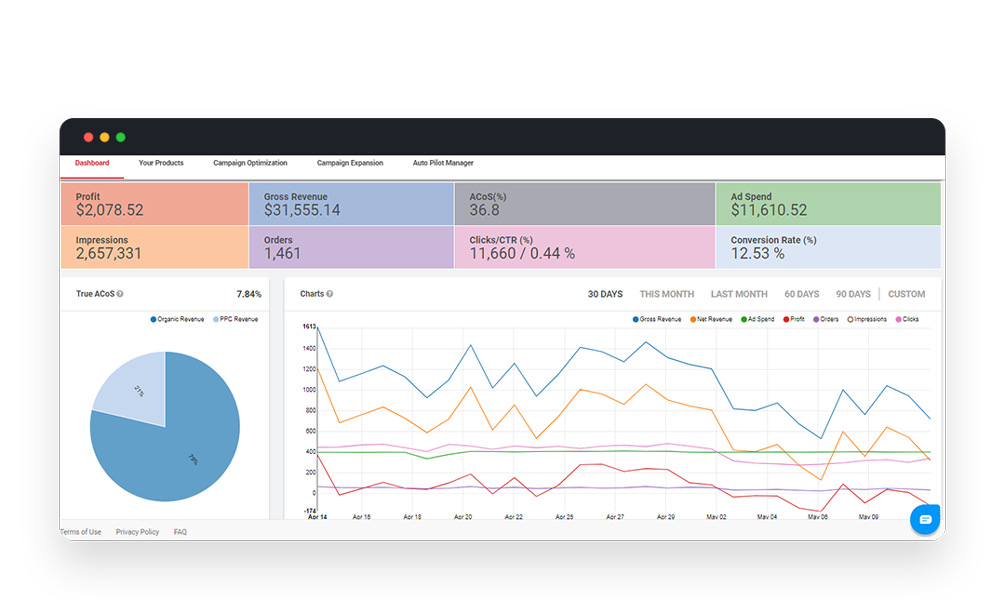 This is a PPC management tool that aims to help you plan and manage your Amazon Sponsored Products strategy – something we haven't reviewed yet but that could help you scale your Amazon sales massively if set up correctly.
Let's start with the basics:
What is PPC Entourage and What Can It Do For You?

The clue is in the name – PPC Entourage is an Amazon Sponsored Products management tool that claims to be able to:
Optimize your campaigns and lower your ACoS with a click of a button by identifying problem factors, and therefore allow you to get more sales for less when it comes to Amazon PPC.
Use automation to manage your bid prices, remove search terms that aren't generating sales, and more to save you both money and time.
Provide clear data and easy-to-understand yet proven Amazon PPC strategies to give you the confidence to act without needing to guess or act without data
Find search terms that you haven't thought of to apply to both your PPC campaigns and to use as an organic keyword, bringing in new sales from sources you weren't aware of
All of this sounds pretty good to us, but it's all in the execution.
So how well do the individual parts of PPC Entourage work?
Join us as we find out:
PPC Entourage Features
Reporting & Education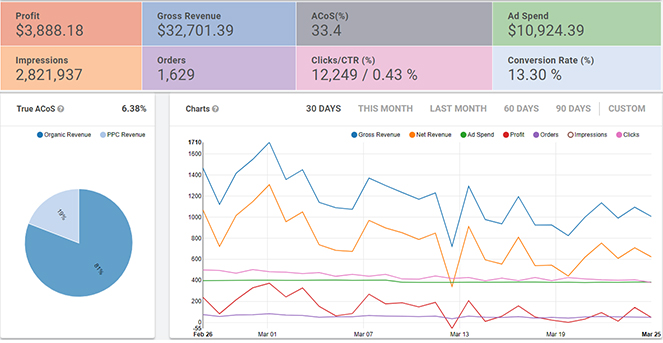 PPC Entourage's dashboard has a lot of reporting and metrics to go through, but luckily it's all well-designed and color-coded to the point that it's super easy to get your head around.
You get weekly and monthly health reports that allow you to analyse your overall PPC strategy at a glance, including breakdowns of your actual ACoS and profit based on a long list of factors.
There is also a comparison between your organic traffic and PPC traffic, which helps to give a full picture of where your sales are actually coming from, which keywords are worth bidding for, and which you'd be better off just targeting organically.
You also get full access to multiple training courses on signing up, including a PPC fundamentals courses and some slightly more advanced strategy courses.
This is really high-quality content and took PPC Entourage to the next level in our opinion, as it means even complete newcomers with no idea how PPC advertising works can still build a successful strategy through PPC Entourage.
Campaign Optimization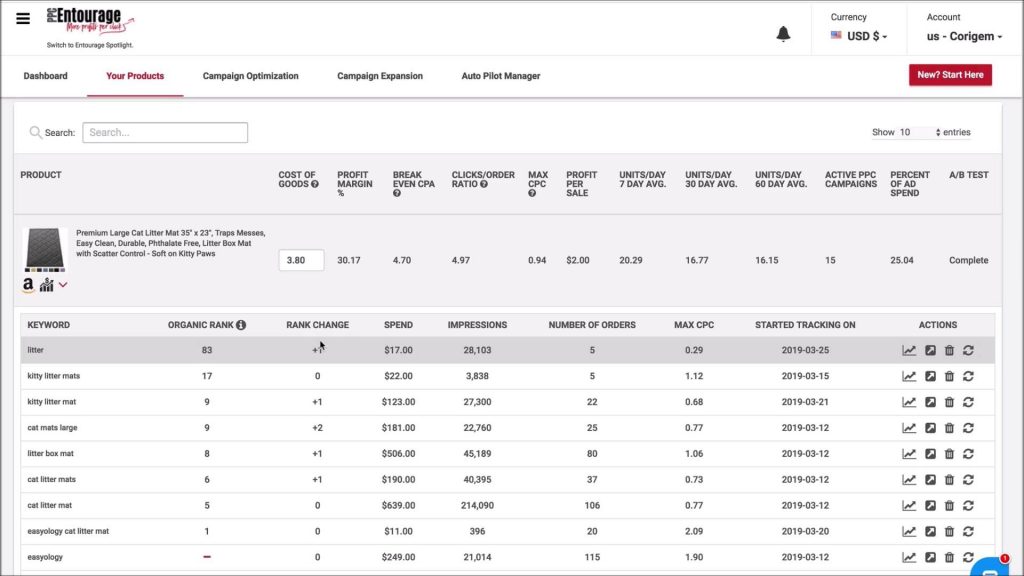 PPC Entourage includes some of the most powerful and in-depth PPC management tools we have seen.
On first loading up the dashboard, you'll need to go to the Bulk Optimizer to add/optimize all of your ads and ad groups.
You will then get a ton of insights such as which keywords you've been spending money on without getting any sales, recommendations for negative keywords that will prevent getting irrelevant traffic, and more.
PPC Entourage also has a range of automation functionality, allowing it to optimize for negative keywords and make big adjustments on a daily basis without any input from yourself.
You can also schedule campaigns by the time of day, or set up Advanced Autopilot Mode which allows you to set a few limitations around how PPC Entourage, then set it free to run the majority of your PPC Campaign by itself.
This may be a little disconcerting at first but the tool knows what it's doing, take it from us!
Campaign Expansion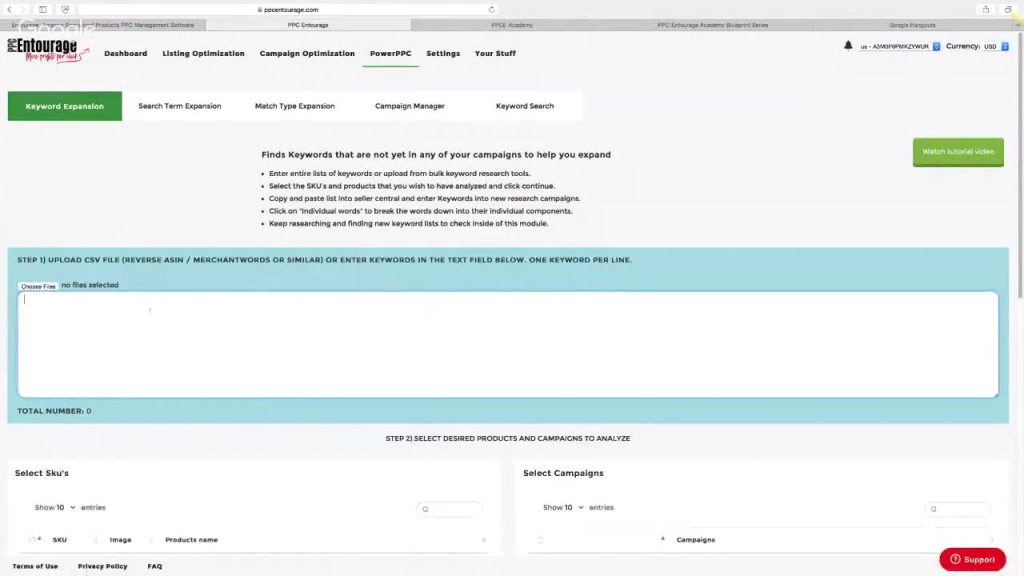 Whereas the above was all about optimizing your existing ads, ad groups and campaigns, eliminating waste by cutting out any unnecessary costs or ineffective targeting, this section is all about growth.
PPC Entourage can enhance your pre-existing targeting by finding new keyword ideas and analysing their previous performance.
It can even change match types and split test them against each other to see which match type is the most effective for every keyword.
This leads into full campaign management because if you trust it enough, you can actually leave PPC Entourage to spur new growth itself.
The tool will then find new keywords, bid on them, optimize the results further etc, essentially running your entire Sponsored Products strategy without you, or at least targeting areas you likely never would have found alone.
Listing Improvement/Optimization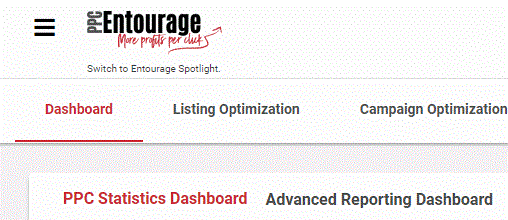 This aspect of PPC Entourage is all about optimizing and boosting your listings to both encourage organic rankings and help your PPC clicks to convert more easily.
It allows you to find the best backend search terms, track keywords and ranks ala KeyworX, get keyword recommendations to add to your listings, and even use some simple A/B testing functions to test the impact different listing formats have on your PPC campaigns.
Obviously, the rank tracking isn't quite as good as KeyworX, and the split testing isn't as in-depth or comprehensive as Splitly, but then that would be unreasonable to expect from a tool that's 99% focused on PPC management when those two tools are 100% focused on what they do best.
As additions to PPC Entourage's main offering, and a way to blend these functions into your PPC strategy on a day-to-day basis, though, they are a great addition and makes the overall package feel more valuable.
So, PPC Entourage is clearly an effective and easy way to manage your PPC strategy, but is it worth it?
What are the pricing options?
PPC Entourage Pricing
PPC Entourage is available in the following subscriptions:
| | | |
| --- | --- | --- |
| Package | SKUs Managed | Price |
| Successful Seller | 1-5 | $47/mo |
| Advanced Seller | 6-21 | $97/mo |
| Leveraged Seller | 22-51 | $147/mo |
| Strategic Seller | 52+ | $247/mo |
No matter which subscription you go for, all of the following is included: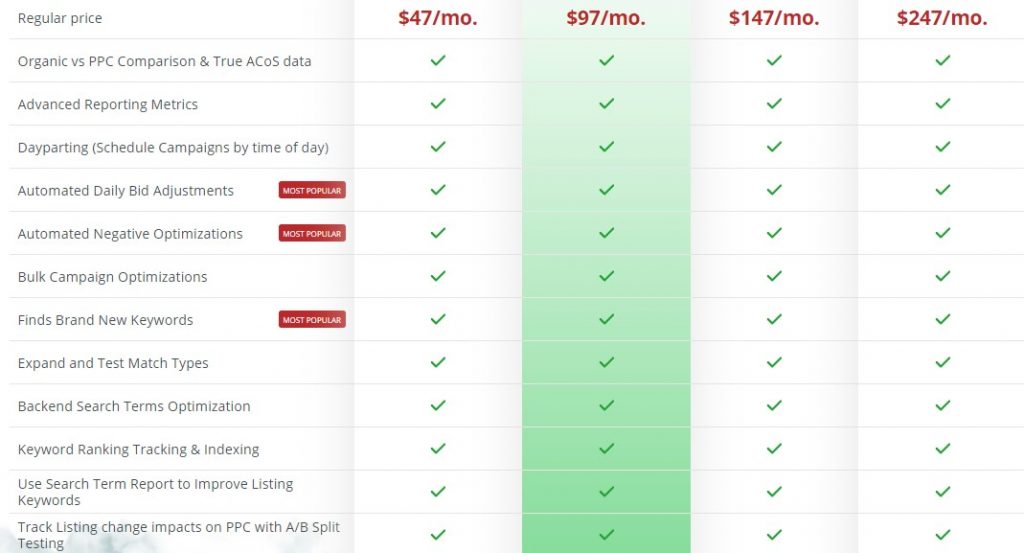 You also get a 14-day free trial and unlimited access in terms of user accounts, which is pretty generous in our book.
They also offer a 1-year money-back guarantee which is rare among these tools, although you only get refunded for the first month of your subscription if you're unhappy with the service in the first 12.
Frankly, the free trial means there should be no real reason for you to need this, as 2 weeks is more than enough time to get to grips with PPC Entourage and decide whether you want to keep it – but the team's confidence in their product is encouraging!
What about customer service?
Nothing to worry about here – staff are friendly, experienced and quick to reply.
Are there contracts?
No – after your free trial ends, you can cancel your subscription any time you like.
How long will it take for my SKUs to load in?
On first login, you may have to wait up to 24 hours for your ASIN data to migrate from Amazon.
Which marketplaces are supported?
The US, Mexico, Canada, The UK, Germany, France, Italy, Spain, and India. PPC Entourage also says that Japan is coming soon.
Can I get help using the software?
Yes, PPC Entourage is one of the best teams in that regard. There are training articles and 24/7 support on their site.
If that isn't enough, they also offer an exclusive 2-week course known as the Inner Circle that includes phone calls with their team and advice on how to set up PPC Entourage for your own specific business and goals.
If that still somehow isn't enough, they also offer private coaching!
This hospitality towards newcomers makes PPC Entourage an excellent choice for anybody new to selling on Amazon or new to the concept of PPC.
Final Breakdown
Positives:
The best Amazon PPC management software on the market
Easy to use with a great UI and tidy dashboard
Best educational and training materials in the industry
Smart automation that will save you hours and hours
Great value, especially on the smaller subscriptions – potentially a must-have for solopreneurs
Negatives:
May be unnecessary if you already have an all-in-one solution
No….seriously, that's it. This is an awesome piece of software
Conclusion
PPC is one of the most well-regarded PPC management tools there are, and after spending some time with it, this isn't surprising at all.
Everything within their tool is based around "the Three Pillars" of PPC success, and we agree that sticking to these and going through PPC Entourage's training material makes it near impossible to fail.
The tool is powerful, the educational content is high-quality, and the principles behind it all just work, so if you're willing to get stuck in and work hard to understand what PPC Entourage is offering, the rewards are there for the taking.
If you struggle to manage your PPC strategy and use it to grow your orders, or even if you don't but just struggle to find the time to manage it, this software will improve your Amazon business substantially.
Some people may prefer a more service-based offering like Jungle Hustle, but since this is a lot cheaper and should be just as effective for the majority of sellers, we highly recommend signing up for a free trial of PPC Entourage first to see what you think. You won't be disappointed!
The AmazonSEOConsultant Verdict: 8/10
Is it difficult for you to find the resources or time to manage your Amazon business and scale it the way you'd like?
Would you rather have the #1 Amazon marketing agency handle your feedback management strategy or other aspects of your Amazon business?
We provide services ranging from full partnerships and Amazon seller account management to one-off product rankings you won't find anywhere else.
To learn more about how we can offer results and rank positions that nobody else can, take a look at our case studies to see the results we've already achieved for our clients with our unique, self-developed Amazon ranking process.
Or, to get in touch directly and discuss what we can achieve for you, request a proposal now!