AMZ Tracker's career as an Amazon management solution has been a bit of a rollercoaster.
Around 2015/2016 it was a game changer for Amazon sellers and one of the best tools around, and it can also be credited for pioneering multiple tools that are commonplace nowadays.
But in late 2016, Amazon brought in new rules against incentivized reviews. At the time, the most popular tool in AMZ Tracker known as "Review Club" made use of incentivized reviews. When this became against Amazon's TOS, AMZ Tracker became almost useless and rapidly lost popularity overnight.
There have also been a few other bumps in the road, with AMZ Tracker receiving criticism for customer support and a few other issues. They've rebounded well though, managing to keep their name relevant within the industry via a new suite of tools aimed at the present and future of Amazon selling.
But how well have they succeeded, and how does AMZ Tracker in 2019 compare to some of it's newer competitors?
We're going to dive in and show you in detail, so read along, and within a few minutes, you'll know everything you need to about AMZ Tracker!
Let's dive right in:
What is AMZ Tracker and What Can it Do For You?

Whereas most Amazon seller tools tend to either hone in on one specific thing and try to become the best at it (like KeyworX) and others try to be a comprehensive solution that offers everything (see CashCowPro or Sellics), AMZ Tracker falls somewhere in the middle, with a varied range of options that cover a lot of bases well but still leave a few gaps.
Here are some of the main features of AMZ Tracker:
Concurrent users are no issue
On-page listing analyzer
Sales tracking & product promotions
Competitor analysis
Negative review alerts
Keyword research tool
Promo voucher management
How Much Does AMZ Tracker Cost?
The tool comes with 4 main pricing plans as you can see here: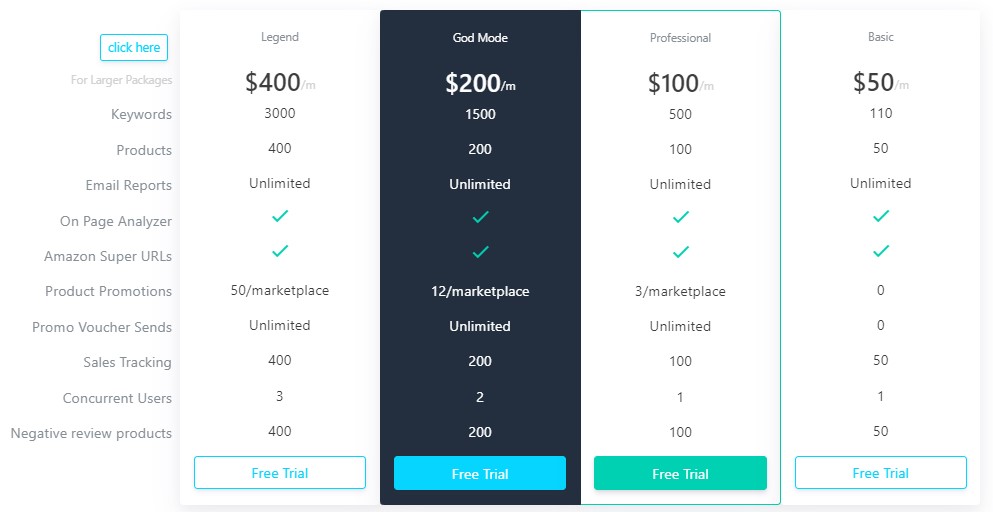 They vary based on the size of your business and we do find the limits here are a little small.
For example, the $50 plan is pretty much worthless even for a newcomer, as you will outgrow those limits rapidly.
The $100 one isn't so bad, but if you're going to start researching on a big scale and finding ways to scale your business, you'll want the $400 package before long.
You can also contact them for a quote on larger packages, although we haven't experimented with this as of yet.
It's also worth mentioning that you do save a little on these prices by paying annually instead of monthly, as shown here: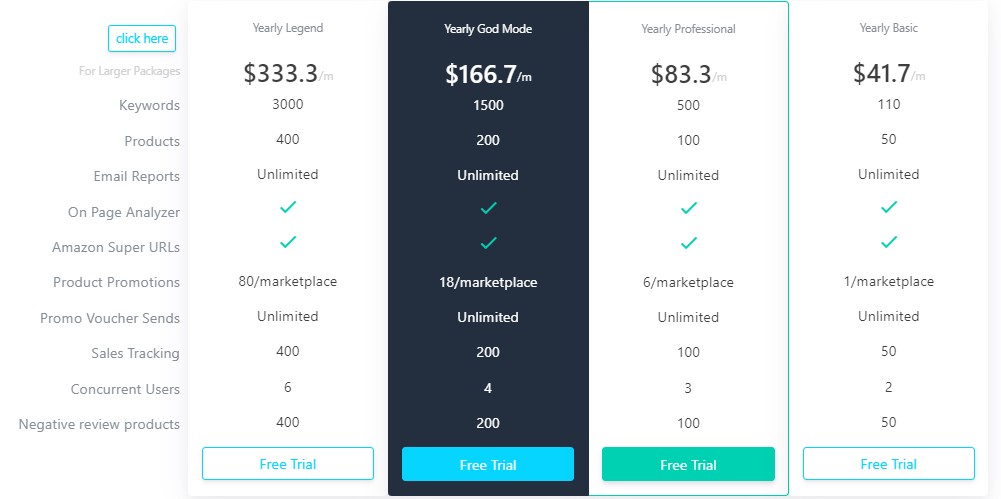 The next question is about how the quality of the individual tools, and how they compare to other options out there, so we'll take you through them one by one.
AMZ Tracker splits their tools into 3 categories, Offensive Strategy, Defensive Strategy, and Recon Strategy.
First, let's take a look at what they have to offer when it comes to offensive action!
AMZ Tracker Features Breakdown
Offensive Strategy

This section is for tools that allow you to be aggressive in the marketplace – set around things like optimization, promotions and competitor analysis.
Let's see how they do individually:
Keyword Tracking

We're sure you're familiar with the function and purpose of a keyword tracker.
AMZ's offering uses clean and tidy graphs like the one shown above to display how your product's ranks have changed over time for different keywords.
It does a good job of alerting you when a competitor makes a major change that increases their rank so that you can learn from the change and maybe even implement it yourself.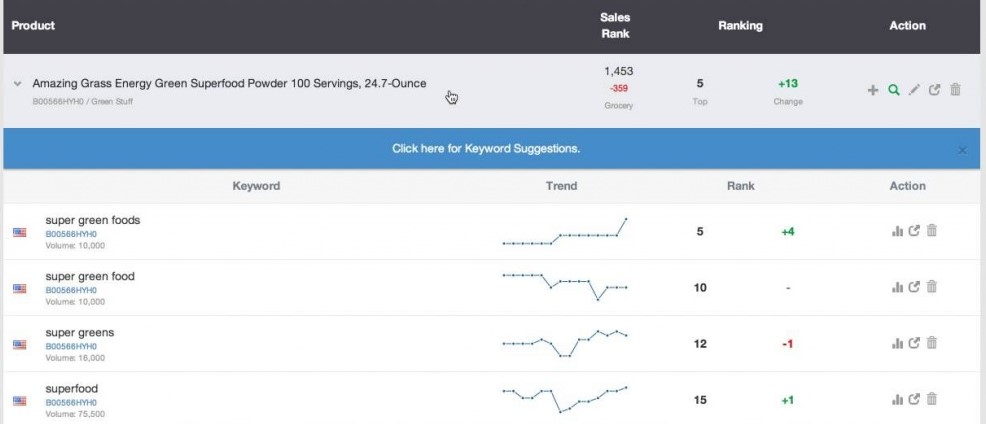 It's shallow compared to in-depth rank software like KeyworX but this is to be expected, and as part of an overall package, this does the job well regardless.
AMZ Tracker was one of the first Amazon tools to allow sellers to track their Best Seller Rank and it was a leader in the field for this reason.
Nowadays, plenty of other tools offer this functionality and AMZ Tracker's hasn't developed much, making it a lot less unique than it used to be.
It still does the job though and is an effective way to increase your Best Seller Rank.
Conversion Rate Optimization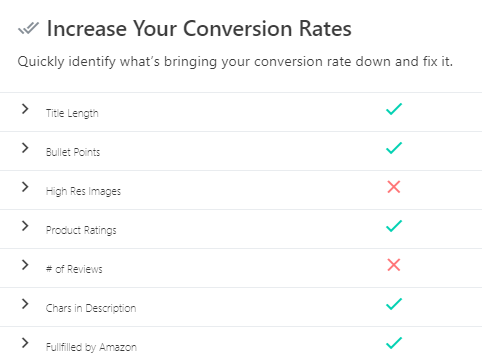 This feature analyses your listings and provides a simple list of recommended improvements as shown.
It can also be used to analyse competitor's listings to get quick insights on anything they might be doing better than you.
You can check each listing against a keyword to see how well/whether it ranks for that keyword, allowing you to include it in your listing more if you aren't ranking well enough for it.
While this is a pretty cool tool that has its place in the overall package, there are plenty of other similar options out there, some of which are free, so we definitely wouldn't look at this as a reason to sign up for AMZ Tracker in itself.
Super URLs

While other products offer Super URLs these days including AMZShark, AMZ Tracker actually pioneered the idea, and it is a cool one.
Super URLs work by simply adding your chosen keywords to the URL so that it appears to the Amazon algorithm as if the customer has searched those keywords before purchasing your product, therefore increasing your products rank for that keyword.
Nowadays, however, it seems Amazon has nuked Super URLs just like they did to incentivized reviews, and it's debatable whether you will actually get any ranking improvements from using this in 2019.
In fact, Amazon's TOS directly states that "Any attempt to manipulate the Search and Browse experience is prohibited", so you are potentially risking your seller account even if it does work.
If you want our professional advice on this tool, don't bother with it.
Those are the main tools for Offensive Strategy though, so let's move on to the defensive options:
Defensive Strategy

This section is for tools focused around defending your business – so the order of the day is competitor research, review management and other ways of preventing damage to your brand caused by people other than yourself.
Let's take a look at some:
Alerts for Negative Reviews & Listing Hijacks
These features simply provide immediate automated alerts for things you should be aware of, allowing you to react without delay.
A "listing hijack" is when another seller takes over the Buy Box and starts selling on your listing, either by reselling products bought from you, selling counterfeit versions of your product or simply by winning the Buy Box from you if the product in question is sold by multiple sellers.
Just like losing a first place position, losing the Buy Box can drastically reduce your sales, so you need to be able to react immediately, and the alerts make this easy.
In the same way, the negative review alerts make it easy to respond quickly to every negative review and can help you to keep your star rating as high as possible.
Recon Strategy

This section is all about strategy and data – in order to make the right moves for your business, you need to know everything else that's going on in the market, and these tools aim to make that possible.
Keyword Research Tool (& Deepwords)
The keyword research tool suggests related keywords to the generic keyword you enter, so it can be helpful for longtail keywords and finding search terms you wouldn't otherwise think of.
The Deepword tool is very similar but also provides search traffic estimates and related categories which helps find ideas for new traffic sources.

It's a well-designed tool with fairly accurate data but we did see some strange keywords come up that seemed to be taken from Google as opposed to Amazon, and with so many of these tools around these days for a lot cheaper, AMZ Tracker's offering is nothing major to write home about.
Competitor Analysis

This is actually very similar to the conversion rate optimization tool but allows you to run an analysis of your competitor's listings in order to learn from beneficial changes they've made or to take advantage of harmful ones.
It also keeps track of competitor's stock levels and sales but is less accurate than more recent tools that do the same such as JungleScout.
You get daily breakdowns of the stock levels and estimated sales of your competitors:

It even gives you running averages that you can break down into variants to see which version of a product sells best.

The Unicorn Smasher Pro Chrome Extension

While Unicorn Smasher is created by the team behind AMZ Tracker and is included in the subscription, it is also associated with CashCowPro, and since it's a Chrome Extension that works independently, you could technically use it alongside any Amazon seller tool you like.
It's a great tool that allows you to get metrics on products, rankings and competitors while you browse Amazon, meaning you don't have to keep switching tabs and checking different things to get a complete picture.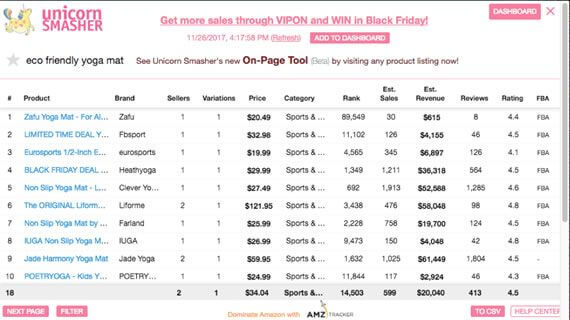 While it works independently to AMZ Finder, they do work better together and the combination of Unicorn Smasher, the Sales Tracker and On-Page Analyzer tool make competitor research a walk in the park and this helps a lot when it comes to the question of AMZ Tracker being good value.
Vipon.com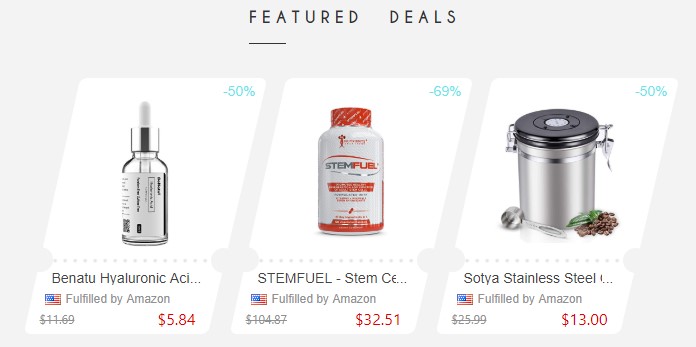 If you haven't heard of Vipon before, it's an Amazon discount site that offers promotions and vouchers for Amazon products.
Even if you do know Vipon, you might not know this: it's only open to AMZ Tracker customers.
Yes, Vipon is technically another AMZ Tracker tool and is the equivalent of JungleScout's JumpSend.
Vipon didn't particularly impress us, it's a nightmare to use and setting up a promotion is way more fiddly than it should be – but a discount is a discount and people do browse the site, so this may well be a useful way to boost your rank by gaining more sales in a short period of time.
What About Customer Service?
We only had the need to contact them once and they were quick to respond and helpful, but AMZ Tracker actually has a pretty bad reputation regarding this and you can find plenty of people on the internet complaining about their customer service staff not being helpful, not understanding how Amazon works, speaking bad English, or taking several days to reply, so we would recommend being cautious about this and if you're expecting to need lots of support, maybe go with another solution.
How far back does the data go?
Ranking data goes back 365 days, sales data goes back 30.
Are their contracts?
No, you can cancel at any time.
Which marketplaces are supported?
The United States, United Kingdom, Brazil, Canada, China, France, Germany, India, Italy, Japan and Spain are all supported.
Final Breakdown
Positives
One of the best ways to boost your Best Seller Rank
A lot of features, most of which are useful
Good source of optimization insights
Negatives
Customer support is bad
The design, while functional, isn't attractive or user-friendly
Updates are slow/some tools haven't changed in years
Way too expensive
Conclusion
AMZ Tracker is a solid tool that will be of great help to most Amazon sellers and has a variety of good features, some of which they even did before anybody else.
With that said, it's too expensive and too rough around the edges to be considered one of the best tools on the market.
If you want a specialised tool like KeyworX, you can do better.
If you want a complete solution like Sellics, you can do better too.
If you want a small group of tools and your list of desired features matches up with AMZ Tracker, then you probably can't do better, but we imagine that describes a fairly small group of people.
AMZ Tracker is a solid tool that does a lot and is worthy of looking into, then, but some overzealous pricing and design choices do put a dampener on it.
The AmazonSEOConsultant Verdict: 7/10
Is it difficult for you to find the resources or time to manage your Amazon business and scale it the way you'd like?
Would you rather have the #1 Amazon marketing agency handle this for you?
We provide services ranging from full partnerships and Amazon seller account management to one-off product rankings and listing optimization.
To learn more about how we can offer results and rank positions that nobody else can, take a look at our case studies to see the results we've already achieved for our clients with our unique, self-developed Amazon ranking process.
Or, to get in touch directly and discuss what we can achieve for you, request a proposal now!