If you've been following our series of Amazon seller tool reviews, you'll likely be aware that so far we have mostly been looking at total Amazon management solutions like CashCowPro, Sellics and HelloProfit.
While these comprehensive packages often provide excellent value and a huge range of uses, on an individual use case basis they rarely compare to some of the more specialised, solo tools out there.
Today we're going to be looking at KeyworX.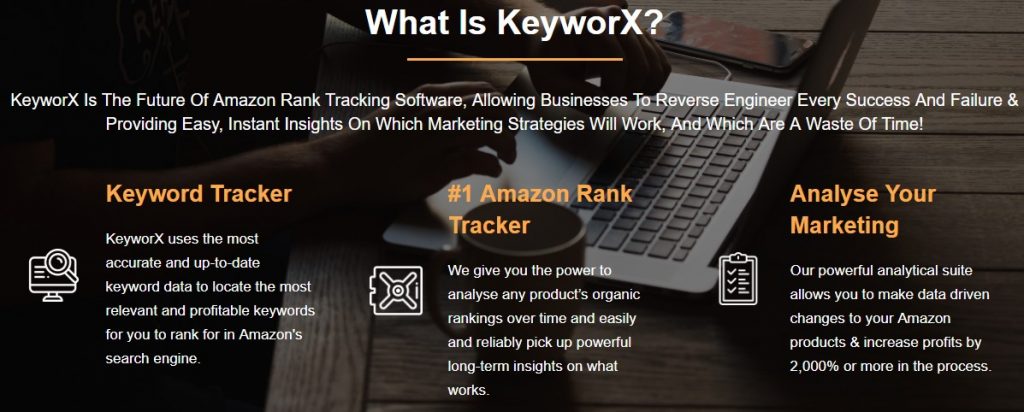 It differs completely from the previous tools in that it's an Amazon rank tracker only.
We say only, but being able to track the ranks of your product listings and their competitors, seeing what makes them go up and what makes them go down, is very powerful and being able to do it effectively can transform your business.
Being able to do it when your competitors can't, makes you untouchable!
Combine this with how much cheaper than those total solutions KeyworX is, and it's certainly still an attractive package.
But how well does it actually do the job?
Let's start with a small explanation:
What is KeyworX? And What Can it Do For You?
KeyworX markets itself as "the #1 Amazon Rank Tracking System" and it's difficult to disagree.
It's clean, well designed and as efficient as possible with almost zero bloat, to the point that on first signing in you might be surprised by how simple it looks.
The first thing KeyworX allows you to do is to enter any Amazon keyword and get a list of the top 20 ranking ASINs in that keyword, along with a historical graph showing all of the ranking changes in the past 10 days: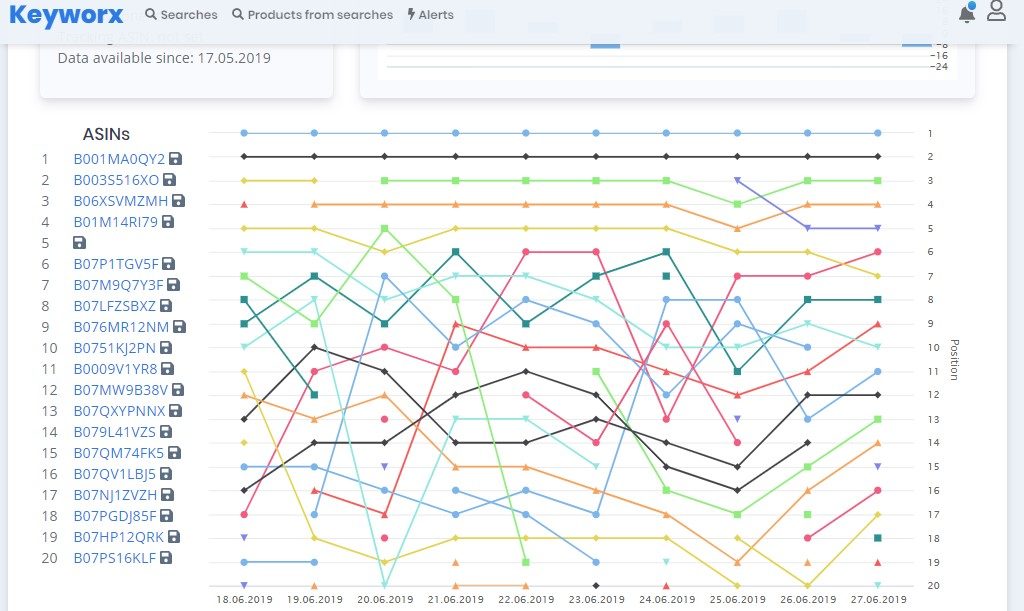 You can then enter a name for each product you want to track (KeyworX recommend simply putting the name of the product type followed by the ASIN, but you can actually type anything you like).
You can then enter up to 5 ASINs for your product (if there are variations) and any keywords you'd ideally like your product to be ranking for.
This is interesting enough in itself and provides a picture of who the top players are in your niche and who are relative newcomers.
However, the real power from the tool comes when you start getting alerts for your chosen tracked keywords.

This allows KeyworX to give you regular, automated updates whenever:
Your products' rank increases or decreases
One of your top 20 competitors' listings does the same
A new competitor enters the top 20
An existing competitor drops out of the top 20
But how is this useful?
As an Amazon seller, you should be optimizing and improving your listings all the time in order to gain a better rank, higher conversions, and therefore get more orders.
But how do you really know if the changes you're making are an improvement?
Couldn't a change that seems logical actually hurt your sales without a proven rank increase to back them up?
And if your competitor is ranked the first position, how do you know what you need to do to take it from them?
KeyworX answers all these questions easily and makes the game of winning Amazon ranks a lot easier.
For example, if you make changes to a product listing and a couple of days letter you get a KeyworX alert that your product's rank has decreased, that change was probably a bad idea and should be reversed.
On the flipside, if KeyworX tells you your rank has improved after an optimization, you know you're on the right track and can look into ways of doubling down on that change.
This alone gives you more power over your rank than most other sellers on Amazon, but the real benefit comes when you set up alerts for your competitors' listings.
Are you 5th place, and your competitor in 2nd place just jumped to first? Go take a look at what they've changed about their listing, and implement the same if at all possible.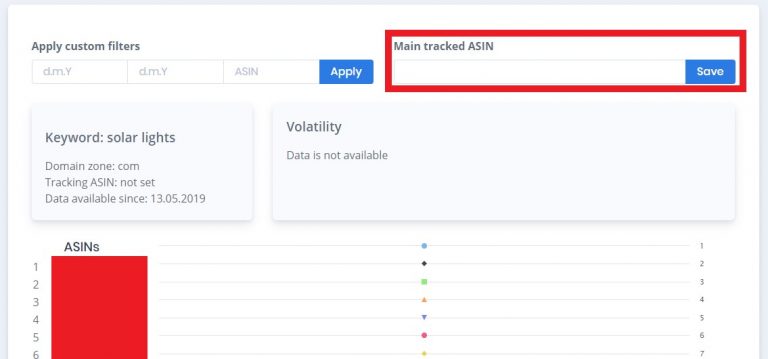 Doing this religiously means you can take advantage of and learn from all of the optimizations experimented or implemented by your competitors. If they don't have KeyworX or a keyword ranking tool with similar functions, they are completely in the dark and their only real chance of outranking you is to have a considerably better product.
But then, if one type of product or products with a specific feature consistently rank higher, you'll know that too and can make the changes you need to to be at the top of the game.
Interestingly enough, KeyworX also comes with a pack of case studies that show some of the rank increases the developers were able to achieve for their own products, and the results are undeniable.
Perhaps even more impressive is the KeyworX team's assertion that they don't believe in gurus, guesses, opinions or trends, and that only facts and science are on their agenda – exactly what you should look for in the people providing data and analytics on which your profits depend.
What Are the Main Features of KeyworX?
Track 1000's of ASINs and be aware of any relevant changes without actually having to go on Amazon at all.
Act with confidence with 100% certainty which of your listing changes improve your rank and which don't.
Analyse any products rank over time
Easy data sorting and filters to work with KeyworX your way
Some of the most accurate and up to date keyword recommendations we've come across, making it simple to find profitable new keywords
A great tutorial video and regular blog posts that make it super easy to use
How Much Does it Cost?
KeyworX comes with a 20 day free trial with no card details required, which is generous enough to let you try out both the tool itself and set up some alerts to see how it works over time.
If you do decide to sign up, there are multiple pricing points to suit all sizes of Amazon seller, and they even offer custom quotes if you prefer.
This is quite unique and we thought it was a good way of making the tool attractive to sole traders with one product, global enterprises, and Amazon marketing agencies alike.
While the Standard package is probably the best value for the vast majority of you, the Tester one is a great idea we haven't seen before and is a good way to extend your free trial for next to no cost.
Do that for a month or two and we're pretty sure you'll end up snapping up one of the larger packages. To be honest, this is cheap enough that you may want to do this even if you're already paying for a total Amazon management tool.
Are there contracts or minimum terms?
No, you can cancel at any time.
How long is the data stored?
Your tracked ASINs and pre-set alerts remain indefinitely. Ranking data is stored for 30 days.
How "deep" does the tracking go?
The top 320 product listings on Amazon for every possible keyword are tracked.
Does it work on any browser or device?
Yes, nothing is downloadable and KeyworX takes place entirely in your browser, so you can use it anywhere.
Are there any Amazon products that can't be tracked?
Nope. All data comes directly from Amazon itself, so all marketplaces are compatible, and no products are off limits, even Kindle books and apps.
Final Breakdown
Positives
The best and most powerful rank tracking software we've come across
An excellent range of tutorials in the form of blog posts and a simple video that lays everything out
Get immediate insights from every single thing you or your competitors do, often knowing if a competitor's strategy is working before they do
Elegant design and easy to manipulate data
A flexible range of pricing options that are all excellent value
Negatives
Only handles keyword research and rank tracking, so you may need other tools for other things
Uhhhh……
Conclusion
If you want all of your Amazon rank tracker tools in one place, there are more complete options out there that are of an overall high standard.
However, if you're looking for rank trackers and insights for increasing your Amazon rank specifically, we highly doubt you'll find better then KeyworX.
For new Amazon sellers, and even for some experienced ones, optimized listings and trying to get better ranks can sometimes be a guessing game, and even techniques that are proven for other products may not work for us.
KeyworX takes all the guesswork out and makes chasing the first ranked position a simple game of science – something Amazon tools have been claiming to do for a while.
The best part of it is simply knowing which of your marketing tactics are working and having the confidence to reinvest, duplicate and scale them.
The marketing speak on their website talks about increasing profits by 2000%, and while this obviously depends on the demand for your product type and isn't always plausible, we have managed to get very close to that number for some of our clients, so they really do mean it.
At the end of the day, all of the major marketing techniques for Amazon are worth considering and can help you to get more profits, but organic rankings will always be the most reliable route to long term profits and provide the best ROI.
Organic rankings are the route to long term success on Amazon. People search in Amazon for products more commonly than in Google these days, and they buy the first ranked product more commonly than any other.
Think about that for a second.
If you win first place rank, you are the number one seller of that item in the world, on any platform, or at least have the positioning to be. KeyworX knows this and hands you the power to do it.
Let us put this the simplest way we can:
To grow and scale your Amazon business to its utmost potential and make long term profits, you need to rank in the top few results.
As of the time of writing (28th June 2019), KeyworX is the best way to do that.
The AmazonSEOConsultant Verdict: 10/10
Is it difficult for you to find the resources or time to manage your Amazon business and scale it the way you'd like?
Would you rather have the #1 Amazon marketing agency handle this for you?
We provide services ranging from full partnerships and Amazon seller account management to one-off product rankings and listing optimization, and we use a KeyworX account ourselves, so why not let us take care of yours too?
To learn more about how we can offer results and rank positions that nobody else can, take a look at our case studies to see the results we've already achieved for our clients with our unique, self-developed Amazon ranking process.
Or, to get in touch directly and discuss what we can achieve for you, request a proposal now!