AMZShark is an amazing Amazon seller solution that is actually a complete apackage of 13 tools intended to give you the right solution for every step of the Amazon selling process, from finding a trending niche to keyword research, listing optimization and PPC strategy.
What first impressed us on opening up the tool is that AMZShark also supports every Amazon marketplace, and comes with great educational support including easy to follow tutorials and good customer support.
But how are the individual tools, and how much value do they provide in comparison to the asking price?
We'll break down every aspect of AMZShark so you don't need to waste time or money with the wrong tools.
Let's start at the beginning:
What is AMZShark? And What Can it Do For You?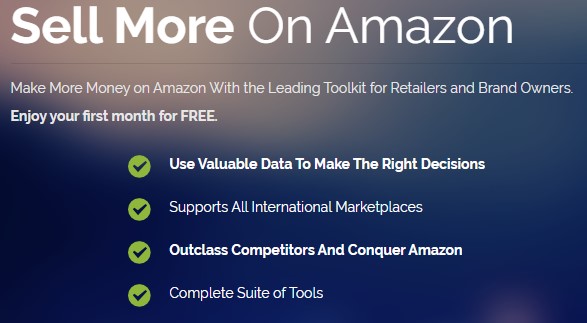 As mentioned above, AMZShark aims to be one of the most comprehensive Amazon seller tools on the market. While it isn't particularly advanced and doesn't come with many frills or features that aren't found elsewhere, it does exactly what you'd expect it to with an intuitive design and a clean user interface, making it certainly worthy of your attention.
AMZShark has options for:
Rank tracking
Review alerts
Sales tracking
Feedback tracking
Hijacking monitoring
As we all know by now, selling on Amazon FBA involves a lot of work and there are a lot of different variables and aspects to keep track of, so let's take a look at the individual features AMZShark provides, in the hope that they haven't missed anything!
What Are the Main Features of AMZShark?
The full list of individual tools provided by AMZShark includes:
Sales Tracker
Niche Scout
Search Rankings Tracker
Keyword Explorer
Listings Scout
Keyword Comparison
Hijacking Alerts
Super URLs
Feedback Alerts
Competition Scout
Review Alerts
Supplier Scout
That's a fairly hefty list, and some of them (Supplier scout etc) are things we very rarely see in other comprehensive Amazon selling solutions.
The breadth of the package is impressive then, but what are the individual tools any good?
How do they compare to the other total management solutions?
Perhaps even more tellingly, how do they compare to the standalone/more specialised tools?
We'll go through each tool and break this down for you, but first, how much does all of this cost?
How Much is AMZShark?
On first signing up for AMZShark, you will be provided with a free trial for a month, however, you do need to enter your card details to get access for this, and you will be automatically charged afterwards if you continue using AMZShark (or forget to remove your card details).
Despite this, there are no contracts and you can cancel any time.
There are no varying packages or price points depending on the size of your business, instead, everybody has access to the same $299 monthly package: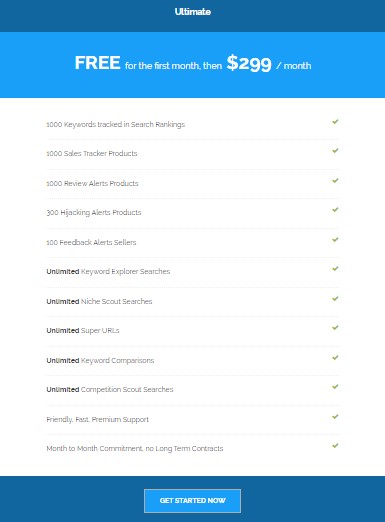 This puts AMZShark in rather expensive territory in comparison to other tools we've reviewed recently including HelloProfit, CashCowPro and Sellics.
So the real question is, does AMZShark do enough things better than those other options to still be a great value?
Let's go in-depth on each individual tool it offers to find out!:
Sales Tracker

AMZShark's Sales Tracker is exactly what it sounds like – it allows you to track both the BSR and the available stock in order to get a complete picture of your products, those of your competitors, and even potential products you might be interested in beginning to sell yourself.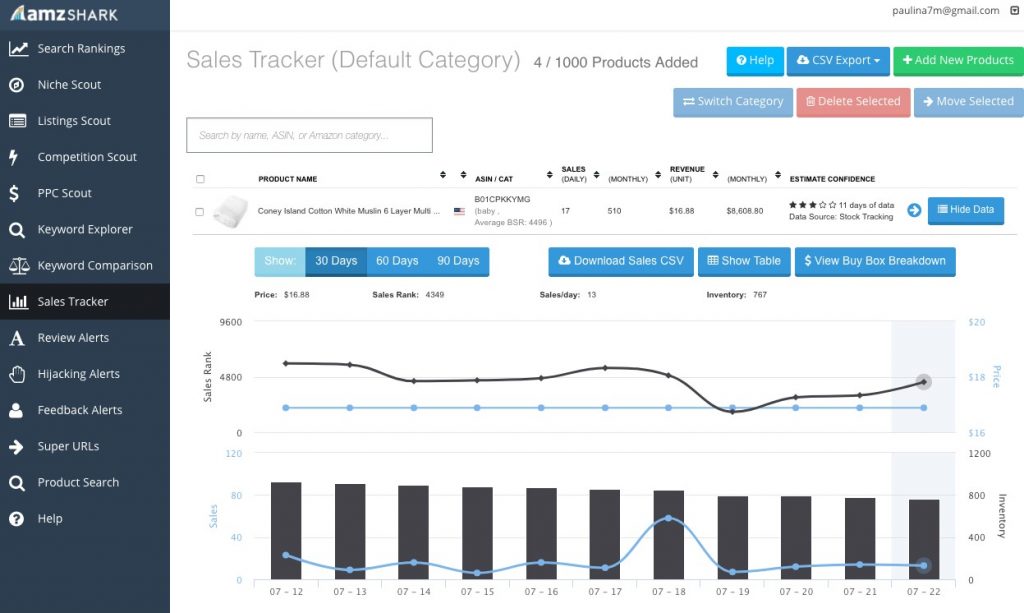 The whole thing is clean and enjoyable to use, with the graphs and data sorting being a strong point.
Visually, everything is clean and digestible if a little bare. Overall, this is a very solid offering that will do the job for the majority of Amazon sellers, if not quite blowing them away.
Niche Scout

Niche Scout is a very simple tool that simply allows you to analyse the best selling products within your chosen niche to determine whether the demand is high enough and the competition is low enough to enter the niche yourself and launch your own products.
There are plenty of other ways to do this, in fact, many Amazon seller tools do this, and considering it's just a matter of displaying simple metrics such as sales and reviews, it's pretty difficult to get to wrong.
AMZShark's Niche Scout is functional then but does little to stand out for the crowd, and certainly doesn't go far towards justifying the price tag.
Search Rankings Tracker

This is another simple, functional tool that doesn't do much to sell AMZShark to you.
It does the job and provides the data, but the design isn't overly intuitive and the alerts are majorly lacking, meaning you'll need the tracker open all of the time to get the most out of it.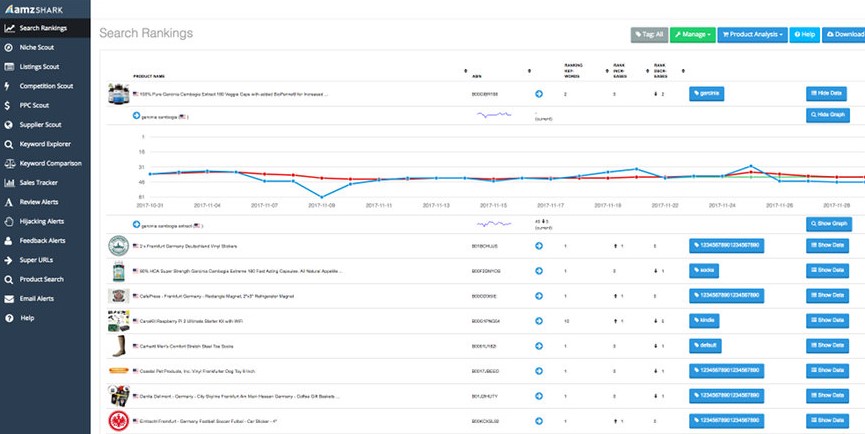 Rank trackers are fundamental to succeeding on Amazon, and you need something to keep track of whether your marketing and optimization are making positive improvements or not, but if this is the main thing you're looking for, we would highly recommend going for a more specialised rank tracker like KeyworX.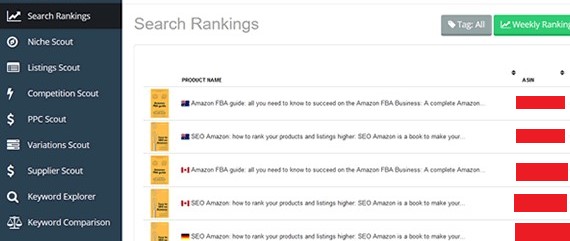 Keyword Explorer

The keyword tool is actually pretty great and provides some suggestions that we didn't find in other tools.
It provides more broad suggestions than many competitors, including longer-tailed keywords and helps you to easily find keywords that are perhaps lower in overall searches but much easier to rank in, giving you new options for winning sales.
The Keyword Explorer certainly doesn't justify the price of admission, but it's a top quality keyword research tool that stands among the best in the industry.
Listings Scout

This is simply a spreadsheet of data on your chosen landing pages that lets you analyse and compare them at a glance.
This is pretty handy because it allows you to immediately and accurately see what your competitors are doing better than you at, and how you should go about neutralising this advantage.
It's also a super easy way to compare listings that rank for similar keywords to your own listing, and then find keywords that those listings do and you don't, and then steal them!
It's funny that such a simple list of data could be such a selling point, but few other Amazon tools display this information as clearly as this, and we wish they all did!
Keyword Comparison

This is an interesting one.
Another simple spreadsheet with surprising utility, the Keyword Comparison tool is almost more useful than Niche Scout for finding new niches and analysing the current situation in your own.
All keyword results display metrics such as CPC for Sponsored Ads, search volume estimates, average price, total search results etc.
This was one of our favourite tools in AMZShark and makes it super easy to compare the keywords you're ranking for, those you aren't and which ones you should probably try harder with, for example.
Hijacking Alerts

Very simple but still very useful, the Hijacking Alerts section simply gives you an automated alert when somebody steals the Buy Box from you, allowing you to take action immediately.
It even provides historical records on when the Buy Box has been snatched and by who, giving you insights from before you were even around in your niche!
Super URLs

The Super URLs section allows you to create custom links with keywords attached to them. You then use these links in your marketing content and when a customer lands on your product listing for them, the keywords chosen are automatically entered into the search bar, so if a purchase is made then your product will increase in the rankings for those keywords.
The kind of ranking increase you can get from these links can be pretty high if you have a blog with a large amount of traffic, but otherwise, you are unlikely to see major increases.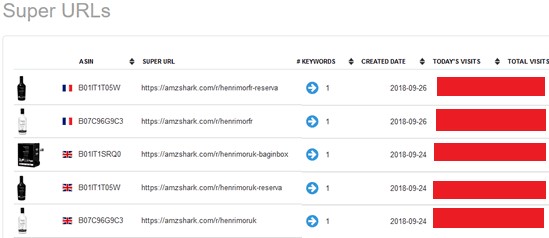 The best option for ranking in Amazon A9 is good listing optimisation, strong customer support (including follow-up emails), some sort of rank tracking tool, and maybe some keyword focused sales if you still need that final push.
When all of that is in place, Super URLs might well help you to push some of your ranks even further or help you to rank for different keywords besides your main ones, but this feature isn't going to rank your listings alone and shouldn't be your main strategy.
In fact, rumour has it that Amazon has purposely crushed the functionality of Super URLs in their algorithm, and since manipulating the search experience is against their terms of service, we wouldn't be surprised if this doesn't work at all in the near future.
Feedback Alerts

AMZShark allows you to monitor your feedback without needing to spend any time on it, giving you customisable alerts when a review is left and allowing you to immediately and decisively react to any negative reviews.
We would stick with Feedbackwhiz over this if it was an option, but still, it does the job and alerts you of any reviews you need to know about.
Competition Scout

Competition Scout is actually really useful and a great way to find new routes to potential customers. It allows you to quickly check which keywords you aren't ranking for but your competitors are getting sales from.
It's also easy to check which of these keywords are too competitive or irrelevant to your product to bother with, and which are likely to make you extra profits.
Like most of the best AMZShark tools, this is simple, intuitive, and cuts to the chase.
Review Alerts

Confusion about why this is separate from the Feedback Alerts aside, this is another great tool and is basically a scaled up, more in-depth version of that one.
You can track reviews for your competitors to learn about new niches and potential ideas for product improvement.
You can know about every deleted or negative review in your niche if you wish, and this is very powerful for getting a complete picture of the market and helps you to learn directly from buyers exactly what they're looking for in products like yours.
Supplier Scout

This is a completely unique tool in terms of the total Amazon management solutions we've reviewed so far, and it may well be a major selling point for you if you hate manually sourcing suppliers.
It certainly makes it easier to find suppliers who make a specific product you're interested in selling.
However, we personally like going through Alibaba and similar sites manually and messaging any potential suppliers we are interested in, then judging them further based on their replies and communication skills.
With that in mind, we don't personally find this necessary at all, but for those who perhaps don't have the time to scour the web for suppliers, it could be a gold mine of potential – just don't forget to do your due diligence and not just go with the first supplier it throws up.
Final Breakdown
Positives
One of the largest and most comprehensive Amazon management packages there are
Some unique tools you won't find elsewhere
Clean, intuitive design and great tutorial content
A complete ecosystem that will make you hesitant to use other tools
Negatives
Too many of the tools are too basic for the price and really should stand out from the competition more
The pricing is frankly unreasonable compared to other options out there
Conclusion
Without a doubt, AMZShark is one of the biggest and most comprehensive Amazon marketing packages around.
With that said, it's also roughly 3x the price of Sellics, CashCowPro and HelloProfit, all of whom make a good attempt of it too.
When this is the case, it is hard to recommend AMZShark because you could get another total management solution, and replace any tools in it you didn't like with top-of-the-range specialised options like KeyworX, and still be paying less than you would for AMZShark alone.
If you are on a shoestring budget, AMZShark is not for you, and the above will be by far the better option.
With all of that said, for larger businesses who can more readily absorb the extra cost, AMZShark remains a great option due to its wide range of tools and the fact it works on every single Amazon marketplace and allows you to switch quickly and easy between them – for larger businesses who are looking to expand globally, this alone might be a reason to choose AMZShark over others.
We should also note here that their customer support isn't as good as it should be – we waited over 24 hours for a response on something while writing this review.
Despite concerns about the customer support and pricing, we struggle to give AMZShark a low grade for the simple fact that it's comprehensive, effective and well-designed.
The AmazonSEOConsultant Verdict: 8/10
Is it difficult for you to find the resources or time to manage your Amazon business and scale it the way you'd like?
Would you rather have the #1 Amazon marketing agency handle this for you?
We provide services ranging from full partnerships and Amazon seller account management to one-off product rankings and listing optimization.
To learn more about how we can offer results and rank positions that nobody else can, take a look at our case studies to see the results we've already achieved for our clients with our unique, self-developed Amazon ranking process.
Or, to get in touch directly and discuss what we can achieve for you, request a proposal now!