Continuing our series of Amazon seller tool reviews, it's time to look at Shopkeeper.
Formerly known as AMZPing, Shopkeeper is an all-in-one Amazon sellers solution with a focus on profit monitoring.
It aims to aggregate all 72 of the potential fees and costs Amazon sellers have to deal with, giving you an easy-to-read breakdown of your costs and sale prices including fees.
This allows you to have an accurate ACoS to hand for every one of your products individually. It also allows you to break them down via product category, marketplace or other filters.
This makes it easier than ever to see what's profitable and what isn't in order to grow your business reliably and consistently based on real data straight from Amazon.
But does it actually achieve this in a way that can help you to grow your business more easily, and what else does it do?
We're about to break it all down in this complete review, so join us to learn what Shopkeeper can do for you!
Let's go deeper:
What is Shopkeeper and What Can it Do For You?
Shopkeeper's website lists the following 4 main features:
This means that Shopkeeper isn't quite a comprehensive all-in-one tool like Sellics or Cash Cow Pro, but isn't quite a standalone tool like KeyworX either, preferring to focus on these 4 main areas and attempt to be the best at them.
The dashboard is extremely extensive and in-depth however and is very nicely designed and enjoyable to use, which is a huge point in favour of Shopkeeper, especially if you don't have any desire for any of the features it doesn't offer.
Features include:
An extremely well-designed user interface that's a pleasure to look at for long periods of time and clearer to read than most competitors
Inventory management options and stock alerts
Profit tracking and the biggest range of profit/ACoS-based metrics we've seen
An in-depth dashboard with a ton of great, useful metrics
Hijacker alerts
How Much Does Shopkeeper Cost?
First things first, how does Shopkeeper's pricing options compare to the competition?
As you can see listed here, there are 4 main pricing plans:

The packages are based entirely around the number of orders you receive, ranging from $20 per month for 1-250 orders, all the way to $250 per month for unlimited orders.
We found these prices pretty agreeable and the costs and limits are fairly well-aligned so that there'll likely be an obvious perfect option for most Amazon businesses.
For example, if you're new to selling on Amazon, the $20 package is cheap enough to be almost negligible and for larger companies, the $250 option is unlimited which makes the price equally difficult to argue with.
Shopkeeper also comes with a 14-day free trial with no credit card required, which is always worthy of praise and means anybody whos interested to learn more can use the entire package for 2 weeks, free of charge.
You have a decent understanding of Shopkeeper, it's pricing and it's feature offerings now, so let's take a more in-depth look at the individual features and weigh up what they have to offer:
Shopkeeper Features
On first look at the Shopkeeper website, you will see that they have 4 "features" listed, one of which is educational content/learning resources.
This may make Shopkeeper appear very slim at first, especially since the majority of tools have educational resources but don't feel the need to list them as a major feature. However, the individual features are deep enough that this isn't actually true.
Here's a breakdown of each individual feature:
Profit Tracking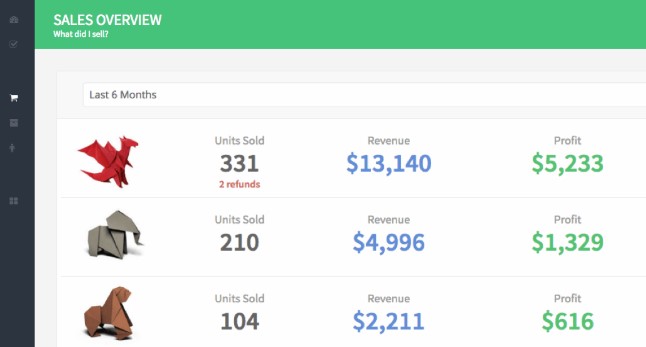 This is our favourite aspect of Shopkeeper and an excellent way to keep track of your profits. From the excellent dashboard design to the addictive and cathartic cash register sound effect when you get a sale, Shopkeeper certainly puts more effort into the overall experience than pretty much any other Amazon seller tool we've come across.
The information that is easily available at a glance is awesome too and gives you the option to dig further into each individual widget to learn exactly what's going on regarding your Amazon account, products and business.
A nice touch that we appreciated even more was that it plots your historical sales records against your current performance, making it easier than ever to keep your sales on the increase and immediately be made aware if anything does start to slip.
Live profit margins are also provided and constantly updated based on changing data and help you to react more quickly, if not immediately, to any additional costs or other changes.
You can also easily break down these numbers by marketplace, product etc to see whichever aspect of your business you are currently interested in.
You can even leave Shopkeeper open in one tab and do something else in another, and if you get a notification or alert, Shopkeeper will make a noise and a notification will appear on the tab.
This means you can leave Shopkeeper open 24/7 and get on with other things knowing that it will make you aware if something needs your attention.
Individual widgets provide different data, for example, one could display your record single day profit whereas another could show today's profits. This is all easy to customise and set up exactly how you want it depending on what you're currently working on.
Inventory Management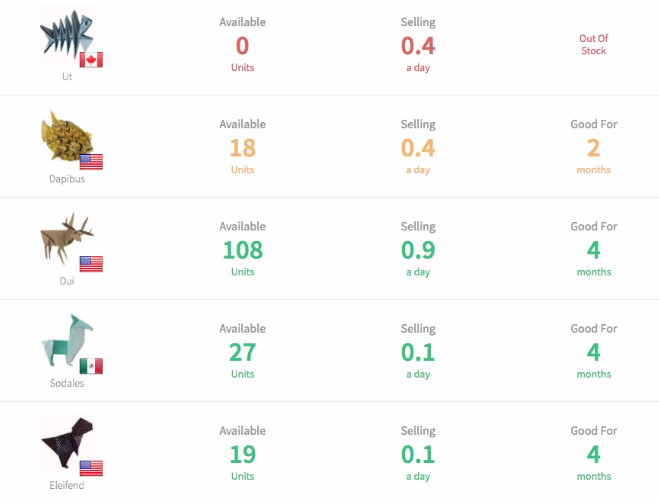 Shopkeeper's inventory tracking feature uses clear design sensibilities and bright colours to make it as convenient as possible to track all of your stock and see which products need to be reordered and when.
There are also a variety of quality of life features like filtering by country (marketplace), checking your inventory from your smartphone while out and about, or getting up to date alerts about which products are getting low.
We found this aspect of Shopkeeper to be a joy to use and the UI design is a big part of the reason for this, with everything being brightly coloured and labelled to make it easy and convenient to discern the important details.
Business Dashboard
The main dashboard behind the Shopkeeper experience, the business dashboard gives you everything you could want to know at a glance, and each section can be clicked to investigate in further detail.
You'll want to check this daily or even keep it open indefinitely so that you can keep track of your sales each day and make sure your profit margins are where they should be.
You can even get a complete, accurate breakdown of your profit margins for each individual product: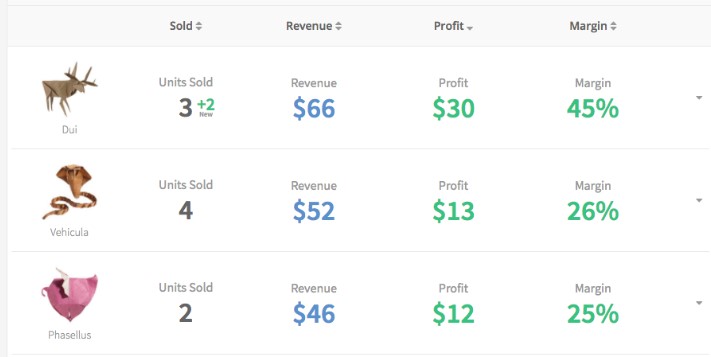 This includes all taxes, FBA fees, PPC costs, refunds, coupon redemption fees etc to provide an accurate and up-to-date margin so that you can ensure everything is where it should be and quickly respond to any changes that mean your products aren't making as much as they should be.
Shopkeeper will give you a ridiculously in-depth breakdown of all costs and figures, taking up to 72 metrics into account, ending up at a final Total Profit number. The whole thing looks something like this depending on how many of the metrics apply to your specific product.
You can even break down the reporting by marketplace and see them in your own currency as opposed to having to compare multiple different currencies and exchange rates to compare your success in one marketplace to another: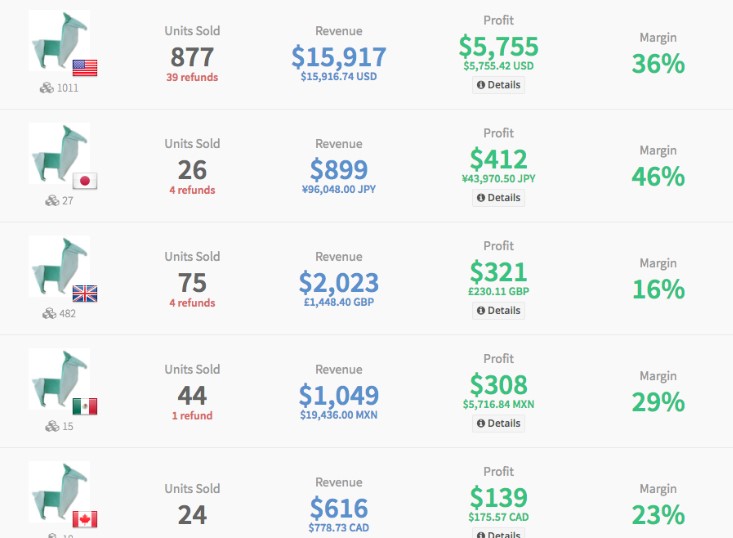 Learning Resources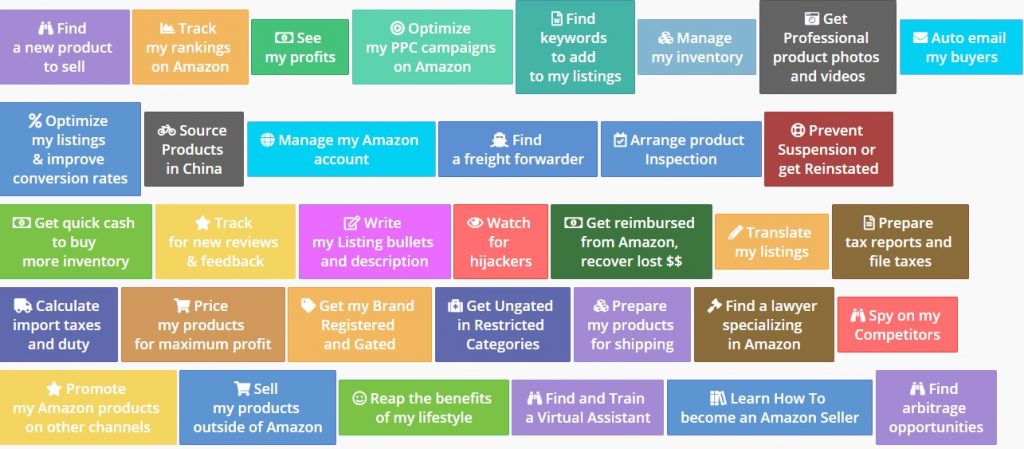 It's a little audacious to list your educational resources as a feature when there isn't an Amazon seller tool out there that doesn't come with at least some form of a tutorial, but Shopkeeper's are effective and exhaustive enough that we'll let it slide this time.
They give honest breakdowns of their competitors, what they think they do better and what they think they should improve on, making it a decent resource for finding Amazon tools, although their list is fairly limited and missing some of the #1 tools.
They also provide lists of good Amazon influencers and podcasters to follow, which will be very useful if you're just starting out in Amazon FBA and looking for new ways to learn.
What About Customer Service?
Shopkeeper's customer service team is top of the line, with friendly and knowledgeable staff that respond quickly and are happy to help.
There is a live chat button within the dashboard itself and an easily accessible email address meaning you're never wondering where to get help and the staff who respond are happy to take you step-by-step through any issues or queries you have and to make sure you get the most out of the tool.
Which marketplaces are supported?
Shopkeeper provides metrics for and data from the following countries/Amazon marketplaces:
The United States
Canada
Mexico
The United Kingdom
Germany
France
Italy
Spain
Japan
Australia
India
Are There Contracts?
Nope, you can cancel at any time simply by going to your account and clicking "Cancel my Subscription".
Can I track keywords or rankings with Shopkeeper?
Nope, Shopkeeper focuses more on business overviews and metrics such as profitability and inventory management.
For these features, you are better off using a well-reviewed standalone rank tracker like KeyworX.
What about privacy? Is Shopkeeper secure?
There is nothing to worry about here, Shopkeeper uses industry-standard security features and makes the security of their customers' data a priority.
To learn more, check out their privacy policy.
Final Breakdown
Positives
Amazing design, colours and a joy to use. One of the best Amazon tools in terms of US
Awesome customer service
Doesn't try to be everything to everyone, focusing on what it can do best
Everything ties in together well and is easily accessible
Compare your current metrics to historical success
Negatives
Occupies a space somewhere in between standalone, specialised tool and comprehensive solution – meaning it does a lot, but if you want to do everything, you'll still need other tools
Conclusion
There's no denying that Shopkeeper is a winner when it comes to design, user experience and overall usability.
Whereas many (most?) other Amazon tools provide their data as a boring spreadsheet that can be tiring and confusing to look at over long periods of time, everything in Shopkeeper is colour coded, linked to diagrams and easy to digest at a glance.
The information displayed is meticulously planned and all 100% relevant, and the idea of plotting your current statistics against your historical ones really help to motivate you to push to that next level.
The AmazonSEOConsultant Verdict: 9/10
Is it difficult for you to find the resources or time to manage your Amazon business and scale it the way you'd like?
Would you rather have the #1 Amazon marketing agency handle this for you?
We provide services ranging from full partnerships and Amazon seller account management to one-off product rankings and listing optimization.
To learn more about how we can offer results and rank positions that nobody else can, take a look at our case studies to see the results we've already achieved for our clients with our unique, self-developed Amazon ranking process.
Or, to get in touch directly and discuss what we can achieve for you, request a proposal now!