Amachete has quite a few tricks up its sleeve!
The Amazon FBA seller tool prioritises global product research and is an excellent way to find potential products for marketplaces that otherwise might be difficult to operate in, such as Amazon Japan.
Despite this being its main focus, Amachete offers a full suite of functions along the lines of CashCowPro or Sellics, and in our humble opinion, its real shining moment is the brilliant PPC optimization panel.
So how does that relate to PPC Entourage, and what else does Amachete excel at?
Join us in this complete review as we breakdown all of the features of Amachete and see how much value it can provide you:
What is Amachete & What Can it Do For You?

Amachete has a complete range of features including:
24/7 automated listing hijack prevention
A Chrome extension that provides valuable information as you browse Amazon
Competitor analysis features
Profit projection tools
Rank tracking
Inventory tracking & alerts
Feedback and email automation tools
PPC optimization dashboard
Quite a lot for a tool that appears to be a smaller one at first glance!
They're all nice features that can make an Amazon seller's life a lot easier too, but how does their quality, design and pricing compare to other options out there?
Let's break down each individual function and take a look:
Amachete Features
Chrome Extension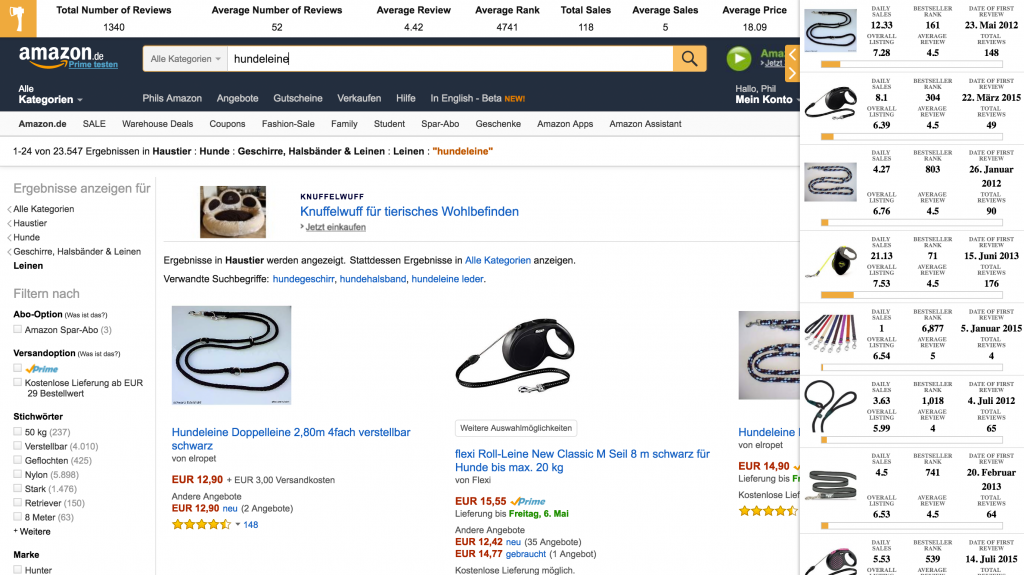 Amachete's Chrome extension is a great quality of life addition to an Amazon seller's repertoire. It allows you to get important metrics at a glance while browsing Amazon, including:
See important metrics and information on products, right next to them on Amazon!
Do the same for your competitor's business, quickly analysing their reviews, ranks, pricing, and more, on their entire range of products, all at once, right on Amazon itself.
Quickly analyse the profitability and sales volume of other people's products
Do all of the above on Amazon Japan, something very few Western tools offer
We have to say, we are very impressed with the Chrome extension.
The daily sales estimates appear to be very accurate, perhaps more accurate than we've seen in any other tool. You can also check the BSR rank of a competitor's product in seconds, which makes analysing a market and deciding whether to jump in, extremely easy and quick.
The extension can also be expanded across the majority of the page to show additional information. This quick switch between unintrusive and fully detailed is super smooth to use and makes you feel as powerful as it genuinely is.
Overall, the interface is a joy to use and takes a very short time to feel like a natural part of Amazon that's always been there.
Hijacker Protection/Alerts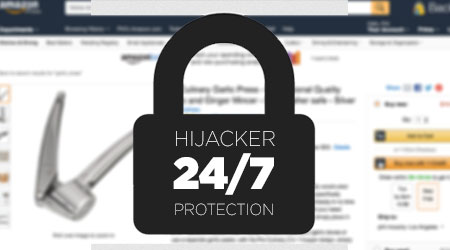 As we're sure you're aware, the best way to respond to a listing or Buy Box hijacker is IMMEDIATELY.
Amachete provides 24/7, immediate alerts as soon as they detect any signs of this happening, allowing you to react quickly to defend your brand and prevent others from meddling with your profits.
Is this part of Amachete better than standalone listing hijack alert tools we've reviewed such as Listing Eagle?
Not really, but does it need to be?
The alerts turn up rapidly, and on many levels, that's all that matters, especially when Amachete does so many other things so well too.
Rank Tracker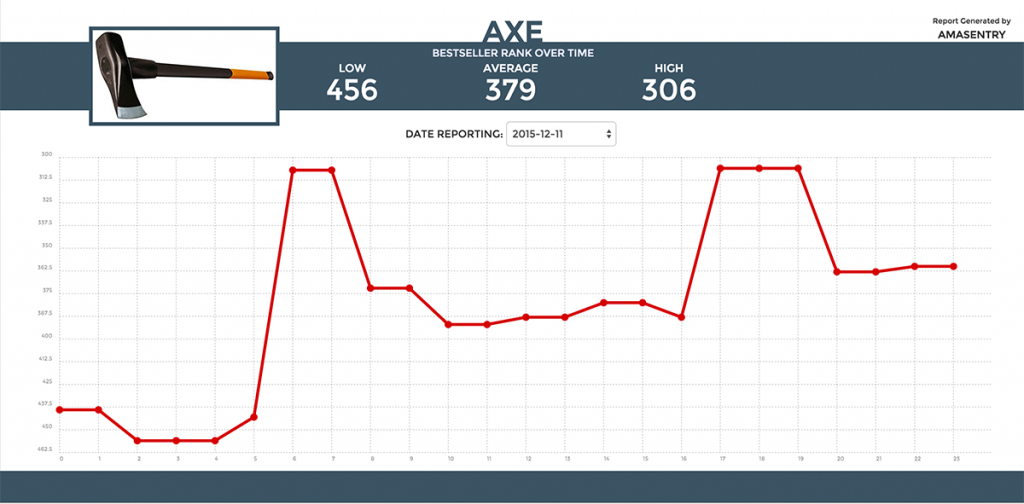 Amachete also allows you to track the rank of your products or those of your competitors over time.
This makes marketing your Amazon products and managing the competition a lot easier because you can immediately see the impact of any listing optimizations or changes you make.
If they result in a decrease in rank you can simply roll them back, and if they lead to an increase, you know you're on the right lines.
Doing this for your competitors too means that nobody can get anything past you – if a competitor has a new strategy that works and helps them to rank above you, you'll know about it soon afterwards.
Frankly, the design of this section isn't too great at all and the graphs could be a lot clearer, but the ranks are updated every hour instead of every day which is a nice touch.
It does the job and is a useful part of the overall package, but the accuracy of the tracking and the ease of actually translating the data into something you use doesn't compare to KeyworX.
Inventory Tracker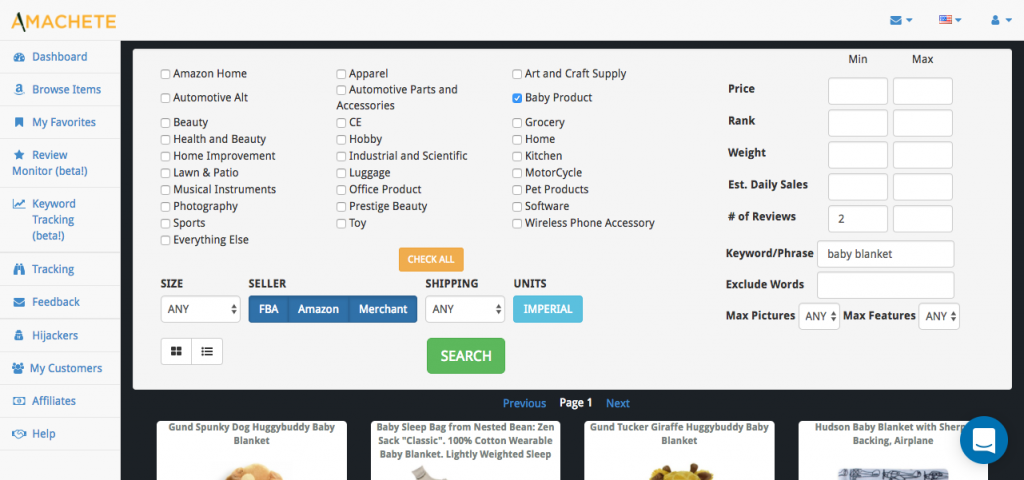 Amachete can also track your inventory and compare it to your daily sales velocity to give you automated alerts when you need to order more stock.
It even takes delivery time into account, basically taking all the fiddly little details of managing stock and taking care of them for you.
It's another thing that isn't entirely fleshed out and sits in the background, similar to the rank tracker, but it's without a doubt valuable for any Amazon seller and takes a lot of the headache out of figuring out when to reorder things, for which we were very appreciative.
Feedback Alerts/Automated Emails

There is also the option to be notified every time you get a negative or neutral review, allowing you to react immediately to defend your brand name and hopefully, get any negative reviews removed.
Like any good feedback management system, there is also the ability to send followup emails after orders in order to encourage customers to contact you with any issues (therefore reducing the chance of negative reviews) – or to encourage a positive review in the first place.
It works well, is easy to set up and has to desired results, so there is little if anything to fault here.
You can do this better with standalone tools like FeedbackFive but when you factor in how many other things Amachete does for such a small price increase over FeedbackFive, combined with the fact it works in most marketplaces, this is still amazing value.
Global Amazon Product Database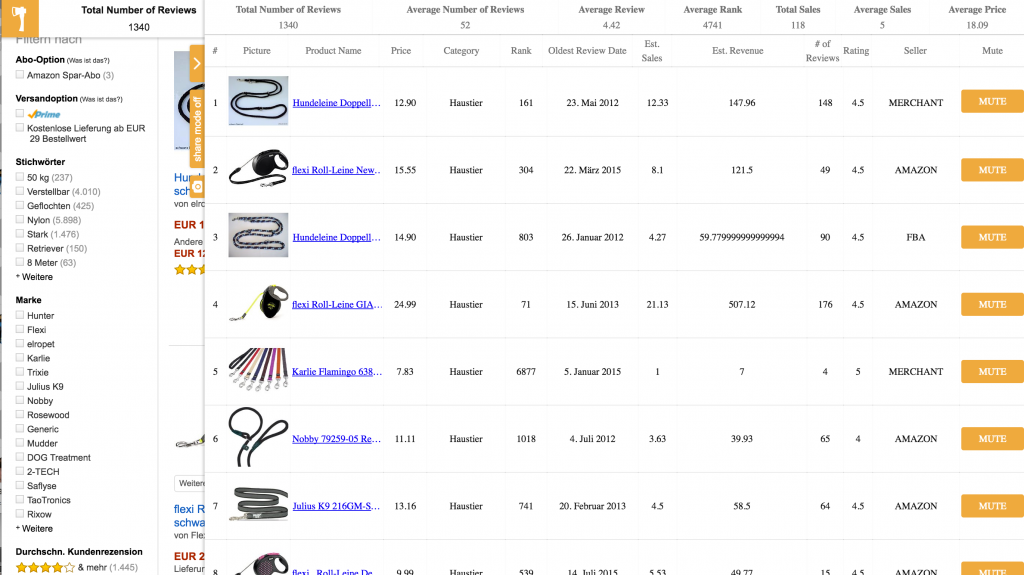 This powerhouse of a feature allows you to search for products in the entirety of Amazon across 10 marketplaces.
When combined with the rest of Amachete's features, this allows you to get real-time information on how lucrative or competitive a specific product, subcategory or niche might be – globally.
With 2/3rds of Amazon customers on Amazon US, you might think sticking to the most popular/largest marketplaces is the way to real growth, but the reduced competition on the smaller marketplaces isn't something you should disregard.
Targeting the 1/3rd of customers that are elsewhere may well be easier in the long run, but you don't need to choose – selling to both is easy with Amachete.
PPC Management

This is actually somewhat of a secret weapon for Amachete, as it is barely advertised on their website and isn't included in their smaller pricing package.
You need to pay at least $59 per month to get access to this one, but we think this is more than worth it as the PPC optimization dashboard is Amachete's real strength.
It offers a standout feature seen in very few little other places, namely the ability to view time trends in connection to your products in order to identify if there are times when people don't buy your products.
It will then automatically pause your Sponsored Products campaigns at this time, potentially saving you a lot of money.
It's also easy to use, well designed, and generally one of our favourite PPC management tools to play around with.
$59 for this alone isn't worthwhile, but if you can find a use for all of the tools included here, that's an excellent price that will provide you with a return on your investment many, many times over if you use them correctly.
Amachete Pricing
Amachete occasionally closes down its signups in order to minimize the number of sellers using it in smaller marketplaces like Japan.
This is the case at the time of writing, but you can click here to be notified when signups are open again.
Normally, the price packages that are available are:
| | |
| --- | --- |
| Price | Includes |
| $39/mo | Everything but the PPC tool |
| $59/mo | Everything but with some limits on number of reviews, ranks etc you can track |
| $99/mo | Everything, with zero limits |
There is also a 10-day free trial with no need to fill in your card details and no contracts, which should be more than enough time to try it out and see what you think.
The free trial also includes the full, unlimited experience, even if you are only planning to sign up for the smaller package when it's over, which is pretty generous!
What about customer service?
Customer service is top-notch – polite, friendly, knowledgeable, and quick to respond. They also have great blog posts and educational content.
Are there contracts?
No – you can cancel any time you like!
What marketplaces are supported?
The US, The UK, Germany, Italy, Japan, India, Canada, Mexico, France and Spain. One of Amachete's major selling points is to seamlessly let you do product analysis for everywhere, and it beats out the competition in that regard.
Final Breakdown
Positives:
A great balance between pricing, features and functionality
A great user interface and welcoming design
Excellent PPC management software
Very cost-effective when all features are used to their full extent
Data is extremely accurate
Negatives:
Individually, all of the tools are bettered elsewhere.
You have to make full use of the entire package for this to be a good investment
Conclusion
Amachete's individual features are above average, but not industry leaders, outside of the PPC management functions.
Many specialist tools do each of the other things better.
With that said, the complete package is a very powerful tool and the pricing is lower than most comparable packages.
This, combined with Amachete's global reach, makes this a strong recommendation for Amazon sellers of all sizes.
If you have enough money to use multiple standalone tools like KeyworX and Listing Eagle, you will be able to build an overall better package than this.
But if you want everything conveniently in one place for a surprisingly low cost and an easy way to expand your business into new marketplaces, Amachete is an amazing option and earns a good recommendation!
The AmazonSEOConsultant Verdict: 7/10
Is it difficult for you to find the resources or time to manage your Amazon business and scale it the way you'd like?
Would you rather have the #1 Amazon marketing agency handle your Amazon business for you?
We provide services ranging from full partnerships and Amazon seller account management to one-off product rankings and listing optimization, so why not let us take care of your Amazon business, boosting your ranks, sales and profits while you focus on product research and growing your brand in the ways that really matter?
To learn more about how we can offer results and rank positions that nobody else can, take a look at our case studies to see the results we've already achieved for our clients with our unique, self-developed Amazon ranking process.
Or, to get in touch directly and discuss what we can achieve for you, request a proposal now!