The rate of customer returns for goods bought online is growing rapidly, and with Amazon accounting for over 50% of online product searches, Amazon sellers are beginning to feel the sting.
The trouble is, there are so many return and refund requests processed through Amazon every single day, that it's impossible for them all to be 100% accurate and correct.
As a result, you need to check every refund and return to make sure it's appropriate, and if you do accept it, you need to ensure Amazon pays you back the appropriate amount within a reasonable timeframe.
Doing this manually is a huge timesink that many smaller businesses will struggle to stay on top of.
Luckily, there are Amazon professional seller tools out there that are designed to manage this for you and make sure you get what you're owed, as quickly as possible.
Refunds Manager is one of the most well-known, so today we're going to break it down in-depth and see how well it works and whether it's a worthy investment for you.
First things first:
What is Refunds Manager & What Can It Do For You?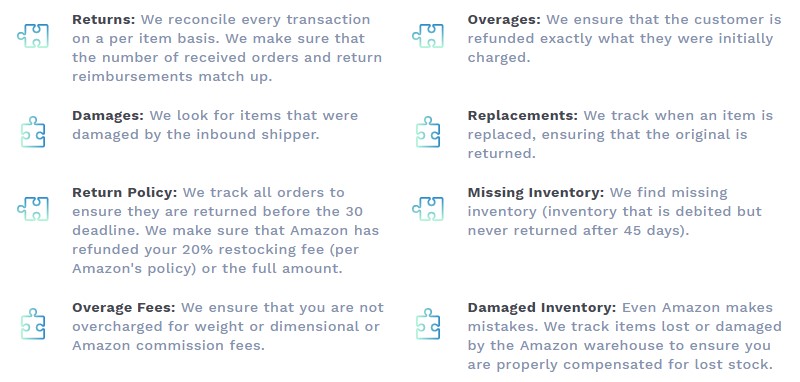 Refunds Manager is a tool that files personalized claims with Amazon FBA to help you get your money back.
All claims are checked manually and filed by Refund Manager's team, and this is important to note because, while automated claims may be faster, Amazon doesn't like them for obvious reasons.
Whereas some tools do exist that do this automatically, they could be rendered useless at any time if Amazon chooses.
There is no risk of this with Refunds Manager as all claims are submitted by real people and checked in detail for legitimacy.
It's certainly a weight off the mind to know that your refunds strategy is being managed by people who are experienced with this and operating with Amazon's terms of service.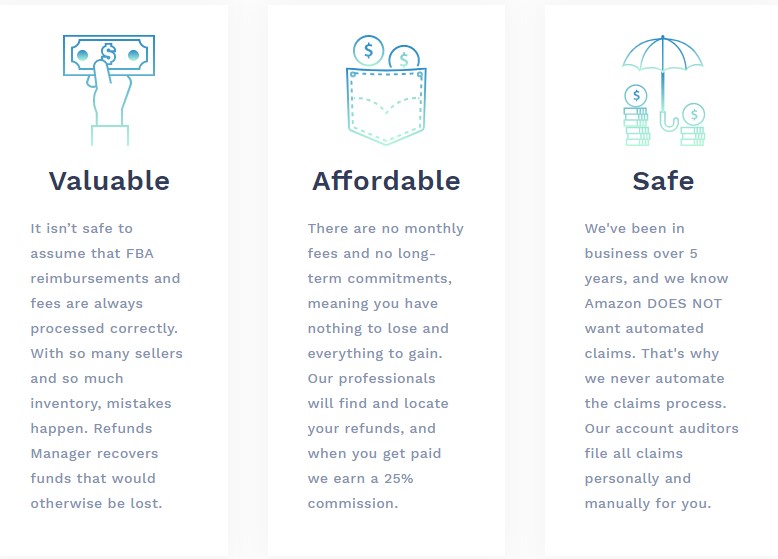 It's all very easy and the focus is taking it out of your hands as much possible.
You simply sync your Amazon seller account with the software. From there, Refunds Manager will check your entire account for a range of issues such as returns, incorrect fees, damaged inventory and more, before submitting and tracking all claims to ensure you get your refunds as quickly as possible.
The Refunds Manager team makes a point of insisting that everything they do is within Amazon's TOS:
They will allow Amazon the proper time to reimburse you before making a claim
All claims are submitted following the proper procedures for the specific product category or issue
Everything is handled personally by your account manager and nothing is automated
Refunds Manager Features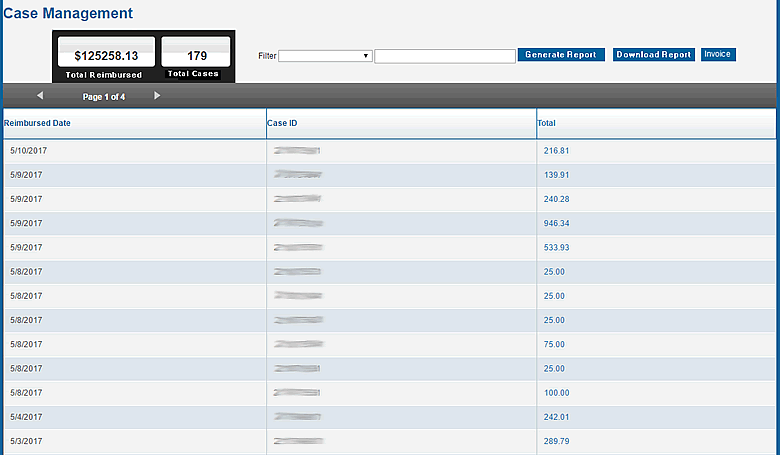 As you'd expect, Refunds Manager is fairly limited in features, preferring to spend all of its energy on submitting accurate claims – it's one area of focus.
This is far from a bad thing, though, because if there's one thing we've learned from our series of Amazon seller tool reviews, it's that tools that focus on doing what they do best pretty much always outshine those that try to do everything.
Despite this, Refunds Manager does everything you need it to within the claim submission field, analyzing the following events and submitting accurate claim requests for you:
Returns
Damages
Overages
Missing stock
Replacements
Refunds Manager Setup
Setting up the review manager software is not only super easy but once it's done you can just sit back and let it do its thing without needing to worry about it again.
It all starts by simply signing up for Refunds Manager and linking your Amazon Seller Account: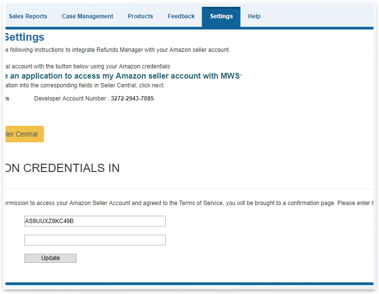 Once you've done this, you can sit back while Refunds Manager analyzes your entire account across the last 18 months to find every order and item that may potentially be eligible for some level of reimbursement.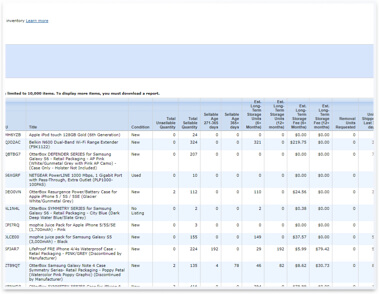 Once the review is complete, Refund Manager's team will submit all eligible cases to Amazon, ensuring that you are up to date on the past 18 months of reimbursements.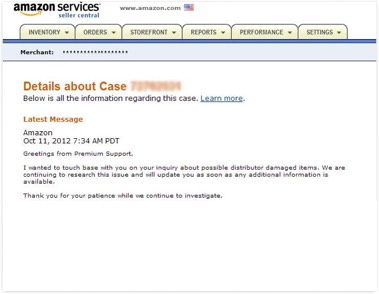 From there, you can simply leave it running so that Refund Manager can take care of prepping and sending any eligible claims as and when they arise.
They also provide reports for each claim once you receive your payment so that you can easily go back and check past events, including what occurred and how much money was recovered.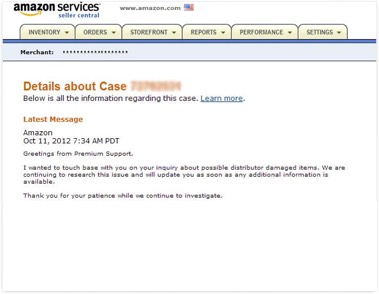 Surprisingly enough, Refunds Manager does offer one more feature:
Feedback requests.
You can set automated messages to go to your customers on receipt of an order, in the hope of increasing the chances of a negative review.
FeedbackFive and FeedbackGenius both do this considerably better and with a ton more features, and the templates on offer here are pretty lacking, but considering this is a free feature, it may well be of interest to many of you
Refunds Manager Pricing

Refunds Manager's pricing system is a little different to other Amazon 3rd party seller tools.
Instead of paying a monthly subscription, you can sign up to the software and play around with it for free. Instead you are charged 25% of all reimbursements.
This might sound rather high, but we found it was more than worth this cost to never have to worry about reimbursements again, and spend our time and attention elsewhere, safe in the knowledge that our money was safe.
More importantly, the amount of money we got back for reimbursements when using Refunds Manager was higher than we got when managing our refunds manually, even after taking this 25% into account.
This will be even more of a benefit for small Amazon businesses or sole traders, as spending the time necessary to make sure no unclaimed refunds or misapplied fees get past you can be simply too much to be feasible for those with less resources.
Considering you still get 75% of the reimbursement, and you may not have had that reimbursement whatsoever otherwise, Refunds Manager is incredible value.
Which marketplaces are supported?
So far, only the UK, Germany, France, Spain, or Italy.
This is a fairly disappointing list and smaller than the list of marketplaces for almost any other tool. Refunds Manager is very useful to sellers regardless of where they are and we hope it spreads to more countries very soon.
Will I be Charged 25% If I Open a Case Manually?
No – they have already thought of this and fees are only charged for cases managed through the service.
How Long Do They Wait to Open a Case?
In order to remain legitimate and within Amazon's TOS, Refunds Manager will wait at least 45 days before sending any reimbursement claims and 30 days in the case of a lost shipment.
This gives you the freedom to open the cases yourself and act on any you are aware of and have time for, leaving Refunds Manager to mop up the rest!
Final Breakdown
Positives
Does what you want all Seller Tools to do – takes something off your hands and makes sure it's never an issue again
Amazing pricing structure makes this a no-brainer and nearly impossible to lose money
Simple set up and no-frills design makes everything easy and rapid
A personal, non-automated touch makes sure things are handled as well as possible and nothing is skipped over
Negatives
Frankly, there are none – this is a no brainer for any Amazon seller. Outside of already having a refund management tool you're happy with, there's no reasonable excuse not to have this.
Conclusion
Refund Manager is at the top of the refund management game. It's simplicity of setting up and reliability would already make it a strong recommendation, but the pricing setup takes it from this to an absolute no-brainer.
With no monthly subscription, and fees only being charged for reimbursements you've already received, it's near impossible not to make money you wouldn't have had otherwise with this tool.
It takes all 19 possible causes of a refund into account and constantly checks them, requesting a refund as soon as is reasonably possible.
On first singing up for Refund Manager, we had our first refund within 48 hours, which is just impressive no matter how you look at it.
So to sum up, this tool will manually submit all of your claims for you, (except the ones you've already done), it won't charge you unless those claims are successful, and it deposits your reimbursements directly into your account with no fuss or input from you required.
This is the gold standard for what an Amazon seller tool should look like, and a must have for anybody who wants to protect their money and/or doesn't trust Amazon to have their best interests at heart 100% of the time.
Click the button below to learn more, and sign up while you're at it, since it can literally only save you money.
The AmazonSEOConsultant Verdict: 10/10
AmazonSEOConsultant Top Recommendation!
Is it difficult for you to find the resources or time to manage your Amazon business and scale it the way you'd like?
Would you rather have the #1 Amazon marketing agency handle your listing optimizations, product rankings, pricing, feedback management strategy. or even all aspects of your Amazon business?
We provide services ranging from full partnerships and Amazon seller account management to one-off product rankings you won't find anywhere else.
To learn more about how we can offer results and rank positions that nobody else can, take a look at our case studies to see the unbelievable increases in rank, sales and profits that we've already achieved for 100s of clients thanks to our unique, self-developed Amazon ranking process.
Or, to get in touch directly and discuss what we can achieve for you, simply request a proposal now!