As some of you might remember, we recently posted our review of Refunds Manager, the Amazon refund management software.
We were blown away by the tools ease of use, convenient pricing scheme and simple effectiveness, awarding it a rare 10/10.
But there's one pretty major downside for a lot of Amazon sellers – Refunds Manager doesn't work in the US marketplace, meaning it's a no go for most American sellers.
That doesn't mean those of you in the States have to handle your refunds manually though – there's another popular option called FBAAuditor that is compatible with the US marketplace.
But is it a suitable replacement for Refunds Manager, or a shoddy substitute?
Let's take you through the tool in detail and take a look:
What is FBAAuditor & What Can it Do For You?

Similarly to Refunds Manager, FBAAuditor is all about taking care of your refunds and reimbursements so that you don't have to waste hours on chasing them up, but still get back all the money you're owed.
Similarly to RM, FBAAuditor's internal team manually check all of your reports and submit claims to avoid Amazon's distate for automated claims.
They aim to make it so that you can forget about reimbursements entirely, safe in the knowledge that they are ensuring you get what you're owed from Amazon – all of the top Amazon seller tools take something off your hands in this way, and FBA Auditor certainly doesn't fail in that regard.
Your sales data and daily reports will be checked for discrepancies in areas such as:
FBA fees
Extra FBA fees such as packing or labelling
Damages
Missing stock
Overage fees
Incorrect storage fees
"Returned" products that don't return

FBAAuditor Features
FBAAuditor's process is made up 3 key functions.
All of them work together in order to help protect your seller account.
Let's look at them individually to see how they stack up:
FBAAuditor: Refund Hero

Refund Hero is the meat of FBAAuditor, and the part that keeps track of your owed reimbursements. The description here seems to suggest the entire process is automated which may sound worrying due to it being against Amazon's TOS, but each claim is checked manually so there's no need to worry about that.
Similarly to Refunds Manager, this is a very simple tool with not many things to play around with – working best as a sort of "fire and forget" solution that you just set up and leave to do it's thing.
This is far from a bad thing as refund management isn't something that needs a bunch of fancy features and add-ons – and as we learned from KeyworX, it's often the case that the tools that keep it simple and focus on doing one thing right, are the ones that become the best.
You'll be happy to know that FBAAuditor is no exception and can be set up in minutes – from there, you just leave it to take care of business and bring in money!
FBAAuditor: Inventory Salvager

Inventory Salvager aims to keep track of all your stock and take the appropriate action when any goes missing or is damaged, etc.
The best way to think of it is as an insurance policy – Amazon are watching your stock for you and making sure they keep track of everything, and they are very good at this, but mistakes will happen, and Inventory Salvager will make sure you get your money back when this occurs.
For large Amazon businesses who operate in multiple marketplaces and sell a wide range of items across multiple product categories, keeping track of all of your global inventory and making sure nothing gets missed can be a full time job.
Even if you can afford to hire somebody to take care of this, they are only human and some things can still slip by.
Inventory Salvager automatically scans all of your inventory and reports to instantly flag up anything that's been missed – and allowing to take care of this without feeling the need to get involved is a valuable boost to any time-limited Amazon seller or company.
FBAAuditor: FBA Fee Monitor

Last but not least, this aspect of FBAAuditor is all about ensuring the fees you are charged by Amazon are accurate and fair.
As you can see in the image above, many of the issues and incorrect charges that can arise are the case of minuscule inconsistencies in data accumulating over time.
Even if you regularly check everything and keep an eye on your fees, things like this can be very easy to miss, especially with dimensions and weights often being rounded up or down, no matter how slightly.
All in all, the 3 features of FBAAuditor creates a complete refund management suite that will quietly guard your income in the background and ensure you get each and every reimbursement you're owed.
As far as we're concerned, this is a no brainer for any Amazon seller as the value of not having to worry about this really can't be overstated, and just like Refunds Manager, FBA Auditor uses a no-win, no-fee payment plan that essentially means there is no way to lose.
FBA Auditor Pricing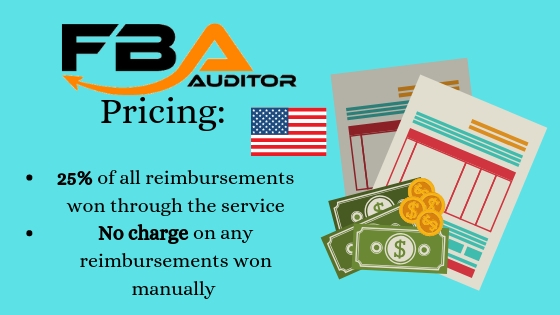 The pricing scheme is as simple as can be – there are no contracts, subscriptions, or monthly payments whatsoever.
Instead, FBAAuditor charges a simple 25% fee on every reimbursement they win for you.
A quarter of every refund may sound like quite a lot, but there are a few things to keep in mind
It doesn't jump on issues immediately, giving Amazon a chance to spot them and refund you first. This also gives you a chance to spot issues and submit claims manually if you get the chance. You only get charged for claims submitted through the service so all of the above is free. This means you only pay the 25% on claims that were spotted by neither Amazon or yourself, and therefore on refunds you otherwise wouldn't have received at all
If everything runs correctly and no reimbursements get missed on your Amazon account, you won't pay a penny
You'll never have to check up on your reimbursements or investigate missing stock again, potentially saving you hours of frustrating work on a regular basis.
With all of the above taken into account, a 25% fee on certain refunds is negligible and in our opinion, the whole thing is a no brainer.
What types of cases are covered?
Refunds when the stock isn't received back within 45 days, damaged returns, warehouse damages, lost items and incorrect FNSKUs.
How far back does the data go?
On first sign-up, data is checked for the past 18 months. From there, FBAAuditor will continue to check new data week-on-week, month-on-month, so you should never need to go "back in time" again.
Which marketplaces are supported?
The United States, Canada, The United Kingdom, France, Germany, Italy and Spain.
What about customer services?
If you want honesty, the customer service encounters we had with FBAAuditor were impeccable. Staff really go the extra mile to be as helpful as possible and make sure you understand everything about the software, and responses are extremely quick.
Can I trust FBAAuditor with my data? How secure is it?
FBAAuditor works on Amazon Web Services which means it has an authorised API connection to Amazon and has been fully vetted by the corporation. It is as safe as you can reasonably expect.
Final Breakdown
Positives
Ensures you never have to worry about reimbursements and checking your refunds again – a major boon for any Amazon seller, especially those selling at volume
Friendly no-win, no-fee payment structure means you can't really lose
Well-designed, simple, and rapid to set up
10/10 customer service that will go out of their way to ensure everything is working well for you
Negatives
Conclusion
Just like Refunds Manager before it, FBAAuditor is simply fantastic. It will ensure you get every penny of reimbursement you are owed, while not charging any monthly fee and not charging for any refunds you receive anyway.
Since Refunds Manager isn't available for US sellers, we feel no hesitation whatsoever in saying this is an absolute must-have for any American Amazon seller.
If you live in a place where both tools are options, we would have to say Refunds Manager ever so slightly edges this out – due only to the fact it checks a wider range of potential issues. But this is extreme nitpicking and both options are excellent.
To summarise, FBA Auditor will:
Analyse your entire Amazon account and find any and all issues that should have been refunded/reimbursed
Give each issue a grace period to allow Amazon to spot them (or yourself) and to avoid overwhelming Amazon's support team
Once the above is done, it will automatically submit claims for each issue to Amazon, ensuring it's still well within the time window for claims.
Only charge fees on the refunds it wins, meaning any picked up by yourself or Amazon aren't charged
Create detailed reports on every reimbursement, detailing how much you've received and why
If you sell products on Amazon and don't trust Amazon to get everything right 100% of the time, then there is literally no reason not to use FBAAuditor.
We have always said the perfect Amazon seller tool should take something time-consuming and fiddly off sellers hands an dmanage it to a high standard so that the seller can simply forget about it and focus on growing their business.
FBAAuditor is the definition of this, and for that it wins more than a recommendation – if you don't use FBAuditor, you are almost certainly losing money, and if you aren't – signing up can't hurt anyway!
TheAmazonSEOConsultant Verdict: 10/10
AmazonSEOConsultant Top Recommendation!
Is it difficult for you to find the resources or time to manage your Amazon business and scale it the way you'd like?
Would you rather have the #1 Amazon marketing agency handle your listing optimizations, product rankings, pricing, feedback management strategy. or even all aspects of your Amazon business?
We provide services ranging from full partnerships and Amazon seller account management to one-off product rankings you won't find anywhere else.
If you're looking to exit the Amazon business, we even buy Amazon accounts.
To learn more about how we can achieve sales results and rank positions that nobody else can, take a look at our case studies to see the unbelievable increases in profits that we've already achieved for 100s of clients thanks to our unique, self-developed Amazon ranking process.
Or, to get in touch directly and discuss what we can achieve for you, simply request a proposal now!