As the #1 blog for Amazon sellers, we like to bring you regular helpful insights such as our series of in-depth reviews of the best Amazon seller tools based on actual time spent with the software using it to increase sales and profits for genuine clients.
During that time, we've reviewed a few pricing optimization tools, mostly parts of all-in-one solutions such as CashCowPro or Sellics.
Today's is a little different though, as Feedvisor is AI-driven.
It uses countless metrics and active intelligence to constantly adapt your product's prices to the ideal point based on the market, competition, supply, demand and more.
So is it the ideal way to get the edge on the competition, or does all this "intelligence" add up to no real benefit?
We've spent some time with the tool, so join us as we explain:
What is Feedvisor & What Can It Do For You?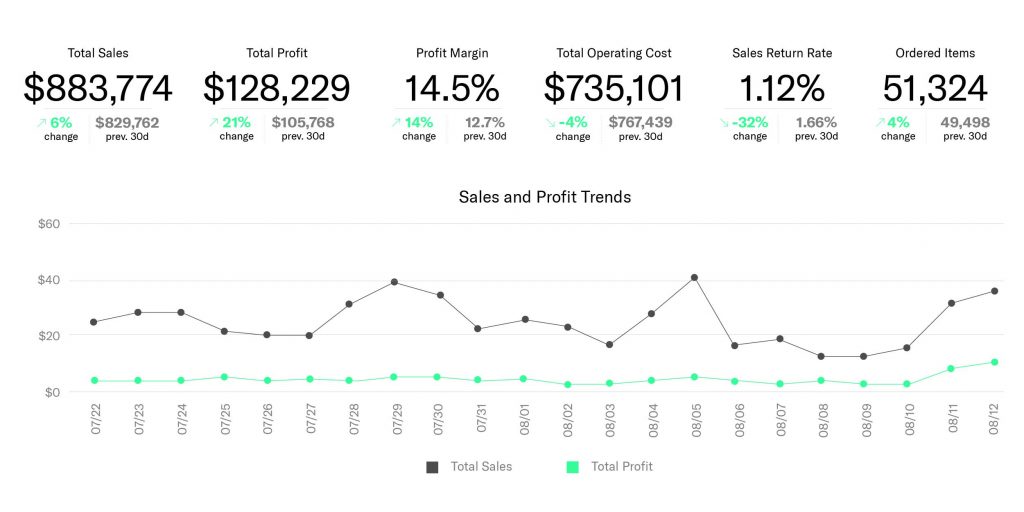 For Amazon sellers, effective pricing can be one of the most challenging and sensitive aspects.
Price your items slightly too low and you'll cut into your profits, but price them slightly too high and you'll lose sales!
This is all too often a constant balancing act, and the difference between the ideal price and the wrong one is often just a few pennies.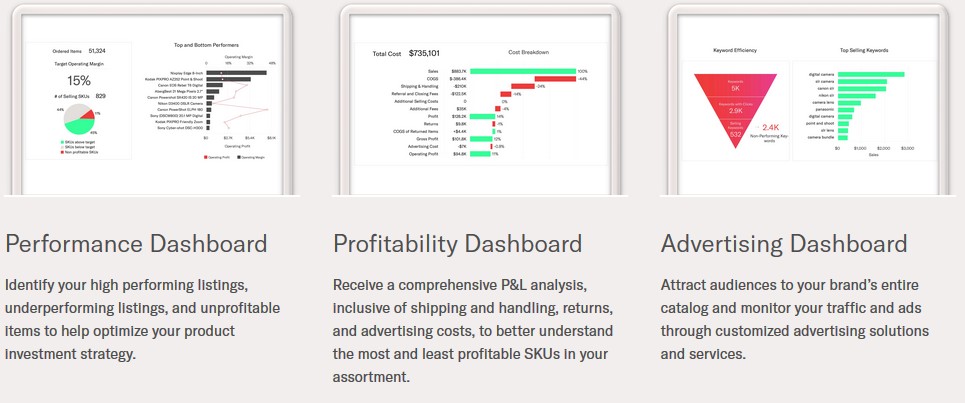 Feedvisor attempts to solve this problem for Amazon sellers by using artificial intelligence to constantly analyse the market and determine the best possible price to sell your product at, 24/7.
Outside of data-driven pricing optimization, Feedvisor has a few other tricks up it's sleeve too, including:
PPC optimization
Brand optimization (storefronts, listings, images, conversions etc)
Having an AI watch these things for us constantly and make automatic optimizations sounds ideal, but it all depends on the quality of the AI and how much you can trust the changes it makes.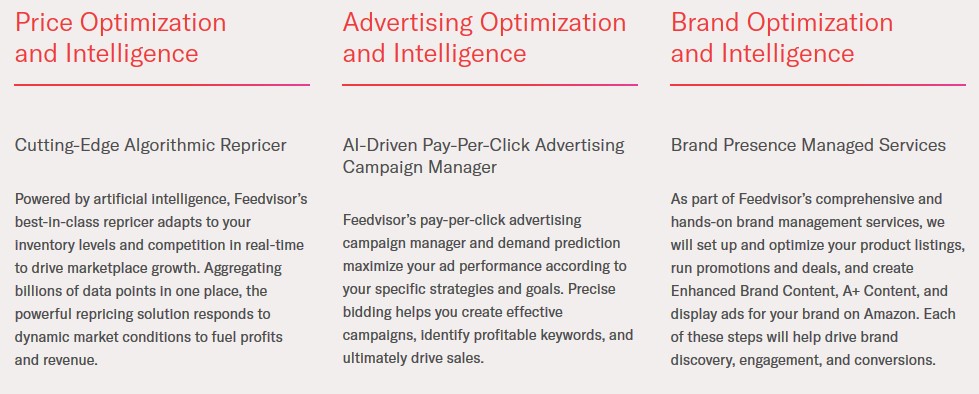 Since we've spent some time with Feedvisor, let's break down the individual features and dashboards to see what they can do:
Feedvisor Features
Feedvisor uses seriously cutting edge technology to analyse and track your competition, 24/7.
You interact with Feedvisor through a variety of different sections and dashboards, so let's look at them individually:
Amazon Repricer/Feedvisor Pricing Optimization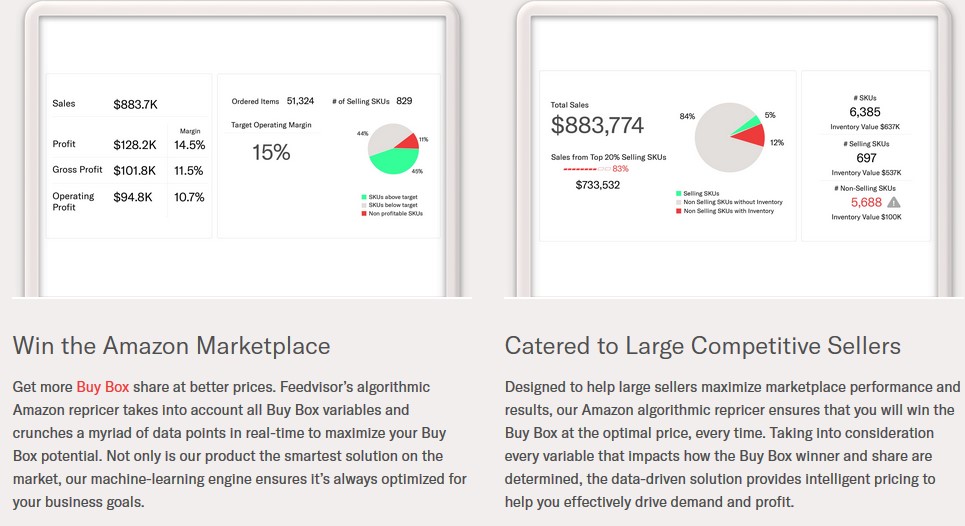 This is the section of Feedvisor that's all about making sure your products have the most effective possible price, and for many of you will be the main feature you're interested in.
The beauty of having your pricing automatically set by an AI isn't just that it's always at the perfect balance between being profitable for you and attractive to buyers, but also because it helps you to get the best possible share of the Buy Box at the best price.
Not only that, but Feedvisor can be used to set your pricing strategy across multiple channels – maximising your returns across eBay, your own eCommerce website, or wherever else your products may be.
It will even track your inventory, giving you data-driven insights on when you should be reordering based on sales volume, but also balancing prices to get the most out of the inventory you already have.
Managing countless ASINs across multiple product categories is a challenge for any Amazon sellers, but especially for larger ones with large product catalogues.
With Feedvisor, you'll never have to worry about this again, as it takes over a billion data points into account when balancing your prices and will also ensure your products are priced attractively compared to the competition, without going too low.
Whereas there are other tools that can automate pricing optimization, none of them are as powerful or as cutting edge as Feedvisor and this makes it the tool of choice for larger Amazon businesses without a doubt.
Advertising Optimization & Intelligence/Feedvisor PPC Optimization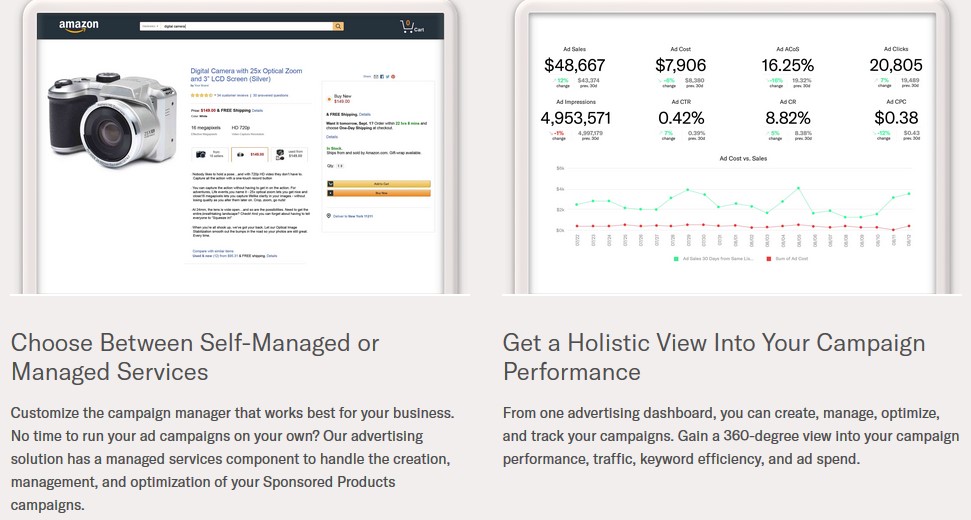 Whereas the above pricing optimization tools are what Feedvisor is most well-known for, it's far from all they offer.
There is also a full PPC management dashboard that makes use of the same AI-driven technology, and it's well worth your attention.
It can automatically analyse all of your keywords – providing relevant suggestions that will bring more sales and pointing out any that aren't providing a good enough ACoS to keep going with.
Bid prices, keywords, negative keywords, and ad groups will all be automatically optimized over time, which, when combined with the optimized inventory and pricing, provides the best possible chance of conversion at all times.
You can even set custom goals so that Feedvisor will make decisions based on your ideal end target.
One thing we really liked about the dashboard in general is the simple, easy-to-use design, with colourful graphs and large numbers making it easy to get a full overview of what's going on at a glance.
This is something you'll need to be able to get your head around all of the data, and what Feedvisor is doing is so complicated that they could be forgiven for having a much less friendly layout – but should be commended for putting the work in to make everything accessible.
Brand Optimization & Intelligence/
This section allows you to take care of things like:
Storefront/Enhanced Brand Content optimization
SEO analysis & keyword optimization
As you can see, this is more about the general health of your Amazon listings, and ensuring that they are converting as well as possible so that the rest of the features work as best as they can.
However, it is just an in-depth and powerful as the rest of the software, and is a brilliant way to keep improving your copy, product titles etc over time in order to stay ahead of the competition.
The combination of automated conversion rate optimization, automated PPC management and automated price adjustments work wonders together and are pretty much guaranteed to improve your sales and profits over time, as long as your product is an attractive one.
Feedvisor's Team

When you subscribe to Feedvisor, you can also get access to help from their team, including customer service experts, data analysts, etc.
They are there to answer any questions you might have and give you guidance on using the tool to it's best potential.
They can even take a more manual approach to your account, for example setting up ad campaigns for you and helping to structure your strategy before setting Feedvisor's algorithms to optimize it perpetually.
For most of you, this will be unnecessary and you'll prefer to plan and build things yourself, allowing Feedvisor to optimize and improve over time – but regardless, it's very nice to know you have them to fall back on if you ever need to.
We have to mention customer service here too, as we contacted Feedvisor multiple times during our time with it and they always responded instantly with accurate, friendly and easy-to-understand advice – they get a huge thumbs up here.
Feedvisor Pricing
Your next question is likely "how much does Feedvisor cost?"
Feedvisor is a SaaS-based technology company with solutions across pricing, advertising, brand management, and intelligence for large sellers and brands on Amazon. Clients engage in a contract with Feedvisor and, depending on the product and plan, pay a monthly based license fee and a variable fee for gross merchandise volume (GMV) and media spend.
Pricing varies a lot depending on which features you need and how many prices you need it to watch over, but more active Amazon sellers can expect your monthly subscription to be around $1,000, raising up to $2,500 for even larger Amazon businesses with large numbers of listings.
For newcomers or smaller Amazon sellers with less products, this could potentially be quite expensive, but packages are completely customizable so it depends what you need.
However, it shouldn't be surprising that there's a slightly more premium pricepoint than elsewhere – Feedvisor is built on the same technology that several Fortune 500 companies use for pricing, and is a top of the range tool that's best suited for Amazon sellers at the top of the game with a lot of competition.
The cheaper options, unfortunately, just do not compare.
If your Amazon business is profitable enough that you can afford this cost, the monthly subscription will pay for itself multiple times over and feel almost negligible.
If your sales volume isn't quite up to the level where you can afford Feedvisor yet, there are other less expensive price optimization tools out there, but in terms of reliability and functionality they don't come close, so as you grow and scale you will likely want to consider Feedvisor again in the future.
Which Amazon marketplaces does Feedvisor work with?
Feedvisor is compatible with Amazon marketplaces in North America and Europe.
What about data security? Is Feedvisor secure?
You have nothing to worry about here, but if you want to be sure, you can find their privacy policy here.
Is there a Free Trial? How Much is Feedvisor?
Not in the traditional sense, but you can request a free demo which is a great way to find your way around the software and see how it can fit with your business. You can read up on the pricing packages in more detail and request a demo here.
Final Breakdown
Positives
The most accurate and powerful Amazon optimization tool, period. It's basically magic.
Apply pricing strategies good enough for some of the world's leading companies to your own business – without ever having to do anything
Will boost your profits without a doubt, and keep you in tune with your competition, no matter how fierce
Unbelievable support and educational resources
Conclusion
Feedvisor is an incredible piece of cutting edge tech that is inarguably the best pricing optimization tool out there.
For those Amazon sellers with less cash flow, it is something to come back to later when you've scaled and grown a bit, as there are cheaper, less advanced options that will suit you better until then.
However, for Amazon sellers and businesses that can afford Feedvisor, it's an absolute no-brainer and a must-have that will reliably and consistently bring you back much more than it costs in increased profits and sales.
Having an AI analyse your pricing, PPC strategy, listings and more, analysing them according to the market, and improving them consistently over time, is just too valuable to pass up.
The amount of time it will save you from doing this manually is worth the cost alone, but when you factor in how much more effective and accurate it is than any human could ever be – you start to realise just how much of a benefit this is to sellers.
If you can't afford Feedvisor, keep working on your business and use another tool to grow it until you can.
If you can afford Feedvisor, every day you go without it is a mistake.
The AmazonSEOConsultant Verdict: 9/10
AmazonSEOConsultant Top Recommendation!
Is it difficult for you to find the resources or time to manage your Amazon business and scale it the way you'd like?
Would you rather have the #1 Amazon marketing agency handle your listing optimizations, product rankings, pricing, feedback management strategy. or even all aspects of your Amazon business?
We provide services ranging from full partnerships and Amazon seller account management to one-off product rankings you won't find anywhere else.
If you're looking to exit the Amazon business, we even buy Amazon accounts.
To learn more about how we can achieve sales results and rank positions that nobody else can, take a look at our case studies to see the unbelievable increases in profits that we've already achieved for 100s of clients thanks to our unique, self-developed Amazon ranking process.
Or, to get in touch directly and discuss what we can achieve for you, simply request a proposal now!