When it comes to Amazon seller tools software, one of the most common and popular types are auto-emailers, and for good reason.
Setting up automatic emails to send at a specific amount of time after an order is the ideal way to increase your positive reviews, decrease your negative reviews, and even boost your customer lifetime value by improving customer loyalty and increasing the average repeat purchase rate.
We've already reviewed a variety of them, from specialized email automation tools like FeedbackFive and Feedback Genius, to all-in-one Amazon tool packages with email automation features like Helium10.
Today, it's Quantify Ninja's turn, so how does it compare to the other options that are out there?
Let us take you through the tools features, functions, pricing, pros and cons – and by the end, you'll have a much better idea of whether Quantify Ninja is a tool that's suitable for you.
Let's jump right in:
What is Quantify Ninja & What Can It Do For You?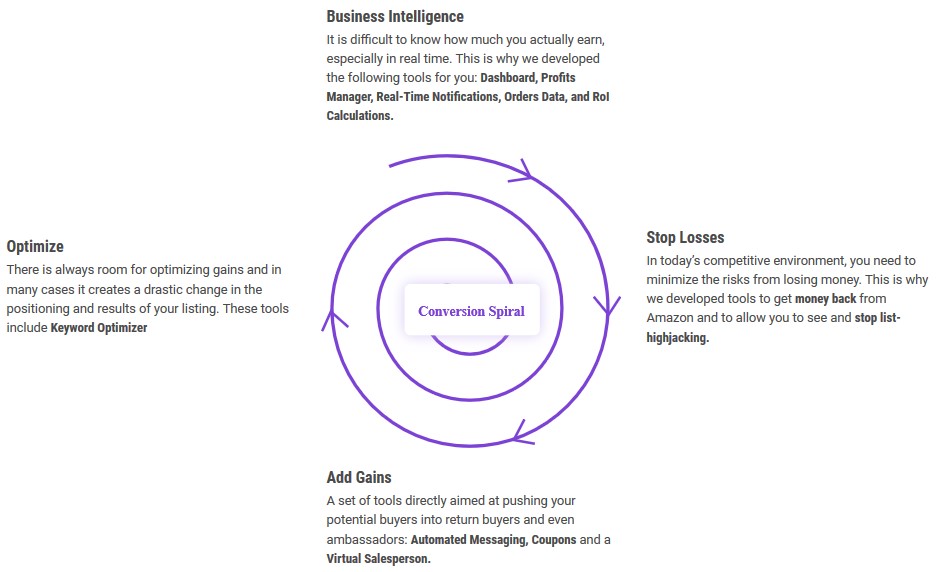 Quantify Ninja is a set of tools focused around beating out your competition and improving your conversion rates.
Features include:
Profits Manager & ROI Calculator providing accurate and detailed metrics for your business in real-time
A Keyword Optimization tool that does exactly what it says on the tin, providing keyword suggestions that you haven't targeted aswell as ones that haven't made an impact that you should consider dropping
Tools to prevent listing hijacking
An automated refund manager to ensure you get what Amazon owes you
Automated customer service options such as a virtual salesperson and an automated messaging service
Feedback solutions and segmented email automation.
Real time alerts allowing you to react immediately to major events
As you can see, Quantify Ninja has quite a lot up it's sleeve, being closer to a comprehensive package like HelloProfit or CashCowPro.
With that in mind, you might be wondering why we've primarily positioned this tool as an email automation and feedback management one, and the answer is simple:
The other features here are good quality and worthwhile to have as part of the entire package, but not necessarily industry-leaders or reasons to buy Quantify Ninja.
The email automation absolutely is an industry-leader, however, and provides everything you'd ever want from such a tool, alongside the best targeting and segmentation tools in the business period.
Let's look at some of these features in a bit more detail:
Quantify Ninja Features

Automated Messaging

This is the meat of the package and our favourite email automation solution, period.
If you've heard of a feature of an email automation tool, it's here.
You can define which messages you want to be sent on which events (e.g. order refunded, shipped, delivered, etc).
There are pre-written templates you can use for these emails, or you can edit them and save your own templates.
You can even add attachment files to your templates, for example if you want to send customers a PDF e-book or how-to guide to increase the value proposition of your product (and therefore increase the chances of a positive review even more).
There are filters to allow you to easily remove certain people from receiving emails, for example if they have already left a negative review, if they purchased your item via a promotion, or if their order has been refunded.
You can also filter specific templates to specific channels, allowing you to send unique emails to somebody who purchased your product via Amazon as opposed to on your website, for example.
Alerts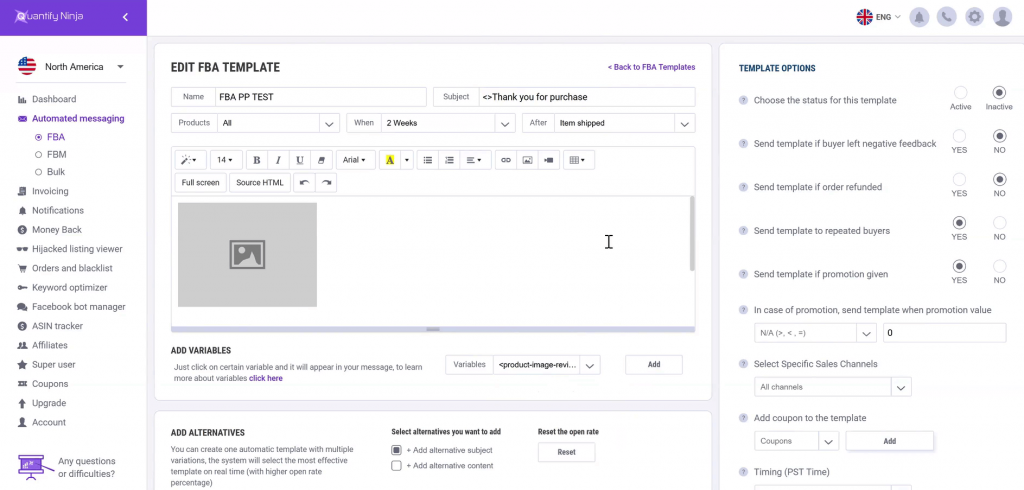 Quantify Ninja also offers immediate alerts 24/7 for things that need your attention, for example:
Negative seller feedback
Hijacked listings
Losing the Buy Box
It even sends out daily reports making you aware of all of the emails that have been sent out to your customers.
The alert feature isn't as good as something like AMZAlert but it certainly does the job, with the alerts coming through immediately and giving you plenty of time to react.
In the case of negative feedback, this is super important as responding appropriately and quickly in a friendly manner can often convince customers to remove negative feedback.
Virtual Salesperson
Perhaps the most unique and surprising feature of the whole package, Quantify Ninja also includes a virtual salesperson which is essentially a chatbot.
It aims to automate as much of your interaction with customers as possible, answering frequently asked questions, providing details on products, giving discounts to customers with certain issues, and more.
Quantify Ninja is pretty simple and there are much better chat bot tools out there, but they are also considerably more expensive and tend to be self-contained, so as an additional part of an email automation package, this is actually really nice.
It also works through Facebook which is handy purely due to how many of your customers will already be logged into Facebook when they see it, meaning no barriers to communication.
Quantify Ninja's customization features and filters are really impressive in addition to the above features, for example it has functionality to split test your automated emails each other, making it simple to optimize your brand communications over time and improve your conversion rates.
It also provides you with convenient and neat financials each day, taking factors such as FBA fees, tax, product costs and more into account to provide a real-time, running profit count that helps to get a clearer picture of your business.
Quantify Ninja Pricing

Quantify Ninja offers a 30-day Free Trial after sign up, which is a great way to test everything and see what you think before deciding whether it's for you.
If you do decide to sign up, you can decide between the Premium Ninja package which involves most of the tools but not the virtual salesperson – or the Master Ninja package that includes everything.
You can see a full breakdown of what's included here: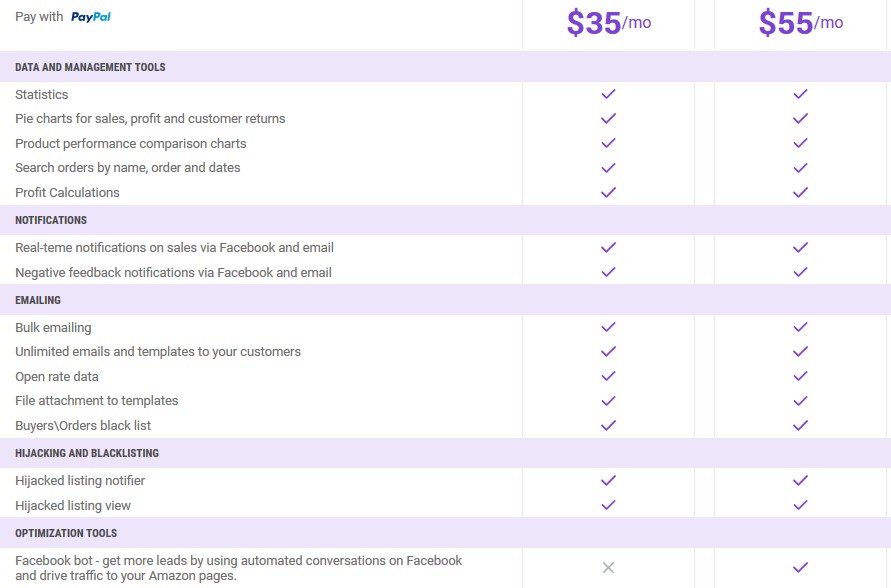 It's also worth mentioning that the free trial includes everything in the Premium Ninja package, so unfortunately there is no free trial for the virtual salesperson.
In all honesty, for us, the pricing is one of Quantify Ninja's biggest selling points, and that's because it's considerably cheaper than any of it's competitors. Many of it's competitors charge depending on how many emails you send, meaning they will cost more and more as your business grows and scales.
Quantify Ninja is $35 per month regardless of whether you're sending 5 emails or 50,000, which is a pretty big benefit over other tools, even if they're better.
Which marketplaces are compatible?
Quantify Ninja supports all countries across 4 marketplaces (North America, Europe, Japan, Australia).
This means you can use it to help boost conversions while selling products in:
The US, Canada & Mexico
The UK, Germany, France, Spain, Italy
Japan
Australia & New Zealand
You can also add additional Amazon Seller Accounts to your Quantify Ninja account for $15 each per month.
How is the customer service?
They are a little slow to respond and the actual functionality of the customer service is a little buggy, but the staff themselves are friendly, knowledgeable and happy to help.
Can I sign up for a free trial without entering my card details?
Absolutely! There is no need to enter any card details unless you decide you are happy to pay for the software.
What about contracts?
There are no contracts or obligations whatsoever, you can cancel at any time.
How often is data updated?
Data is updated in real-time, so everything is updated constantly as opposed to at specific intervals.
What about privacy and data security? Is Quantify Ninja trustworthy?
The entire platform is SSL-secured, so as safe as it can be, yes.
Final Breakdown
Positives:
An excellent pricepoint that makes it competitive with better tools solely for the low investment, especially for smaller Amazon businesses
A fully-featured email automation tool that isn't missing anything you'd want from one
Easy to use and customize templates
Seamless integration with your Amazon seller account and existing processes
Ability to break up your email segments by marketplace and send them in the preferred languages
Negatives:
It is a little rough around the edges, with some slightly amateur dashboard designs and spelling mistakes all over the site and software
More expensive tools are generally faster and more intuitively designed
Conclusion
Quantify Ninja provides a fully-featured email automation tool at a price that nobody else has been able to come close to.
It deserves recognition for that, and for smaller Amazon sellers and businesses who can't afford some of the more pricey seller tools we've reviewed, it might well be the only real option.
The email automation is up there with some of the more expensive ones, but the other tools are a little more hit and miss.
Frankly, this is understandable for the price and we see things like the virtual salesperson and the alerts as a pleasant bonus for those who decide to go with Quantify Ninja for it's email segmentation.
Overall, the whole thing does feel a little rough around the edges compared to it's competitors, but once again, this is fairly understandable for $35.
For businesses who can afford the investment, we'd strongly recommend splashing out a bit further to get a fully-featured package like Helium10 or CashCowPro.
If you have the time and capability, you'd be even better off building your own custom package from standalone, best-in-their field tools like KeyworX and AMZAlert.
Quantify Ninja's pricing wins it a real recommendation for those just starting out or struggling to scale though, because it provides unbelievable power and benefits for the cost, and will be more than enough to help you grow until you can afford something better.
The AmazonSEOConsultant Verdict: 8/10
Is it difficult for you to find the resources or time to manage your Amazon business and scale it the way you'd like?
Would you rather have the #1 Amazon marketing agency handle your listing optimizations, product rankings, pricing, feedback management strategy. or even all aspects of your Amazon business?
We provide services ranging from full partnerships and Amazon seller account management to one-off product rankings you won't find anywhere else.
To learn more about how we can offer results and rank positions that nobody else can, take a look at our case studies to see the unbelievable increases in rank, sales and profits that we've already achieved for 100s of clients thanks to our unique, self-developed Amazon ranking process.
Or, to get in touch with us directly and discuss what we can achieve for you, simply request a proposal now!