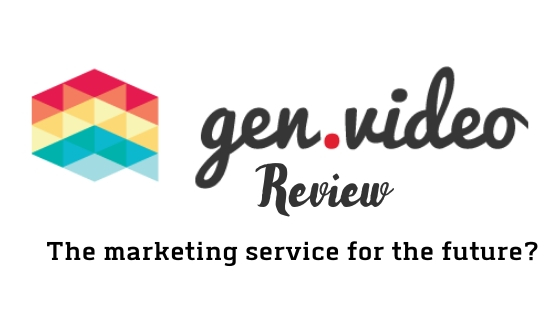 Many in the eCommerce industry believe that influencer marketing is the future, and this is a common opinion for good reason.
After all, in 2017, 86% of marketers used the strategy, and the budgets (and success) companies experience working with influencers have only increased since then.
Part of the reason is that audiences have grown so accustomed to being bombarded with marketing messages and advertisements that they can often fall on deaf ears.
Influencer marketing provides brands and marketing agencies with a way to deliver these messages in a way that can be trusted, something that makes the average person more willing to listen, and to trust the message being delivered.
Considering 6/10 teenagers trust advice from influencers more than celebrities, and 96% of women use social media to gain purchasing advice from others, it should perhaps come as no surprise that this is devastatingly effective.
This image from Google Trends shows how much interest in influencer marketing has grown over the past few years:

As you can see, influencer marketing is unlikely to go anywhere any time soon, and we can only see this graph continuing to move upwards for a fairly long time.
The following graph on the intentions of marketers also helps us to clarify just how many people within the field see influencer marketing as the next major development:

But all this growth doesn't mean marketing your products via influencers will be easy. Influencers only have so much time, and niches only have a limited number of influencers that are truly respected and trusted.
This has led many to turn to micro-influencers for their marketing gains, often to surprisingly positive results as we have detailed in our Ultimate Guide to Getting Influencers to Promote Your Product.
But another way in which marketers have begun to get the most they possibly can out of influencer marketing is via influencer platforms.
These platforms aim to help connect influencers and brands, giving those in need of influencers an easy way to browse and contact those in relevant fields.
While quality varies a lot between these platforms, the general idea is to give businesses a way to conveniently browse influencers (and vice versa) without the need to spend a lot of time manually hunting them down on social networks.
One of our favourites among these platforms is gen.video, and this is what we'r going to be reviewing today.
A little different to our series of reviews on leading Amazon seller tools such as KeyworX, today we're going to be breaking down gen.video, what it does, who it's a worthwhile investment for, and whether you're better off using it for your marketing strategies or simply putting in the legwork to find influencers manually.
Join us as we break it down in detail for you, but first things first, let's look at what it actually is in a little more detail:
What is Gen.Video?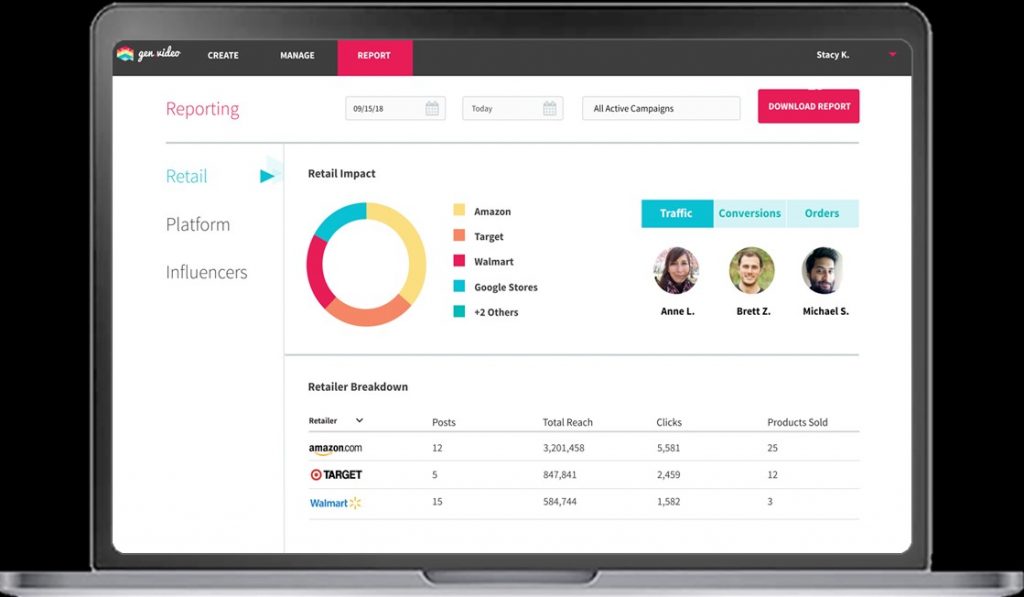 Gen.video is a performance-based influencer marketing platform that allows you to:
Find influencers and build relationships
Get custom explainer videos or marketing videos for your product or company
Manage workflow and analyse data metrics on your previous influencer campaigns
Optimize partnerships using conversion data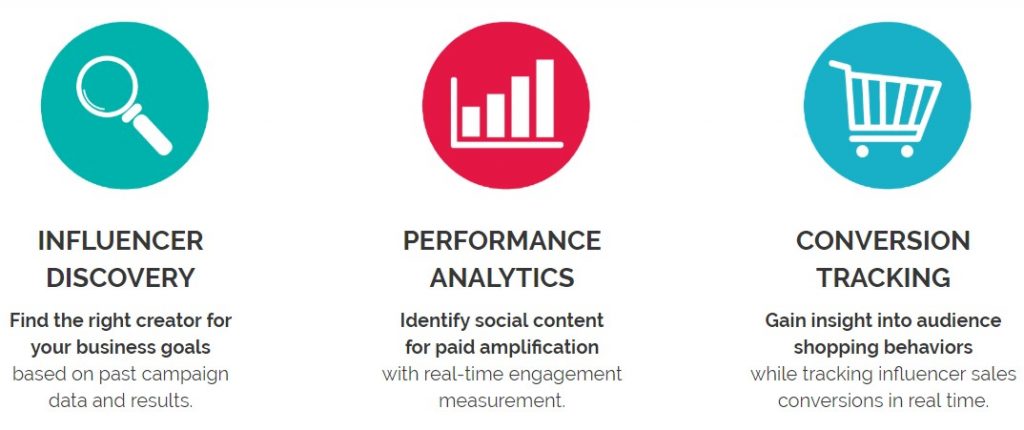 Whereas there are several platforms out there that can connect you with influencers, gen.video impresses us with it's data and analytics options, allowing you to grow and optimise your strategies over time to build a successful and sustainable strategy.
It's focus on video also means it's easy to get high quality content that you can re-use wherever you like, as opposed to getting simple instagram posts that remain on the influencer's social media account outside of your control and run the risk of being deleted in the long term.
Let's take a look at the individual features and see what you could achieve with gen.video;
How Gen.Video Works
Despite being mostly focused on building influencer relationships, Gen.video has a fully dashboard with a ton of useful data.
So what does Gen.video do?
Let's dive in:
Influencer Discovery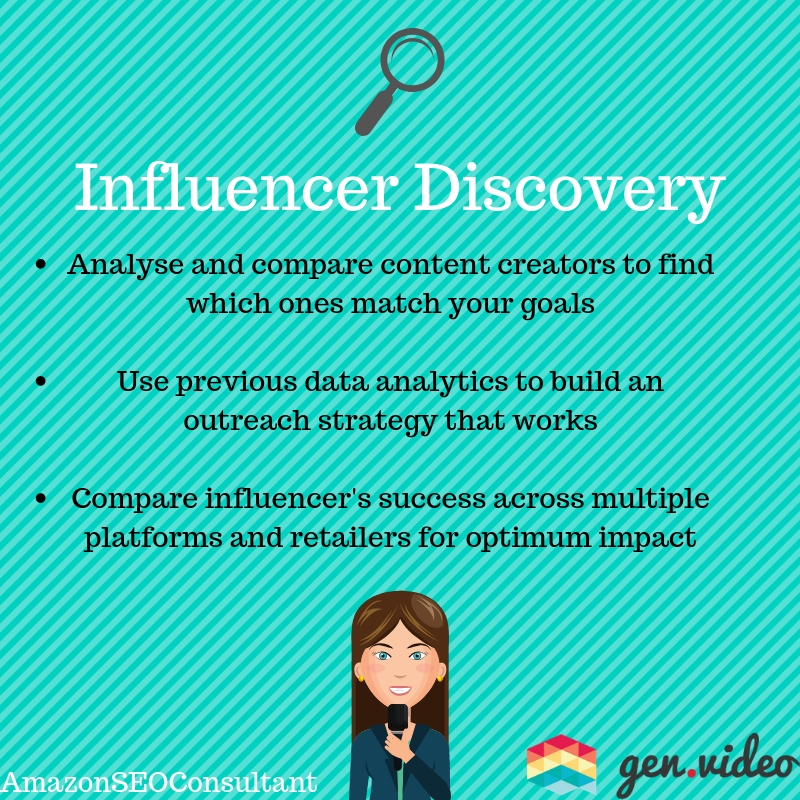 Many influencer marketing platforms are content to provide you with a list of influencers, along with pictures of them and a breakdown of the niches they are happy to work within.
If you're lucky, you might get some sample videos or pictures at the most.
Gen.video takes it to the next level by showing you metrics on the past work of each influencer, in order to help you select one who's strengths and weaknesses are most in line with what you're trying to do.
You also have full freedom to discuss ideas with the influencers before getting any work done, meaning it's easy to build long-term relationships and find people you can genuinely work with in the long term.
Once you have selected an influencer (or several) you'd like to work with, you can build an editorial calendar right there in the gen.video platform, allowing you to keep track of all of the influencer campaigns you've put in action.
This means you can focus on growing your business safe in the knowledge that your influencer marketing strategy is underway and can be tracked at a moment's notice.
As for the videos themselves, the quality is top notch and the visuals are bright, unique and eye-catching.
They are a powerful way to increase both conversions and engagement and grab the user's attention much more than a simple picture or description ever could.
Videos can also be used to boost your marketing across any and all platforms and marketplaces you operate on, aswell as yor own eCommerce website, making this one of the most versatile and best ROI marketing techniques around.
Performance Analytics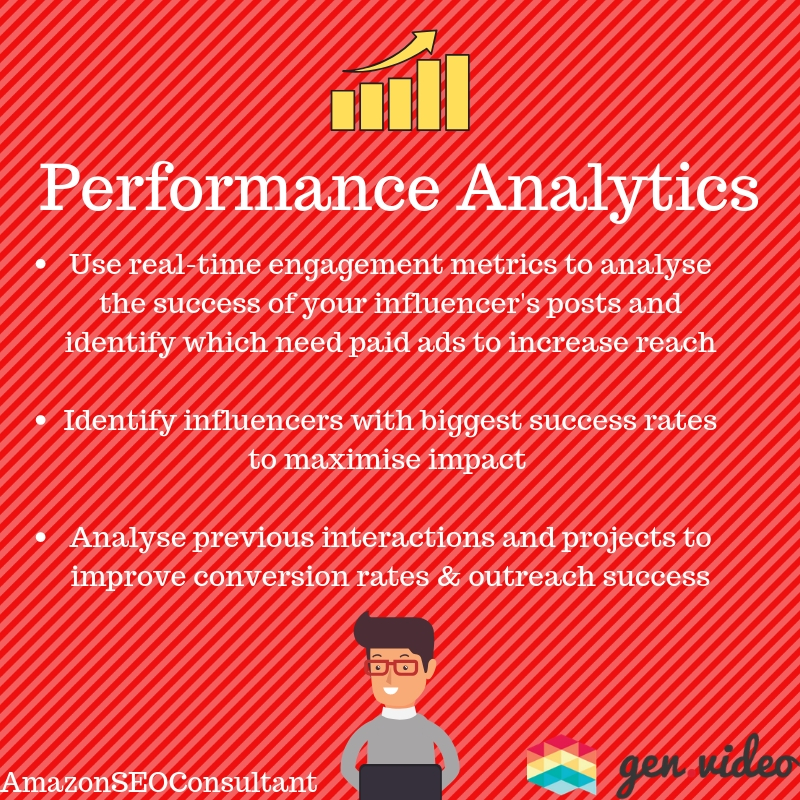 Gen.video also includes a fairly impressive suite of analytics that allow you to analyse how successfully your past campaigns have gone.
This of course, includes metrics on your videos themselves, such as the conversion rates they have been able to achieve and the leads or purchases you have gotten as a result.
However, it also includes your interactions with influencers, providing you with actionable data on your outreach strategy, what's worked and what hasn't.
Simple to understand engagement measurements also help you to gain valuable insights into who is actually watching the videos you've created and who isn't.
This can provide guidance on how to improve the reach of existing videos, for example via paid advertising, but also helps you to make improvements and learn from past attempts when it comes to creating future content.
Conversion Tracking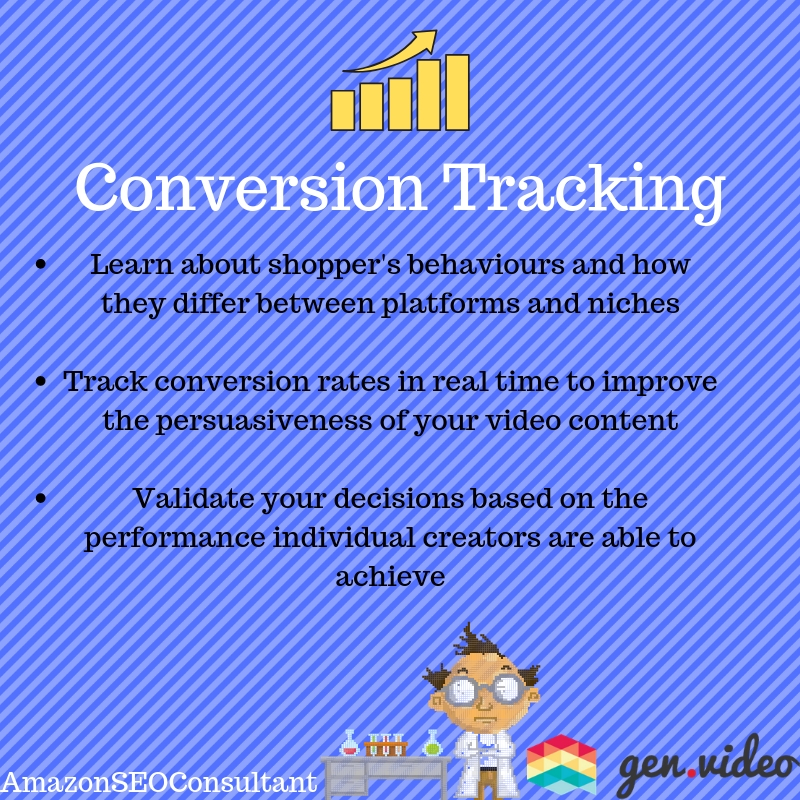 Gen.video provides full, clear breakdowns of your videos' performance so that you can continue to improve them.
This includes monitoring:
Success and share rate on each social network
Total traffic and sales across all sales platforms and retailers
Conversion rates and data on who buys after watching your videos
All of the above for each individual influencer so you can compare effectiveness and select the appropriate influencer for each strategy or campaign
Outreach measurements to help you optimize working relationships and improve future communications
This is all great for ongoing improvement and we really can't fault the color-coded, tidy data and graphs as they're all super easy to understand at a glance and analysing the whole dashboard makes you feel rather powerful.
Is Gen.video Free?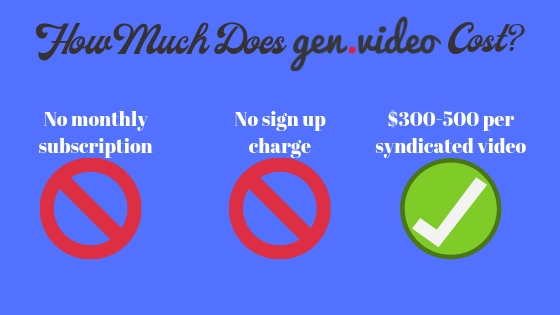 The gen.video pricing setup is a drastic change to most of the tools we've reviewed, as there is no subscription fee to speak of.
You can sign up, browse the influencers on offer, and even communicate with them completely free of charge.
Instead, you simply pay for each customised, syndicated video, with the cost being roughly $300-500 depending on the length, difficulty, setting required etc.
This prices also includes a complete consultation with the creative team in order to provide any help you might need.
Premium subscription packages are available but they mostly include better customer support and other additional features such as closed captions.
We think the pricepoint here is perfect because in our experience, most sellers or marketers won't want to create videos on an ongoing monthly basis, simply creating marketing videos once in a while to aid in a specific product launch.
Educational Content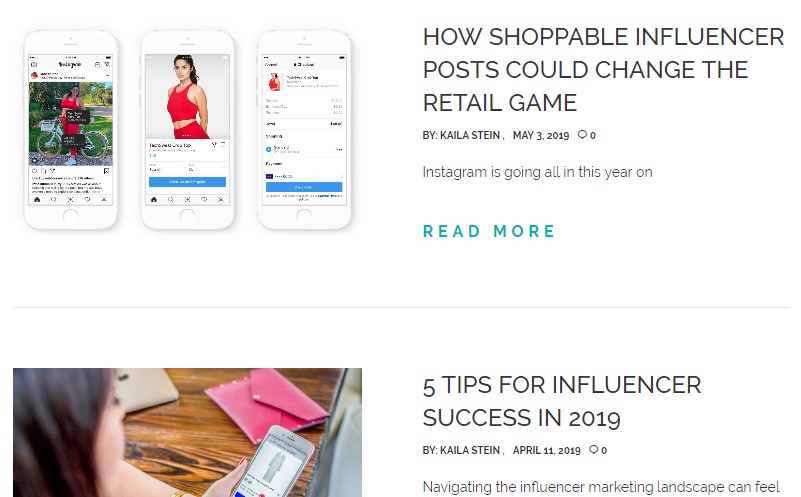 Gen.video does post a lot of educational content, mostly in the form of blog posts.
They are a little short and not as in-depth as we would like, and they also focus less on creative ways to use gen.video and more on generic tips around influencer marketing.
There are certainly some insights to be gained here, but if you are already experienced regarding influencer marketing, you probably won't feel the need to read through the blog.
Final Breakdown:
Positives:
Uniquely professional and high quality videos that are guaranteed to make your listings stand out
Excellent value
Great customer support and extra features
Powerful data analytics and insights
One of the most innovative and unique ways to make your Amazon listing stand out
Negatives:
Conclusion
Gen.video is a brilliant service and one of the best ways to end the rat race of trying to stay ahead of your competitors with constant tiny listing optimizations.
In fact, using a video from gen.video to make your listing stand out, then continuing to use a tool like KeyworX to keep track of rank changes will make a gulf between your listings and those of your competitors that they'll struggle to close.
If you're looking for high quality, reliable videos from proven and experienced influencers, you will not find better anywhere else, especially when taking into account the ease of meeting influencers and interacting with them through the software.
If you would like to be an innovator within your niche or subcategory and have a listing that truly stands out, this is an excellent way to go about it.
After you've successfully had a few videos created and implemented them, gen.video really comes into it's own, allowing you to analyse the performance of existing videos in detail, including conversion rates and the boost in sales you've experienced.
From here, you can continue to create videos that are more and more persuasive to your target audience and improve your influencer marketing strategy consistently over time.
Whereas there are other tools that do what gen.video does, there are none that do everything it does, and certainly none that create videos of equal quality.
This, alone, is a reason to stick with it for the foreseeable future, and a reason to give it our coveted top award.
This is a must-have for any Amazon seller looking to boost their sales, conversions, and to have a listing that truly stands out amongst the competition.
The AmazonSEOConsultant Verdict: 10/10
AmazonSEOConsultant Top Recommendation!
Is it difficult for you to find the resources or time to manage your Amazon business and scale it the way you'd like?
Would you rather have the #1 Amazon marketing agency handle your listing optimizations, product rankings, pricing, feedback management strategy. or even all aspects of your Amazon business?
We provide services ranging from full partnerships and Amazon seller account management to one-off product rankings you won't find anywhere else. Our organic ranking campaigns simply work, every time.
To learn more about how we can offer results and rank positions that nobody else can, take a look at our case studies to see the unbelievable increases in rank, sales and profits that we've already achieved for 100s of clients thanks to our unique, self-developed Amazon ranking process.
Or, to get in touch directly and discuss what we can achieve for you, simply request a proposal now!