We've had around 600 leads in the past six months through Amazon SEO Consultant, it's a number I'm super proud of and it also allows us to get a lot of data from what Amazon sellers are struggling with.
One of the single most common questions I get asked is "do discounted product giveaways still work on Amazon?" – Well in this post I'll be breaking down the "No" answer I gave when I was invited onto the Amazon summit event, as well as the "kind of, they actually still do." Elements that we have been testing over the past few months. So let's get to it.

Do discounted product giveaways still work?
Before we answer this question we need to actually split up this question into 3 core elements.
What do you mean by "still work"
What does "discounted product giveaway" mean?
What are you trying to achieve?
As I'm not looking for this post to turn into an actual book about this subject I'm going to make a few assumptions based on the type of client we receive in and the question regarding discounted product giveaways in general.
What Is A Discounted Product Giveaway (On Amazon)
Of course, before going into this in detail, we should look at the question of "how do Amazon giveaways work" when they do work, for those who are new to the idea. A discounted product giveaway is simply when an Amazon seller will offer a very high discount on a product (above 50% in most cases) to increase "sales" for that particular product. This is done through a coupon or promotion (depending on the Amazon platform and country you're selling on.) There are multiple reasons why this strategy became popular which we'll dive into below.
Do Amazon Giveaways Work?
By "work" you actually mean "still work" – This is because back in 2015-2016 you used to be able to launch an Amazon product, pay for thousands of giveaways and rank in the top 5 results for your primary (highly competitive) keywords, and hence generate a lot of sales through organic search. These sales would then lead to your product staying ranked and there it is —- A 7 figure Amazon business in about 3 months. This is what DOESN'T still work. — Shocker.
Sellers, including many highly knowledgeable sellers, continue to do giveaways on Amazon and offer discounts Amazon products, and they are simply burning money in the process due to poor knowledge of how the A9 algorithm actually works and what really causes organic rankings on Amazon! Stop this right now as you are losing a lot of money (and there's a much better way.)
But
There are multiple other elements & goals that you might be trying to achieve when it comes to discounted product launches. These can be initial reviews for a product, brand exposure, distributing your product for people to test or try. All of which are real uses for discounts and as a result are extremely valuable.
But, when it comes to organic rankings, the shareable, fully discounted product, does no longer move the organic ranking needle.
Interestingly it does actually still impact BSR. As some consumers look at BSR and the movers and sellers on Amazon, this is actually how some of the giveaway companies justify the strategies. But as a general recommendation, don't implement the strategy (there's a massive but coming in a second.)
If your goal for the product giveaway strategy is anything that doesn't try to manipulate Amazon's A9 algorithm, then go ahead and continue to use this strategy. BUT if you want to rank products in Amazon's organic search, which is the goal in the majority of cases, there is a better way (which we get onto later in the post.)
Reviews & Discounted Products

As mentioned above a very popular method of generating reviews is to give your product away and then you receive a review. This generally speaking is a good thought process right? You're a brand new seller, need some great reviews to get started – Let's give some product away and generate the initial reviews.
Unfortunately Amazon kind of decided that they aren't going to be allowing this. Even though it makes business sense, they are getting more and more harsh and tight on review procedure, to the point that they now buy social data to try to link incentivised reviews.
But, it's not all bad news, because there actually is a number of ways you can integrate a discounted product strategy into your overall Amazon marketing campaign. This isn't something I recommend solely, as it doesn't move the organic ranking needle enough for high-level keywords, but for medium competition terms, it works very well at ranking your product.
What To Do Instead – The New Strategy
Look into the keyword search (organic search) function when implementing discounted keyword focused sales. All this simply means is instead of a purchaser/consumer getting sent straight to the product page, they actually search via a specific keyword for your product and click to purchase this product.
We call this a keyword search completion in-house and it's very powerful.
When mixed with on-page optimisation, discounted keyword focused sales do actually increase organic rankings. Check out the below example from a client, for this strategy we ONLY implemented the discounted technique and it ranked the product beautifully for the primary keyword we were targeting. We did also implement keyword research and listing optimisation too. (image from KeyworX).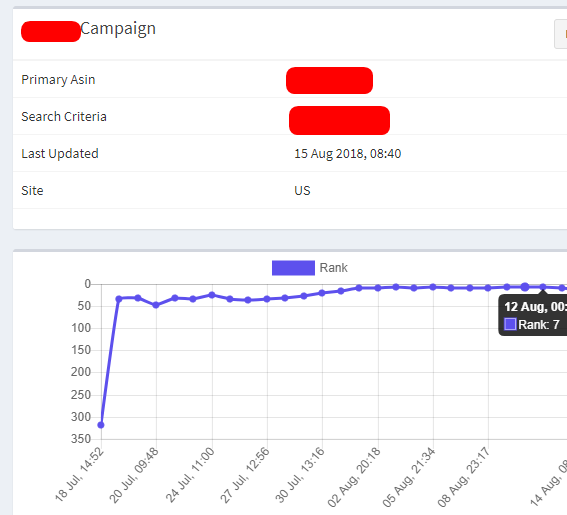 As you can see the product came from outside the top ten pages (320+ results) into 7th position within 20 days. This is a very common occurrence when we implement our process in full, but it's great to see such a fast increase when only using 1/3rd of the entire process. You can see more of the results we've achieved by reading through our case studies.
The general problem is you need a lot more units to spike rankings this quickly as opposed to generating full priced sales within Amazon. But at the end of the day, it's a lot easier to give a product away than to convince someone to purchase it.
Note: Be very careful not to destroy your brand when implementing these giveaway strategies. Although they are great for short term product rankings, if you associate your brand/product with free, this will actually hurt you in the long run and not help you. Another element to remember is unless your pricing, product and reviews are good, you'll fall straight back down the rankings. So although organic rankings are the single most important KPI in my experience, you still have to implement a solid business at the end of it. Amazon simply gives us a platform to achieve this.
Remember discounted products should be ONE element you use to help rank your product in Amazon. You can read our process page for more information on all the recommended strategies we implement into our full Amazon ranking campaigns. You can also order product rankings directly here or request a proposal to see how we can grow your business, tapping into our expertise if you would prefer.
Thanks for reading.
Tom.