If you've followed our blog for a while, you'll be aware that we like to bring you in-depth reviews for some of the leading all-in-one Amazon seller tools.
Our general post on Amazon seller tools is ranked first in Google and our more specific reviews on individual tools have been incredibly popular too.
To this date we have covered all in one FBA solutions such as:
However, in recent weeks we've been asked a lot by clients and readers about AMZScout, something we admittedly had very little experience with.
As a result, we've spent some time with the AMZScout software, and have put together our thoughts on it here.
Let's jump right in!
What is AMZScout? What do you use it for, and how?
AMZScout is one of the leading companies in the world when it comes to Amazon market intelligence software. It has recently launched a new offer called New "Amazon Seller's Bundle," which is what we're going to cover today. It contains a variety of tools that are specifically there to help people get started with selling on Amazon. It also has some materials that synergize well with the tools. There's a lot to unpack in this bundle, so let's get started:
The WebApp
The Webapp contains 4 tools in 1, and there appear to be more on the way. The 4 tools you will get are the product database, the keyword explorer, and keyword tracker and product keywords. The WebApp is a tool that's connected to the Amazon Database, and it filters out and extracts data from there, according to your criteria. Basically, it's your own personal guide to get you through the mounds of data that can be extracted from Amazon, packaged in a very straightforward way. To see exactly what the WebApp does, let's go through the tools one by one:
The Product Database – This is a very straightforward tool, and it's great for very precise market research. Every new Amazon seller knows that when you launch your first product, you need to find the one that meets some general criteria for a private label. This is exactly what you have here.

You can select your category and your market, and you can even put in a keyword to be even more specific. Once you put in your criteria and click on "FIND PRODUCTS," you will be greeted with all of the results that meet your criteria.

You will see the specific results for all the criteria you've put in, as well as some additional information that you can look more closely at- such as the fees calculator and the product history. The latter is a chart showing you the changes that happened to the product's best-seller rank and price in the past months. These are available with just 1 click.

The product tracker – The product tracker is basically your vault for product ideas. It's not meant to help you find new product ideas, it's just where you store them, like a to-do list of sorts. So when you find something you like in the product database, you can simply click a button to save it in your product tracker.

The keyword explorer – This tool is very much what you would expect from a keyword research tool. You put in a keyword in the search bar, select a category, and you will get all the long-tailed keywords containing it (in descending order from highest to lowest monthly search volume).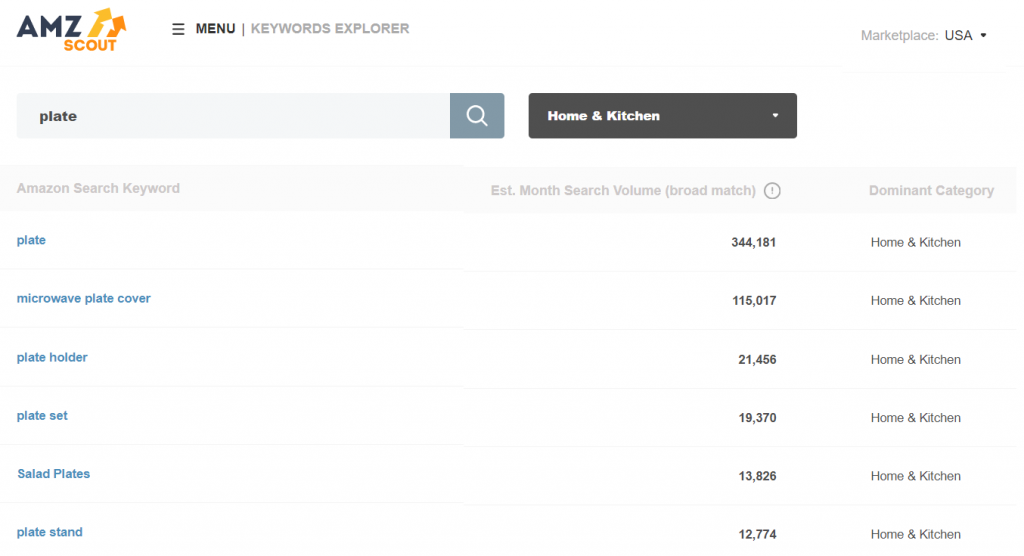 There's nothing special about it in comparison to others, but it's a crucial tool to have as both a beginner, and as a veteran.
Product Keywords – This is another very useful and straightforward tool. You simply put in an ASIN of any product you are interested in, and it will give you a list of keywords that the product is ranked for: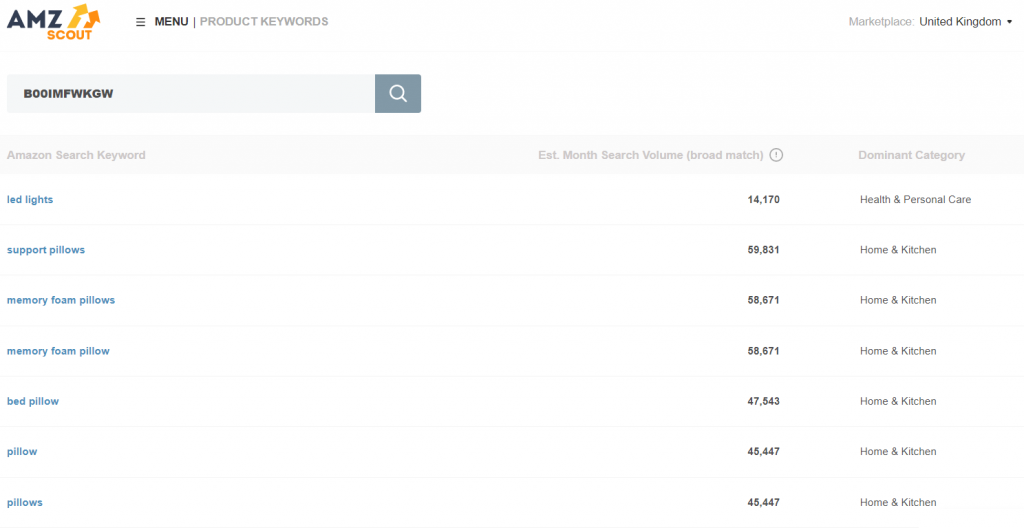 When it comes to getting the right keywords, it doesn't get any better than finding actual keywords on which your competitors are indexed. These are exactly the keywords you need to get the best possible SEO for your listing and PPC structure.
The Pro Extension
This tool is one of the Amazon sellers' swiss knives, and so there are a ton of things to unpack. This is a highly versatile tool with a ton of data, and it has too many bells and whistles to count. The Chrome extension is something you use as you are browsing Amazon. You click on it while you are on an Amazon page, and it will open up over the page, giving you a ton of information about the results.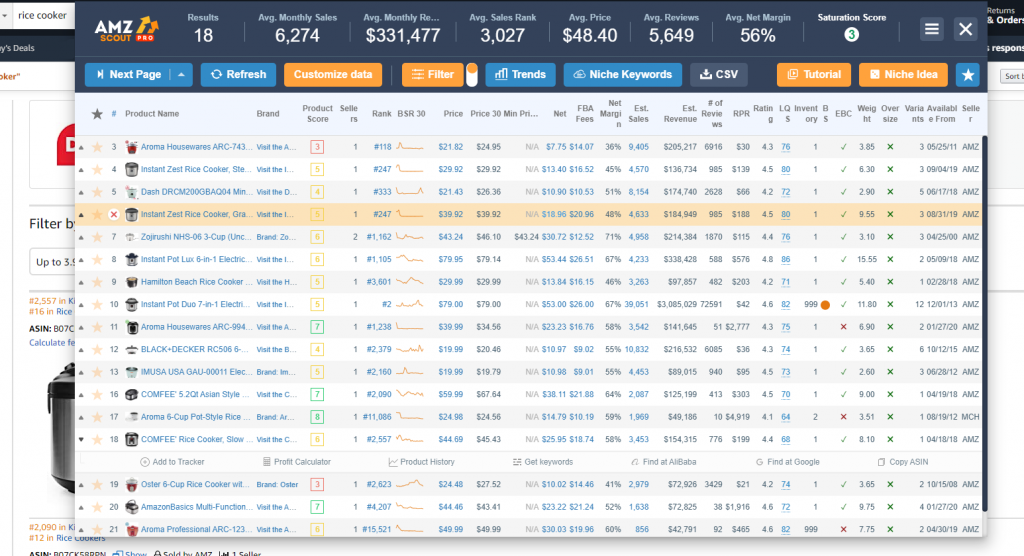 As you can see, there are many columns of data, both for the results, and for the page as a whole. The extension will basically work on any page or on any search you put in on Amazon, across most markets.
This covers just the basic information you will get. On top of that, there is a lot more to find using the extension. When you click on the empty space in any row, or any of the results, you get these options:

You can see some familiar ones such as the Product History graph, Find on Alibaba, the Profit Calculator, as well as Add to Tracker, which will add that product into the WebApp product tracker. This is extremely helpful when it comes to organizing your research results, since you will get a lot. You can also get a list of keywords on which this product is indexed. What's more- r when clicking on one of those keywords, it will automatically open a new tab with that search result and the extension will automatically open there as well. Now for the really interesting part:
You will notice that each result, or product, has a colored "grade" that goes from 1 to 10, and that it's color coded. When you click on it, you will get a simple but very helpful breakdown of what that means: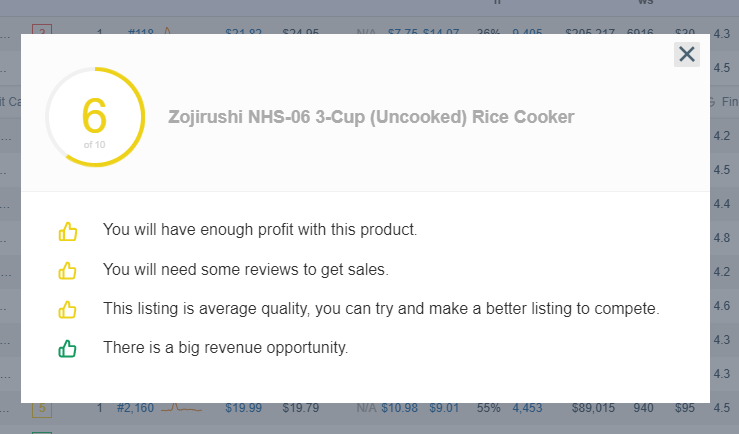 Another very useful feature is the fact that you can get a very good breakdown of the page as a whole, by clicking on the "niche score" in the top right corner:

This is another separate score from 1 to 10 that basically tells you how good of an idea it is to sell in that particular niche, based on a few basic factors. There is also another feature that is a very nice touch, which is something AMZScout seems to have in spades. This is the Niche saturation score:

People are often thinking about how many other people have found the same product they did. Well, with the Chrome extension, you don't have to worry about it. You will know how many other users have stumbled upon the same result. You won't know how many are actually going to sell it, but it's still good to know.
There are still a few, cool other features such as the "niche idea" button, which will randomly take you to a niche with a high Niche Score. You can also add a product to favorites, as well as extract a CSV file for virtually any set of data you get.
The Sales estimator and the FBA calculator
This bundle also includes 2 tools that can basically show you the Amazon fees, and it's breakdown for any product on the platform. The sales estimator is not really a tool as much as a part of the AMZScout website, where you can put in some basic product information and get an estimate of it's monthly sales. These tools are free with or without the bundle, and they complement the other tools nicely.
The Keyword tracker
This is a very useful keyword tool since it helps you understand where the sales are coming from for any product. You simply put in the ASIN of a product and some keywords you are interested in, and you will see the organic rank of that product for each of those keywords.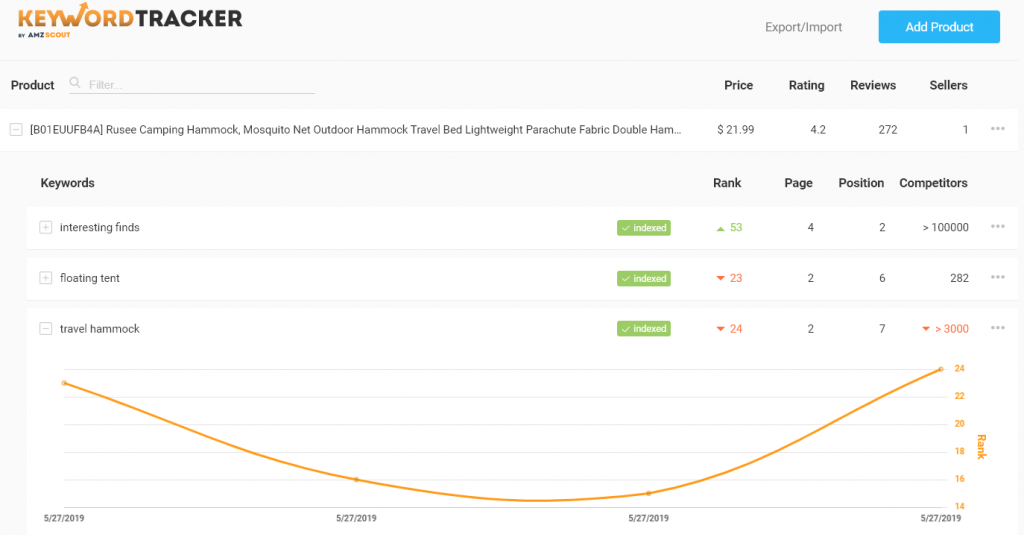 The pricing
AMZScout is selling this entire bundle of tools, as well as some additional materials, for the very reasonable price of $24.90 per month.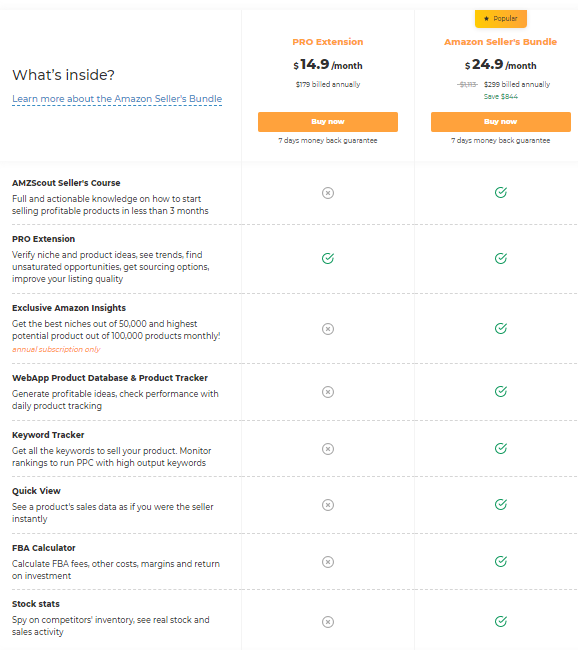 This is a very good deal, especially considering that you can use it all for a week and get your money back if you don't like it.
The verdict
| | |
| --- | --- |
| Pros | Cons |
| The tools cover everything you need as a beginner and advanced seller | The amount of information on the Chrome extension can be overwhelming, especially for a beginner |
| The price is very reasonable | The "Find on Alibaba" button doesn't bring you the most accurate results |
| The information is very accurate and trusted by many successful sellers | The keyword explorer takes awhile to load the results |
| With the bundle, you get a full beginner's course and a weekly niche report | |
Overall, the tools are solid- especially the Extension, which is basically a product research tool on steroids. If there are any complaints, it's that the Extension might have too much data, which can overwhelm a new seller. You can of course, use the filters and the customization to only see the columns you need. The data you get is great, but it might seem intimidating to a completely new seller, especially since this tool is also used by advanced sellers. There is also the issue with the "Find on Alibaba button."
The tools work great and you can come up with a lot of product ideas in a relatively short amount of time. Obviously, you will get much more proficient with the tools, and get more out of them the more you use them to sell on Amazon. All in all, it's definitely a thumbs up.
Want to see for yourself? Get a Free Trial of AMZ Scout here!