Viral Launch is one of the most popular Amazon seller tools in 2023, but is this reputation earned?
We have a lot of experience using the tool for a variety of purposes, including keyword research for clients and more.
Viral Launch is a complete and comprehensive package of tools, aiming to compete with the likes of Helium10, Shopkeeper, Sellics, CashCowPro etc, as opposed to more standalone, specialised solutions such as KeyworX.
Anybody who read our recent Helium10 review will know that Viral Launch has a lot on it's plate if it wants to match the quality and variety of what Helium10 offers.
So how does it stack up against the competition?
Let's take you through Viral Launch in detail and find out!
What is Viral Launch?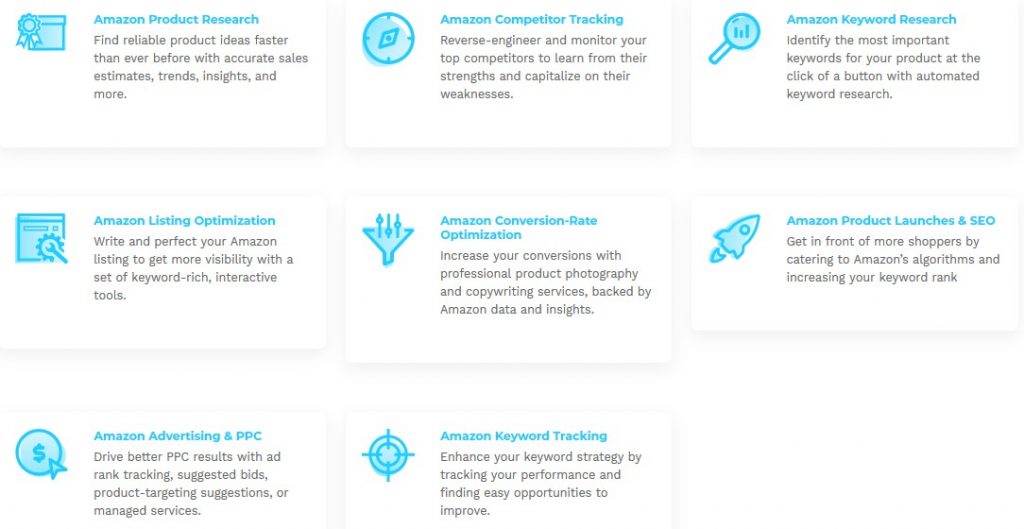 Viral Launch offers a complete collection of Amazon seller solutions, as you can see listed above.
The package offers:
A product research function to compare ideas and see the potential demand and competition for them, allowing you to make intelligent decisions on which products to go forward with
Competitor tracking that alerts you when your competitor's listings increase or decrease in rank, allowing you to learn from their moves and immediately be aware of what works
A keyword research tool for new suggestions and ways to achieve organic (or paid) traffic from new angles
A well-designed, interactive listing optimizer that provides insights on what changes can increase your conversions and improve your sales
A conversion rate optimization tool that allows you to test different product photos and written copy against each other to help you decide which changes work best
A product launch tool to work directly with Amazon's algorithm and launch with as high a ranking as possible
A PPC management suite to maximise your ROI and trim the fat from your campaigns
A keyword rank tracking tool to keep track of your listings ranks and to gain insights on which changes lead to better ranks
Wow!
There is a lot to unpackage here, and it's all stuff that can be hugely beneficial to Amazon sellers.
If everything above works as well as it should, this could transfer your entire business and lead to insane growth.
So, of course, your next question should be – how effective and easy to use are they?
Let's take a look at the individual tools to see how they compare to the competition:
How Viral Launch Works/How to Use Viral Launch:
Here's a breakdown of each of the individual Viral Launch features, how to use them, and how effective they were when used to achieve Amazon growth for our clients.
Viral Launch Product Research

The product research tool allows you to search millions of Amazon products and categories to find existing product ideas and add your own filters to narrow them down.
It provides full details on the amount of reviews, sales volume etc, making it easy to judge the competition and potential sales for each product and make intelligent decisions about what to launch.
It's generally very well-designed and simple to use, and even gives you alerts when a product is trending aggressively upwards and potentially has a lot of new sellers planning to enter the market.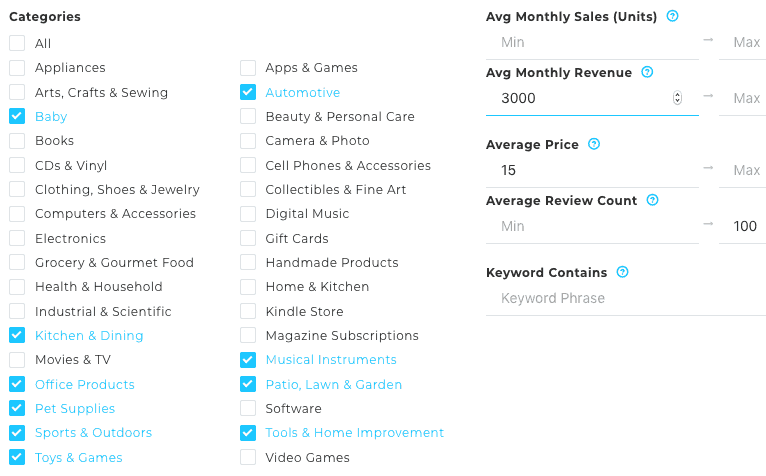 From what we can tell, the data is very accurate and since it's also so easy to use, the product research tool gets a strong recommendation.
However, some of the data regarding profit margins and profits are a little inaccurate, so be sure to dig a little further into those and work a couple out manually.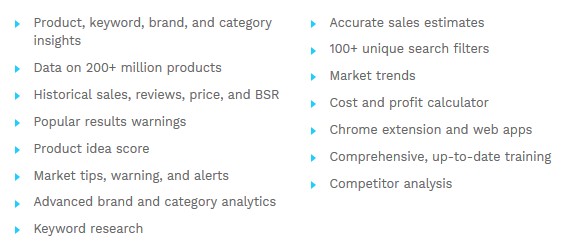 Viral Launch Competitor Tracking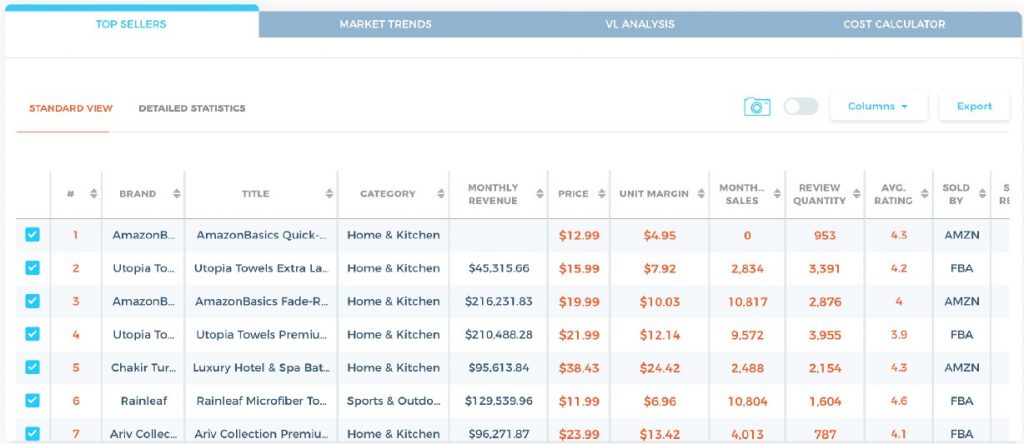 The Competitor Tracking tool does exactly what you'd imagine – it keeps track of the rankings of your competitors listings, making you aware every time they go up and down.
A decrease in a competitor's rank is a potential opportunity for you, and an increase is a chance to look at their listing and see what change has caused it.
Both are valuable insights that help you to make the right decisions regarding your own optimizations.
You can even apply the alerts to your own listings, being made aware immediately when they change in rank and learning which of your marketing efforts lead to growth and which don't.

The tool also suggests other insights related to your competition, such as the recommended PPC bids, keyword notifications and more.
Personally, we much prefer KeyworX for rank tracking and competitor analysis as it's a lot easier to use and feels a lot more reliable and instant.
It's also much cheaper – so if you're looking for competitor tracking software specifically, you should go with that.
This is still very beneficial though and is extremely nice to have as part of the overall Viral Launch package – whether you go for KeyworX or Viral Launch, the main thing is that you need something keeping an eye on the ranks of your competitors, otherwise all of these insights will pass you by, giving you a massive disadvantage in the market.
Viral Launch Keyword Research Tool Review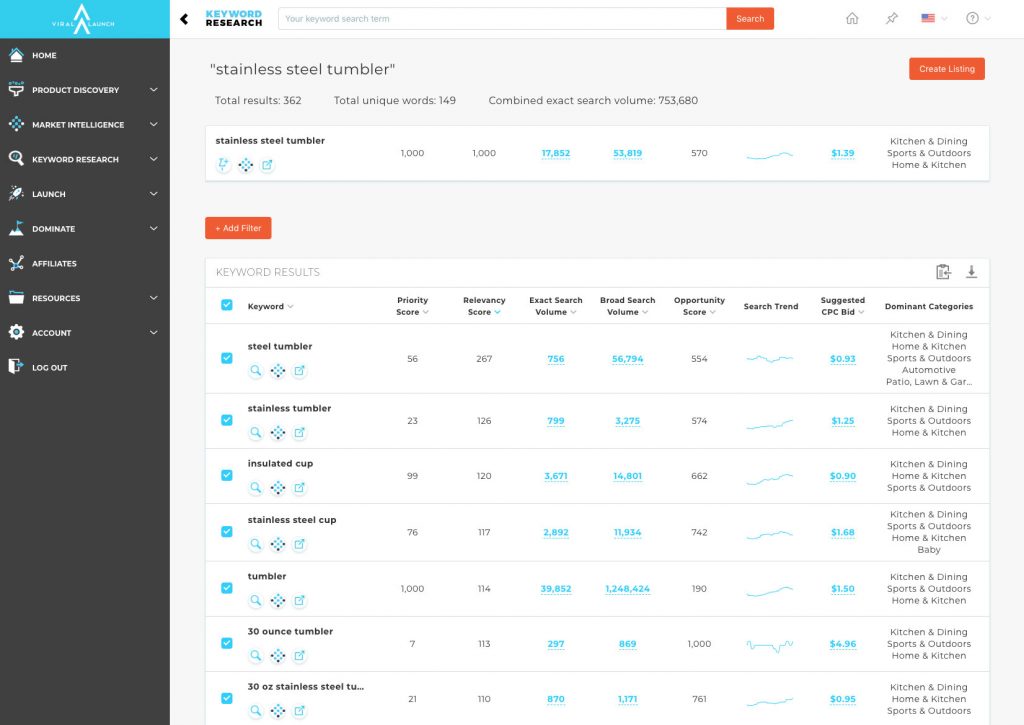 Viral Launch's keyword research dashboard has a bunch of automation features, allowing you to click a button and instantly receive a custom list of recommended keywords by the thousands.
It also allows you to see a list of keywords your competitors are ranking for, which is a powerful advantage, and when combined with the rank tracker, essentially means your competitor can't get sales or traffic from anywhere without you knowing about it
It's also a great way to find potential product ideas, through variations on the keyword you're already targeting.
This is a tool that is available in a ton of different places and Viral Launch's offering isn't a huge standout, but it's well-designed, provides rapid and accurate data, and will be a valuable part of the overall package for sure.
Viral Launch Listing Optimization Review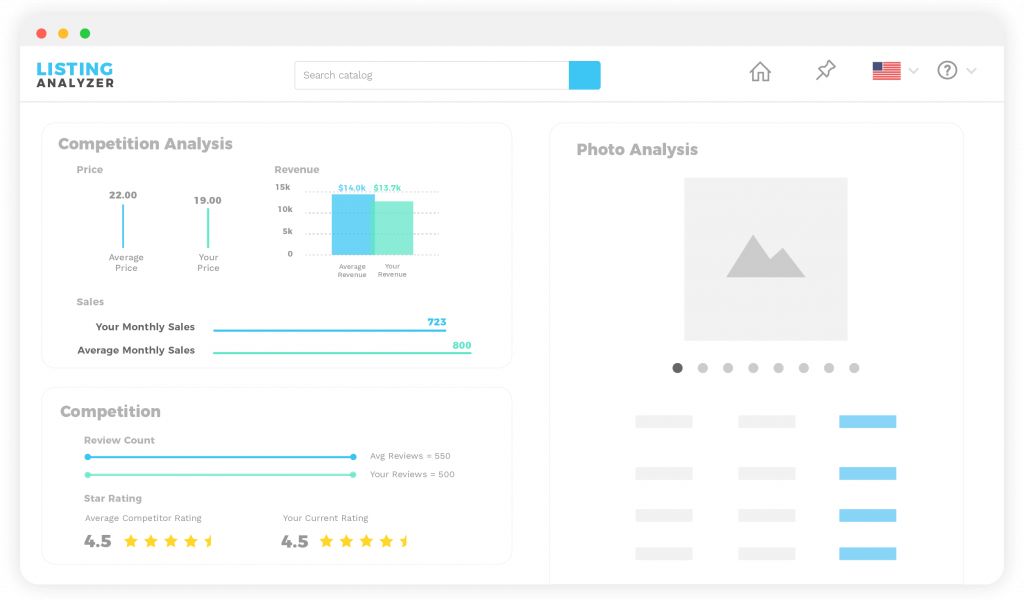 Listing Optimization is a crucial part of any successful Amazon SEO strategy and Viral Launch aims to make it easier by offering the following features:
Automated keyword research
A copywriting tool that maintains an interactive list of keywords and ticks them off, checks spelling and more, ensuring you don't miss anything important
Recommendations for relevant keywords you haven't included
We will say the search volumes do seem a little inaccurate and slow to update, but they keywords are still genuine and it's a pleasure to use Viral Launch to optimize your listings.
Viral Launch Conversion Rate Optimization

This is more of a professional service than a software tool, with Viral Launch's professional copywriters using their experience and research data, combined with your keywords to write product listings that convert.
They even offer Viral Launch product photography, making the overall range of services you can get from them very impressive.
While it's always a good idea to be aware of what's going on elsewhere, it's actually possible to run your entire Amazon business and scale it over time, exclusively via Viral Launch's software and other services – which is a testament to how comprehensive the whole thing is.
Viral Launch Product Launch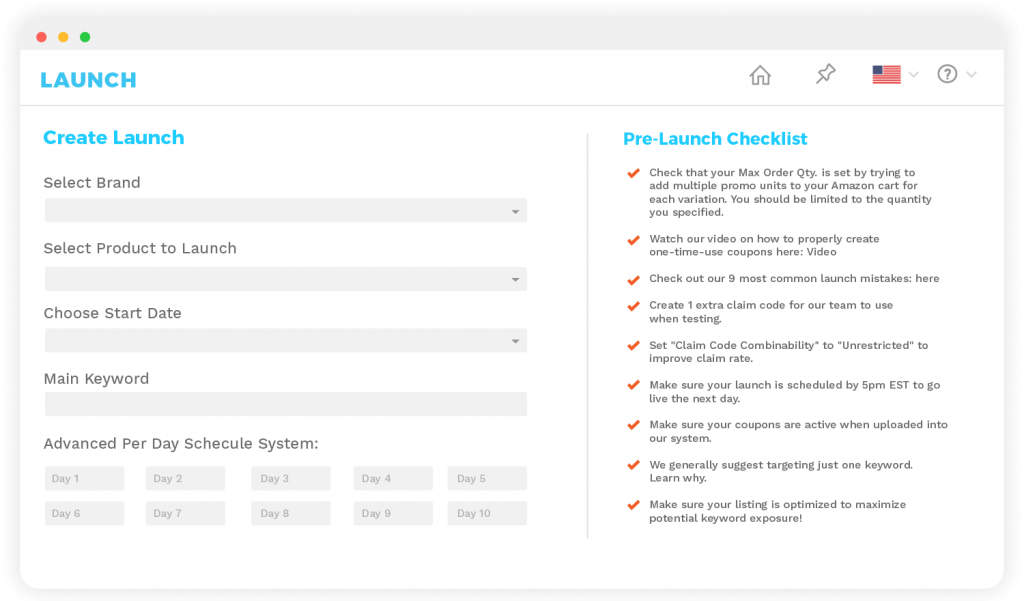 This is the oldest service provided by Viral Launch and has been around since before they offered any software.
It costs a one-time fee of a few hundred dollars and is not included in their subscriptions.
Signing up for this service essentially allows Viral Launch's team to launch your product for you, ensuring you get the best possible entry into the market and a great start to using their tools to increase your rank.
Benefits include:
Use of their buyer database to expose your product to a large number of potential buyers on day one
Giveways/coupons to increase conversions at launch
Scheduling and recommendations for keywords and more
Strategy coaching to teach you how best to benefit from your launch and keep increasing your rank
Viral Launch PPC Optimization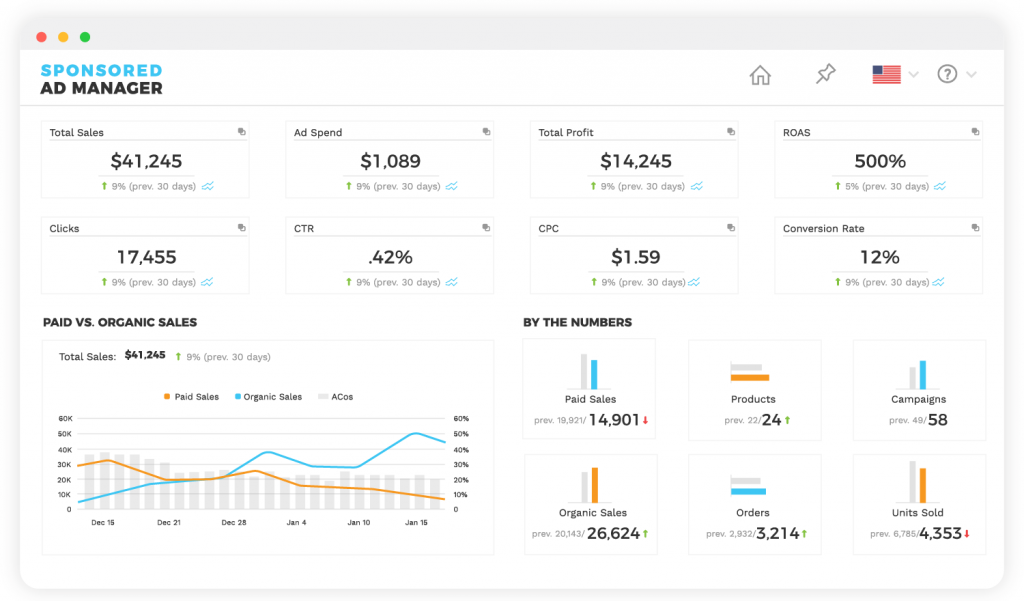 This section is a full PPC optimization software that allows you to make solid decisions based on real-time data.
It includes:
Sponsored Product keyword tracking
Recommended bids and keywords based on the competition
Google Shopping tips and strategies
They also have professional Amazon PPC management services if you prefer to let them manage it entirely, although it goes without saying that this will cost you quite a bit more depending on the size of your campaigns.
This is a great way to save time and money by reverse engineering what your most successful competitors have done and then take it further.
Viral Launch Pricing: How Much Does Viral Launch Cost?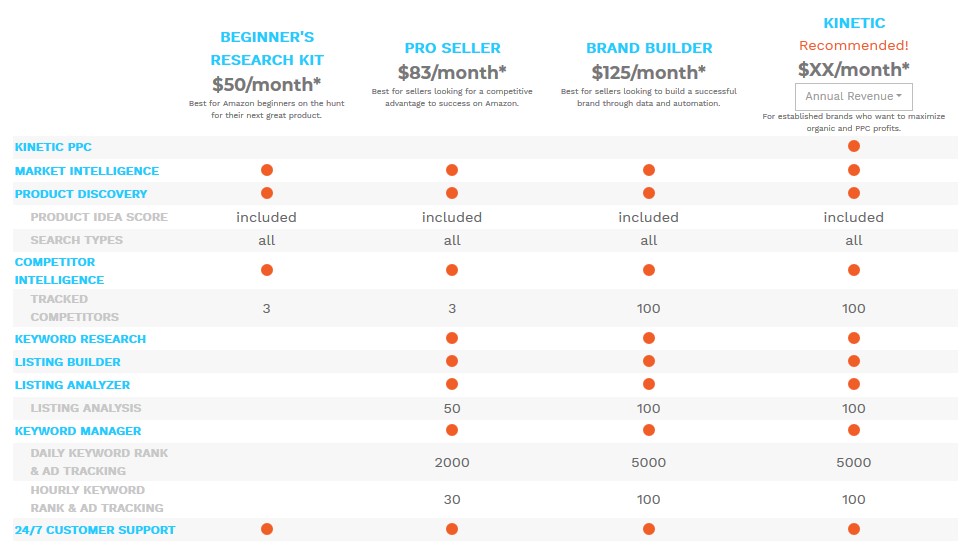 All things considered, the Viral Launch packages are actually really good value considering how much you can do with it.
They do offer a free trial when you first sign up for your free account, although it is essentially a free play around with a few of the tools as opposed to a traditional, time-limited free trial of the entire package.
The Beginner's Research Kit, while fairly limited, is only $50 per month and allows you to spend some time getting used to the tool. It's ideal either for newcomers to Amazon who are looking for help launching their first or second product, or more advanced sellers who are just looking to give Viral Launch's tools a quick rundown.

The next two packages are priced at $83 per month and $125 per month respectively. These are by far the best value packages and the ones most of you will be interested in.
Getting access to all of Viral Launch's main tools for only $83 a month is a really good deal, in all honesty.
All of these subscriptions can also be applied on an annual basis for the cost of 10x the monthly price, meaning you save on 2 months per year.
Last but not least, the Kinetic package is quite a bit more pricey and is priced based on your Amazon business's annual revenue.
This is mostly for large, established Amazon businesses and Amazon marketing agencies, and will be unnecessary for the majority of our readers, but if you are in a position to afford it it's a powerful package that combines manual services with automated software to help boost your Amazon business rapidly and sustainably.
Helium10 vs Viral Launch prices is something a lot of you will be interested in, and while Helium10 is more expensive, it's more comprehensive too, and our overall pick between the two.
Viral Launch Chrome Extension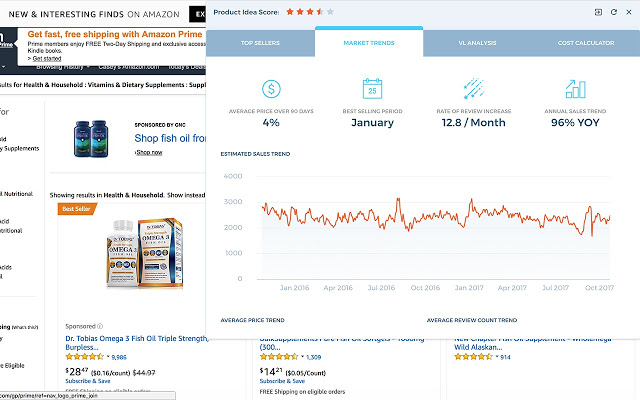 Viral Launch also includes a very convenient Chrome Extension which provides all sorts of intelligence and insights on the market, competition and any product listings you may find.
This makes it easy to get data from Viral Launch while browsing Amazon, meaning no more switching back and forth between tabs, wasting time.
There are other Chrome Extensions that do similar things out there, but this is one of our favourites and just provides what you want to know instantly with no nonsense or filler.
How to Cancel Viral Launch
Viral Launch has no contracts and so you can cancel at any time, however payments are non-refundable, so cancelling requires you to remain a member for the remainder of the month, and then you will not be charged for the next month.
What Marketplaces Can I Use Viral Launch In?
Viral Launch is compatible with the following marketplaces:
The USA
The UK
Germany
Canada
Mexico
Spain
France
Italy
Final Breakdown
Positives:
The clue is in the name – Viral Launch is one of the best ways to launch an Amazon product
The overall usability and intuitive design here is very impressive and finding your way around feels natural almost instantly
Excellent customer service support and educational resources
The sheer breadth of the tool is surprising and you get a lot for the price
Negatives:
Conclusion
Whereas the individual moving parts of Viral Launch are often bested elsewhere, the overall package is comprehensive, cohesive and complete.
There is room for improvement here when it comes to optimization and development after launch, but when it comes to product research and launching a product as effectively as possible, Viral Launch is one of the best options out there.
Many of the manual services are overcharged and you'd generally be better off going for one of the smaller subscriptions and finding expert help elsewhere, as you will be able to get similar quality work for less without a doubt.
Viral Launch's recommendation does come with some caveats, then, but for the right people – namely those who are looking to launch new products into the Amazon marketplace or research product ideas, it remains a strong one.
You may even find it a good investment to go with Viral Launch for a couple of months to research and launch your product(s) and then trade down to cheaper tools that are just as good if not better for continuing optimization and growth but don't have the same product launch and research features.
KeyworX and Listing Eagle alone, for example, would allow you to get huge marketing insights and keep improving your rank beyond anything you could do with Viral Launch while also protecting your brand from listing hijacks, all for a fraction of Viral Launch's cost – but wouldn't have the same benefits for researching and launching a product in the first place.
Viral Launch is certainly worth looking into and even trying, then, but not necessarily something you'll want to keep around.
TheAmazonSEOConsultant Verdict: 8/10
Is it difficult for you to find the resources or time to manage your Amazon business and scale it the way you'd like?
Would you rather have the #1 Amazon marketing agency handle your listing optimizations, product rankings, pricing, feedback management strategy. or even all aspects of your Amazon business?
We provide services ranging from full partnerships and Amazon seller account management to one-off product rankings you won't find anywhere else.
To learn more about how we can offer results and rank positions that nobody else can, take a look at our case studies to see the unbelievable increases in rank, sales and profits that we've already achieved for 100s of clients thanks to our unique, self-developed Amazon ranking process.
Or, to get in touch directly and discuss what we can achieve for you, simply request a proposal now!