Ecommerce is growing faster than ever in 2023. Thus the popular question, Amazon Vs eBay, which is better to sell on?
As of 2021, it was estimated that the number of online shoppers had grow n from 2.05 billion to 2.14 billion. That is more than 25% of the world (7.7 billion people) shopping online.
In terms of ecommerce sales, the revenue grew from 3.53 trillion US dollars to 6.54 trillion US dollars in 2022.
Nonetheless, even with the mindset to capitalize on these numbers and what seems to be becoming an important part of global commerce – as years go by, often sellers hit a wall when faced with the question; which ecommerce platform could best suit their budget and business goals.
With up to 24 million ecommerce sites in the world to choose from, surely this even gets tougher to crack than the common nut we're used to.
That is why in this article, we are going to decipher the key part of this problem by comparing the world's number one ecommerce market, Amazon, with its very close competitor eBay.
This is in terms of;
Number of active customers
Competitiveness
selling experience
Amazon fees vs EBay fees
Product niche & viability
Customer convenience
Mobile friendliness
Security
Advantages and disadvantages of selling on Amazon or Ebay.
Let's get started!
1. Number of active customers
The statistics bare it all.
Amazon has 300 million active customers and 200 million visitors a month. On the other hand, eBay has about 183 million active customers and more than 109 million users as of 2018, Statista.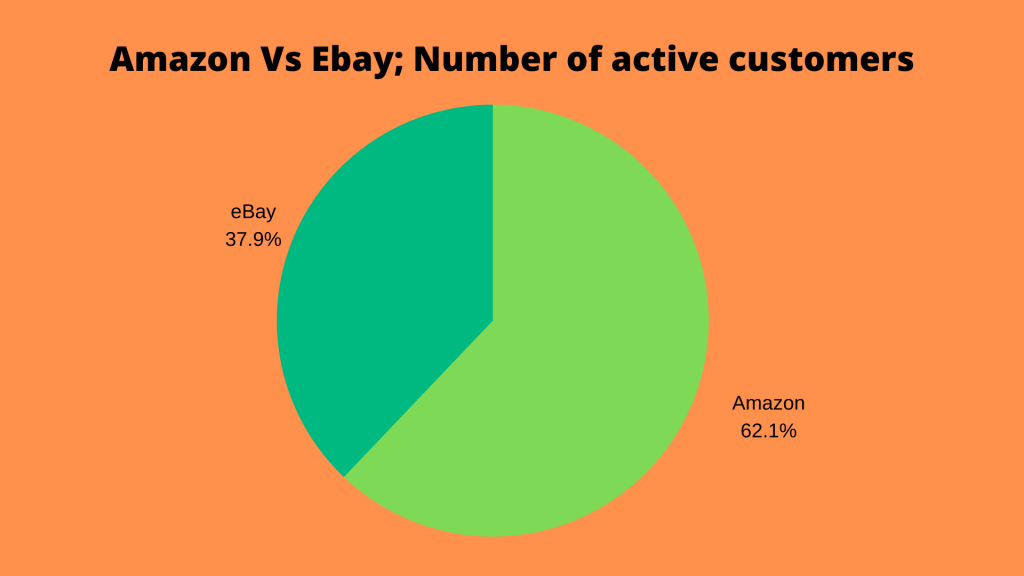 Annual net e-commerce sales for Amazon, in the first quarter of 2019 hit $59.7 billion while on eBay the Gross Market Volume from the fourth quarter of 2019 was $22 billion.
If we look at international reach, Amazon has 14 websites across the world including in Australia Europe, North America and Asia which explains the $74.72 billion in sales outside US.
On the other hand, eBay boasts 23 foreign websites, selling in over 100 countries worldwide.
Its worth to note that Amazon's foreign websites in countries like Germany, Canada, India and UK have been blacklisted, but this doesn't blur the fact that being a seller on Amazon, gets you exposed to an overall wider customer base, than EBay.
With a wider customer reach, we can assume more sales considering that 95 million of these Amazon customers are prime members. To put it more succinctly, prime members purchase more ($1300 per year) because of fast free shipping, fair prices and exclusive deals than non-prime members ($700 per year)
Hence, with Amazon, you get more customers base and thus more sales due to the proposed benefits as compared to EBay.
However, that would be an oversimplified comparison, especially if we consider the difference between the two e-commerce markets. Amazon is a search engine while Ebay is an auction site.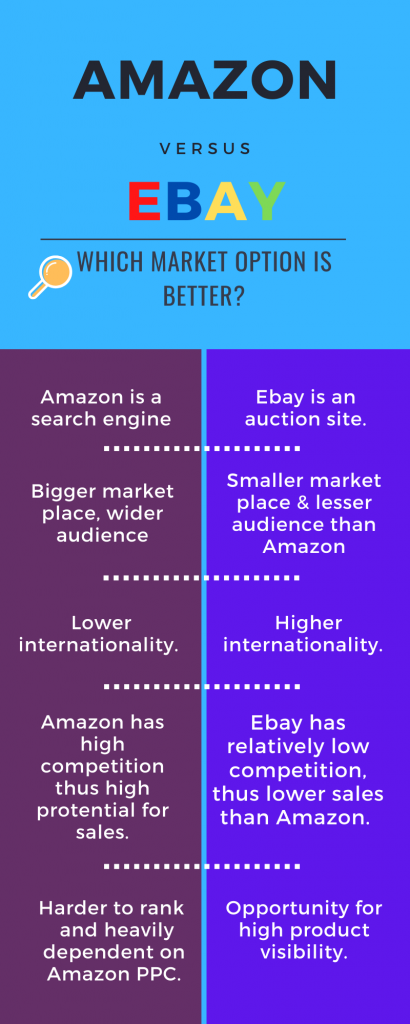 In layman's terms, you get more sales on Amazon only if you appear in front of customers while on EBay, you might sell more based on competitive pricing and a good amount of reviews.
So does that mean EBay is seller friendly than Amazon, let's find out in the next section.
2. Competitiveness
A wide customer base brings an increase in competition since many sellers including those outside US, are competing to sell the same product. Over 2.5 Amazon active sellers can attest to that.
This fierce competition boosts product quality, levels product price and improves overall customer service.
However, it makes it difficult for a seller to grow especially when this rise is substantially contributed by new sellers. In particular, China makes over 50% of Amazon sellers vs EBay's 17%.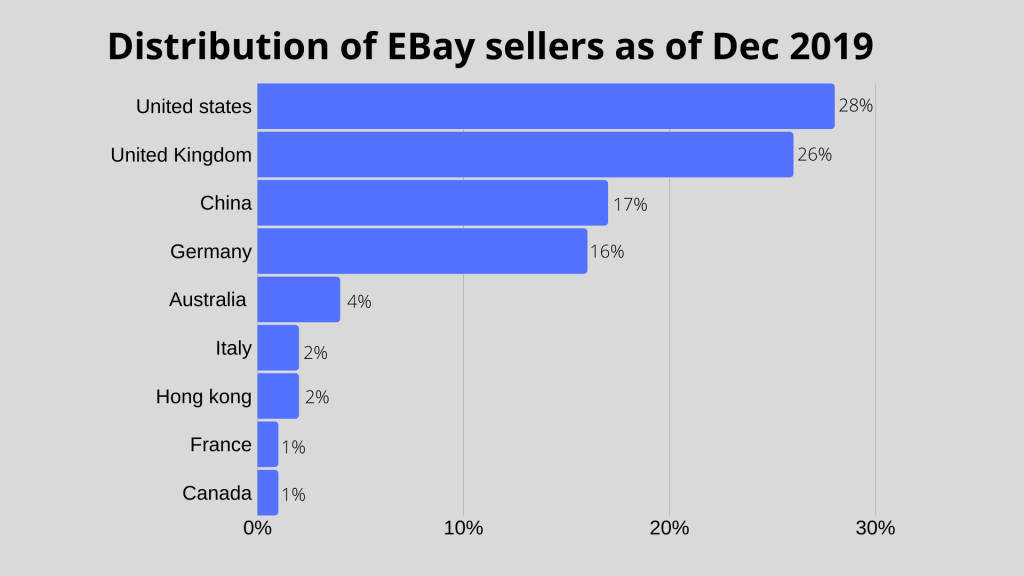 Thus, even though EBay has about 25 million sellers the competition is relatively low meaning if you wanted to grow your brand relatively fast, this would the platform to choose.
However, consider that with high competitiveness especially on Amazon, ranking products get wider exposure and thus more conversions.
The disadvantage is Amazon itself will be your biggest competitor unless you are selling refurbished items or hobby products which they are less likely to adopt.
3. Selling experience
Getting on Amazon as a first-time seller or even as a transitioning seller can be challenging. But this is in part due to the higher barrier of entry due to the more stringent measures on Amazon as compared to eBay.
Perhaps one of the most hailed experience that comes from selling on Amazon is fulfillment benefits. When you sign up for Amazon FBA, you delegate any responsibility associated with packing, shipping, customer service or returns management.
Additionally, FBA sets you up for benefits like Amazon Prime, Buy box win which work in tandem to increase visibility, conversions and sales.
This would be another key difference which sets apart sellers on Amazon than those on Ebay.
Additionally, Amazon has a wide network of affiliates who may drive traffic to your listing when they feature Amazon ads.
However, for the most benefits you get on Amazon, including FBA features you are charged. Hence it is up to you build strategies that will drive sales for the long term rather than otherwise. Mastering Amazon SEO, for better organic rankings is one way to go.
Given that behind Amazon's success is its A9 algorithm, and innovative technologies expect a seamless experience and tools to leverage at your disposal. The learning curve is gradually but it will be worth your time.
eBay sellers, on the other hand, have access to crucial seller tools and softwares which Amazon sellers don't. Such include; customer support software, price management tools.
Since you have the advantage of building a brand on eBay, leveraging such tools is your guaranteed option to establish your product in the market, beat your competitors and increase profit margins.
A disadvantage is that with a lack of fulfilment benefits the task of providing customer service and managing returns falls on the seller. Wearing many hats might sometimes break your business rather than grow it.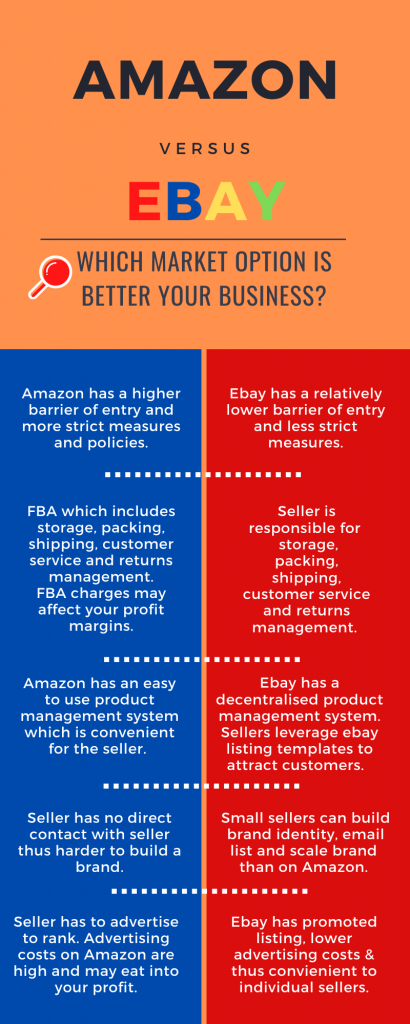 4. Amazon fees vs eBay fees
As mentioned before, Amazon provides its sellers with an option to facilitate fast and free shipping to customers. This is called Fulfillment by Amazon. An individual seller pays $0.99 as a fee for every item sold and additional referral fees. If a seller opts for a professional account they have to pay a monthly fee of $39.99 dollars. Read more to find out what Amazon FBA charges.
How this helps is that buyers will always feel compelled to buy from a seller who offers free shipping or two day delivery as opposed to being charged a shipping fee.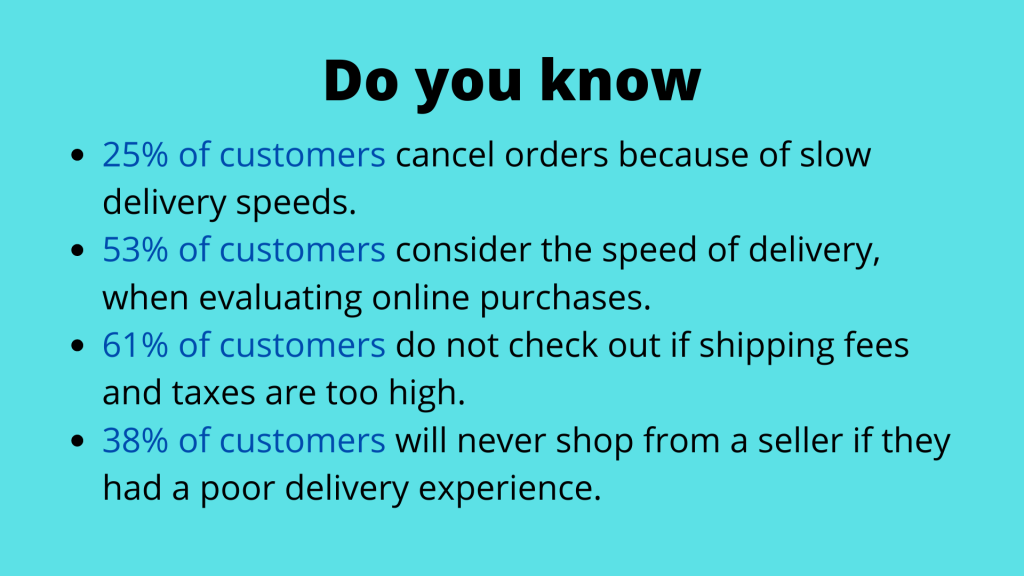 Its worth to mention that the FBA fees vary depending on the type, size and weight of the product.
Now even though the free shipping works to a seller's advantage, Amazon charges you 15% as commission for shipping.
On Ebay a seller is charged 10% of what the buyer pays as shipping fee. This charge is also known as Final Value Fee. Hence, if a product went for $60, Ebay charges you $6 dollars as shipping fees and the rest you keep. It doesn't begin there though.
PayPal, the preferred mode of payment for many sellers on Ebay charges 2.9% of total selling price and an additional flat rate fee of $0.30 for sales tax. This fee is charged even before Ebay takes their cut.
For international transactions, PayPal takes 4.4% as commission and the flat-rate sales tax which is $0.30. Aside from these, eBay also charges a listing fee also known as insertion fee, when you upgrade your listing to "Buy it now" status.
Nonetheless, if you compare the profit margins from the two platforms (using popular sold items such as books and DVDs), eBay outranks Amazon by a substantial number.
5. Product niche & viability
72% of customers deem Amazon as their go-to platform when searching for product information and prices.
56% of these customers use Amazon as their starting point.
Needless to say, Amazon provides a great opportunity to target and reach millions of customers, who are at the buying stage on the sales funnel.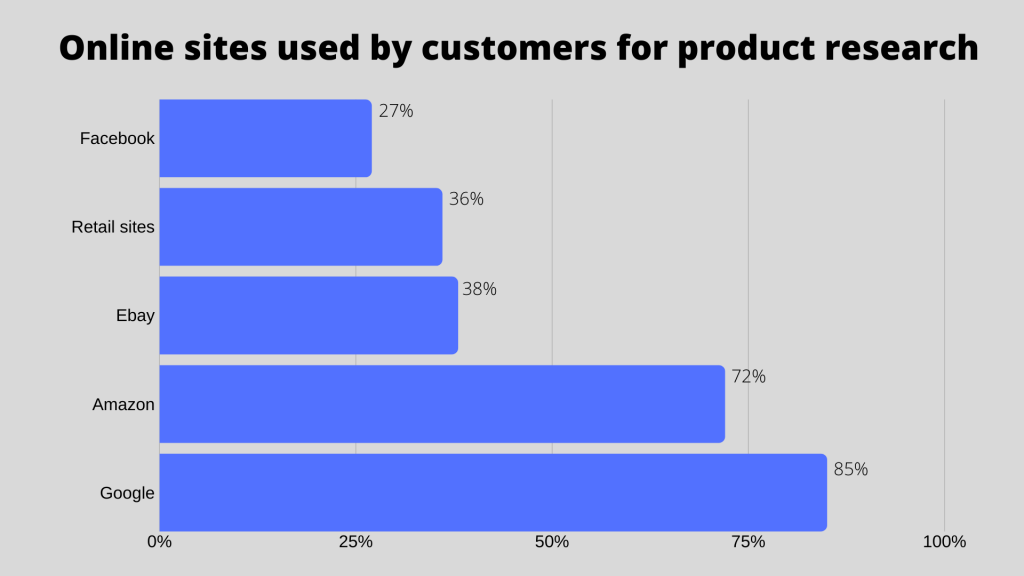 eBay is an auction site and most people use the platform to compare prices while hoping to land lower priced items.
Toys, games and tech products sell the best on Amazon while electronics and accessories fall in the top-selling product category on eBay.
But to find the best product to sell on Amazon you need to do product research to identify which market has low competition. Low competition products generate healthy sales on Amazon than on eBay. Which is why product selection is very important.
Coming back to eBay, selling electronics such as Bluetooth related items used to be a good option until books, games, mobile and their accessories, tipped the scales as of 2020.
Regardless, if electronics don't float your boat, selling health and beauty products including fashion items can provide you with great returns on investments.
It is interesting to point out that although many sellers believe eBay is a platform for used items, 80% of the items sold on eBay are new.
However, in terms sales, used items outperform new items. The sell-through rate drops in the US market with 56.3% representing new items and 39.8% for used items.
Bottom line is that it is never an easy process to decide which product to sell on Amazon or Ebay. But doing ample research to find a gap in the market, can make all the difference in your performance and product viability.
This best-seller rank guide for Amazon will set you on the right path when embarking on this journey.
6. Customer experience
With perks like Amazon prime, acclaimed customer service, free and fast shipping, Amazon sets the pace for other ecommerce platforms with no doubt.
Since Amazon is mainly focused on the customers as opposed to sellers, the following services explain why it is a leader in terms of customer experience and thus a wider customer reach.
Amazon provides the most seamless experience customers when it comes to product searchability. This is by leveraging the A9 Algorithm to sort items by brand, price, customer reviews, availability and keywords related to the product.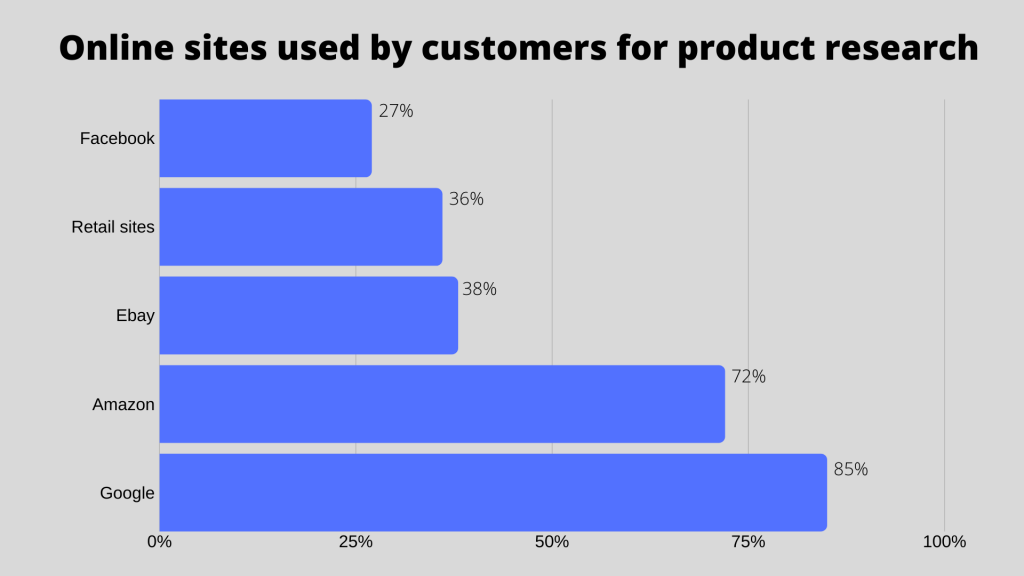 To a seller, this means if you optimize your listing for Amazon SEO you are likely to improve your organic rankings, increase conversions, sales and build equity.
eBay may have SEO benefits but it cannot outrank Amazon in this.
From buying to delivery to managing returns, Amazon focusses on providing its customers with the most convenient and fastest services. The platform is optimized to meet a customer at every touchpoint meeting them at their convenience.
Considering that millions of buyers hail Amazon as their most trusted online retailer, this reputation only attracts more customers to the site particularly new buyers who are skeptical about online buying.
eBay may have lower merchant fees – since you do not get to pay for fulfillment services which handle the aforementioned responsibilities – but in terms of customer trust, it cannot compare with Amazon.
We shall look at the reason a bit later.
Credit cards are used in 53% of transactions, digital payment systems – 43% and debit cards – 38%.
This makes credit cards the most preferred method of payment worldwide.
Considering that credit cardholders will often be cautious not to become victims of credit fraud, they will opt to shop from a platform they can trust with their bank details. Amazon has, for the most part, fostered that trust.
This poses a threat to eBay sellers, in terms of getting customers, since PayPal is only used by a minority as compared to credit cards.
However, the option to receive payment using Paypal is also a great advantage to small and unbranded sellers on eBay. PayPal provides an alternative whereby a customer can pay without revealing their card number. Hence if a customer gets a good experience after shopping from you they are likely to return without the fear of being scammed.
7. Amazon vs eBay mobile friendliness
Ebay has about 66 million monthly app users as compared to Amazon's 150.6 million. From these numbers its clear to see which app has the most mobile reach and the one likely to drive more sales.
Nevertheless, both Amazon and eBay customers view their cart on mobile, before checking out. With that in mind, whether you are starting on Amazon or ebay ensure that your product listing is optimized for mobile users.
As of 2019, 63% of eBay's gross market volume (GMV) involved a mobile touchpoint.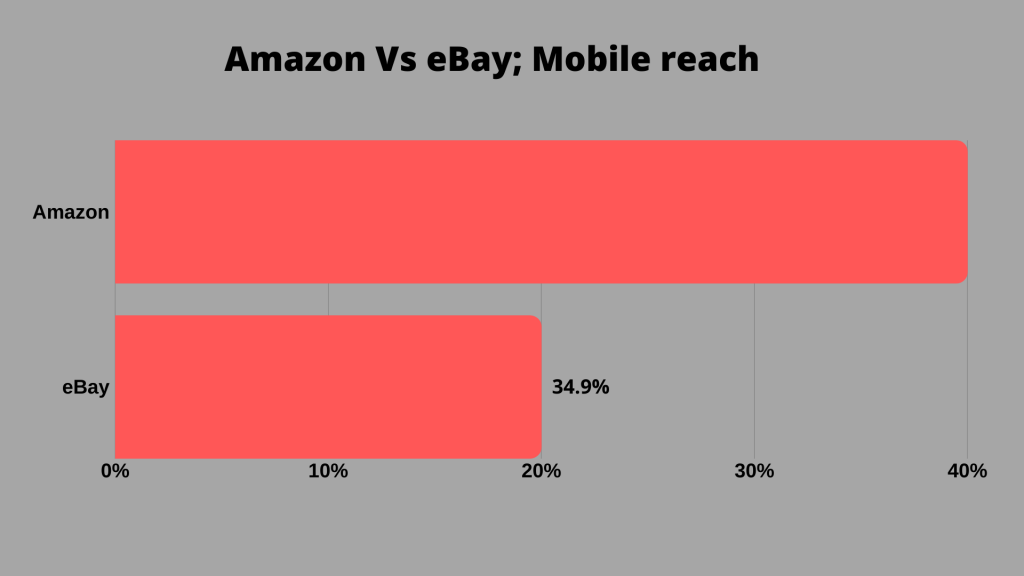 The Amazon app has a mobile reach of 40% while eBay follows suit with 34.9%, mobile users from the US.
8. Security on Amazon vs eBay
Even Amazon is no stranger to fraud cases. With over 1.2 US dollars lost to scammers who went on selling, just for long until they were detected, not by Amazon but IRS we can deduce that the saying every dog has its day holds some truth to it.
But unlike Amazon where customers believe they are less likely to get scammed, eBay leaves no room for guessing.
Most ay buyers leverage the confidentiality of PayPal to reduce the risk of fraud but this doesn't reduce the prevalence of eBay scammers.
Nonetheless, if you compare the two platforms in terms of fraud, Amazon remains a safer place to be due to more stringent measures and policies.
But this choice might be easier said than done considering that eBay could provide a more stable and profitable market place than Amazon.
Bottom line, you just can't have your cake and eat it too.
Who should sell on Amazon
On a high-level Amazon offers you convenience and you could piggyback on Amazon business model. Since the platform highly focuses on the customers Amazon is great for large sellers looking to sell volume of products to a large audience.
The higher competitiveness also sets you up for higher returns. Find out how to launch a product on Amazon.
Who should sell on Ebay
Ebay is great for selling one off products and drop shipping. It is less stringent and this makes it easier for a new buyer to get started on the platform.
eBay is also the best platform to sell used items, antiques, jewellery, electronics,
Additionally, it provides the best market for an individual seller who is on a lesser budget but wants to grow a brand identity and establish a customer base. With Amazon, there's no direct link between the seller and buyer, which makes it hard to grow as a brand, build an email list or establish contact with customers.
Amazon and eBay: which platform is better to sell on?
As you weigh between the pros and cons of eBay and Amazon remember both sites can skyrocket your ecommerce business but only if you consider the following
Competition – if you are looking for a highly competitive market, Amazon is your best bet. It has a wider audience reach and with the high competition, you should expect high sales. But don't forget Amazon is a search engine hence it may be harder for your products to rank high unless you master Amazon SEO, the A9 algorithm and Amazon PPC
Seller fees – both Amazon and eBay charge different fee and this may influence your profit margins differently.
Demographics – Amazon is home to young buyers and the average customer expects high-quality products, fair prices, free and fast shipping.
The average customer on eBay will be looking for a bargain and may not harbor high expectations in terms of customer service, fast shipping or product quality.
This could affect your business since buyers will not regard you as their number one option unless your brand outdoes the norm.
Scalability – Amazon can grow your business but not your brand. Not as eBay can. Amazon places more importance to the customer while eBay lets you run your own business.
So, which platform is better to sell on, the answer depends on your business model, strength and weaknesses of eBay and Amazon in relation to your business and how you can manage the distinct platform weaknesses without plummeting your profit margins.