As an Amazon seller, you've almost certainly heard of Amazon Best Seller Ranking or BSR.
Clients regularly ask us about BSR on Amazon, with the most common questions being:
What is Amazon Best Seller Rank?
Can I Use Best Seller Rank to Estimate Sales?
How is Best Seller Rank Calculated?
Can I Improve My Best Seller Rank?
While we of course, work directly with our clients to improve their product ranks and Amazon sales, we have also decided to bring you this FREE, in-depth guide on how to understand Amazon best seller rank so that everybody can benefit from the insights we've picked up along the way.
Let's start with the basics:
What is BSR?
Throughout the countless millions of product listings on Amazon, every single one has been assigned a number that describes it's rank when compared to other products.
If you're wondering how to find your Amazon Best Seller Rank, it's listed on every product page, and it looks like this: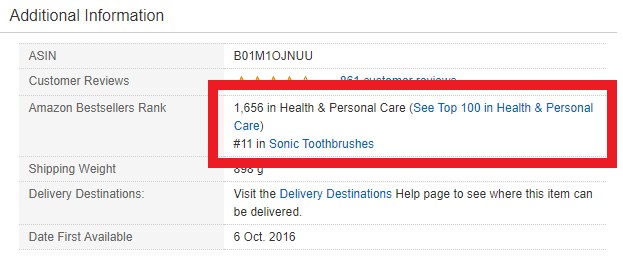 Just like Amazon's ranking algorithm, A9, the best seller rank draws on numerous factors and data points to decide which products deserve the best Amazon Best Sellers Rank.
Since the Best Sellers for each category are listed on the Amazon Best Sellers page, getting a good BSR offers a product the chance for even higher sales, due to the increased visibility and prestige: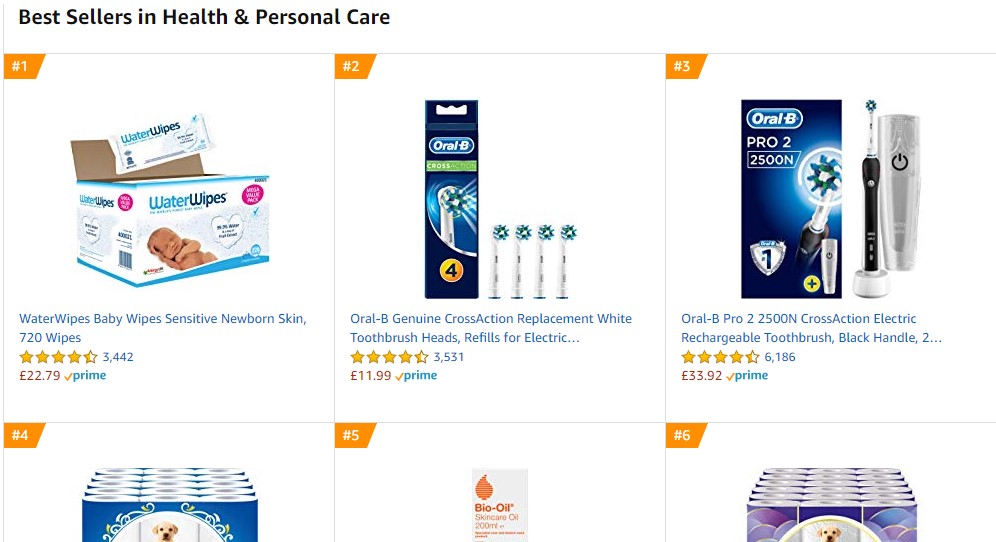 There are also separate BSRs for each subcategory and department, meaning an item could easily have a BSR of 3,250 in clothing, and 5,000 in Sports & Outdoors, for example.
What Does Amazon Best Seller Rank Mean?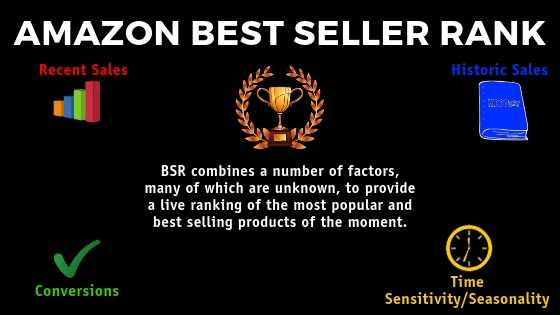 Despite the range of factors taken into account, the main thing BSR aims to communicate is the recent sales volume for each product.
This is important to remember because it does not represent all-time sales, meaning it's quite possible that your product could have a lower rank than a competitor's despite having sold much more throughout it's lifetime. This can be taken as a pointer that the competitor's product is selling faster than yours in recent times.
Despite this, it does take historical sales data into account, and the exact method Amazon uses to calculate it is a closely guarded secret.
For example, the Amazon top sellers are updated hourly, but if you see 100 sales in one hour, then 3 in the next, you won't necessarily see a drop in BSR.
Sound complicated?
It is, but through careful tracking, testing and calculation, we can come pretty close to answering the question on the lips of most Amazon movers and shakers:
How is Amazon best seller rank calculated?
Let's take a look:
How Does Amazon Best Seller Rank Work?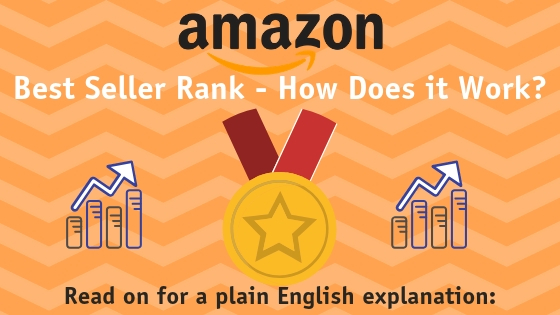 The first thing that we do know, is that there's an element of prediction taken into account for some of the BSR factors.
In other words, a product that launched yesterday could in theory have a higher BSR than a product that's been selling well for months.
If this is the case, it essentially means that Amazon is predicting that this new product will do better than the existing product in the future.
Since sales are still a major factor, if this turns out not to be the case, the new product will quickly drop below the more established one.
This combination of factors also works together to influence the speed and significance of any Amazon Best Seller Rank fluctuations.
For example, let's say your product (Product A) is currently at rank 2,000.
Your competitor's (Product B) is at 1,500 as they have been performing slightly better than you.
However, over the next hour, Product A sells 20 units, and Product B only manages to sell 1.
If recent sales were the only factor taken into account, you could expect the items to essentially switch places, with Product A achieving a new BSR of 1,500 and Product B dropping to 2,000.
However, since other factors are included too and weighted differently, you would see a much more subtle change in BSR – something along the lines of Product A moving to 1,950, and Product B dropping to 1,550.
In order for Product A to permanently dethrone Product B, more consistent success is required over a period of time.
It's important to remember that this has no bearing on your organic rankings. The SERPs work completely differently based on which products Amazon thinks are the most relevant products for each search.
To learn more about organic rankings check out our guide to Amazon's algorithm, or read through our process page to see how we rank products for clients.
Now that you know what BSR is and how it works, the next question is – should it be a major part of your strategy?
How Important is Amazon Best Seller Rank?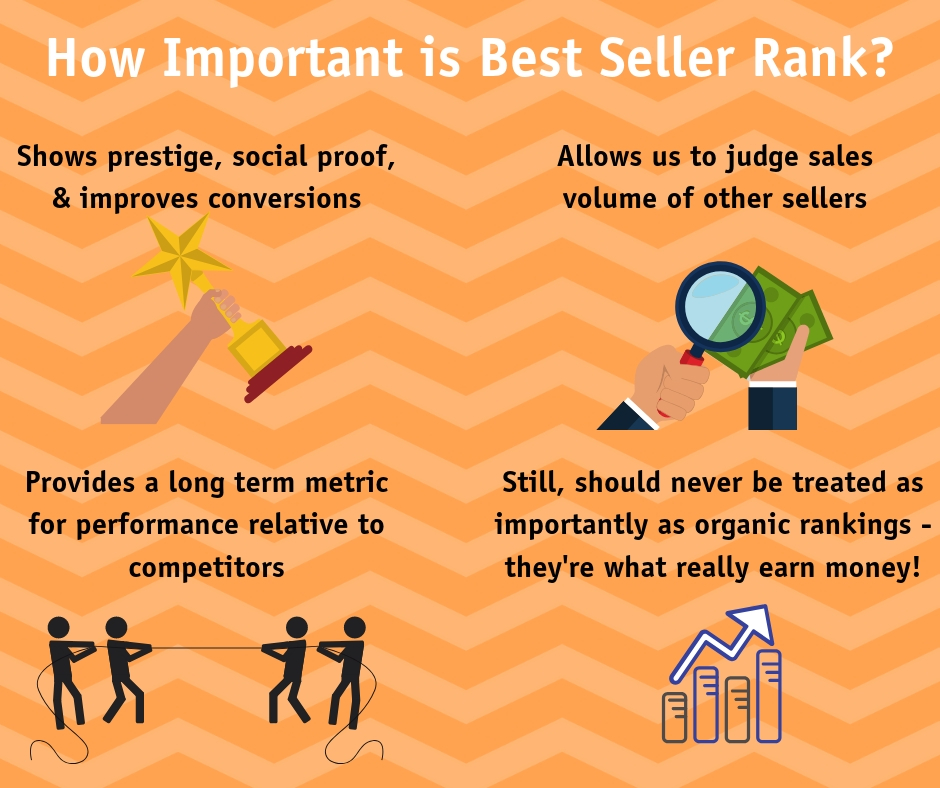 First things first – Amazon BSR should never be the driving force behind your Amazon growth strategy.
Just because you have a high BSR in a specific category, doesn't mean you are ranking particularly high organically for any specific search terms.
Since organic rankings are the only real way to push long term, sustainable growth, they should always be your priority.
With that said, a good BSR can certainly help encourage conversions and make your product look more prestigious.
People like buying something that appears to be tried and tested. A good BSR rank achieves this, and being at the top gives you a whole new avenue to sales through people browsing the best sellers page (albeit one with less buyer intent than a relevant organic search).
In this sense, your Amazon Best Seller Rank should mostly be seen as a symptom of your success, as opposed to something that causes it.
Regardless, it's still a great metric to use to see how you're doing in comparison to the others, and each improvement in your BSR means your listing is that little bit closer to being one of the top selling items on Amazon.
If your product is already ranking first organically and has a great listing that converts, you may decide to work on improving your BSR in order to maintain your position and gain more visibility.
Do you struggle to boost your organic rankings and Best Seller Rank?
Is the competition making your Amazon business more of a struggle than you expected?
As the #1 Amazon digital marketing agency, we have helped hundreds of clients to rank their products in extremely competitive niches and search terms.
To learn more, read up on our unique ranking process or check out our client case studies to see the boosts in sales and profits we achieve week-in, week-out.
Want to enlist some expert help to take your Amazon business to the next level?
We also offer full management services, listing optimization, keyword focused sales, and more.
Request a Proposal now and let's talk about the future!
Rather do things yourself?
Keep reading…
Can I Use Amazon Best Seller Rank to Estimate Sales?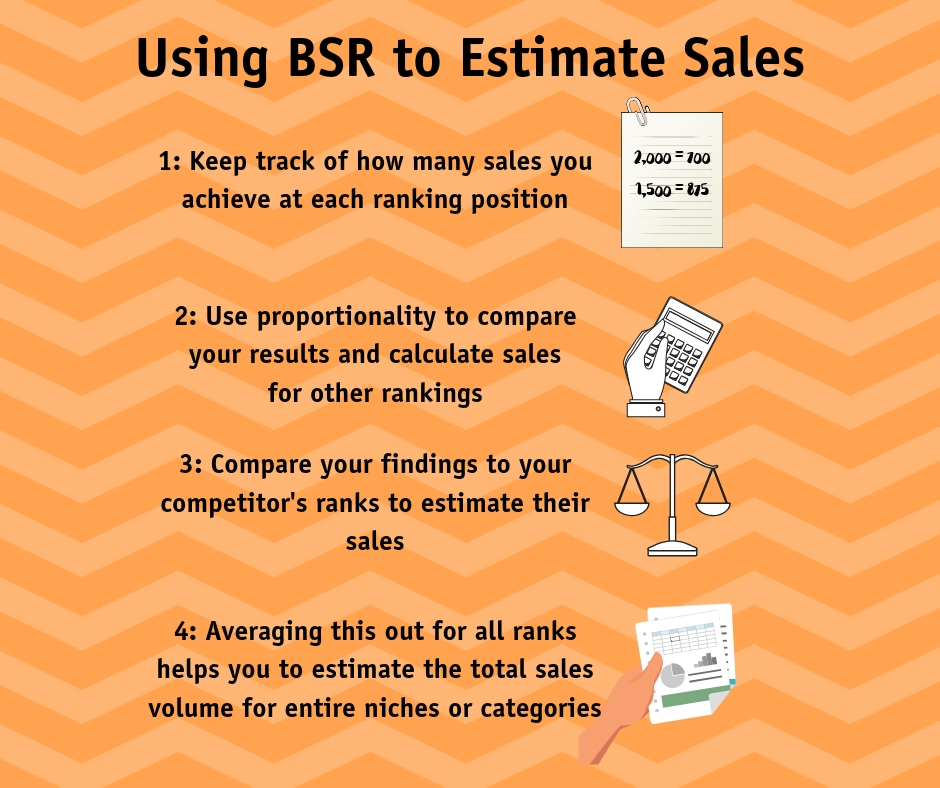 If you're wondering how to increase your best seller rank on Amazon, the simple answer is to sell more volume, sell more consistently, and become one of the best offerings in your niche.
The key to doing that is of course, organic rankings.
But if that's the case, why are we talking about BSR, and how to improve Amazon best seller rank at all?
The answer is the secret weapon that BSR provides us with – estimating other seller's sales volume.
By tracking your BSR over time, you can build up a strong idea of how many sales each rank can expect.
For example, imagine your product is at rank 2,000 and receives 700 sales per month.
It then moves up to rank 1,500 and sales increase to 875 per month.
However, a new competitor enters the arena at rank 2,000.
You now have a fairly good idea that this seller is going to be moving close to 700 items.
As your rank increases and decreases over time and you get metrics for multiple ranks, your estimates will get even more accurate.
This can be a huge benefit when it comes to product research as it allows you to validate other people's sales and see whether it would be worth launching your own competing product.
For example, let's imagine for a second that Product A and Product B cost the exact same amount to manufacture, but Product A sells for $39.99 and Product B sells for $69.99.
At first glance, you would assume it's better to go for Product B since you would get a higher profit for each sale.
But a quick glance at the BSR of both products might tell you that Product B sells 3-4 times a month, whereas Product A sells every hour.
Suddenly it's pretty clear which one would be better for you to delve into, and it's not the one with the higher profit margin!
Of course, if you're planning to launch an entirely new product for which there exists no parallels, you can get really granular and average out your BSR sales findings to calculate the sales volume for an entire niche or subcategory.
There are some issues with this, namely the fact that BSR is very volatile, changing hourly.
For example, we can assume that most people search for sleeping tablets late at night, when they are struggling to get to sleep.
This means if you calculate the sales volume at midnight, you will likely get a much higher result than if you check at 10am.
This is just an example but different products can sell better or worse depending on the time, day, season, month and more.
As such, the best way to estimate sales using BSR, is to consistently do it over a period of time and average out the results. This may sound like a lot of time consuming hard work, and frankly it is, but it's one of the most reliable ways to accurately judge sales volume using data directly from Amazon.
Are There Tools for Tracking Amazon BSR?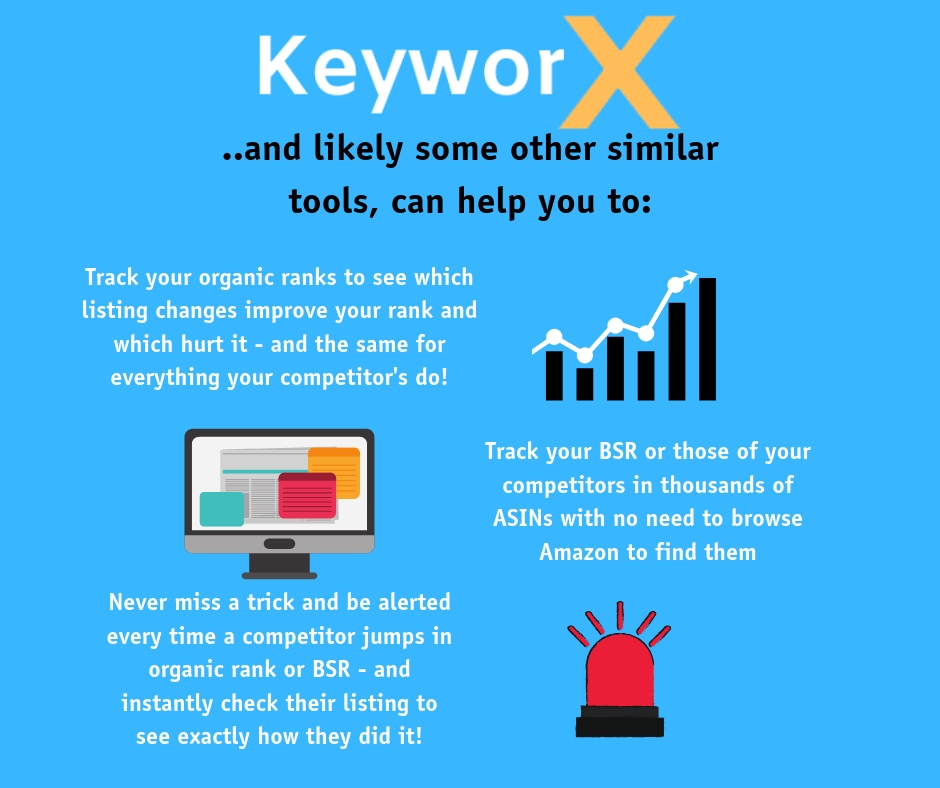 There are plenty!
If you've been tracking our series of reviews on Amazon software tools, you'll know that several of the more comprehensive software options offer BSR functionality.
Our favourite is KeyworX.
It's primarily a rank tracker which is super useful anyway as it allows you to immediately see how your marketing efforts affect your rank.
However it also has a super convenient BSR function that allows you to keep track of all your best seller ranks over time for every ASIN, as opposed to chasing them down manually on a regular basis.
Considering KeyworX starts at $27 per month for both options, we think it provides brilliant value for Amazon sellers looking to track their progress – and have used it ourselves to keep track of clients' products on numerous occasions.
People often ask us "how to check Amazon best seller rank", but considering it's displayed on every single product page, we assume they are talking about checking LOTS of BSRs, rapidly, without having to go through countless pages – and this is the answer.
Learn more about KeyworX's approach to BSR with their own post on the topic here.
Would you rather find a Best Seller Ranking pro to handle this?
How does having the #1 Amazon marketing agency take care of both your BSR and your Amazon rankings sound?
We can get the absolute most out of your products and free you up to conduct more product research and work on scaling your business.
Curious how? Take a look at our unique process!