Convenience is one of the biggest perks that drives customers to shop on Amazon.
In fact, a report shared by Epilson, showed that most customers prefer the online retailer, due to benefits like the best prices and free shipping services.
While this may sound like an advantage to customers, the key question remains; do retailers hold the same sentiment in regards to Amazon's FBA?
What is Amazon FBA
Fulfilment by Amazon also termed as FBA, is hailed as a lucrative option to sell products on Amazon without worrying about packing, storing or shipping the products, to the different customers who've shopped from your online listing.
This responsibility falls on Amazon who even go ahead to provide customer support, ensuring that your customers have a streamlined experience.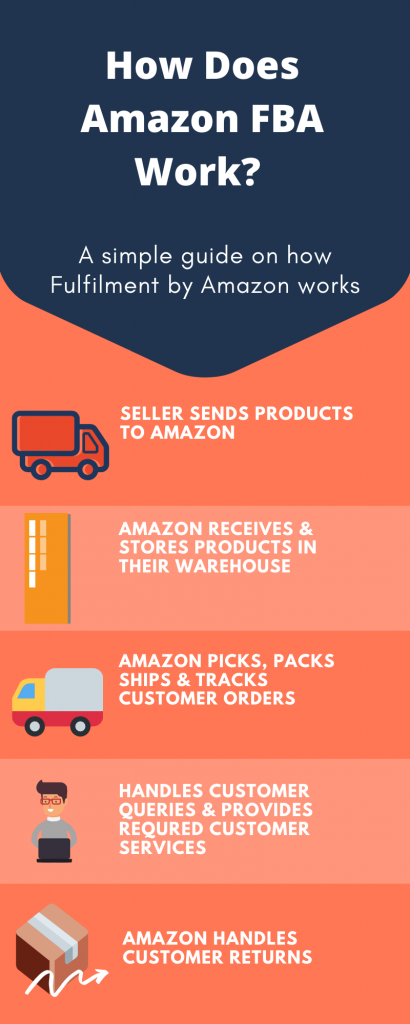 However, as an Amazon seller, if you consider Amazon's FBA charges for the different FBA features including picking; packing, order handling, storage and providing customer service you may wonder, is Amazon FBA profitable for your business? Should you stick to self-shipping or should you choose Fulfillment by Amazon?
What better way to look at this than to talk numbers. In other words, how to calculate Amazon FBA fees.
However, before we tackle this question we should first look at the importance of Amazon FBA which opens us to the reason why the top 10,000 sellers on Amazon use FBA.
Why does Amazon FBA matter?
As mentioned before the number one reason customers opt to shop on Amazon is due to the convenience and benefits like fast shipping services.
As an Amazon seller, if you are using Fulfillment by merchant, which involves handling and self-shipping, you may find it overwhelming and extremely taxing, especially if you do not have the manpower to execute these processes efficiently.
The challenge is even greater, depending on the quantity of orders and the number of customer buying from your business.
When this happens, delays are inevitable and other problems may arise including the lack of storage, return management or prompt customer service. Read more to find out what the FBA Auditor can do for you
This poses a threat to your expanding business and as a result, you may end up losing customers in spite of how well priced or how unique your product is.
So what can you do to avoid this?
66% of Amazon sellers delegate such responsibilities to Amazon, by enrolling to the FBA program.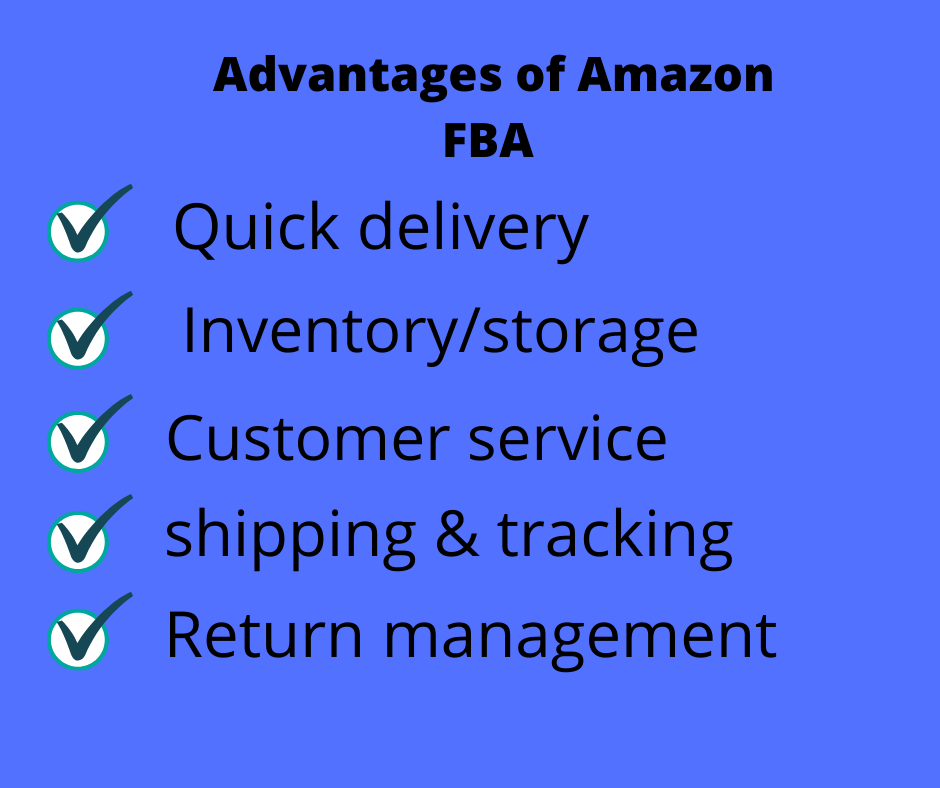 With FBA, you sell, Amazon ships and take care of the rest.
Another benefit of using Amazon FBA is that your products become eligible for two crucial features.
1. Amazon Prime
Which translates to customers as fast shipping since your products get listed on same day, next day and 2-day delivery categories.
Lest we forget, Amazon Prime also offers other exclusive shopping deals that encourage customers to buy more from your listing and thus increasing sales. Find out more ways to boost your Amazon business.
Your products also appear with the Amazon prime logo, which communicates trust, fast responses on product issues, and therefore asserting the confidence customers need, when purchasing from your listing.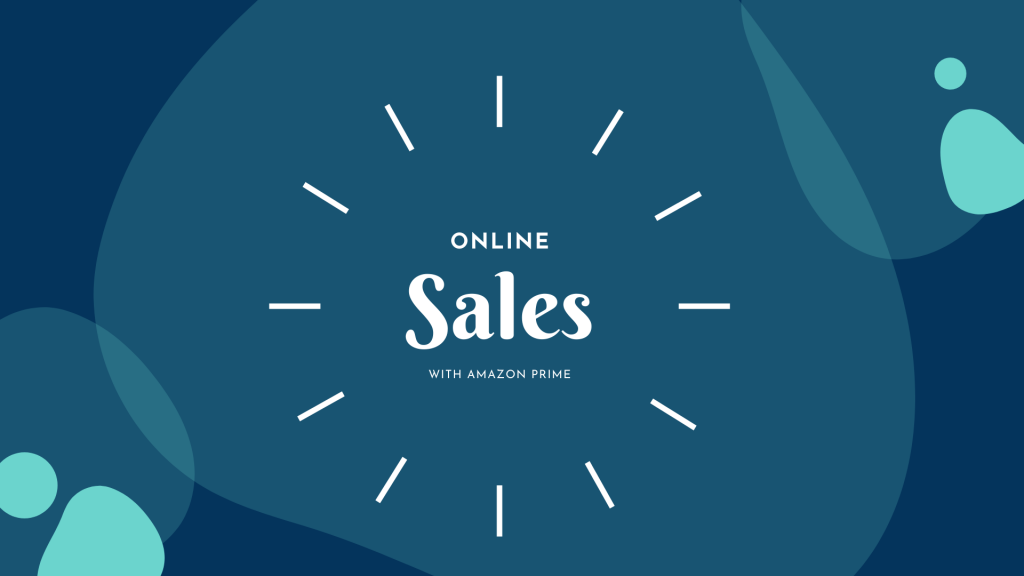 2. Buy box eligibility
With fast deliveries, multiple options for shipping, prompt customer service and competitive pricing – all encompassed in FBA participation – an Amazon seller becomes Buy Box eligible, a feature that boosts conversion rates.
Now, considering that over 300 million people buy on Amazon, with 90 million being Prime subscribers, (in the U.S only), Amazon FBA ends up becoming a crucial tool for a seller in terms of boosting sales and rankings.
Nonetheless, a few key factors should be considered when assessing if FBA will be valuable to your business or not. They include;
The items you sell
Even though the picking and handling fee remains fixed, Amazon FBA charges may change depending on the size and the weight of your products.
FBA fees start at $2.41 per unit for small items that weigh less than 10 ounces. This fee goes up to $137.32 per unit for special and oversized products.
To put this into perspective, if for example you were using FBA to sell a $10 item that is large and heavy the FBA charges may affect your profit margin than if you were selling a light item that sells at $50.
Now we see why the small, lightweight and high priced items win the Buy Box almost every time.
The season
The season your items will be at the warehouse will greatly determine the FBA fees and the profit you may get in return.
That is, instead of the inventory storage fee starting at 48 cents per cubic foot, you may need to pay more up to $2.40 per cubic foot, in seasons like Christmas and Thanksgiving, which happen to be busier.
Popular items are great for FBA since they sell fast. This means that they won't rack up charges in storage fee.
Nonetheless, you may want to consider that low sales rank items could sometimes improve their chance of selling due to the Amazon prime badge.
The quantity of products
Most Amazon sellers, who opt for FBA, do so for the convenience of ample storage space. With FBA you do not need to worry about finding a warehouse.
Additionally it is also fast and efficient to ship with Amazon – automated order fulfillment, than to make multiple trips to the post office, especially if you receive many orders and you lack the manpower to leverage.
Since the shipping process and customer service responsibilities are delegated to Amazon, you can use the time to expand and scale your business.
You also do not have to worry about managing a team when times are busy or when there's an influx of orders.
However, there's a disadvantage here. With large quantities of goods, you can also incur huge costs.
As the saying goes, easy come, easy go, you may also receive many impulse returns (products) due to the easy return processes. This could essentially affect your profit margins.
Low selling products may also sit for over six months in Amazon warehouses, sky rocketing your storage fee.
Therefore, your return on investment for FBA solely depends on cash you make after breaking even and after clearing the Amazon FBA fee.
In light of this, always make an effort to stay in on top of your inventory.
Value of Amazon prime badge
Since FBA membership, renders a seller prime eligible by default, this becomes an opportunity to boost sales.
Most Amazon member tend to buy directly from Amazon due to the level of trust the company instils. As a seller this works to your advantage setting you up for Buy Box eligibility, higher rankings, and higher sales.
Hence as a small seller, you may want to weigh the benefits that comes from FBA membership and if the price you pay for the features is comfortable for your business.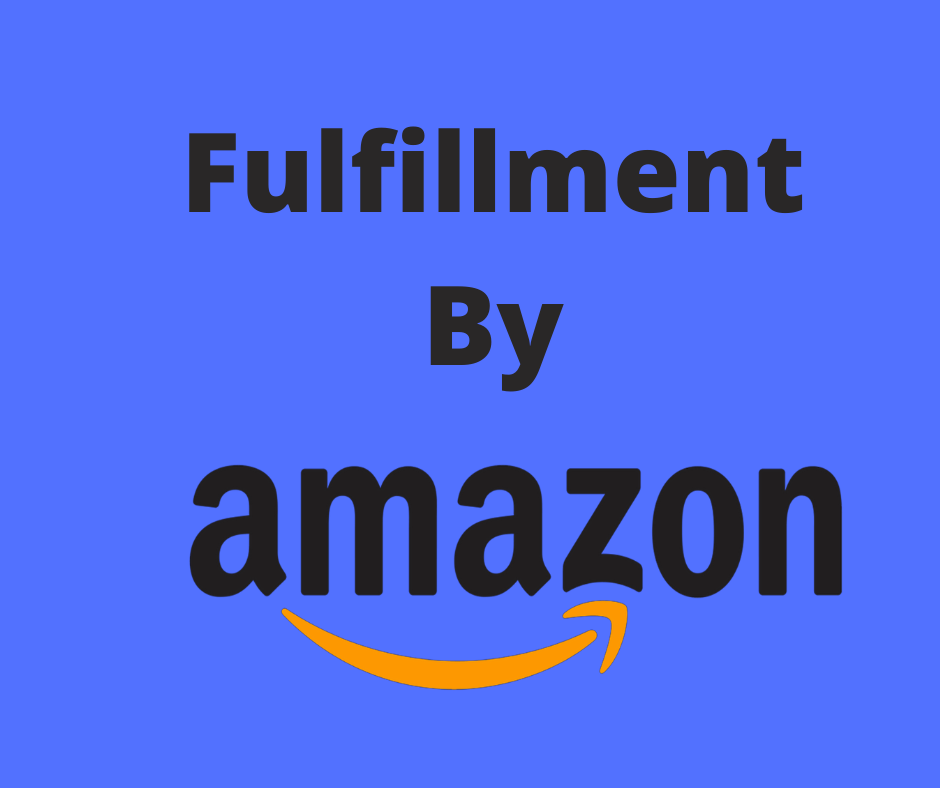 As for tax obligations, this guide for businesses and sellers on Amazon sales tax, will make your job easier.
Now let us looks at…
What Amazon FBA calculators charge
If you happen to sell products on Amazon through FBA, you may realise that you need to consider the following charges. These include;
Monthly fee
This is the fee you pay Amazon each month for subscribing to their FBA services. A professional seller account costs $39.99 per month while an individual seller pays 99 cents per item sold. An additional fee of 45 cents up to $1.35 per unit may be incurred as closing fee.
Note that if you use a professional seller account and happen to sell 40 items or more per month, no additional fee will be required from you.
On the other hand, if you plan to sell less than 40 items in a month you may need to pay a fee of $0.99 per item sold. The upfront fee remains $0.
Fulfilment fee
You pay Amazon this fee for picking a product from the shelf, packing, shipping it and handling customer service.
Referral and variable closing fee
This is the commission you pay Amazon for every product you sell on the platform. You may incur a typical 15% of the amount your item is selling for.
The referral fee varies only on a few categories such as industrial products, video games consoles and scientific products.
Labelling fee
For every stock you send to FBA, if it is not properly labeled you may be charged a labelling fee of 20 cents per unit.
Return processing fee
For free customer returns, FBA charges you an amount equal to your fulfilment fee. If returned packages should be repackaged and resold, Amazon charges a repackaging fee which is communicated to the seller.
Stock removal fee
In case you want to pull your inventory/unsold stock from Amazon and have them shipped to you, Amazon levies a removal charge of 50 cents to 60 cents. Here, you may sign up for an FBA inventory service if you want Amazon to send the products to a single fulfillment centre instead of different centres.
Amazon FBA export fee
If you products need to be shipped to different countries, FBA allows you to do so provided that the export service is available in your country. Amazon FBA export fee will be charged depending on the channel you are selling the product from.
FBA prep service and FBA unplanned prep service
Aside from strict product labelling guidelines or barcode labelling, FBA has strict packaging and prep guidelines. If you want Amazon to handle the prep and packing responsibility know that you will need to pay for the service. On the other hand, if you happen to ship products that are not prepared as per Amazon's standard that is when you incur an unplanned prep fee which usually varies depending on the type of product.
The FBA prep/ unplanned prep service starts at $1.00 and may go up to $2.20 per unit.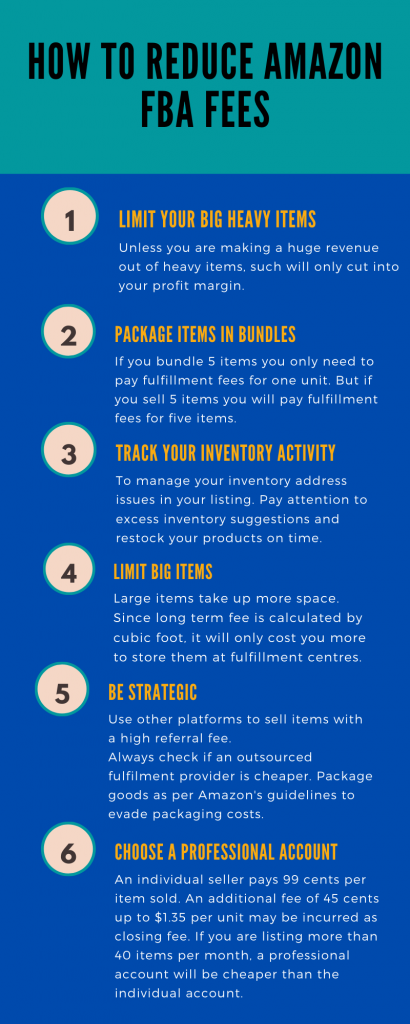 How to calculate Amazon FBA Fee
Amazon FBA calculator helps you determine the fee you are likely to incur for each item you send to Amazon fulfillment centres.
Since the total fee may vary depending on the weight of the item, size and other categories as mentioned, you may want to determine the profit margin you should expect, and what Amazon will levy from your total amount – after every two weeks.
That is where the Amazon FBA calculator comes in.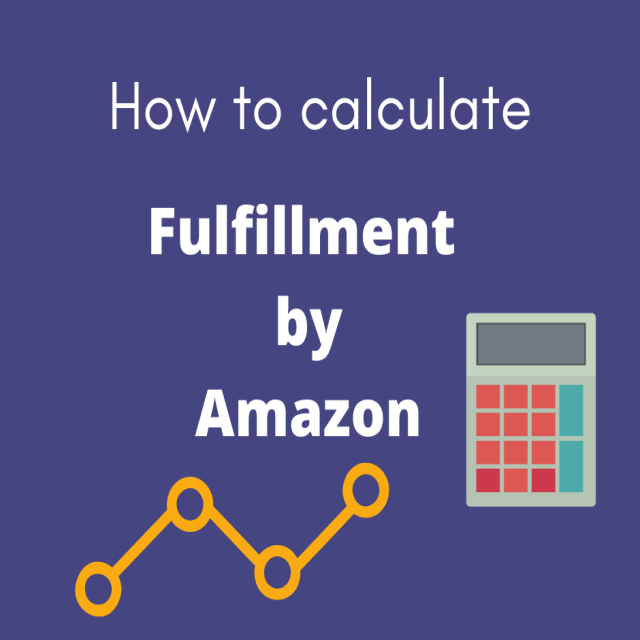 To access it, log on to Amazon central. Note that different FBA revenue calculator exist for the different Amazon sellers in different countries. Hence when calculating your revenue bear in mind that the calculator will take into account the currency as well as the fee difference in the distinct countries.
Go to a particular product on Amazon.

Copy the product ASIN (a 10-digit unique identifier attached to every product, item or page), from Amazon and paste it to the FBA revenue calculator.
Enter the values for each field starting with the item's price, the inbound delivery cost ( the amount incurred for shipping your stock from your supplier or place to Amazon's warehouse), and the total cost of the product per unit. Calculate.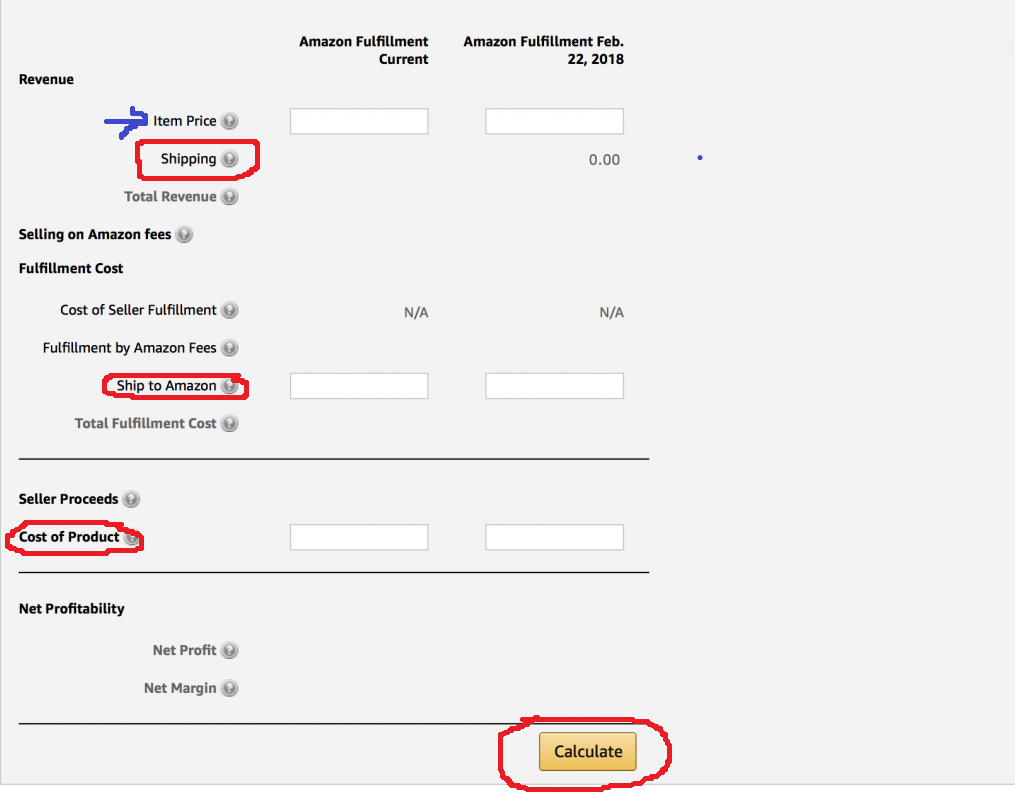 Analyze the report comparing the net profit and the profit margin calculated by the FBA calculator
You can still use the calculator if you are self-shipping. The difference is that you will need to input your delivery fee instead of the FBA's.
Conclusion
It is evident that Fulfilment by Amazon is a viable and highly lucrative option when it comes to boosting sales and expanding your business. However to make informed decision you need to ensure that your profits are not affected before you enroll for the FBA program. Run calculations to see if the program works for your business or not.
Ultimately knowing your business, your inventory position and capacity will place you at a vantage when coming up with the needed strategy to scale your business.
You can also get in touch with us should you want to boost your Amazon rankings with tailored option that suit your business.