If you run an online store or eCommerce business, you are likely aware that two key things are necessary to succeed – traffic, and conversions.
Of course, other things are important like product research and customer service, but these two metrics are what directly translates into orders, and getting them wrong is a surefire sign that a business is going to struggle.
But in an age of rapidly growing online competition, getting this traffic in the first place is getting more and more difficult.
Content marketing for eCommerce provides a way to build an audience without a huge upfront cost and without having to immediately tackle those first place positions head-on.
Content Marketing Statistics
Luckily, the internet users that make up this traffic are multiplying rapidly too, with Statista finding that that the global number of active internet users, as of April 2019, was 4.4 billion: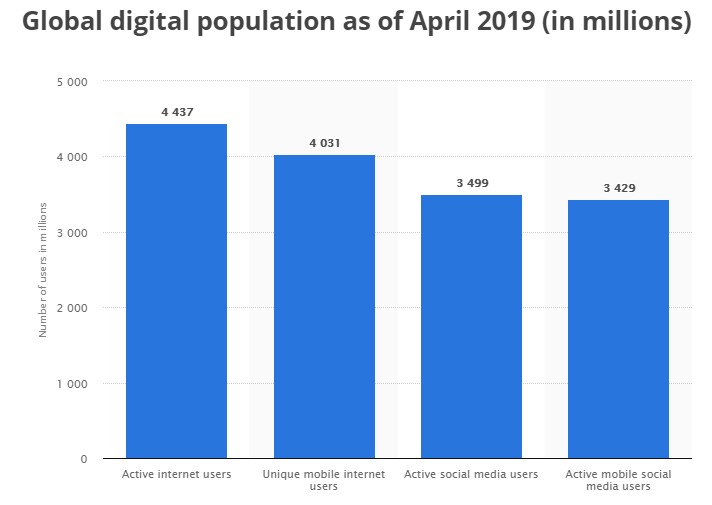 If you plan on having a successful eCommerce business, you need to be able to get your website in front of as many of these people as possible and continue to grow those impressions over the next few years while eCommerce as a whole skyrockets.
But how do you do this in a highly competitive field?
After all, you can't just create a page on "SEO services", "buy cryptocurrency", "vegan snacks" or any of the other currently trending online products and services, and expect to rank in the first page above long-established players.
The answer is content marketing, and if you do it consistently well, it's entirely possible to get more traffic and conversions than those established players, without needing to outrank them for the most generic search terms at all.
Year on year growth in site traffic is 7.8x higher for the top content marketers than it is for others.
Dragon Search Marketing found that 61% of consumers are influenced by custom content: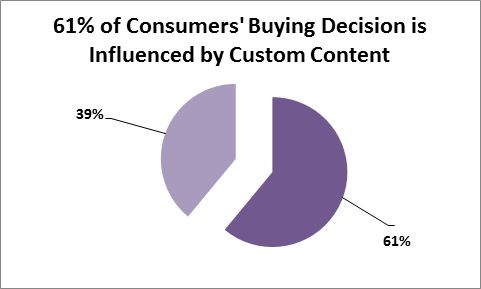 The most relevant of all of the content marketing stats to you personally though, will be this one:
Conversion rates are nearly 600% higher for companies that use content marketing, compared to those who don't.
When you factor in the fact that content marketing is one of the cheapest methods of marketing there are and gets 3x the leads per dollar that PPC gets, there is literally no excuse for you not to dive into content marketing today and build an ongoing strategy for the future.
Not sure how to get started?
That's exactly why we wrote this guide!
Let us show you:
Content Marketing Definition
a type of marketing that involves the creation and sharing of online material (such as videos, blogs, and social media posts) that does not explicitly promote a brand but is intended to stimulate interest in its products or services.

Source: Wiki

What is Content Marketing?
In other words, content marketing is the strategy of creating valuable and interesting content that your target audience will be interested in, in the hope of increasing their engagement with your website, brand, and therefore products.
For example, if you have just started a new eCommerce business selling books, you are really going to struggle to rank in Google and get traffic simply by optimizing a page around "buy books online".
Hundreds of online brands have been doing this for years, some for decades, and it is going to take a long time and some serious work to outrank them.
However, by doing some research you can find book-related topics that are much less competitive and write content around them.
For example:
Top 10 book lists for different genres
Editorial posts about the work of certain author's
Tips for hopeful authors on how to get their work published or increase sales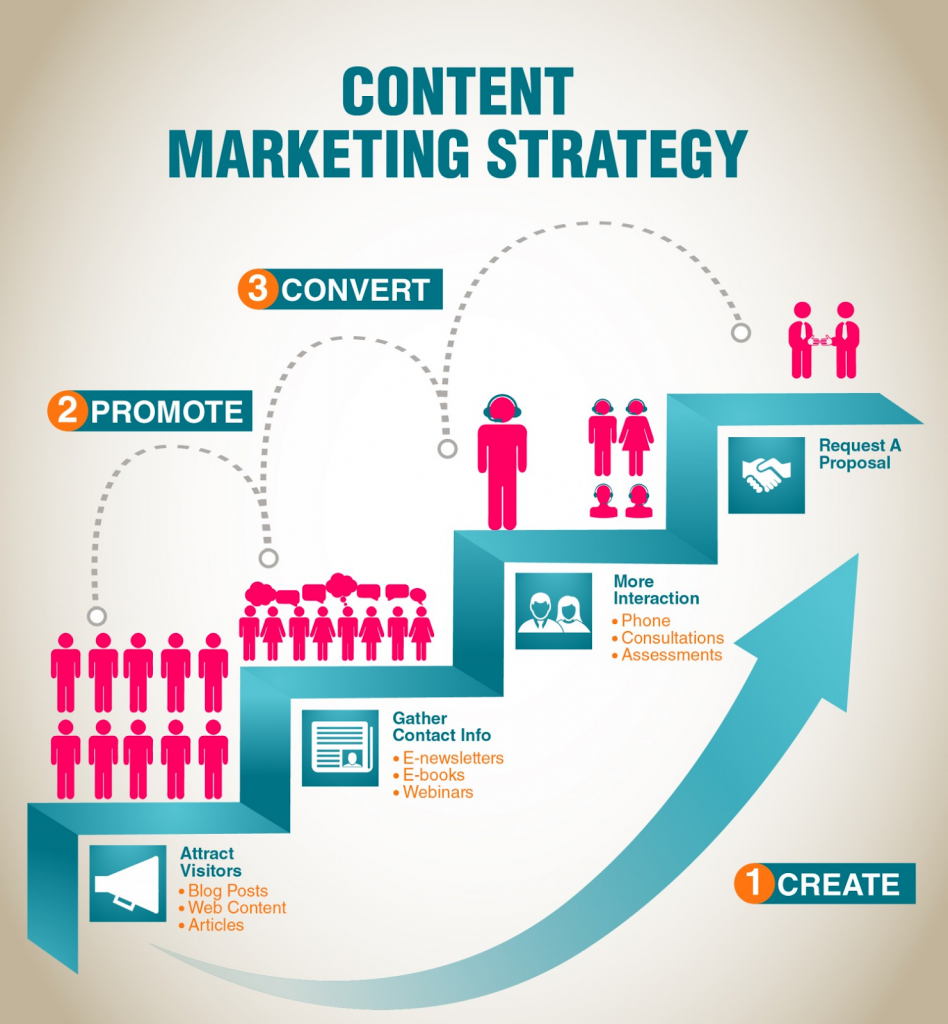 While each individual post is going to bring in a small number of web traffic compared to if you'd managed to rank that "buy books online" page, they are also going to be pretty easy and quick to rank.
Building up many of these over time and focusing on evergreen topics will allow you to consistently and reliably grow your web traffic over time, and if the content is of a high standard, you will also begin to be known as an authority in your field which can only lead to even more traffic!
Doing this well and consistently for a while will build your authority in people's eyes and build your site's authority in Google, eventually giving you a potential chance to tackle that generic search term you originally wanted.
Why is Content Marketing Important?
The situation described above isn't going away any time soon.
As we know, the younger generations currently get the vast majority of their news, information and content from online, and this is only going to increase.
Marketers around the world are preparing for this, with 72% producing significantly more content than they did a year ago.
The below graph courtesy of CMI shows just a few of the benefits marketers expect to be able to achieve from their content marketing strategies: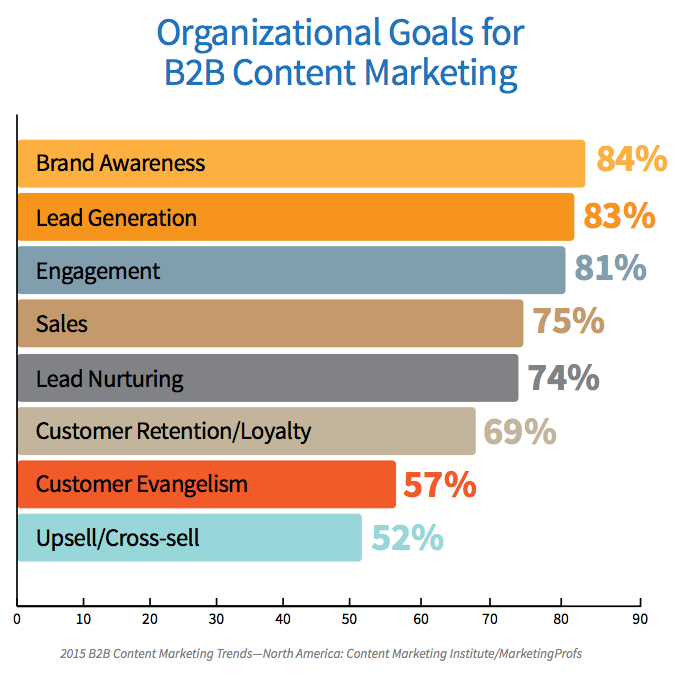 Of course, the most important aspect of content marketing is the brand storytelling angle and the fact it allows you to connect with your customers and help boost their engagement with your website, social media channels, or both!
So what are the main types of content marketing?
Why forms of content work best?
Here is a list of all the best forms of content to use:
Types of Content Marketing
There are many types of content marketing that can be achieved via many different types of content. Here are a few of the most common and successful examples: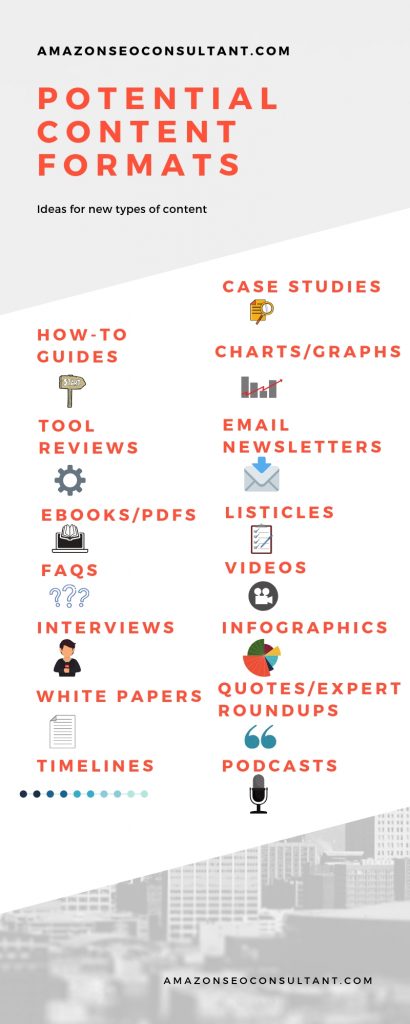 Content Marketing Blogs
For most businesses involved in content marketing, blogs are a major strategy.
Blog posts are:
Cheap to create
Very effective for SEO
A great way to bring in users that are looking to learn about your niche
Easy to fit around the tone, brand story or writing style you wish
According to Forbes, websites with a blog on average have 434% more indexed pages than those who don't.
Of course, blog posts are great bait for backlinks too, and with backlinks still being the foundation of SEO in 2023, this is something you should be paying attention to.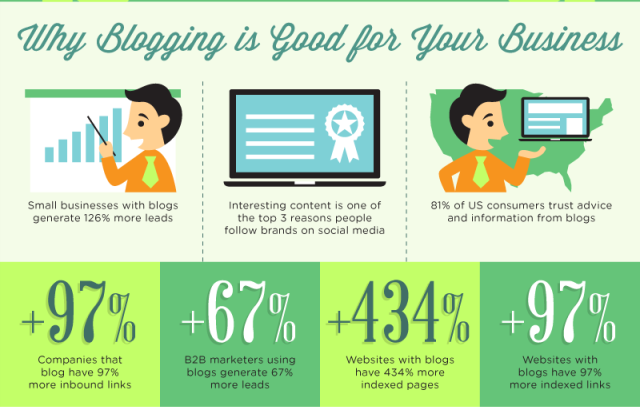 Content Marketing Infographics
Many people online have short attention spans or prefer their information in a visual format.
Infographics help with this and make statistics, trends and concepts easier to understand for the average person, while also attracting the attention and making users more likely to spend time on a page.
They can be simple or complex depending on the information they are trying to convey, but need to be clear, easy to read and attractive to the eye above all else.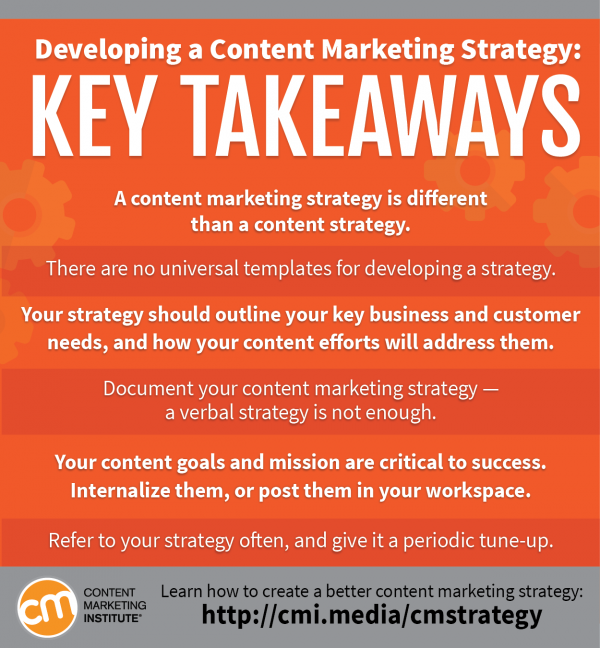 Infographics also work well with blog posts, breaking up the text and summarising certain points that are being made.
They can also be an excellent magnet for backlinks, and if you manage to create one of the best infographics online for a specific topic, you can expect other content marketers to begin sharing and linking to it when discussing the same topic, increasing your ranking and standing as an authority in that particular topic or niche.
Content Marketing Videos
Videos are even easier and less taxing to watch than infographics and can be a powerful strategy, both for content marketing and for increasing conversions.
Posting high-quality video content to YouTube can also help bring traffic from that platform to your website and boost your conversions and sales as a result.
While great video content is a little more expensive and time-consuming to create than written blog posts, 85% of all United States internet users watch video content every month and 54% of consumers want to see more video content from a brand they support.
Video is a powerful way to convey information, an effective marketing tool, and an easy way to grab the attention of those who prefer to take in visual information as opposed to reading.
Social Media Content Marketing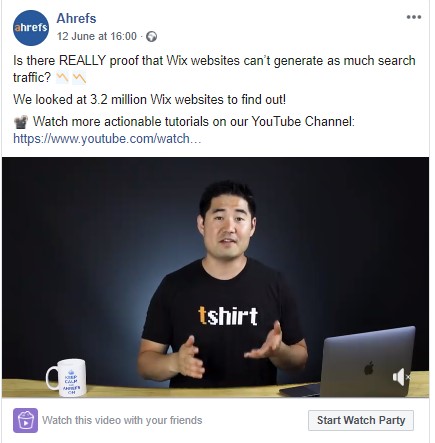 This essentially involves creating content for your social media pages to increase engagement and drive people to your products.
It can be a combination of all of the above content marketing types, involving the creation of written posts, images, infographics, and video.
A good social media content marketing strategy should usually be run alongside your own website content strategy, providing relevant content for the social media platform in question.
For example, Facebook users tend to react better to videos and written posts, whereas Instagram users will always prefer an image or infographic.
User-Generated Content Marketing
User-generated content marketing is exactly what it sounds like – using content created by your audience.
For example, if you run a clothing brand, consider asking your followers to post selfies wearing your products via a specific hashtag on Instagram.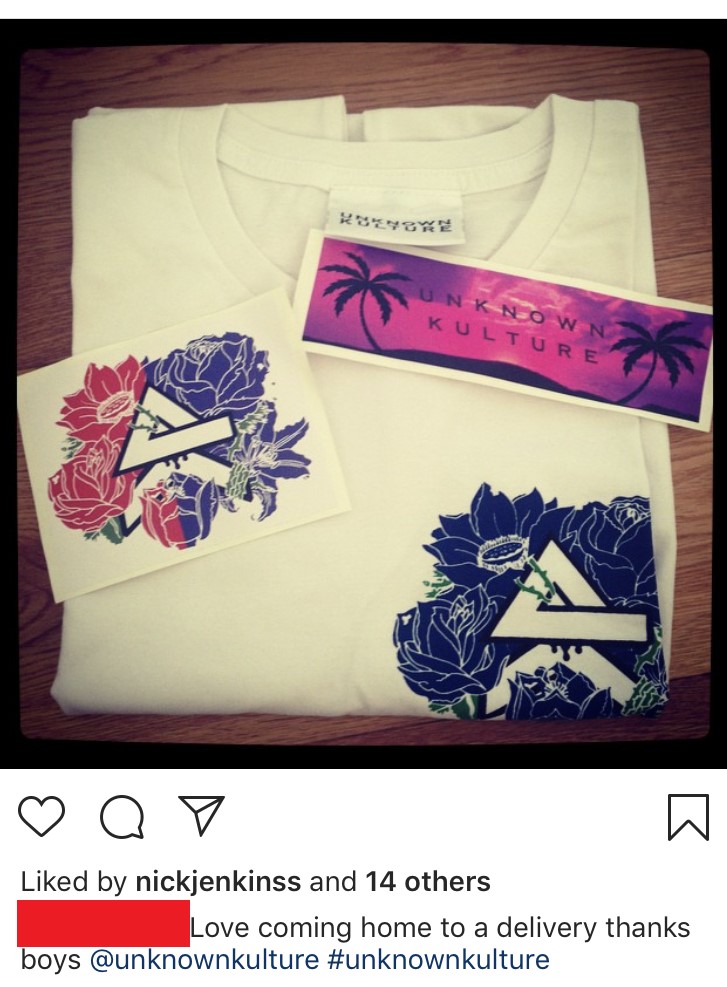 Or, if you run a sales platform, you may ask your followers to provide stories of their success and how they grew their following, essentially having them create SEO case studies for you.
In the early stages of a small startup company, this can be an incredibly valuable source of authentic, free-of-charge content.
Even for more established businesses, the benefits are huge:
Free content to post in between your regularly scheduled content
Massive social proof, as your other followers can see how much people enjoy interacting with you and using your products
Essentially makes some of your followers/customers become micro-influencers
Content Marketing on Quora and Similar Q&A Sites
This type of website gets huge amounts of traffic, and they are all people looking for a potential solution to an issue or question.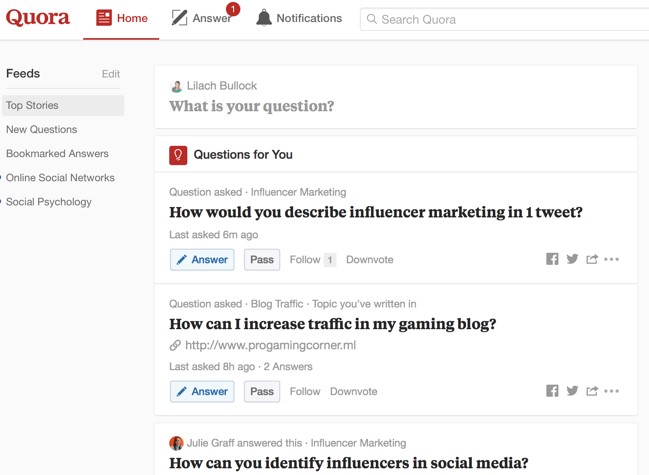 You can post replies to these questions positioning your product or service as the solution. Not only does this act as a recommendation to the person who originally asked the question, but it will remain there on the page and inform everybody who continues to search related questions in the future.
Advertising isn't strictly allowed on Quora so you will have to answer the questions honestly, providing a valuable post and then leaving your link at the end, as opposed to just spamming your site everywhere, but if you are honest and genuine about it, and your products genuinely are a good solution, this is rarely anything to worry about and is a great source of extra, highly relevant traffic.
Web forums and sites like Reddit provide similar possibilities but are often much more strict with advertising and so more risky.
Benefits of Content Marketing
There is no reason anybody interested in or involved in eCommerce should neglect to spend their time coming up with an epic content marketing strategy and begin producing the best possible content they can – it just works.
Here are just a few of the benefits you can expect to come from a good content marketing campaign:
High organic traffic from multiple routes
Increased domain authority and therefore increased rankings for non-blog post pages
Improved customer retention, trust and engagement
Plenty of backlink magnets
Be seen as an authority in your niche (if the content is good enough)
Customers check back to your site regularly
Increased brand visibility
Of course, to experience as many of these benefits as possible, you will need to regularly read up on some of the content marketing best practices in order to stay ahead of the game.
Here are the main things to keep in mind when building an eCommerce content marketing strategy:
Content Marketing Strategy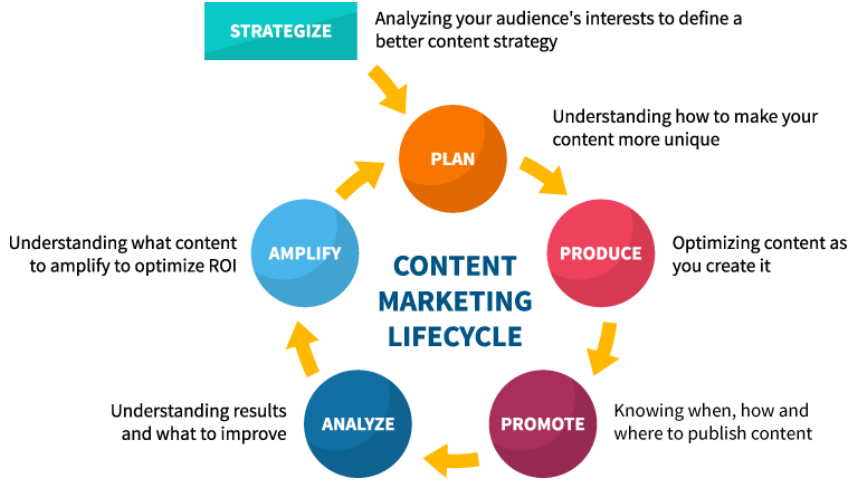 So we've discussed how important content marketing is, why it's so popular right now, and why it isn't going anywhere any time soon.
The next question, of course, is how to implement a successful strategy and achieve your content marketing goals.
The main things to consider when building a content marketing strategy are:
Your editorial calendar (what you're posting, and when)
Topic research (finding high search traffic, low competition topics for content)
Creation (your writers, video editors and other content specialists – or potentially yourself if you're a small startup!)
Audience research (what topics do people want to learn about? What topics bore them?)
Promotion (getting people to see your content!)
Voice and style (the general tone of your content)
At the end of the day, the main aim is to find topic ideas that you know you can rank well in Google and that you know your viewers are interested in and to create that content in a way that is both valuable and interesting to them but also helps them through your conversion funnel.
The First Step: Set Targets!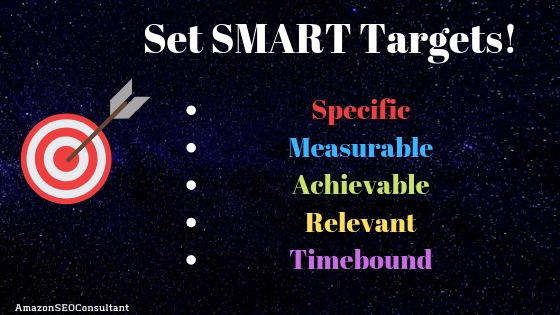 There will be times when you've spent so long creating a piece of content you can barely remember why you're doing it.
Of course, knowing why you're doing it increases the actual quality of your content too, which is why this step has to be the first thing you do.
Your strategy will likely evolve and change as you develop, so don't stress about it now too much, but at the very least you should have in mind exactly where and what you would like your business to be in 2-5 years, then consider exactly how content can help you achieve that.
Define Your Ideal Target Audience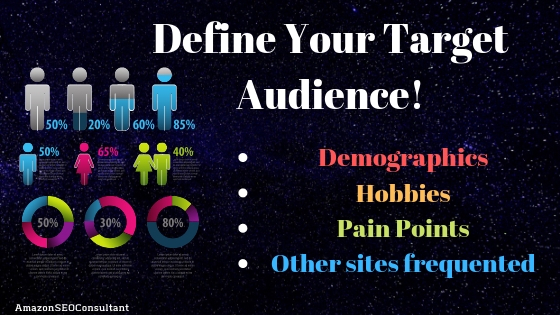 In order to keep your content pieces aligned to your site users and keep them interested, you'll have to decide exactly who you're talking to when creating this content.
A great way to do this is by building personas.
Keeping information in mind such as the demographic info of the people you're targeting, the other sites they frequent, their hobbies, interests, and pain points, makes it a lot easier to create content that directly interests them.
After all, targeting everybody just leads to vague content that doesn't target anybody effectively.
Plan Milestones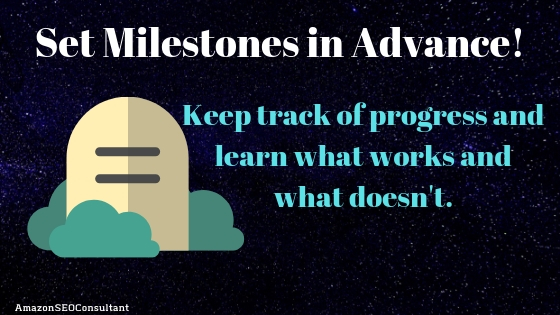 It's all good to start a survival blog with one post today and say you want it to be the #1 survival enthusiast's resource by 2023, but there are probably gonna be a few steps in between.
Setting milestones allows you to keep track of your goals and your progress in achieving them.
For example, you may want to:
Rank #1 for "outdoor survival tips" by March next year
Sell 1 lead per day to an outdoor survival course by this fourth quarter
Get 500 email addresses signed up to your email marketing by 3 months from today
Goals like this should be easily measurable and obviously need to be realistic.
After all, you aren't going to go from day one straight to achieving all of your targets, so goals like this make it easy to track your progress and at least see how quickly you're moving towards them (or if you are at all).
Create a Writing or Presenting "Style" or "Tone" That Matches Your Brand and End Goal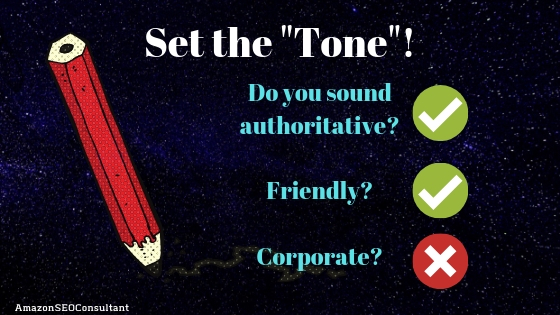 It's important to write your blog posts or present your videos, in the correct tone.
If you're running a digital marketing blog and hoping to be considered an authority in the subject, you are going to have to talk with authority, quote statistics and research, and use appropriate terminology.
If you're running a blog about the environment and ways people an reduce their impact, you might decide to take a more holistic approach, keeping a scientific angle and using statistics when necessary, but also using emotive language and words like "ethical", "organic" and "clean".
For the best results, all of your content creators should be on the same page when it comes to this.
How Content Marketing Drives Sales
Looking at how content marketing works and getting an understanding of this will make developing a content marketing strategy a lot easier and help you to create content that works for you:
If it ranks organically and is about an evergreen topic, it has no expiry date – traffic will keep coming in as long as that piece of content is live
Content = education, education = authority, authority = trust, trust = sales. As long as your content is good, this will be the case, and there is no simpler way to put it.
Millennials are rapidly on their way to becoming the biggest segment of the market, and the younger generations will be even more keyed in to online content. You really want to have a lot of content out there when this happens!
The Content Marketing World
The world of content marketing is packed full of ideas, strategies, research and case studies.
There are several top content marketing blogs, high-quality YouTube channels and other online publications that publish regular authoritative educational content regarding content marketing.
Following these sites allows your knowledge of content marketing to keep developing and their case studies may even provide you with ideas for your own business.
Of course, following an amateur one can also feed you with some inaccurate information and bad advice, so do some research and decide who is best to follow for you.
Not sure where to start?
We recently posted two guides that will help:
Best Content Marketing Books
While reading blogs and watching videos is a great way to learn about content marketing, sometimes you might want to take a break from your laptop screen, sit down, and get a bit more in-depth with your reading.
Did you know that the average person reads 2-3 books per year, and the average CEO reads 4-5 books per month?
This isn't just a coincidence, as reading is without a doubt the best way to top up your knowledge, find what other leading content marketers are doing, and find new ideas on a regular basis.
There are plenty of content marketing books on the market and tons more being released all of the time, so we would recommend doing your own research and finding well-reviewed books that appeal to you personally, but here are a few classics that are an amazing place to start if you're totally new to content marketing: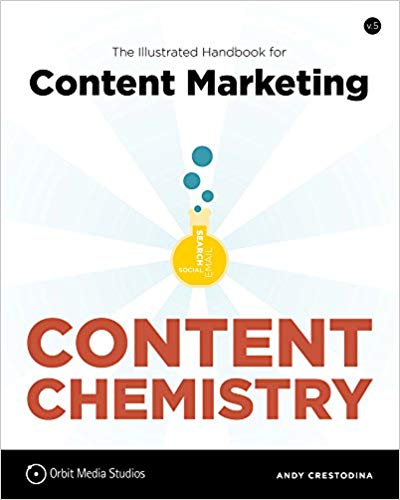 This book is written by Andy Crestodina of Orbit Media, the blog that incidentally also got a spot in our top 20 marketing blogs.
First published in 2012, Content Chemistry is on its 5th version, regularly being updated to reflected changes in the industry. The research and depth here are super impressive and for new content marketers looking for a nice overview, this is a really good place to start.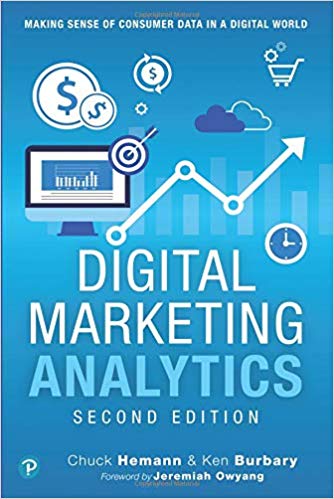 Analytics is one of the most important aspects of content marketing, as you can't expect to make content that ranks well if you don't understand the algorithms you're working with.
A lot of content marketers come from a background of writing and may potentially be lacking in this area, but Chuck & Ken's book is a complete yet digestible look at how to make data work for you and is easily understandable for even the most allergic to math among us.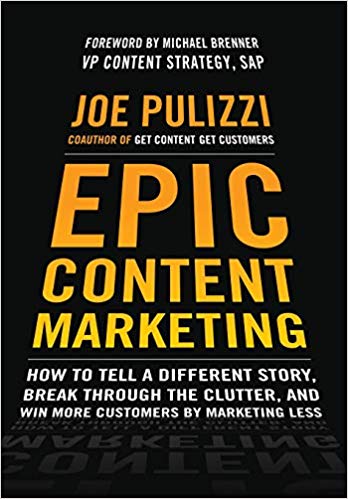 Epic Content Marketing is a veritable bible on the topic, and is a great source of case studies from businesses like Coca-Cola and LEGO too. It was listed as one of Fortune's top 5 business books and tackles many of the modern trends and challenges facing content marketers.
Other Topics to Read Up On
Outside of the obvious specific content marketing books like the ones listed above, you should also take the time to read up on some high quality, authoritative books in related topics such as:
Social Media Marketing
Copywriting and Persuasive Language
General SEO and On-Page Optimization
Adwords/PPC Marketing
Backlinks
Content Marketing Examples
Case studies and examples of the best content marketing campaigns from the past are a great source of ideas and inspiration.
Sometimes the most successful content marketing ideas are the most simple, and we've listed some here that will hopefully get your ideas flowing!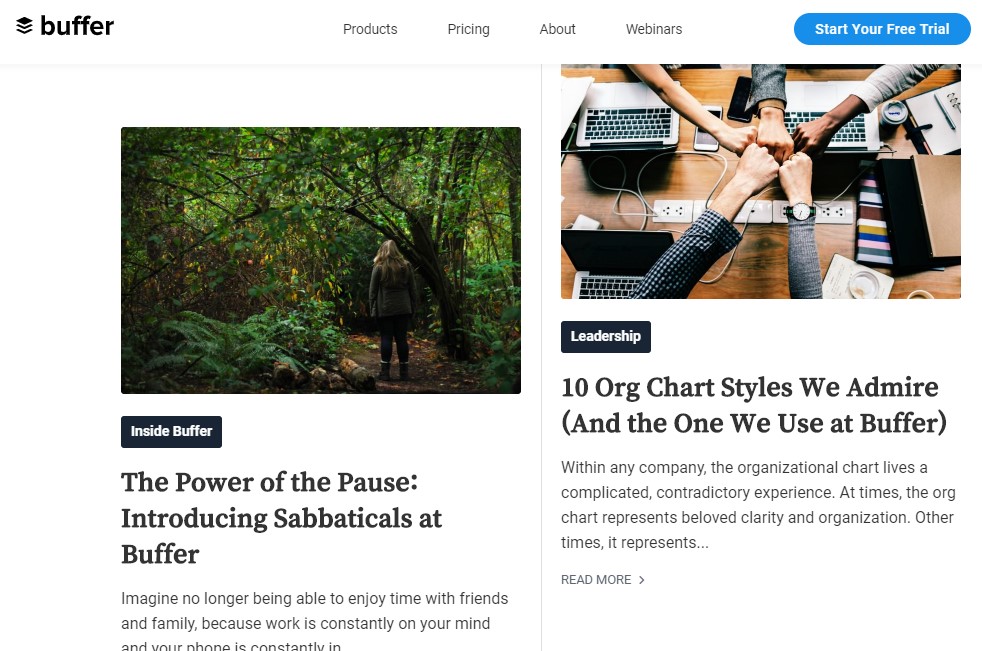 Buffer used content marketing strategy in an exemplary way to grow their audience. First, they started guest blogging on a ton of other sites, building a broad backlink portfolio and making themselves known to others within their niche.
This rapidly got them to 100,000 followers, after which they began creating content aimed at the people who hold influence over their customers.
Today they have over half a million subscribers and continue to post great content, making them a great example of content marketing for startups.
Blendtec is one of the best eCommerce content marketing examples around.
Why?
If a blender company's YouTube channel can get almost a million followers, there is pretty much no limit to what you can achieve with content marketing.
Blendtec's Will it Blend series has gone viral by using their products to blend different objects like iPhones and more.
A stroke of genius, this content marketing campaign provides interesting content to those who are wasting time on YouTube, whilst simultaneously putting across how durable and well made their products are.
The Coke Infographic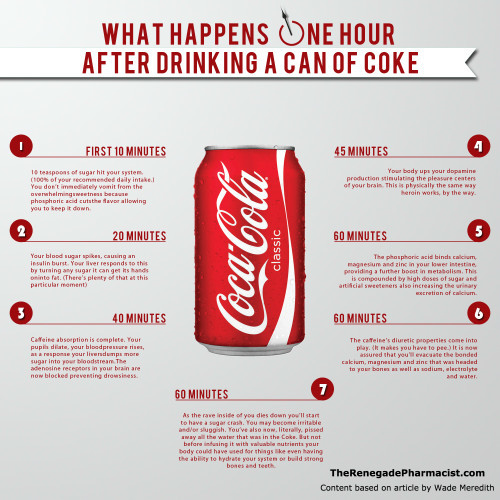 The Renegade Pharmacist created this infographic about the effects a can of Coca-Cola has on your body, and it makes for an intriguing content marketing case study.
While some of the claims it makes are debatable, it was quickly picked up by major publications such as the Daily Mail due in part to the shock factor. This led to the infographic rapidly going viral, being linked by thousands of websites and shared all over social media.
This is the most popular infographic on the internet so far and put the Renegade Pharmacist on the map to the point that the post is still on their homepage years later!
And all that with a simple, not particularly impressive infographic that anyone could make in 5 minutes on Canva – it just goes to show, sometimes it's just the idea that matters!
Who knows, the next winner of one of our future posts on the best content marketing in 2019 might be you if you get to work now!
Want more examples?
We regularly collect successful online marketing examples from around the web for your inspiration. Check out these:
Of course, you should consider signing up for our newsletter at the bottom of the page too as we post regular content marketing articles and deep dives!
Content Marketing Tips
Understand Your Content Marketing Sales Funnel
The sales funnel is a concept that explains how customers make decisions while becoming aware of, evaluating, then potentially purchasing your product or service.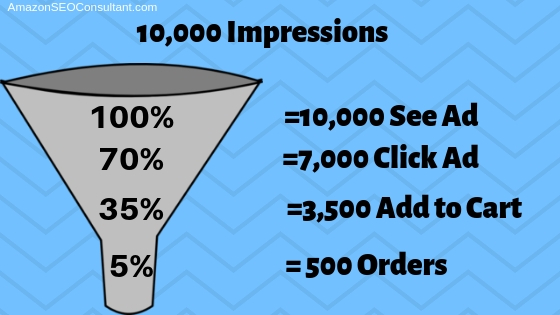 Ideally, you should remove all friction from each stage of the funnel and use scientific design and effective copywriting to pull your customers through the funnel.
The 4 main stages of the funnel to consider are:
Traffic (getting the right people to land on the page in the first place)
Conversion (using a well-designed product page and description to win their interest)
Closing (using a friction-less checkout process to win the order)
Retention (surprising the customer with a great product and using customer loyalty techniques to bring them back)
View Everything Through The Lens of Data and Analytics
Somebody whether you or an employee needs to be analysing the reach of your content.
This allows you to:
Recognise where the bulk of your traffic is coming from and make more content along the same lines
Recognise which pieces of content aren't achieving the traffic you thought and improve them or stop creating them
See which employees, content types, tools or platforms are driving engagement and which aren't
Which previously successful content pieces are becoming less relevant and may need an update
Which content pieces are evergreen and how to build more of them
Build a Content Marketing Editorial Calendar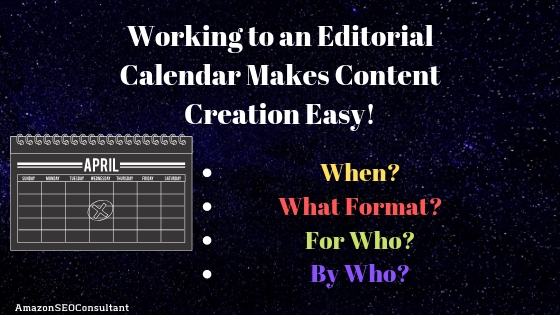 One thing you certainly don't want to do is research what topic you want to cover before creating each content piece.
This is a surefire way to waste a ton of time that could be spent on content creation, miss out some ideas for great content, and even potentially duplicate content pieces that are way too similar to waste time on separately.
Instead, consider spending a week or two doing all of the topic research and keyword research up front and setting out a calendar of posts for the next year or at least the next couple months.
This lets you:
Ensure all bases are covered in terms of the topics you want to cover
Make sure nothing is duplicated or too similar, and potentially combine pieces into one if they are
Plan in advance what type of content each one should be (YouTube video, blog post with a video embedded, blog post and infographic, etc)
Schedule time-specific posts (such as top 10 lists for the past year or predictions for the next year in December, or posts around annual events in your niche
Split content pieces among different creators or outsource certain ones to maximise productivity
Make Sure Each Piece of Content Solves a Problem for Your Audience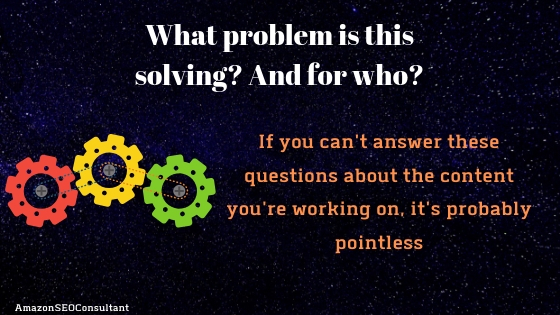 One of the main points of persona marketing is to get yourself into the heads of your target audience.
This is crucial because each piece of content needs to solve a problem for your audience, otherwise, it isn't going to get the views and engagement you're looking for.
For example, let's say I run a motorsports blog and you're one of my readers who is an avid racer and motorsports fan who's ambition is to become a professional Formula 1 Driver one day.
Content I can make that would be relevant to you includes:
Video interviews with famous drivers about their careers and how they succeeded
Blog posts of driving tips and advanced techniques from the pros
Summaries of big race events and breakdowns of what happened
Content that may at first seem relevant to you, but is likely of zero interest whatsoever, includes:
Basic guides to driving explaining what the different pedals do
Videos of how fast we can go around a racetrack on a pushbike
Infographics on how electric cars work and why they are more efficient
Before coming up with any content plans or starting to create content, you need to know exactly who your audience is, what their level of knowledge and experience is, the problems they face regularly, and the resources or advice they will be looking for to overcome those problems.
Once you know this, it is extremely easy to create content that solves those problems and answers their questions, and how can they not engage with that?!
Don't be Afraid to Update, Repurpose or Change the Direction of Content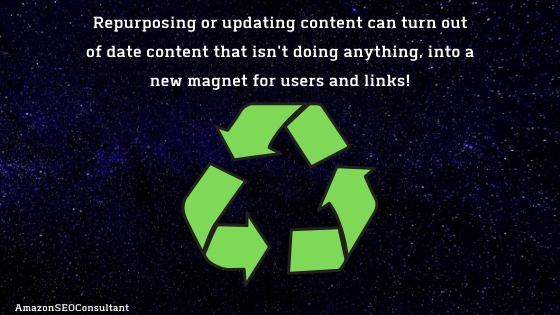 Sometimes, pieces of content just aren't working.
However, this doesn't always mean they're bad.
Sometimes a piece has just become a bit dated, or is in the wrong format for what it's trying to do, or needs a new lease of life somehow.
Instead of throwing away your hard work, it's always a better idea to update or repurpose these pieces to give them a new life.
You can try:
Updating guides from last year with new information to create an accurate and up to date guide for this year
Turn an old internal staff training package into a paid training course to sell
Create whitepapers or proposals from old case studies
Turn old blog posts into PDF guides or old animated videos into infographics or slideshows
Content Marketing Services
Would you rather find experts with tons of experience and already existing processes to manage your SEO/content marketing strategy for you?
Why not let one of the top content marketing companies in the world handle it for you?
Our team includes some of the leading content writers, technical analysts and backlink experts in the industry, so Request a Proposal to learn more about how we could create relevant, engaging content for your brand and boost your traffic and conversions, leading to bigger profits!