Inbound marketing explained
The simplest way to describe the inbound marketing model is that it's all about creating content that brings customers to you.
Old-school/traditional marketing is about buying adverts to go in advert breaks, cold-calling people, putting billboards up so people are FORCED to see your message and many other similar strategies.
In other words, traditional marketing involves positioning your message in front of the content people actually want to see, forcing it down their throats.
This can obviously be successful but is also very easy to avoid or ignore since the general public is so used to getting marketing messages thrown at them from all angles.
Inbound marketing involves creating educational or informative content that makes people come to your website of their own will, slowly learning about you and the products you offer over time.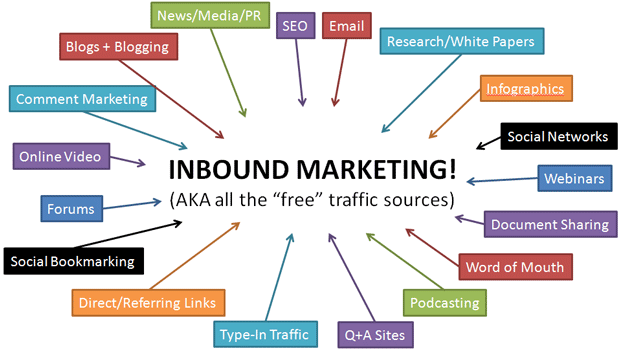 Coined by Brian Halligan of HubSpot, and developed further by marketing experts since inbound marketing uses two main cornerstone concepts:
Content
This aspect of inbound marketing involves creating content that is well optimized for Google and designed to be valuable to your target audience and grab their attention. In other words, this part is content marketing.
Context
This aspect of inbound marketing focuses more on personalisation. It involves being aware of which types of tone and content help your customers through the conversion funnel, and changing the messages, images and calls to action that users from different traffic sources or on different landing pages see, in order to make the most effective use of this knowledge as possible and increase sales.
Inbound Marketing Definition
The definition of inbound marketing, from Brian himself, is:
Marketing with a magnet, not a sledgehammer
According to Wikipedia, the meaning of inbound marketing is:
a technique for drawing customers to products and services via content marketing, social media marketing, search engine optimization and branding.
The simplest way to explain the inbound marketing process is that it's all about giving your potential customers the actual content they want to see, instead of forcing your way in front of it.
The History of Inbound Marketing
Inbound marketing was originally coined in 2005 and has been slowly growing in popularity ever since.
While there was a time when all marketing was "outbound", ever since the internet has increased the proliferation of online content, guides, blog posts, etc, both content marketing and inbound marketing have been on the rapid increase.
Research shows that leads from inbound marketing have a 14.6% likelihood of closing, compared to only 1.7% with direct mail advertising.
This graph from HubSpot shows how many online businesses are focused on growing into new inbound marketing channels, and which ones they are prioritising: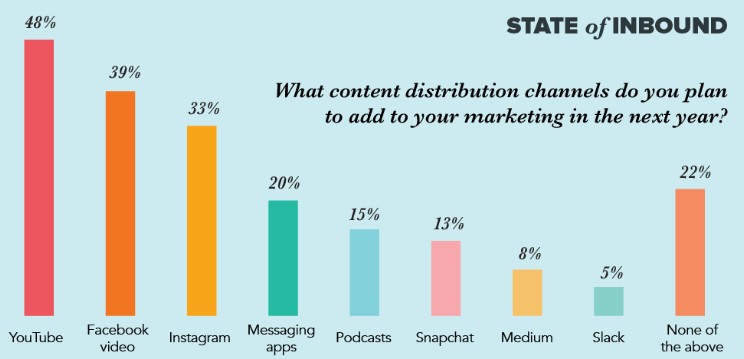 With the number of people consuming content online growing rapidly and old methods like TV advertising providing less and less of an ROI, inbound marketing is on the path to a bright future.
So why is it catching on so quickly?
Why Inbound Marketing Works
There are many reasons as to why inbound marketing works so much better than traditional marketing techniques.
A More Consumer Friendly Approach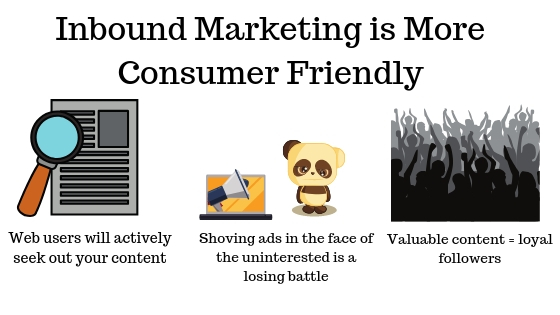 One of them is that it's simply more friendly and unobtrusive for the people the marketing is aimed at.
Which situation would you rather be in?
A marketing agency cold calls you or sends you an unsolicited email breaking down exactly what they can do for you and asks you to contact them for a quote.
You research the type of marketing you need yourself and find a good video on the topic. You don't want to do it yourself and assume the people who made the video are knowledgeable, so you ask them for a quote.
Most consumers will always choose the second route because it puts them in control and doesn't subject them to rehearsed marketing speak, which they often struggle to trust.
The Exponential Growth of Digital Media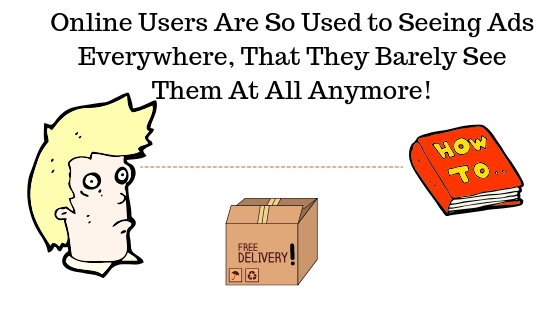 If you think of a popular niche, you can guarantee there are TV shows, radio shows, podcasts, magazines, and websites that cover it in detail, all of which are covered in advertisements.
Customers are getting more and more used to simply ignoring advertisements in order to find the content they actually want, so it's a good idea for your business to be communicating with them from there, instead of from the banner on the side of the page that they don't care to look at!
How the Inbound Marketing Funnel Works

The inbound marketing methodology allows businesses to take potential customers and leads through the 5 stages of the b2b inbound marketing funnel shown in the above diagram.
High-quality content attracts the users and provides them value in order to keep them coming back and building an affinity with your brand.
Typical conversion techniques such as calls-to-action, product listings and landing pages then help to convert them into leads.
Your own internal processes can then close them and turn them into customers.
The final step of delighting the customer by providing a better product than they expected or included some other free benefit, is arguably the most important stage – as this ensures your customer has had a positive experience overall, leading to better customer retention as well as word of mouth.
Types of Inbound Marketing
The main forms of inbound marketing are of course:
While other techniques can be used, a combination of all three of these being done well is likely to attract a large number of strangers to your brand to your site and introduce them to the first stage of your inbound marketing funnel.
How to Do Inbound Marketing
Now that we've covered the basics of inbound marketing 101 or inbound marketing for dummies, the next question is how best to implement it across your business.
Step 1: Setting Goals and Gearing up for Content Creation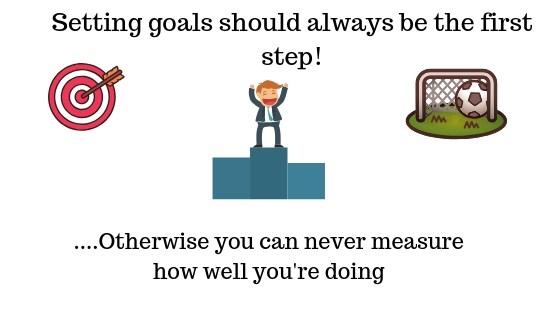 The first and most important step is to begin building a culture around content in your team.
Ideally, you should be ready to hire a highly qualified content creator who is willing to oversee your content strategy, but if you can't afford this you can get all existing team members on creating content part-time.
Are you a sole trader just starting out with no team yet?
Check out our guide to content marketing and get creating this stuff yourself!
Either way, an effective inbound marketing strategy requires not just a consistent content strategy, but a consistent dedication to improving your content over time too.
You will also need to set realistic and achievable goals for your inbound marketing strategy, allowing you to keep track of progress and see which inbound marketing channels are running smoothly and which need work.
Step 2: Bringing in Traffic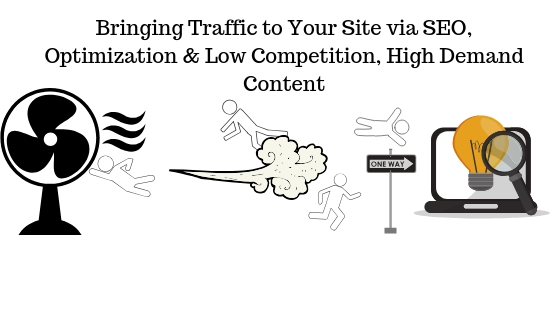 The next step is to actually start bringing people to your site.
The main steps involved here are:
Keyword research
On-page optimization of all existing pages
Creating content topics and an editorial calendar
Having somebody writing full time and posting regular content
A PPC campaign to promote both your content and site as a whole
A complete social media marketing strategy – sharing your content across all inbound media platforms will drastically increase your content's views
All of the above can be improved over time but should be built out as effectively and comprehensively as possible from the start.
All of these things work together closely and can exponentially improve the effectiveness of each other, for example writing a blog post alone might get you 500 views, but writing a blog post, setting up PPC ads to it and sharing it on social media may get closer to 2,000.
This is an example but the point is clear – your inbound marketing tactics are one, self-contained system that needs to be optimised as such.
Step 3: Turning Traffic into Leads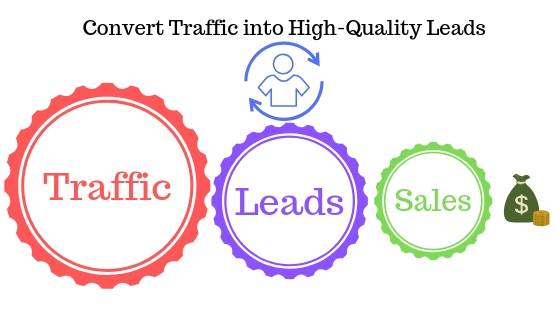 Of course, having a site full of high-quality content and a large audience that consume it every day isn't worth a great deal if you don't have some sort of conversion strategy in place to turn them into qualified leads.
One method of doing this is by offering premium content in return for a user's email address.
This can work well for:
White papers
Templates and downloadable resources
PDFs or eBooks
Case Studies
Of course, the traditional techniques of conversion work too, with landing page design and calls to action being crucial at this stage.
Step 4: Turning Leads into Customers
This stage is all about lead nurturing and automated workflows.
You should have a good CRM system set up that allows your sales team to have access to information on leads and where they have come from, allowing them to answer calls or emails in a custom, targeted manner.
The more automation the better, as automatic marketing emails and even automated internal notices help to make this part of the funnel keep running smoothly and creating profit.
Step 5: Customer Retention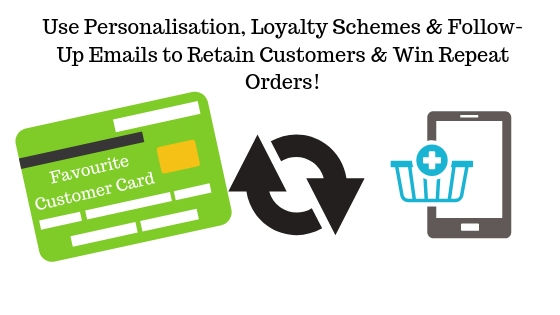 Continuing to produce great, relevant content, using segmented newsletters and delighting your customers should keep them returning time and time again, but there are a few other tricks you can use, namely:
An effective customer retention strategy will improve your ROI a lot and prevent the work done in the other stages being wasted by encouraging customers to return as much as possible.
Best Inbound Marketing Tools
There are a few software options that can make inbound marketing a lot easier. We have listed a few here that we can personally recommend:
Canva

Canva makes it easy to create infographics, graphs, posters, images for blogs, social media profile pictures, eBooks and more, even with zero art experience.
It also comes with a wide variety of stock images and free clip art that are surprisingly decent quality too.
BuzzSumo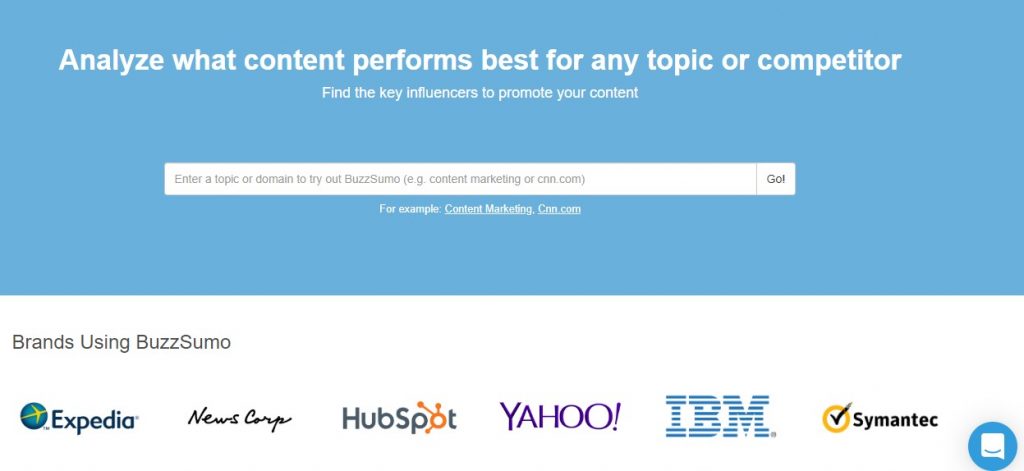 BuzzSumo is an extremely handy tool for finding content topics and subjects that appeal to your target audience.
It allows you to easily see which existing content is getting a lot of shares and which isn't getting much interest. This makes it super easy to qualify your own planned content topics, prioritise them, and decide which are probably not worth creating.
HotJar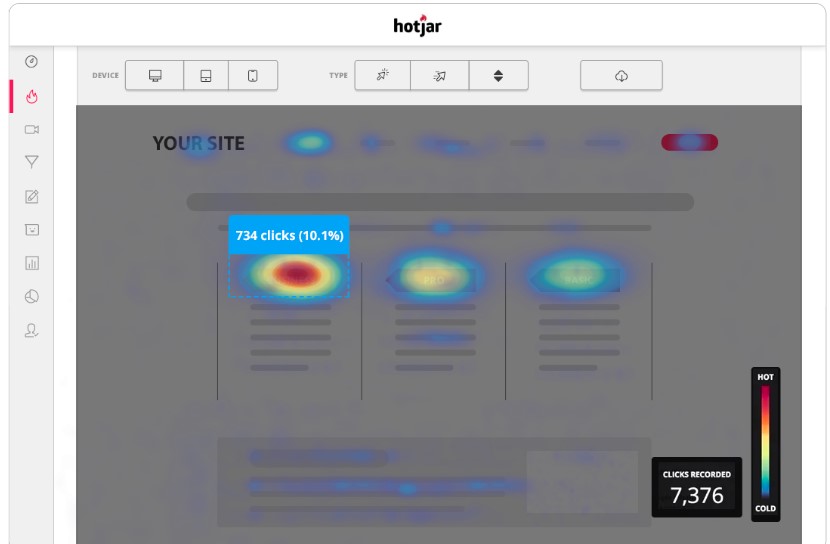 HotJar makes optimising your site and landing pages easier than ever by providing feedback and insights into how your site users behave.
This includes all sorts of data on how people interact with your website, heatmaps to see where people focus their attention, and an in-depth analysis of your conversion funnel!
Inbound Marketing Tips
By now you should have a good enough understanding to build an inbound marketing funnel on your website, analyse its effectiveness, and easily answer questions like "what is the difference between inbound and outbound marketing?".
With that in mind, here are a few inbound marketing tips to keep in mind and help your inbound marketing plan to go as smoothly as possible:
Cornerstone Content Works
When you look at the best inbound marketing companies and blogs, the one thing they all have in common is a focus on cornerstone content.
Large case studies, downloadable white papers and eBooks help you to be seen as an expert in your industry and easily encourage users to sign up to gain the insights within.
Even an eBook sold on Amazon can be used as a lead magnet by encouraging readers to visit your site both in the book itself and via a follow-up email on Amazon.
Personalisation is Always Better than Generic Content
Personalisation is becoming more attractive than ever, and things like chatbots, gamified loyalty schemes and even something as simple as personalised product recommendations all help to increase time spent on your website as well as the affinity your customers have for your brand.
Begin Thinking About Voice Search
Products such as Alexa or Siri, that allow users to search the internet by voice, are growing in popularity.
The first thing you have to do to be ready for this is to keep in mind the impact it will have on search terms when planning your keyword research. We can expect the average keyword to get longer and more conversational as this becomes a bigger and bigger part of how people use the web.
It's also a good idea to optimize for "[service] near me" as this is how people can search for local businesses by voice search and is likely to increase in popularity too.
We hope this guide has helped you get around inbound marketing. The best inbound marketing examples will make use of every point mentioned here, so don't be afraid to go as granular as you can and optimize every single stage.
Inbound Marketing Services
Would you rather have the #1 inbound marketing team in the UK manage your content and inbound marketing strategy?
Request a Proposal now to see how we can apply years of experience to your business and boost your profits in the long-term!