Sometimes, success in eCommerce is just a matter of learning the right information at the right time.
If you're anything like us, you're constantly hungry for new information, statistics and strategies to succeed at selling online.
Well, you'll be glad to know we've listed the best eCommerce blogs here, giving you an easy to use list of some of the best resources available online. These blogs are run by industry leading content creators, SEO experts and marketing pioneers, just like this one is, which you'll already know if you've been following us for a while.
The beauty of content marketing is, if a content marketing or eCommerce blog has become one of the most well-known, you know they know their stuff. The top eCommerce blogs provide regular data-driven insights and tested strategies, so keeping up to date on them is keeping up to date on the industry.
We recommend learning everything you can from as many different sources as possible, and maybe even signing up to a few of their newsletters to keep up to date – after all, there is no better place to get up to date insights and strategies than these eCommerce marketing blogs.
To find some of the best blogs of 2023, check out this list:
ReferralCandy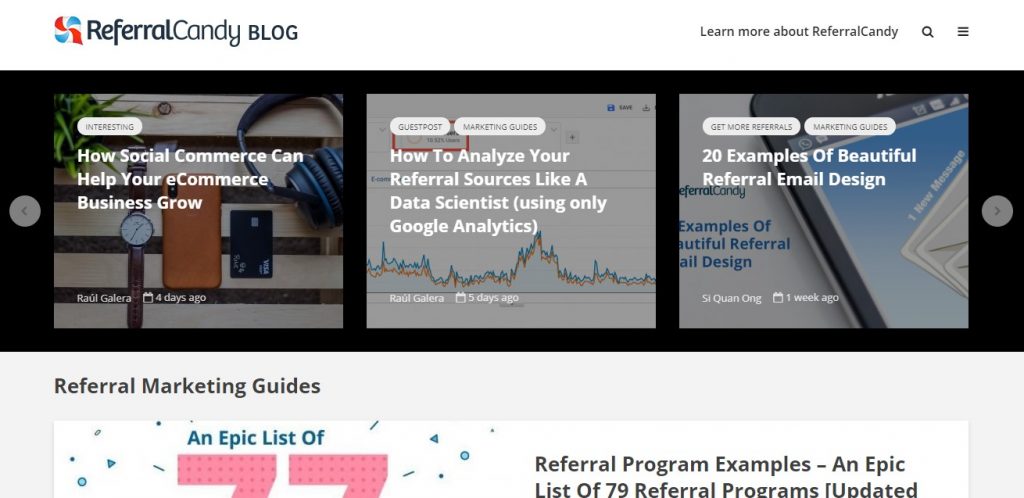 Around since 2013, ReferralCandy is a site that focuses on eCommerce news, content marketing and especially ways of getting positive word-of-mouth.
Their main product is actually a referral programme (duh) that works really well if you're looking for one, but their blog posts cover a wide range of topics and are worth following even if a referral programme isn't a priority for you.
RepricerExpress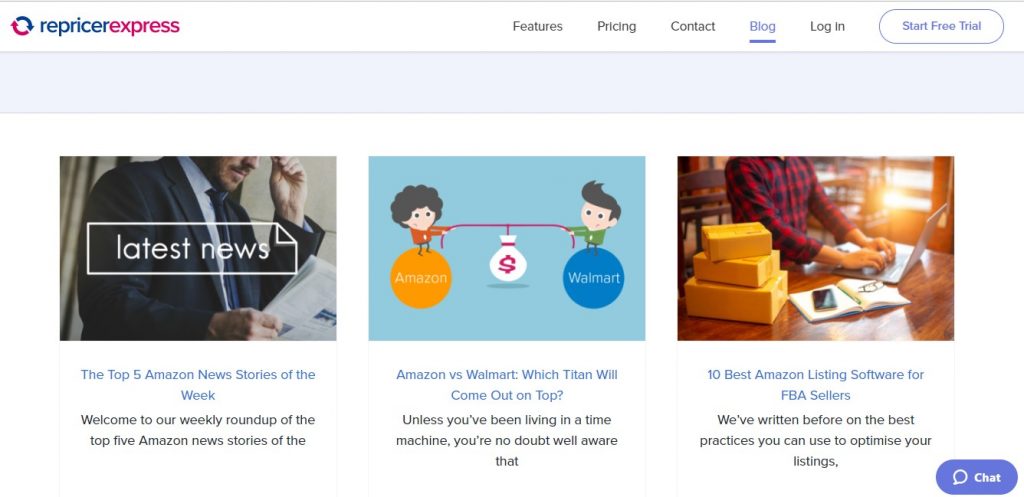 RepricerExpress sells (you guessed it) Amazon repricing software. While we haven't tried it yet and sadly can't provide a recommendation either way, their eCommerce blog is full of great content.
They also post weekly Amazon news roundups and regular guest posts to keep things fresh. Since they focus on selling on Amazon just like us, if you read our blog, RepricerExpress is probably highly relevant to you too.
BootStrapping eCommerce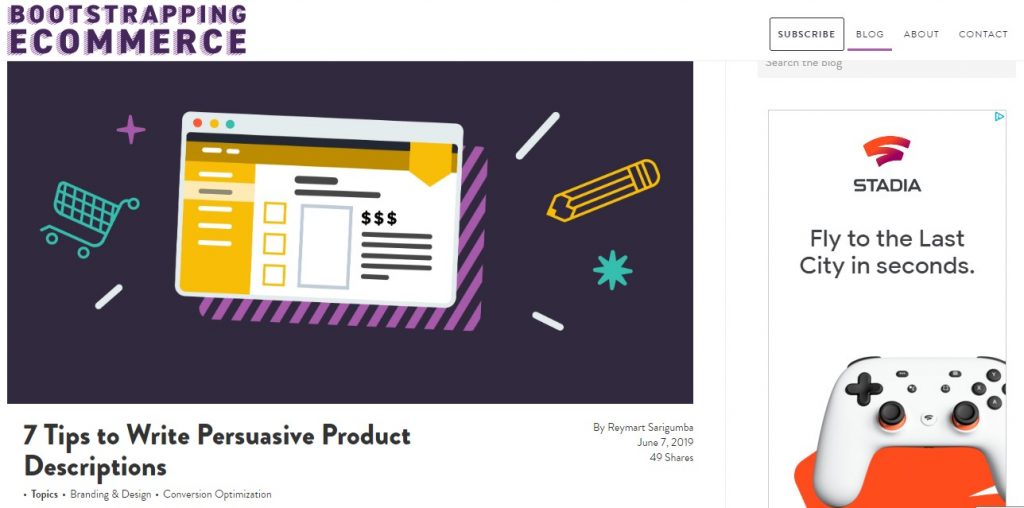 Bootstrapping eCommerce focuses on finding ways to do things on the cheap, making it one of the best eCommerce marketing blogs for those who are just starting out on their own and hoping to make a splash without a huge investment.
The topics fit the same target audience and are likely a bit simplistic for experienced eCommerce marketers, but for those who are looking to learn the basics before diving deeper, Bootstrapping eCommerce is an excellent resource.
GotchSEO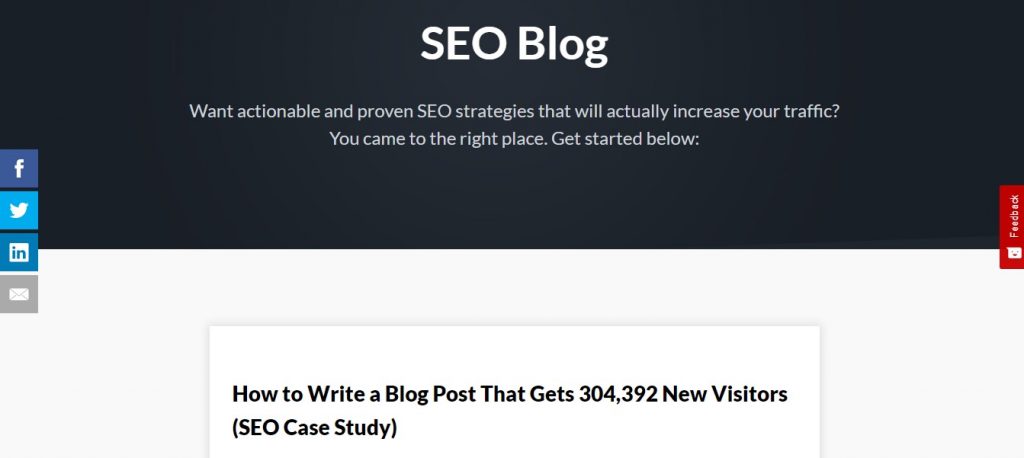 Gotch SEO is one of the best eCommerce sites around and began as an SEO Consultant Agency.
They no longer take on any clients in this regard and instead focus on educating the world about the SEO techniques they picked up during this time via the Gotch SEO Academy and regular, in-depth blog posts.
Their content tends to be extremely long and in-depth with a lot of data – so it's not where you go for quick answers, but if you're looking to grab a cup of coffee and go through a topic in full, they've got you sorted!
BigCommerce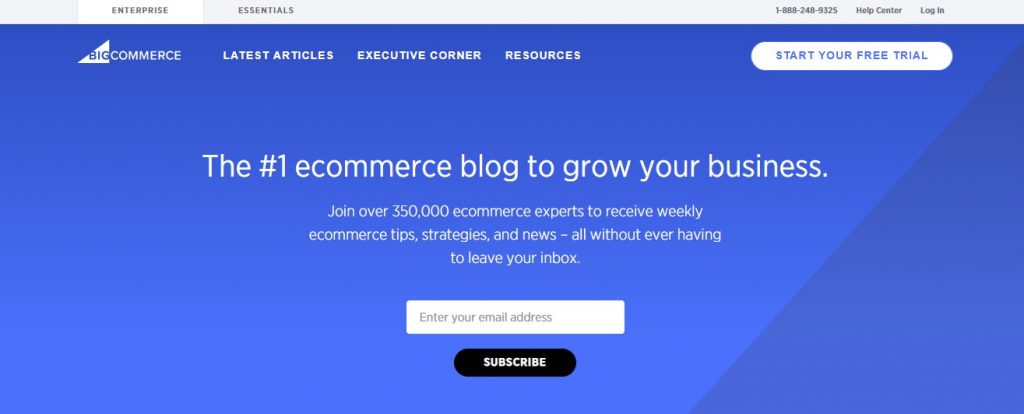 BigCommerce is an eCommerce store platform along the lines of Shopify, but they run an excellent eCommerce blog on the side that posts regular tutorials and case studies based around useful topics such as email marketing, branding and even some slightly more unusual ones like warehouse management.
Regardless of whether you're a customer of theirs or using some other platform, BigCommerce is undoubtedly one of the top eCommerce blogs and an excellent place to pick up new insights and ideas.
CPCStrategy/Tinuiti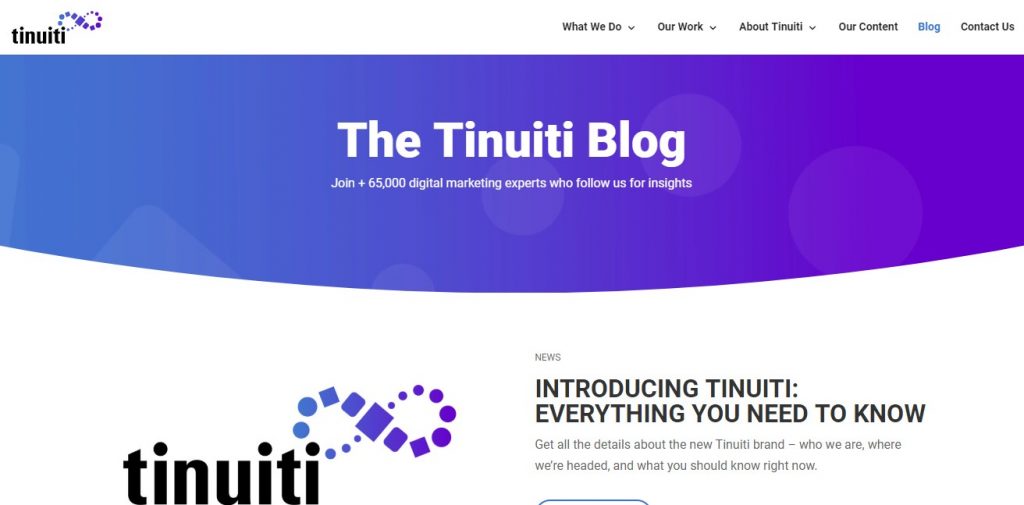 CPCStrategy has long been one of the top eCommerce blogs and has just recently rebranded to Tinuiti. As an agency that prides themselves on analytics in marketing, a lot of their content is extremely valuable and forward-looking.
The UX is great too and we're excited to see how their new brand and design will go in the future.
AmazonSEOConsultant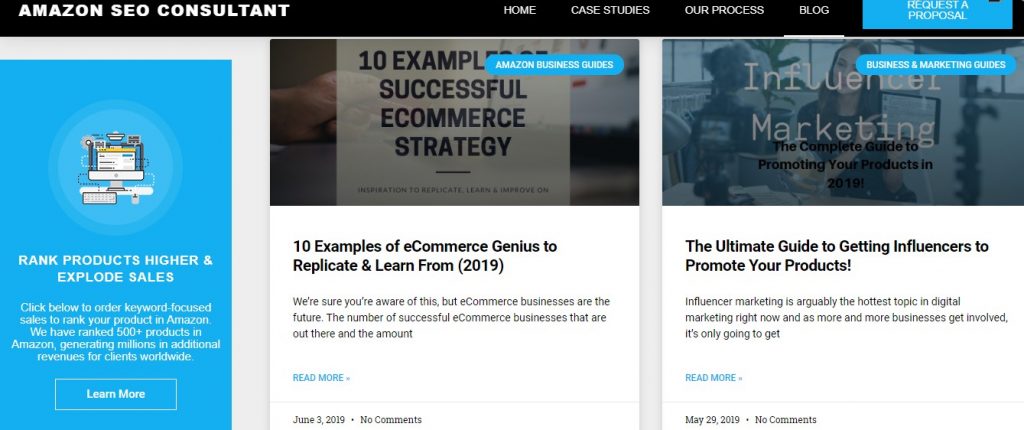 Of course, we had to include ourselves here!
As the #1 Amazon SEO agency for the past few years, we decided not too long ago that we would start posting useful guides and case studies based on the unique strategies and processes we successfully built for our clients.
The result has been an incredible response from both our readers and our Google rankings, and it's an honour to become considered one of the top eCommerce sites.
It's only upwards from here, and we hope you'll join us in our journey!
Entrepreneur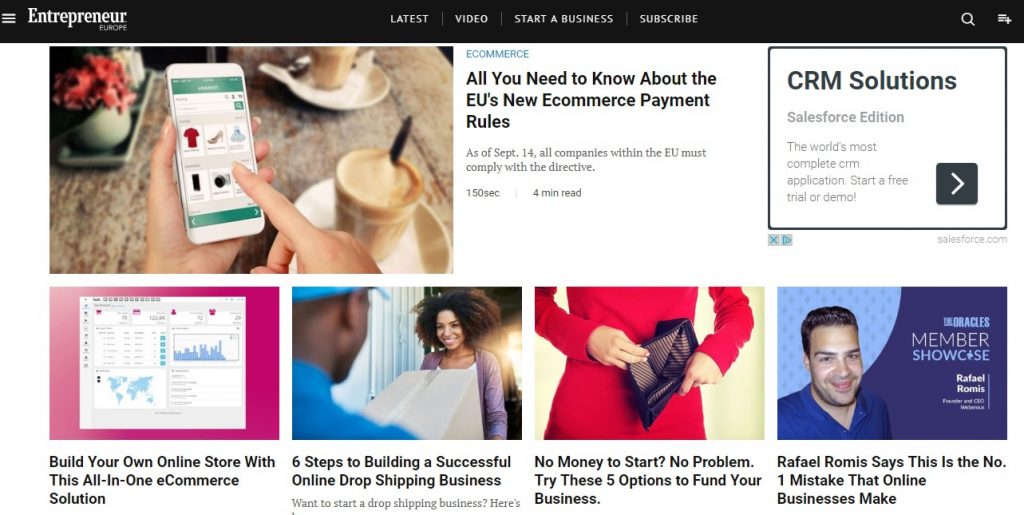 Entrepreneur is a pretty varied resource, with content including eCommerce marketing guides, podcasts, and Case Studies based around finding success with traditional businesses such as butchers in the eCommerce age.
They are focused around being a great blog for Entrepreneurs and hopeful Entrepreneurs, so it isn't all eCommerce, with guides on investment and even businesses up for sale.
For those who are looking to learn how to make money online, Entrepreneur is a great place to start.
A Better Lemonade Stand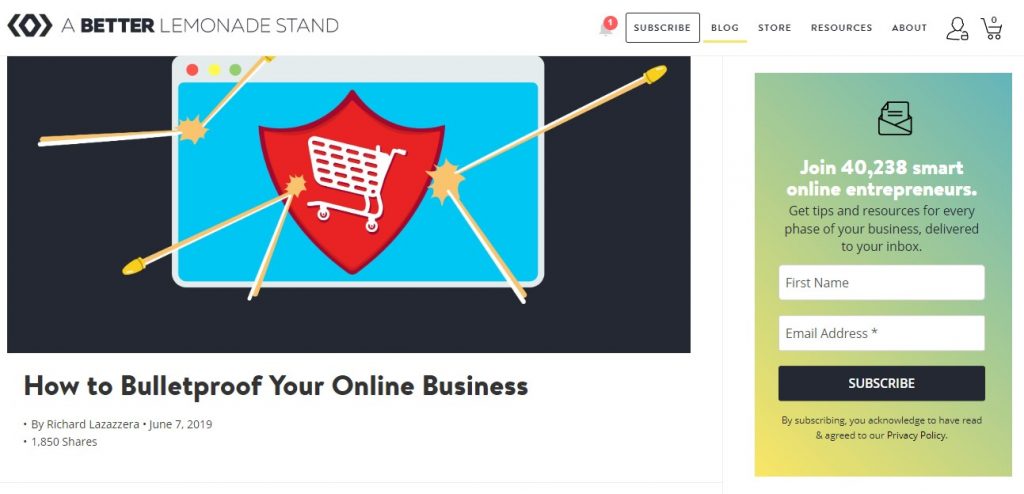 A Better Lemonade Stand is one of the top eCommerce blogs, in part due to that extremely memorable name, and also due to the extremely broad range of topics they cover.
From cybersecurity to Instagram marketing and from Shopify themes to gamification, if something is relevant to eCommerce marketing, they have covered it at some point.
While this list isn't provided in order and all of these blogs are worthy of your attention, if we had to choose one for you to follow (besides ourselves) it would likely be ABLS due to the sheer variety and breadth of the topics covered.
Neil Patel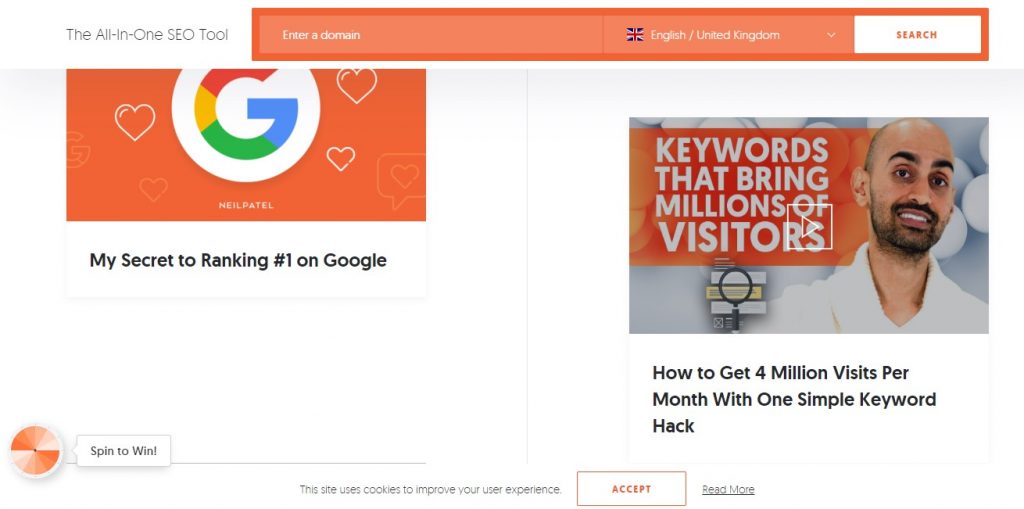 Formerly of KISSmetrics, Neil Patel is a leading figure in SEO and eCommerce, selling SEO tools and offering blog posts and YouTube videos on a wide variety of marketing topics.
The site is currently more podcast and video than written content, and it's up to you whether that's a positive or a negative. Either way, Neil's blog is full of data-driven insights and his experience in the industry is inarguable.
HubSpot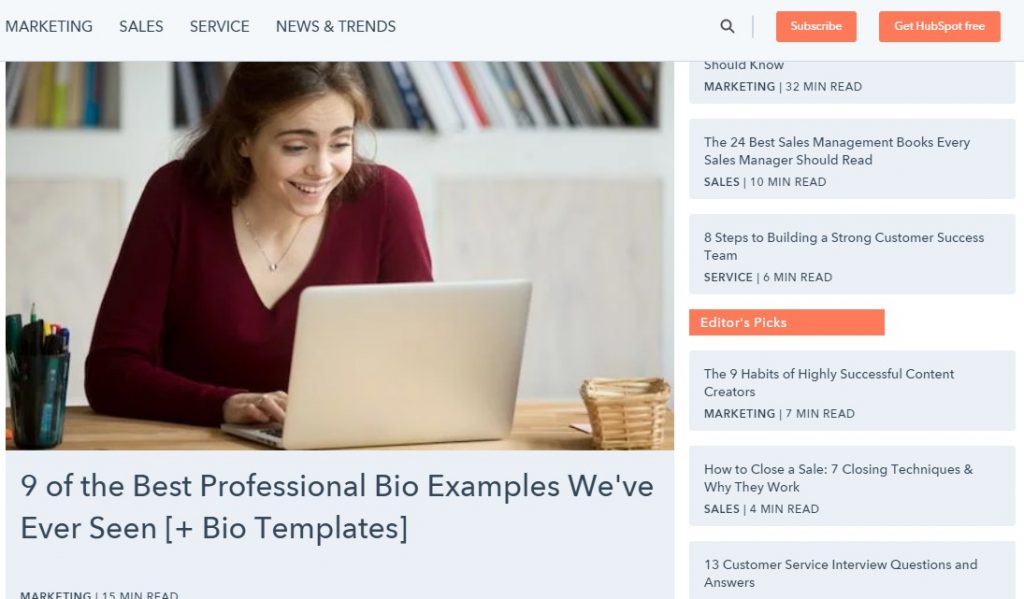 HubSpot specialises in inbound marketing and is one of the top eCommerce blogs if not the best, period, in this topic.
A lot of their content is also more generically business-related than eCommerce specific, with guides on topics such as employee engagement and techniques for salespeople.
This is ideal for company executives or even startup entrepreneurs, as the blog is full of new strategies and techniques from almost every aspect of running a business in 2019.
AHRefs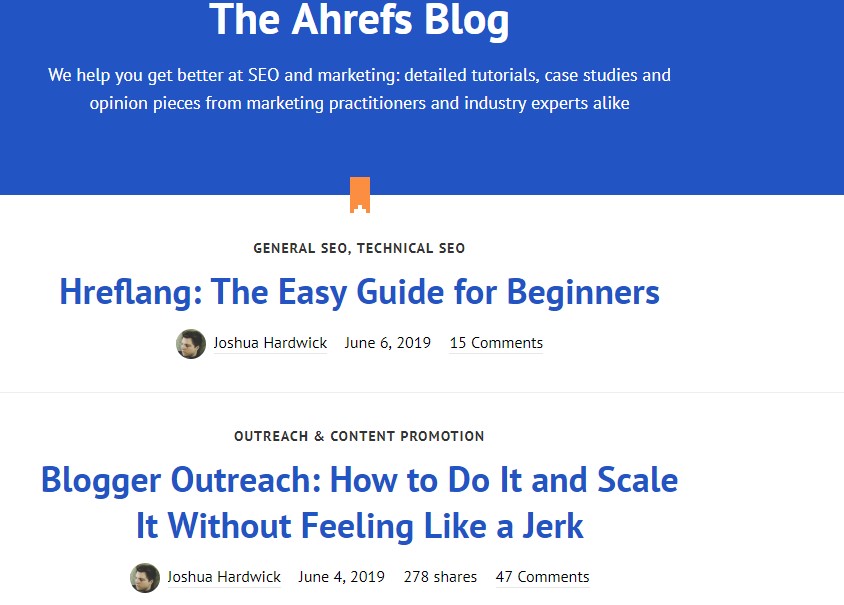 AHRefs is at the top of the SEO game right now, in part due to their industry-leading SEO tool, but also because of their educational blog content and YouTube videos.
AHRefs are onto something with their tool as it's comprehensive, easy to use and has more accurate data than any other we've come across. We use AHRefs tool ourselves for many things such as backlink analysis. But, they arguably stand out even more when it comes to content.
One of the best SEO tools becomes even better when you start following their blog, as they post short, easy to watch videos that share a variety of strategies and techniques to leverage their tool even further.
Combine both AHRefs software and their blog into your marketing strategy, and you are going to make progress pretty quickly!
KeyworX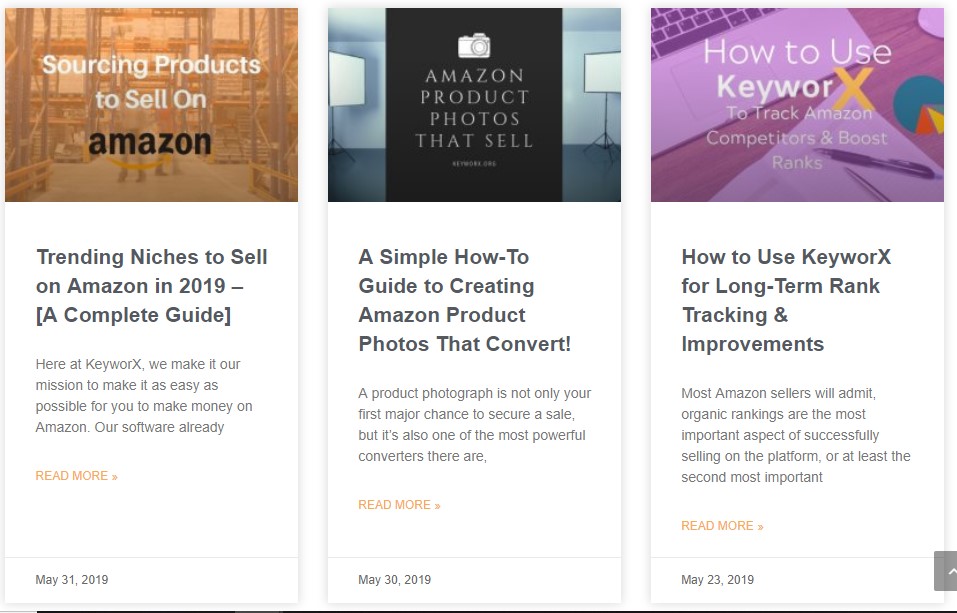 Another industry-leading tool turned insight/educational powerhouse, KeyworX is in many ways the AHRefs of selling on Amazon.
While earlier on in their career than AHRefs and still growing rapidly, KeyworX provides the best Amazon rank tracking software we've come across, which topped our list of rank trackers in our post on the best Amazon seller tools and is an absolute must if you sell on Amazon.
Similarly to AHRefs, they also provide amazing educational content which makes using KeyworX effectively to achieve ranking increases and optimizations that you never thought possible, as easy as pie!
Backlinko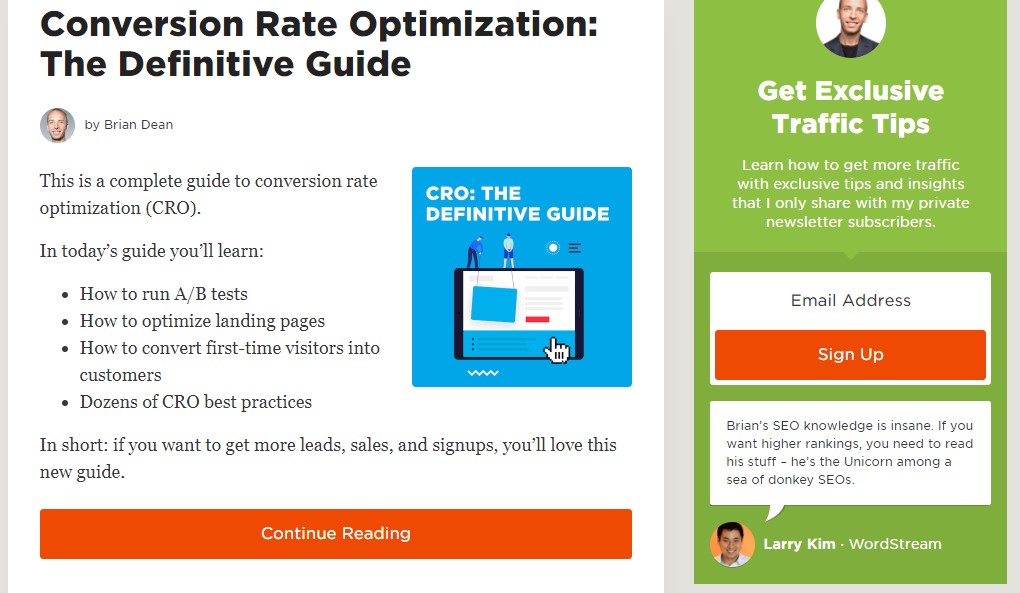 Backlinko is run by Brian Dean, an expert in backlinks and YouTube marketing.
The site is super well designed, easy to use and focuses on data-driven insights using oodles of screenshots and graphs to prove their points.
Backlinko also has some great content on lead generation, which can help you grow your eCommerce business to the next level. This is one of the top eCommerce blogs available at the moment without a doubt, and they hold several highly competitive first position spots to prove it.
Shopify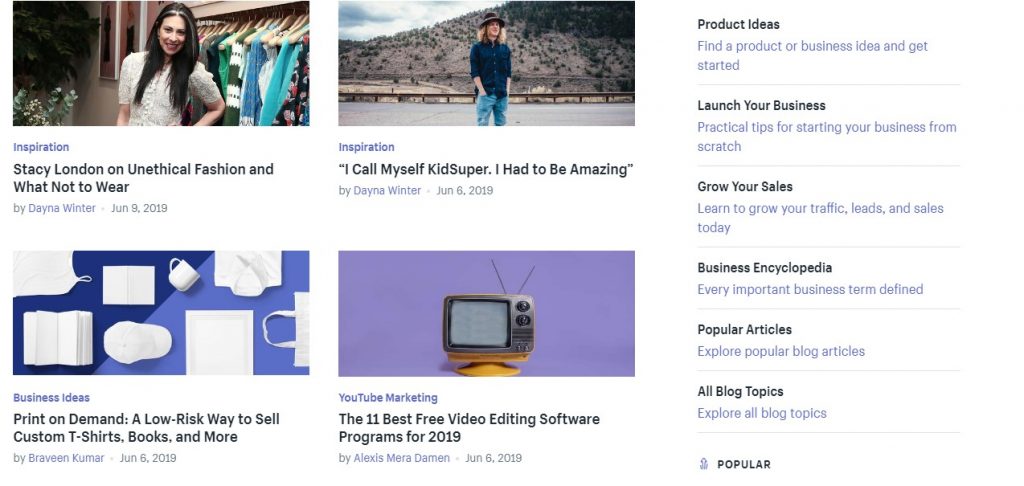 As we all likely know, Shopify is one of the most popular eCommerce platforms around, however, they are actually much better suited to an eCommerce store than they are to a blog, with WordPress typically being better for that.
They clearly know how to run a blog regardless though, as Shopify's own blog, aimed at helping their customers make the most out of running businesses through their software, is full of marketing insights and strategies that will be just as useful to people on other platforms.
From business ideas to YouTube marketing to simple inspiration, the topics are broad and varied but all highly relevant to anybody looking to run a successful eCommerce site.
Sumo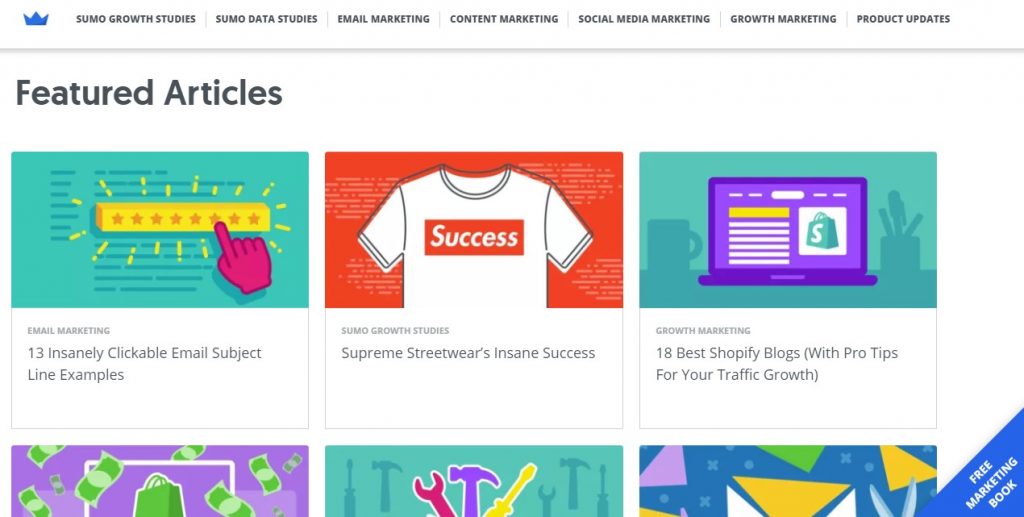 Sumo are kings of content marketing and if you're looking to start your own blog, their content is ultra-valuable.
A pleasant to browse site with a great user experience, Sumo is packed full of brand stories, top 10 lists, copywriting tips and more, making it a must for our list of top 20 blogs, and for you too if you're looking for valuable educational content to pushyour own content to the next level.
SEMRush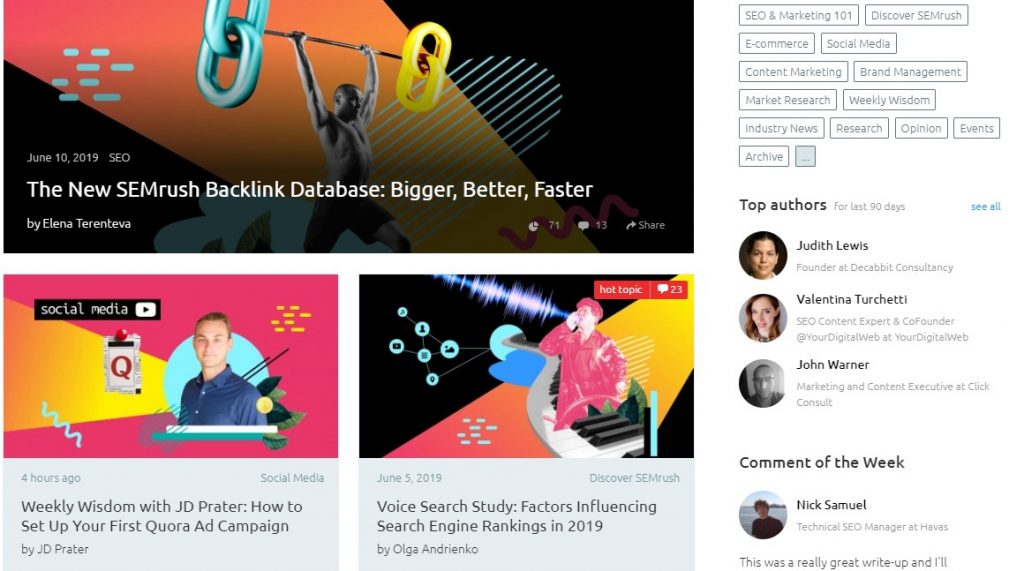 Another SEO tool turned blog, SEMRush's product itself isn't quite as impressive as KeyworX or AHRefs, but it's blog certainly earns a place here.
Focusing on organic SEO, pay-per-click marketing and content marketing, SEMRush's content provides a powerful bed of knowledge for newcomers to the eCommerce space.
They also provide eBooks, podcasts, webinars and even games, making them perhaps the most varied body of content on this list.
Moz
Moz is focused on winning clients and leads via offering more value – a worthy goal that very few marketers will be able to argue against.
Their blog strives to show you how to do the same, and features wide, overarching topics such as effective project management and how to oversee a link building campaign.
For relatively new eCommerce professionals who know the basics but are looking to translate those into effective processes and strategies that work in the long term, this is a great place for ideas.
Diggity Marketing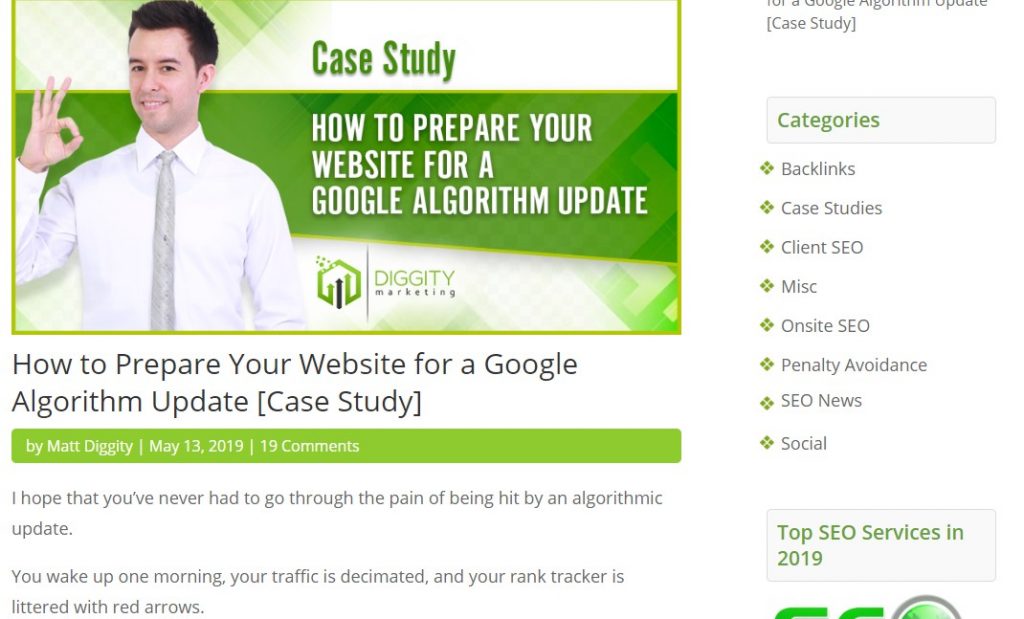 Matt Diggity is a leader of SEO and his blog Diggity Marketing is one of the top eCommerce sites around.
They go out of their way to cover different topics to most marketing blogs, with some of the most common topics including penalty avoidance, general SEO news, and some of the results they have achieved with their clients.
We would recommend following Diggity to keep yourself aware of any changes in the SEO industry, as his monthly news roundaups put everything into a conveniently digestible format and make it easy to catch up on anything you missed.
Medium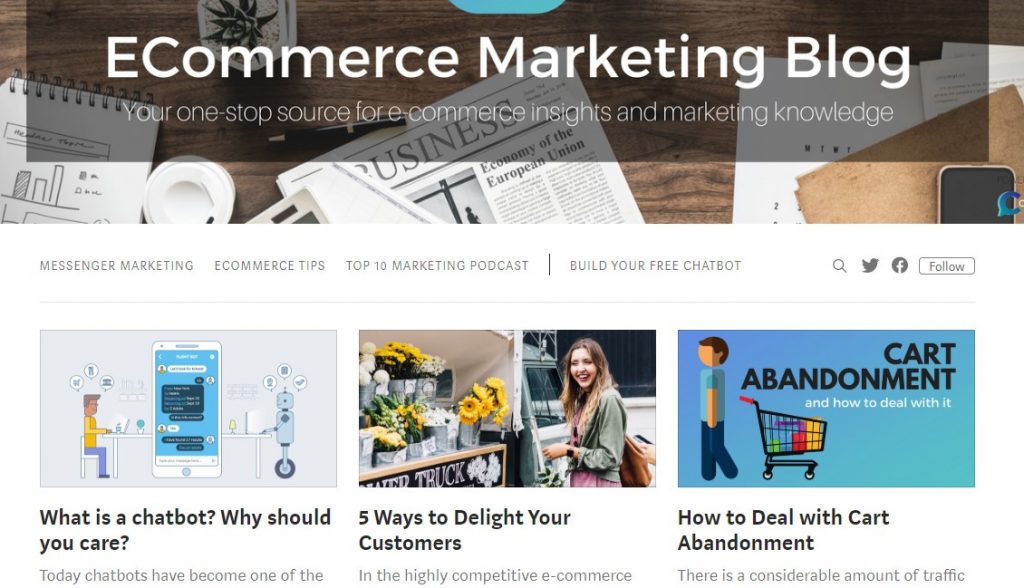 Medium is an excellent blog that's a joy to read and focuses on all aspects of eCommerce marketing but specialises in Facebook Messenger marketing, chatbots and similar.
They are full of great ideas on how to drive engagement and get customers returning time and time again.
They post with less regularity than most other blogs listed here but the quality of content makes them a worthy addition to the list regardless.
That's it for today's list of popular eCommerce blogs, but feel free to contact us or leave a comment if you have any other recommendations or comments on how to find blogs to follow!
If you're new to eCommerce or thinking about starting your own business, keep it locked here for regular insights, case studies and data-driven guides – between us and the other blogs listed here, you won't be hurting for content any time soon!