Last Updated 20th September 2023
Did you know that Amazon themselves claim that Enhanced Brand Content results in a sales boost of between 6 and 12%?
Did you know that despite being below the fold, over 60% of Amazon consumers read the product description in the section where Enhanced Brand Content appears?
While Enhanced Brand Content can vary in quality, even a basic low quality version can improve your conversion rates and reduce the bounce rate of your listing, helping you turn browsers into buyers. It is also a great, easily viewable way for people to get product information on mobile devices.
Since we know Amazon viewers that scroll down to the product description are interested in finding out more information, Amazon Enhanced Brand Content, A+ Content or Amazon EBC (three commonly used terms for the same thing) is a powerful conversion technique that can boost your traffic, conversions and sales if done right.
But how do you do it right?
This Amazon Enhanced Brand Content guide will take you through a variety of tips and show you some Amazon EBC examples, so by the end, you'll know how to optimize Amazon Enhanced Brand Content as well as anybody!
Let's dive right in:
What is Amazon Enhanced Brand Content?
Enhanced Brand Content is an Amazon Seller Central or Vendor Central feature that allows the best brands on Amazon to display enhanced images and text in the product description field, creating a more professional and premium look as opposed to just text alone. It is only available for professional sellers who are part of the Amazon Brand Registry.
Whereas a plain text product description without EBC enabled looks something like this: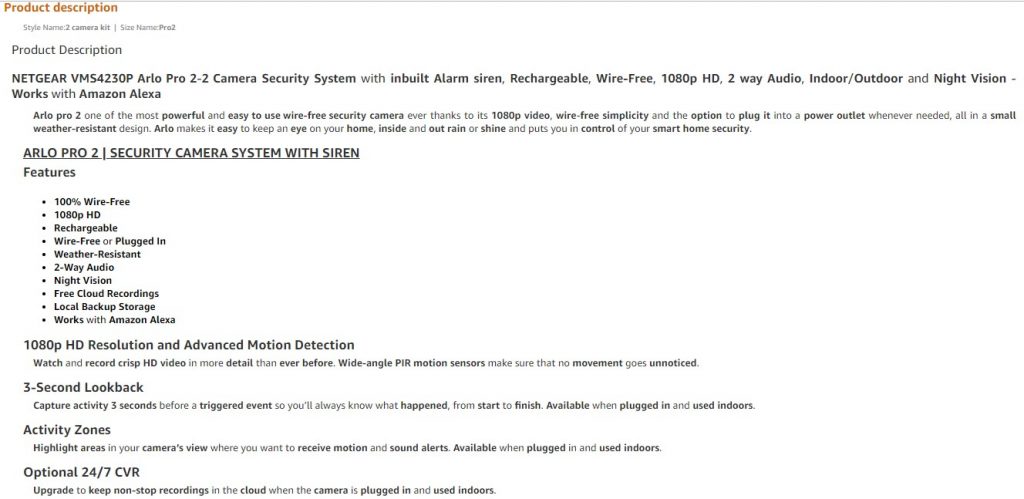 One with Enhanced Brand Content enabled can look something a little more like this: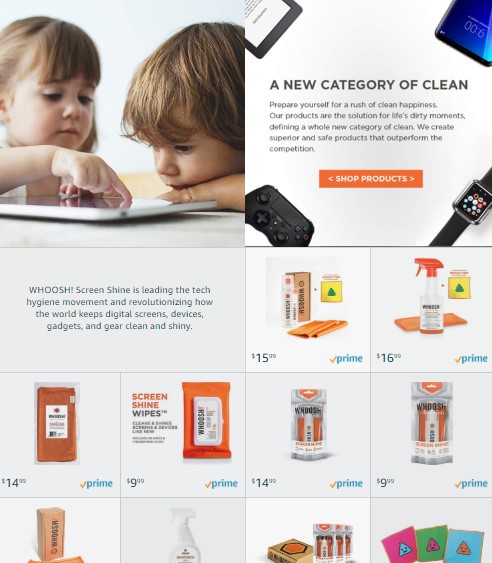 The goal is to display more lifestyle images, product features and key benefits to the potential customer. This is highly beneficial for conversion as it gives more information and selling points to those who aren't already sold by the title, product images, bullet points etc.
An effectively designed EBC listing should:
Show the product in a variety of use cases to help viewers with buying decisions, ideally being used by real people in a lifestyle situation
Use product storytelling or brand storytelling to differentiate your brand from competitors
Answer common customer questions about the product details, potentially reducing returns
Avoid time-sensitive information, as editing A+ Content can take up to 7 days for Amazon to approve.
Increase time spent on the page and conversions
Build brand loyalty and increase the chances of a repeat order
Reduce your ACoS and increase your PPC ROI by increasing the chance of conversion from each paid click
Focus on USPs much more clearly than a plain description ever could through strategic photographs and captions
Not contain any violations to category requirements
Use image keywords/alt keywords to give Amazon more information on what the product is about and aid your product's indexing in search rankings/search engines
Avoid grammatical errors or punctuation errors as this can make the brand look very unprofessional (purposeful misspelled keywords don't work here either)
Sounds like a no-brainer, so how do you go about actually getting this on your listings?
Let me explain:
How to Get Enhanced Brand Content on Amazon
First and foremost, EBC listings are not open to sellers who are selling other people's products. In other words, resellers and third-party sellers don't have this option.
In order to be eligible, you will need to be selling your own branded products and approved in Amazon Brand Registry (UK) (US).
Once you have been approved for Amazon Brand Registry, you will be able to add Enhanced Brand Content to any listings for ASINs in your approved brand catalogue via Seller Central.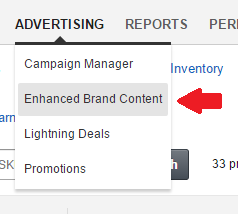 Amazon Enhanced Brand Content Guidelines

These are the guidelines and restrictions imposed by Amazon Brand Registry when it comes to brand content.
As mentioned above, being part of their Brand Registry is one, which requires having a registered trademark for your brand – so this may well be the first one you have to take care of.
Enhanced Brand Content is also not allowed for organic or sponsored products in the following categories:
Books
Digital Products
Multimedia
It's also worth mentioning that while the Enhanced Brand Content submission process is currently free as of 2023, it is apparently going to be a paid feature that will come with a small additional Amazon EBC fee in the near future.
Some other guidelines and restrictions are:
You can't link outside of Amazon
You can't make any guarantees (e.g. 100% unbreakable)
Images must be high resolution (more on this soon!)
You can't imitate Amazon's logo or any other trademarked content
Amazon Enhanced Brand Content Templates
Once you've been approved to add Enhanced Brand Content to your listings, you need to go to the Advertising Tab and then A+ Content to begin creating and managing your enhanced brand content. You can either use one of the existing Amazon EBC templates in Seller Central or you can create your own by connecting different image modules such as comparison charts, text, sidebars, image blocks, specs and more.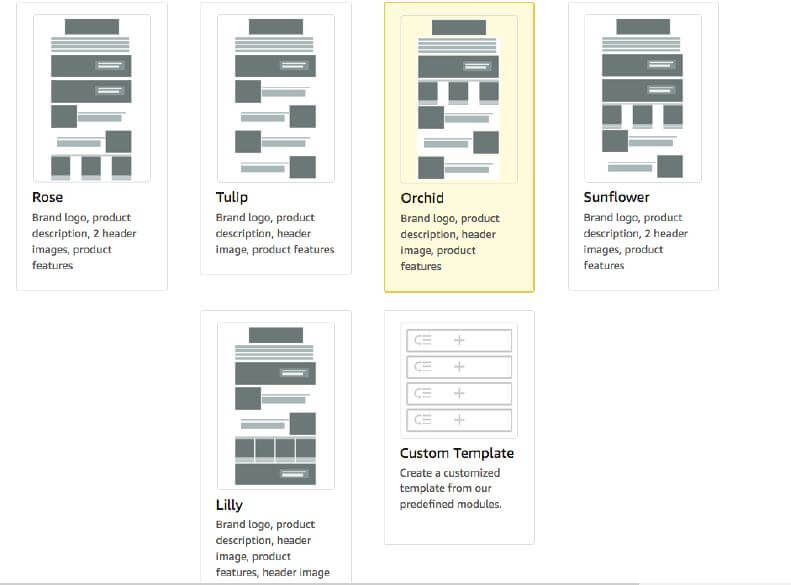 Personally, we would recommend using Rose, Tulip or creating your own EBC template, as those are by far the best and the others are slightly lacking in comparison, but of course this may vary on the type of product you're trying to promote.
If creating your own, you will be given these 5 templates as a starting point:

Template 1 is the perfect setup for an extremely visual graphic and is best used in easy selling products that are sold well via images. You can even use the two banner images to display one large image with a little jiggling.
Template 2, on the other hand, is better for mention of products that don't need to be explained as much. It provides a nice simple layout with several images and text next to them, and the reduced amount of modules gives each image a bit more space to breathe.
We personally don't see much reason to bother with the other 3 as they are a little simple.
Of course, you'll want to know the requirements regarding the images too:
Amazon Enhanced Brand Content Image Sizes
Amazon will provide the image sizes that are required, and they do change depending on the template you select, but here is a great starting point if you need to plan your images in advance.
Bear in mind, all of the specifications listed below are maximums and therefore smaller is ok, larger isn't – we would recommend matching them precisely to ensure the largest and most high-quality images possible.
| | | |
| --- | --- | --- |
| Template | Image Requirements | Extra Text Boxes |
| 1 | 8 images, 300 x 650 px | 4 |
| 2 | 1 header image of 970 x 600px plus 8 x(300 x 650px) | 4 |
| 3 | 2 images, 970 x 600px each | 2 |
| 4 | 1 header (970x 600) and 5 smaller (300 x 300) | 6 |
| 5 | 1 large image – max 970 x 1300 px | 1 |
Amazon Enhanced Brand Content: Video Tips
The Enhanced Brand Content manager also allows you to display videos on your product listing, next to your main image where the other images are selected: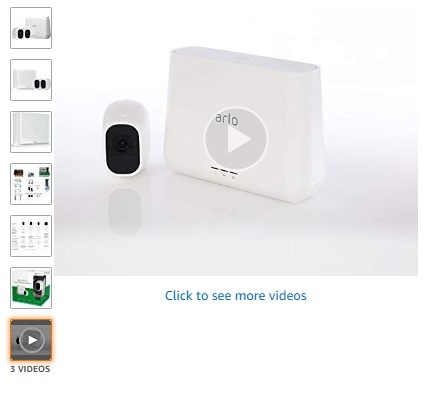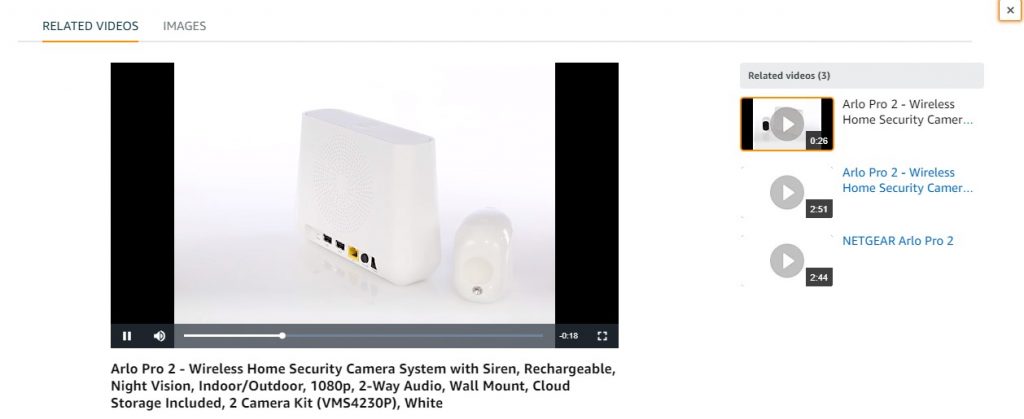 The video will also appear lower down in the product description section, depending on your template.
Videos are huge converters and explain your product clearly to the customer, preventing returns and other issues down the line.
Because of this, we would recommend putting effort into ensuring the video is as high-quality, simple and clear as it possibly can in order to maximise these benefits.
Is All of This a Little Too Time Consuming?
Would you rather the #1 Amazon SEO Agency manage this for you, so you can focus your time elsewhere knowing your Amazon listings and product rankings are as good as they possibly could be?
Why not request a proposal now to see what we could do for you, or check out our case studies to see what we've already achieved for others?
Rather do it yourself?
Then read on:
Let's go a little more into the benefits you can expect from a well optimised EBC strategy:
Benefits of Amazon Enhanced Brand Content
Grabs Attention, Reduces Bounce-Offs and Increases Brand Loyalty
Images will always grab people's attention and convey information to them quicker than text alone could.
After all, 93% of the most engaging pictures on Facebook are images, and research has found that content with compelling images gets 94% more views on average than content with just text.
This means EBC will always do a better job than text-only descriptions at drawing the viewer's eye, conveying the benefits of your product, and keeping them on the page for longer.
Increases the ROI of Paid Advertising
If a user clicks into your product via a paid ad and sees EBC content as opposed to a plain description, they are likely to spend more time on your page, and more likely to convert to a sale, which means the long term ROI of your PPC campaign will improve.
Even if they do bounce off, EBC is more memorable and will be more likely to lead to them returning or purchasing from your brand in the future. This is while ignoring the fact that it simply looks more professional too, and after seeing several EBC listings, a plain text description comes across pretty half-assed.
Decreases Bad Reviews and Even Returns!
The majority of product returns and negative customer reviews are due to a discrepancy between the customer's expectations and what they receive, regardless of whether this is their own fault or the fault of your product description. In other words, products with images that accurately sell the important details tend to have dramatically less returns.
Enhanced Brand Content uses annotated images and graphical content to make it clearer than ever what your offering is, giving the customer several angles of the product and making it less likely they will miss any important details in your listing.
The end result?
You and the customer are on the same page about what you're selling, which is sure to create more satisfied customers, reducing your returns and bad reviews.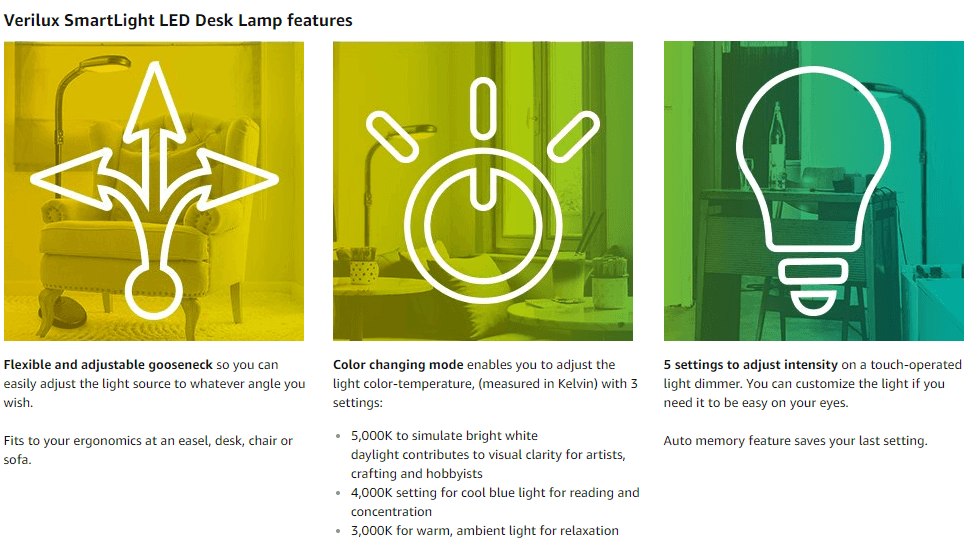 Amazon Enhanced Brand Content Approval & Rejection
Once you've uploaded and submitted your EBC application, it will take around a week for your EBC to go live (or be rejected).
The most common reason for rejection is the failure to comply with the image specifications listed above, but there are several other reasons why your Amazon Enhanced Brand Content feature application may get rejected:
Referencing your business as somewhere that operates outside of Amazon, linking to your website or including any contact details
Use of copyrighted or trademarked imagery or logos (including the Amazon logo itself)
Seasonal/expirable information (e.g. "hot Christmas item" or "trending in 2023".)
Third party quotes from reviewers
Any warranties, guarantees, or information on shipping details/shipping timelines etc (all of this is provided by Amazon)
Grammar errors or misspellings
Amazon Enhanced Brand Content Best Practices & Tips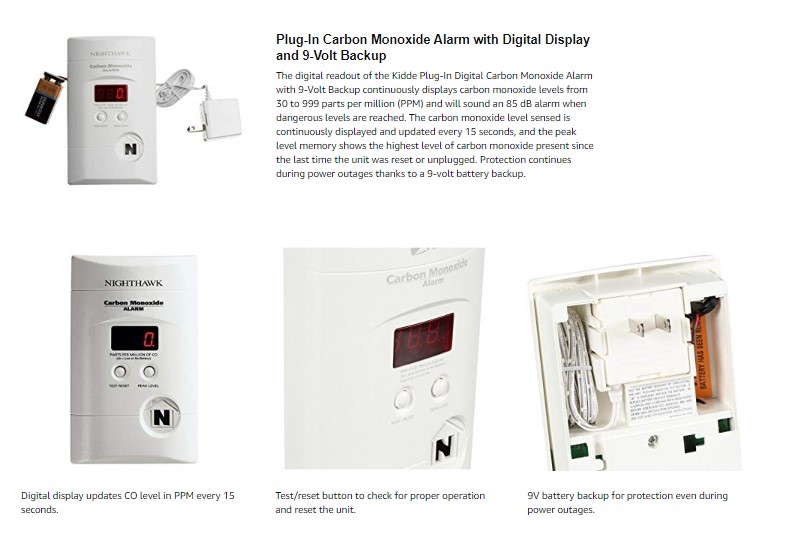 Here are some tips for when it comes to actually writing and designing your Enhanced Brand Content:
Use fonts & colours that match your brand– This should be obvious, but EBC is your chance to have a little bit of your own branding on the world's biggest eCommerce site. Consistent branding makes people more likely to remember you and engage with your brand via other channels.
Plan it like a journey– What do you want your customer to know first? Put that at the top. What do you want them to know next? Laying out your EBC logically like this pulls the user through a journey and makes them more likely to read the entire thing.
Don't repeat any images from your product images– this is against the rules anyway but it's an easy one to miss. If a user is scrolling down through your EBC and finds an image they've already seen, they may just assume it's all repeated content and stop reading right there.
Text should directly relate to the images next to them– Ideally by describing in more detail the benefit that is shown in the related image
Don't forget about FOCUS– Keep each text area about one specific topic, keeping it concise and impactful. Talking about too many things just makes the whole thing confusing to the reader.
Amazon Enhanced Brand Content Examples
Hopefully, this guide has given you enough food for thought that you can start building your own Enhanced Brand Content.
One thing is for sure though, EBC is always better than no EBC and if you're wondering whether to add it to your Amazon product listings, the answer is yes.
We will leave you with some of the best Amazon EBC examples from around the web below, so hopefully, along with the ones already dotted throughout the article, they will give you some inspiration for your own designs!
In the meantime, if you'd rather the most experienced Amazon SEO Consultancy agency manage your product rankings and get an experienced
enhanced brand content designer
to create EBC that boosts your conversions,
request a proposal
now to see what incredible results we can offer you!
If not, good luck and we'll meet you back here soon for another in-depth guide!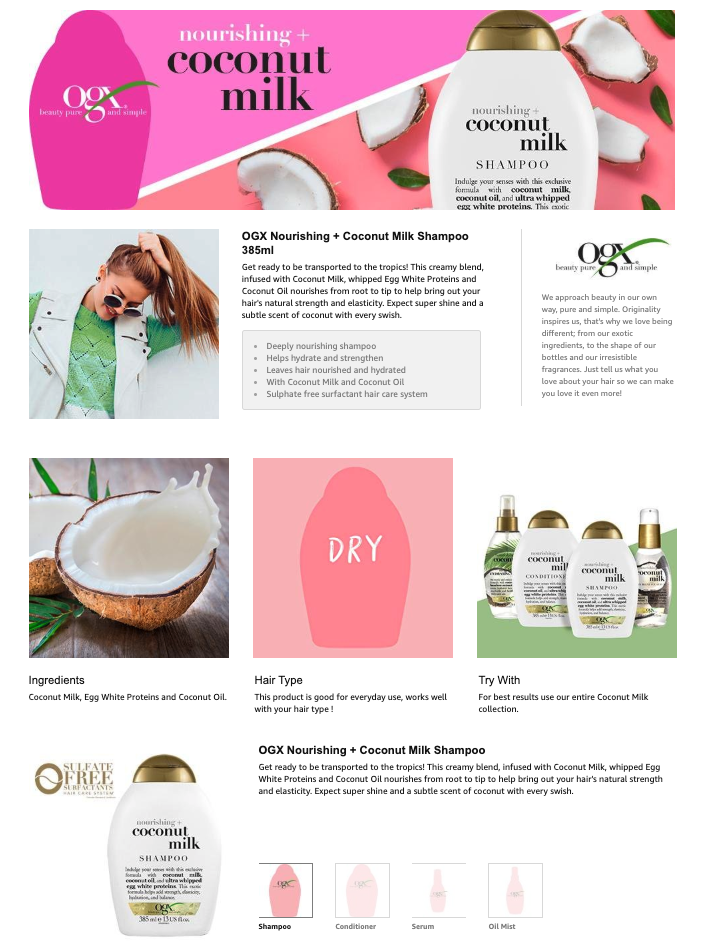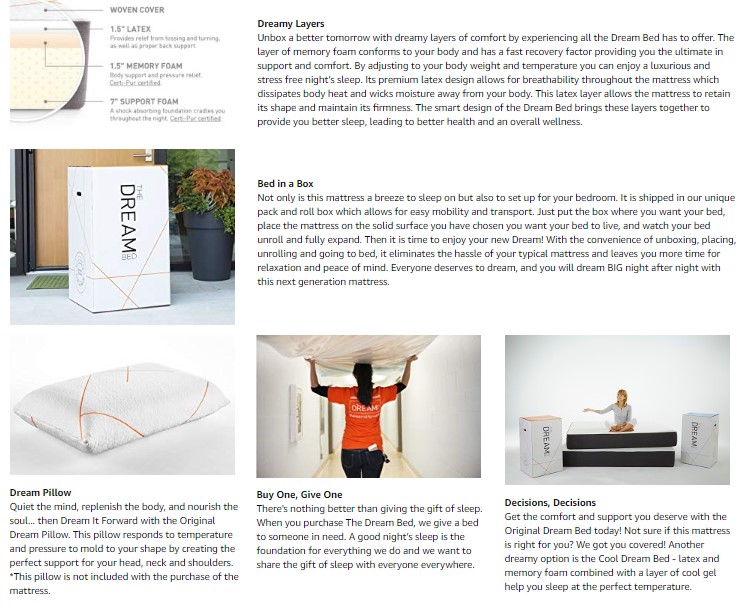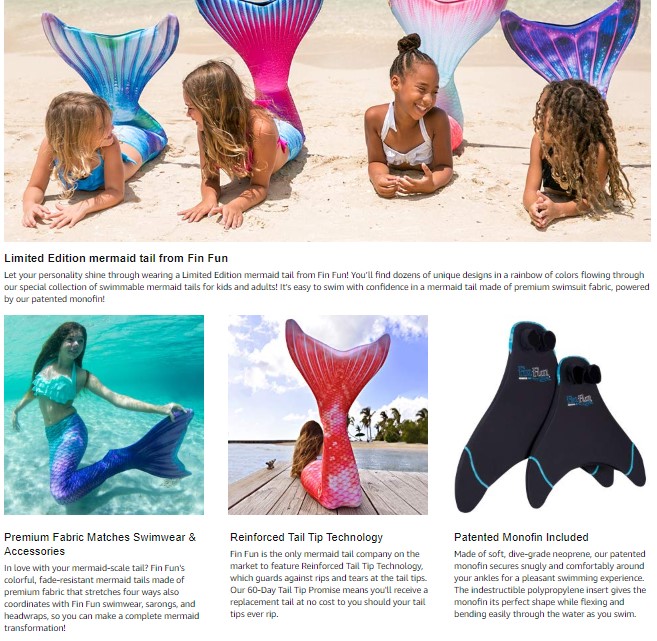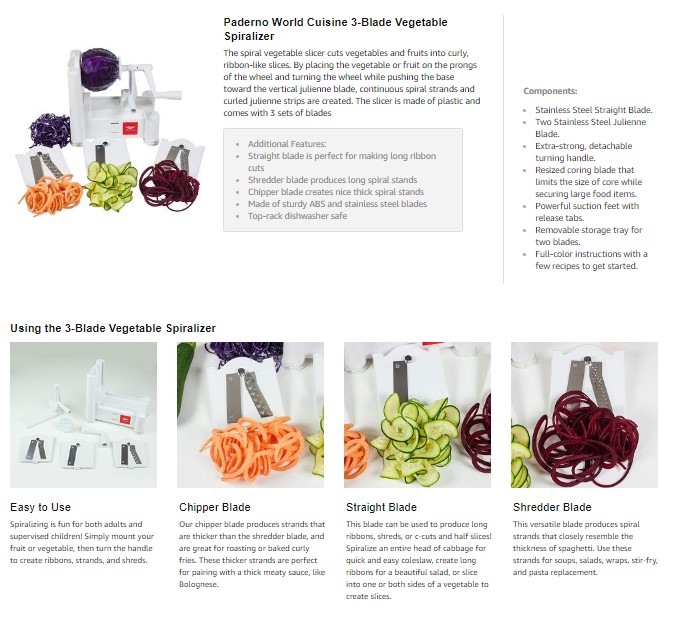 Thanks for joining us! Check out our ranking process and case studies to learn more about how we can rank your products to top positions in the most competitive keywords around!
You can also make use of our EBC services as a reliable way to boost sales and conversions.
Rather us manage your Seller Account entirely, including enhanced brand content?
Consider becoming one of our partners!