If you work in marketing, you'll likely be aware that it's such a vast and varied topic that you can learn about it for a lifetime and still not come close to knowing everything.
The best way to learn marketing isn't in the classroom, it's through constant development, experimentation and being willing to learn from the case studies and insights by others,
This isn't a reason not to try though!
In 2023 we are lucky to have access to several marketing blogs to follow, each providing different outlooks and different takes on how to achieve marketing greatness.
Finding a great blog to follow can be a challenge though, and following the wrong one may lead to you acting on false data or wasting a lot of money following unproven techniques.
Luckily, you can forget about all of that, as we've put together this complete guide to the top 20 best marketing blogs in 2023.
Looking for some new reading material?
Or even just looking to learn more about how blogs help with marketing?
Let's dive right in:
Top Marketing Blogs in 2023
Smarp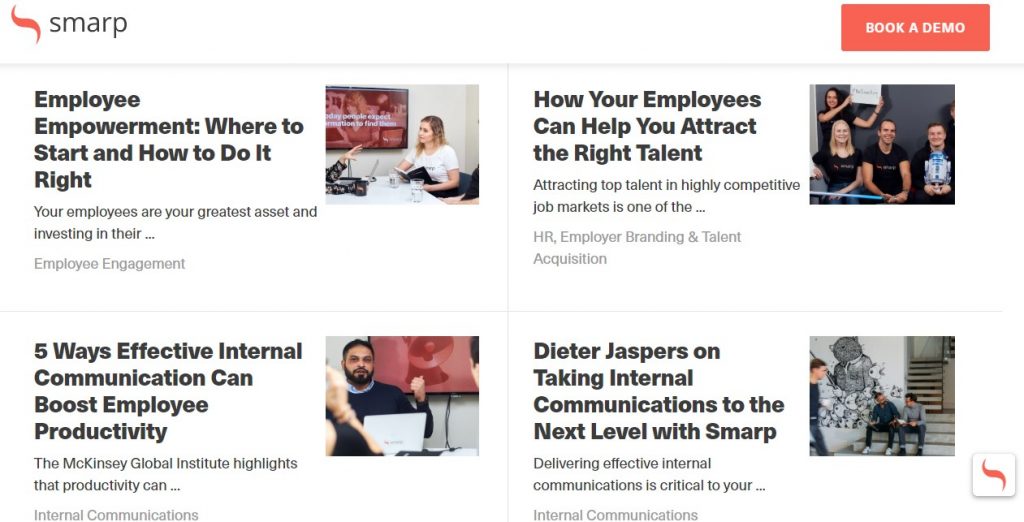 Smarp is an excellent B2B marketing blog that also focuses on mindset training, corporate culture and employee engagement.
For bosses and people managers, following Smarp is a must, but they are full of valuable marketing insights too, from data-driven marketing case studies such as this post to more fun, holistic looks at marketing like their guide to The One Marketing Lesson from Fyre Festival.
Smarp's posts are also valuable and rare enough that you can subscribe to their newsletter without risk of being annoyed, which is always good too. Their focus on corporate setting and employee management may make them inappropriate for sole traders or some small startups, but for people involved in managing larger teams, this is gold.
Babak Azad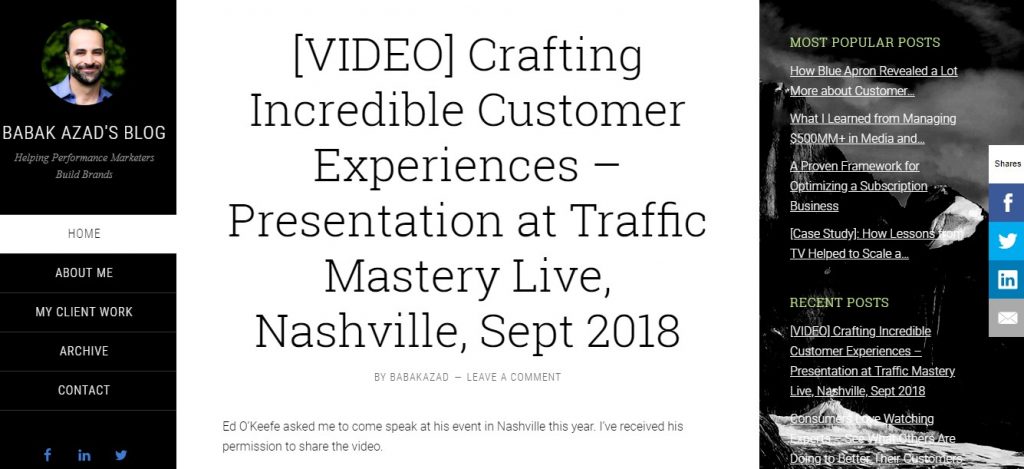 You might know the name, Babak Azad.
While he isn't quite a household name in marketing yet, he was once Senior Vice President of Media & Customer Acquisition at Beachbody.
If you're still not sure, that's the company behind P90X, the fitness training program that was all anybody wanted to talk about a few years back.
He takes all the experience and lessons from that career and applies to them to his blog, making the lessons very valuable and based in real, practical uses. His guides are also aimed at experienced marketers and are a long way from "Beginner's Guides", making Babak one of the top marketing bloggers for established businesses looking for frameworks for growth.
While the blog itself needs some UX work and a lot of content is difficult to find, the lessons are rock solid, with some of our favourite posts being the one about Blue Apron and Customer Retention, and the complete and illuminating framework for running an efficient subscription-based business.
Content Marketing Institute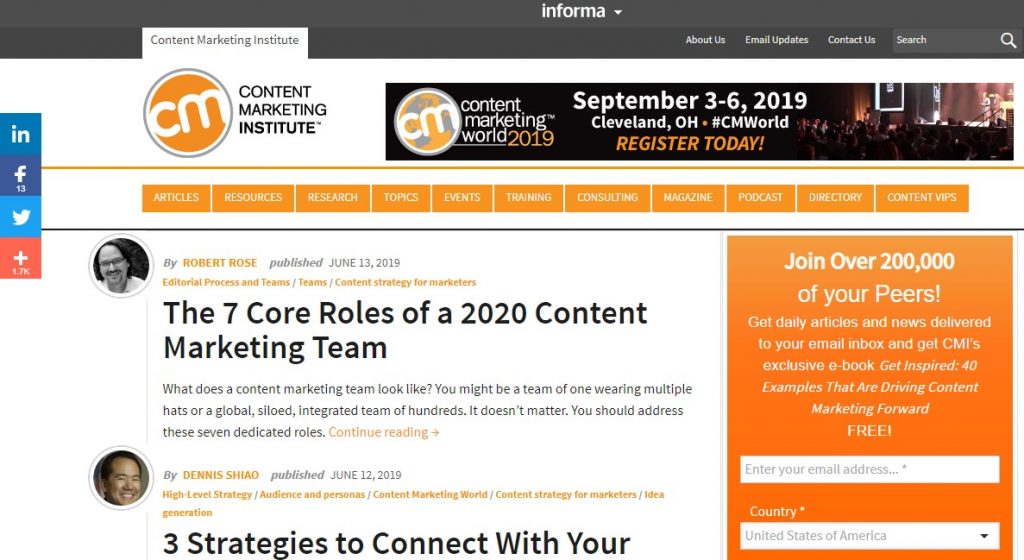 Whereas most of the other marketing blogs listed here are written by one person or a small team, Content Marketing Institute is a large publishing network with a wide selection of marketing bloggers.
This can be both a positive and a negative, as the vast number of contributors means the quality of posts varies drastically, but it remains one of the top content marketing blogs around due to the sheer variety and breadth of topics covered.
Regardless, they have a full library of white papers and eBooks and have several posts on almost any marketing related topic you can think of, making it an excellent first stop during your research!
From the Future/The Flux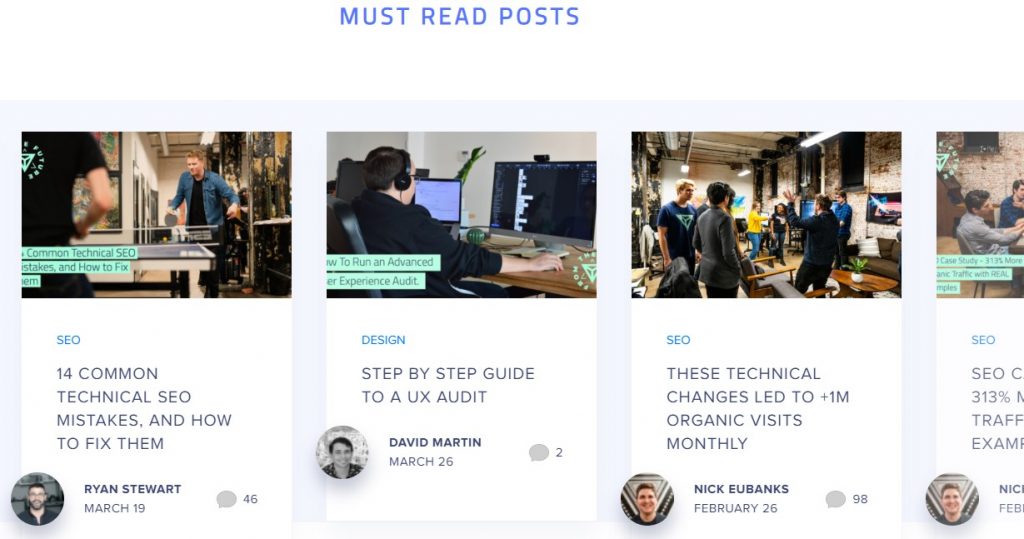 FTF claims to be "The SEO Blog of the Future", and with it's unique yet intuitive design and data-driven case studies, we would be hard-pressed to disagree.
This is one of the best internet marketing blogs due to the technical proficiency of all of their writers, with Step by Step UX Audits and guides like How to Calculate Your Total Addressable Market being front and centre.
While you should obviously do your own research aswell as get statistics and studies from other content marketing blogs, FTF can be an excellent source of statistics and case studies to use in your marketing strategies, or indeed, in your own content.
Orbit Media

Orbit Media is a great example of a web design agency turned SEO/digital marketing blog, packed full of insights based on their experience, with tips on improving conversion rates, UX design, analytics and more.
While content marketing blogs focus on creating content only a little too often, it's great to see one that isn't afraid to delve into all aspects of online marketing, and we personally would say this is a great place to get ideas and best practices when it comes to building your own website or starting a new online business.
Even better? Orbit is relatively new to the game and still rapidly improving, so I would expect them to be one of the best marketing blogs in 2020 and beyond!
HubSpot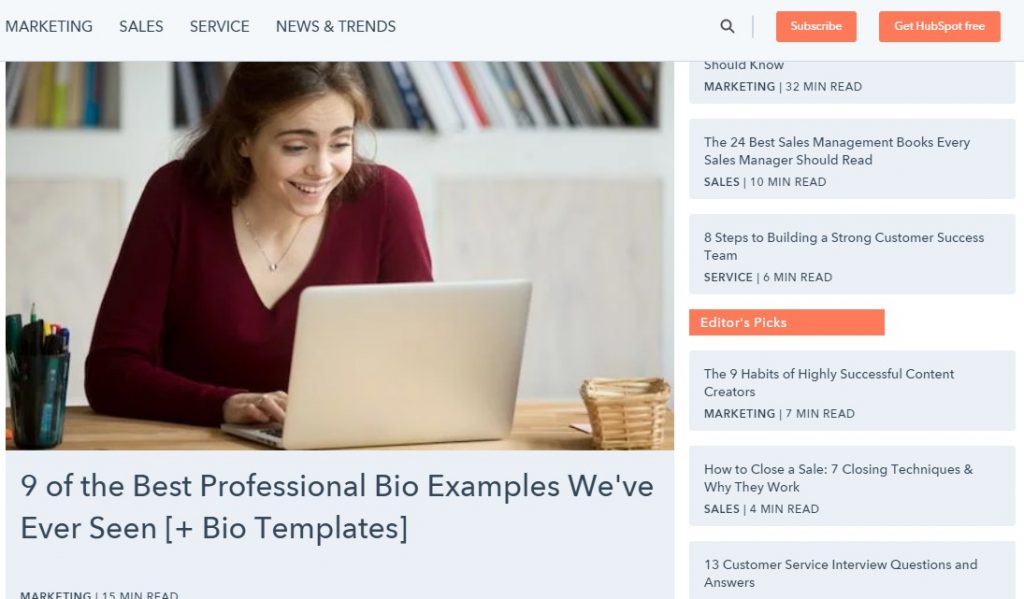 We already included HubSpot in our list of top 20 eCommerce blogs, which may seem a little unfair, but the truth is this blog is so large, successful, and full of useful information, that to create a list of the top marketing blogs without mentioning them would simply be disingenuous.
HubSpot has a bit of an advantage over the other listings here since they have been posting content and refining their methods for years now, packing their website out with training courses, tools and the like.
While we wouldn't personally go to them for statistics and research as some of their posts are a bit shallow in that regard, they can be excellent for simple list posts, downloadable templates, PDFs and other handy resources.
ConversionXL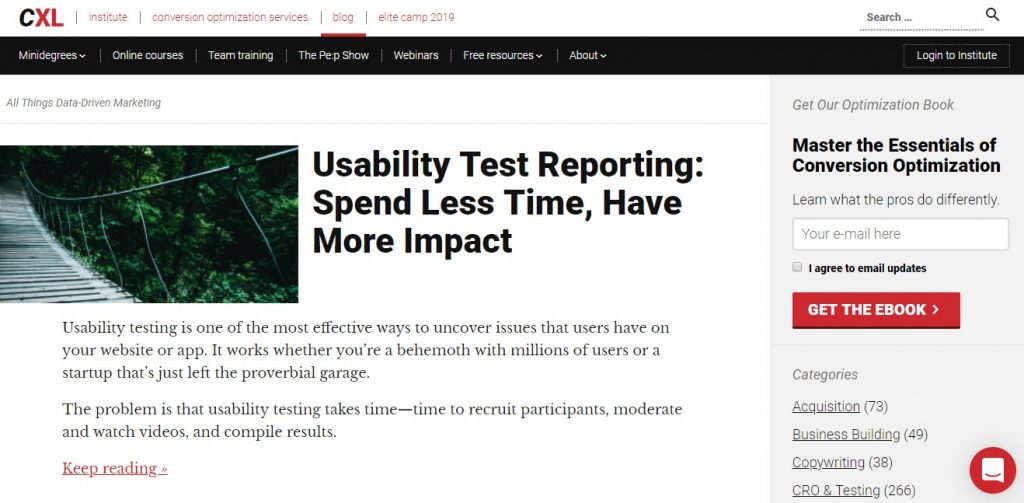 Another highly specialised blog, ConversionXL's blog focuses on one thing and one thing only – conversion rate optimization.
Whether it's copywriting, persuasive design or A/B testing, pretty much every post on the blog relates back to this topic, and this is a good thing as they definitely know their stuff!
Even if some of their posts may be on topics that are a little simple or obvious, I would recommend keeping an eye on them for anybody who has an online audience and is looking to learn more about how to convert that traffic into profits, as they are undoubtedly one of the most specialised business marketing blogs in this area.
Intercom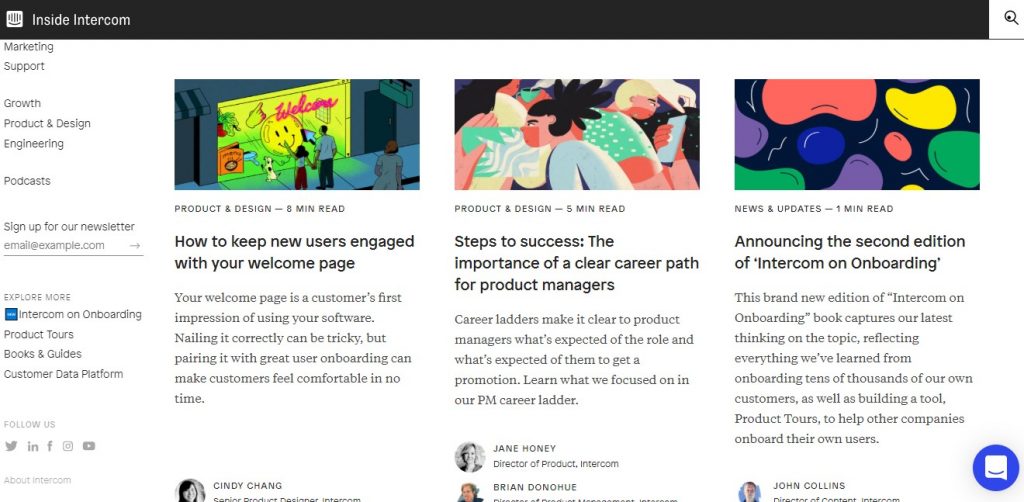 Intercom is first and foremost a messaging solution, providing live chat and chatbots for eCommerce businesses.
Recently though, their blog has rapidly gone from side business to highly popular resource, with topics ranging from all aspects of marketing to product research, onboarding, sales, and engagement.
They are currently getting thousands of shares per post and are likely to remain one of the best SEO/digital marketing blogs for the foreseeable future.
If you're looking for ideas on how to improve the messaging between your business and customers, or even just growth inspiration, you can do a lot worse with marketing blogs than Intercom.
Animalz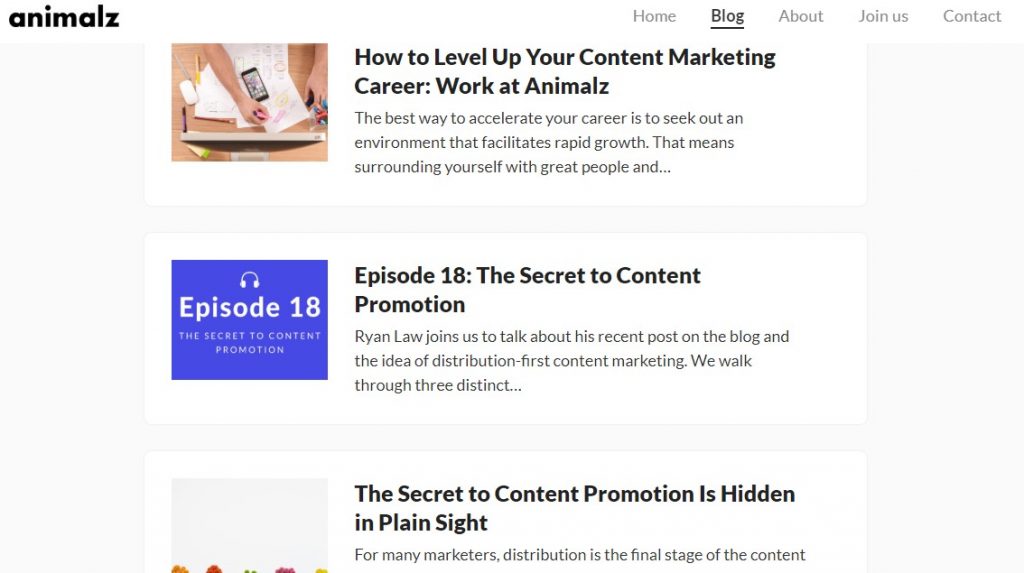 A relatively new content marketing blog that also employs famous content marketer Jimmy Daly, Animalz, (weird name and all), is not only one of the top blogs for digital marketing, but provides some pretty useful podcasts too, if you have the time to listen.
A lot of their focus is on content creation itself and we found their content topic creation ideas to be useful, well written and full of unique ideas.
It seems a lot of their focus is on easily and quickly creating lots of content topics or being as efficient as possible in posting blog posts, so we would say they are a great blog about marketing for brand new businesses who are looking to learn the best way to scale their new blog rapidly.
Detailed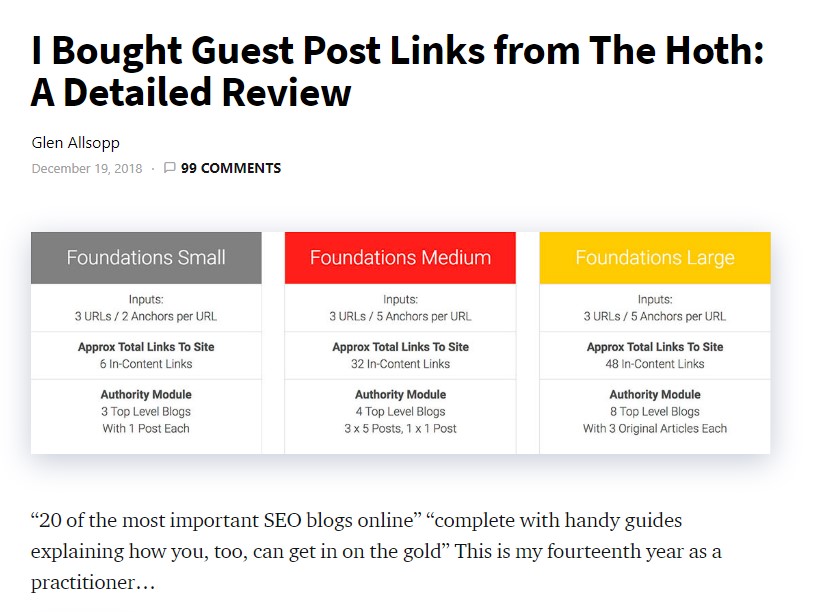 Better known than almost any other bog on this page, Detailed has been one of the best marketing blogs for years, thanks to author Glen Allsop's years of experience. He doesn't post too often but the posts that do come out of Detailed are in-depth. unique and based on how data and algorithms truly work, not just how he speculates they might.
Detailed is a great source of cutting edge ideas regarding backlinking and SEO tactics, but the language and data used probably aren't ideal to newcomers to the space, making Detailed perhaps one of the best digital marketing blogs for more experienced marketers seeking to stay ahead of the game.
Kajabi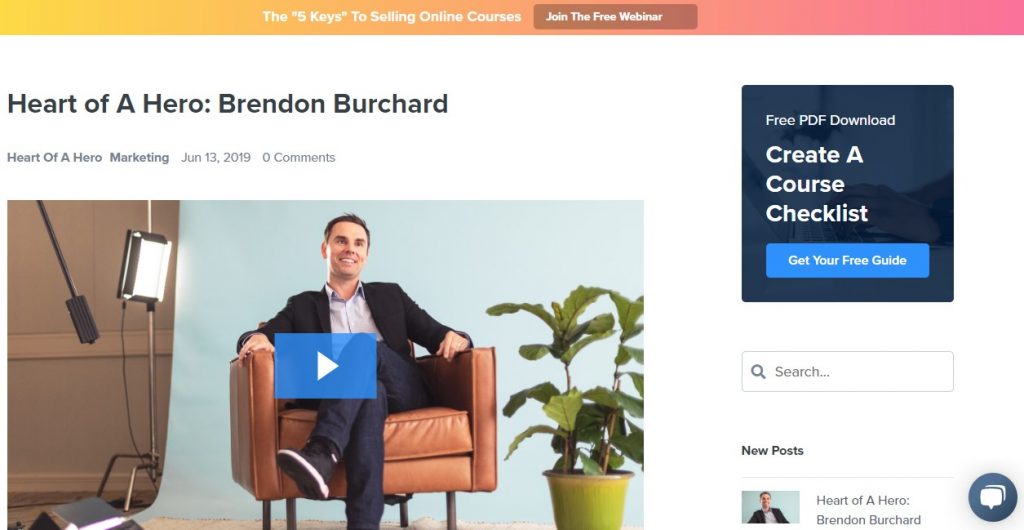 As all content marketers know, providing valuable, educational content is a great way to get an audience that sticks around and values you as an authority.
Kajabi focuses on this more than most, preaching something they call knowledge commerce.
The reason they are one of our top internet marketing blogs in 2023 is that their content is highly useful for this topic, and you can make use of it regardless of your niche.
From profitable niche ideas for courses to how to sell knowledge online, Kajabi will help you to provide useful, educational content and be seen as a leader in your niche.
Grow and Convert
Grow and Convert is 100% content marketing focused and will show you how to create top-notch content that will build an audience, and how to convert that audience into profit.
One interesting thing about G&C is that they refuse to affiliate with anyone or market other sites in their content, which does add an element of trust and it helps to know all opinions expressed there are genuine, even when we disagree.
Another great blog for marketing newcomers, G&C's content will help you grown your own blog and come up with interesting topic ideas.
Backlinko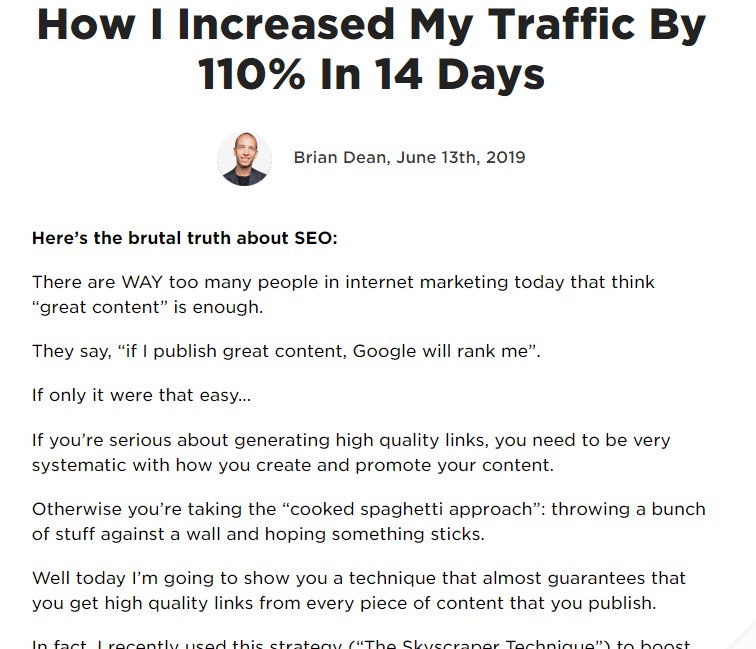 Backlinko is run by Brian Dean, another industry legend who's key area of knowledge is focused around YouTube rankings, email marketing and backlinks.
While we wouldn't go to Backlinko for ideas on content or UX (the site doesn't look too professional), it's a brilliant source of case studies based around those topics and is a must-use resource for anybody involved in YouTube marketing or looking to improve their backlink portfolio.
This is one of the top blogs marketing wise and while it's not a great lone source of information, in addition to a variety of other sources it remains a must visit on a semi-regular basis.
Andrew Chen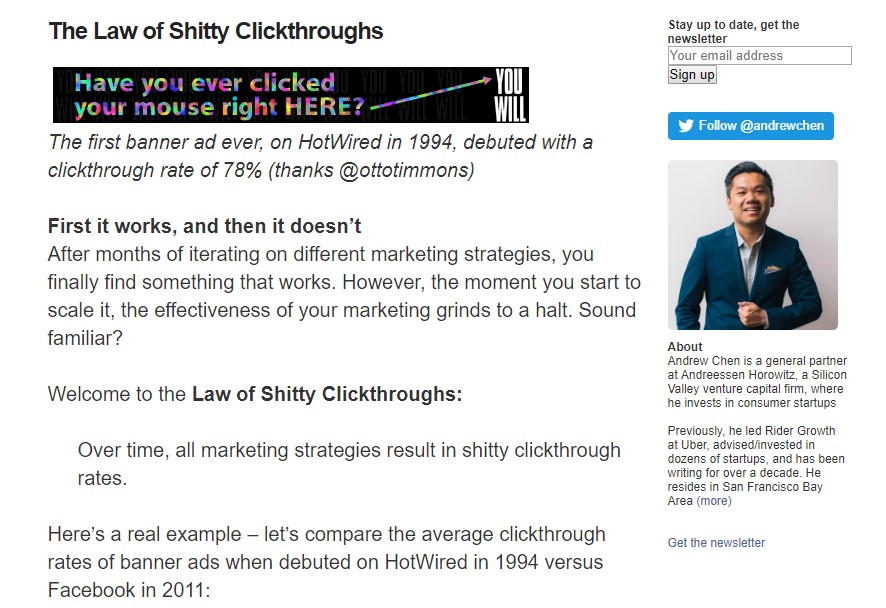 Whereas a lot of the top digital marketing blogs in 2023 focus on the same sort of content topics, often showing their own recommendation on how to do the same thing everybody else is talking about, Andrew Chen covers some pretty unique topics and arguably earns a spot in this list from that fact alone.
Posts like the Power User Curve aren't commonly discussed elsewhere and it's worth checking back on his blog every now and then just to see what he's talking about recently and how it might apply to your business.
If you're wondering whether Chen's credentials are good enough to listen to him on these obscure topics that nobody else seems to talk about, keep in mind he used to hold a growth and marketing position at Uber and is largely responsible for their current status as a household name!
Unbounce
Unbounce does exactly what it says on the tin, with both their product offerings and blog posts being focused on creating landing pages with low bounce rates and high conversion.
Unbounce began offering webinars and virtual events that have now developed to real life conferences and expert interviews, suggesting their position at the top of the marketing blog game is safe for now.
Polymail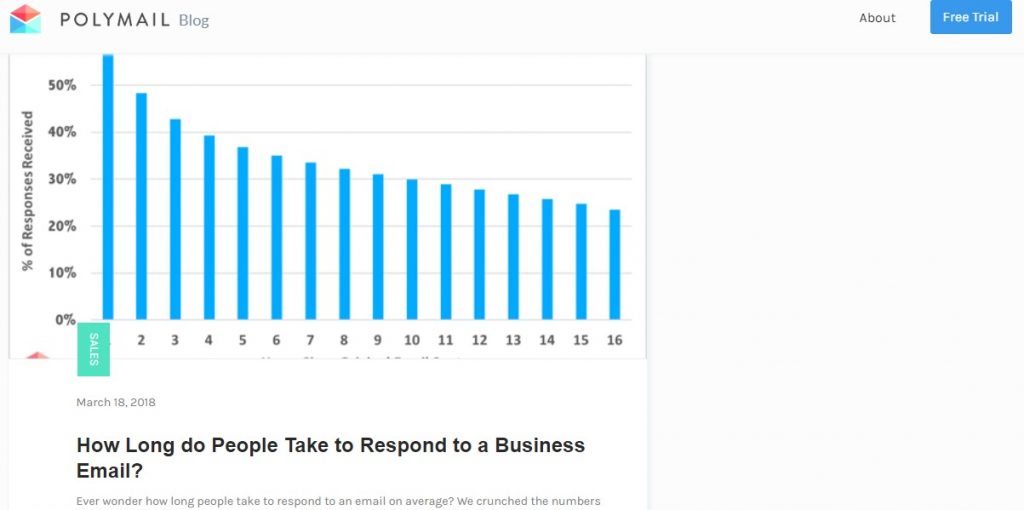 Polymail post so rarely that we seriously considered whether they would deserve a place in this list (their most recent post is from December 2020).
In the end, they triumphed though, and the reason is that there are very few email marketing blogs that can compete with their content.
Posts such as 70+ Cold Email Templates and How Long do People Take to Respond to a Business Email? are relatively few and far between but they are full of precise data and clear breakdowns that make them a must read for anybody interested in the topic.
Siege Media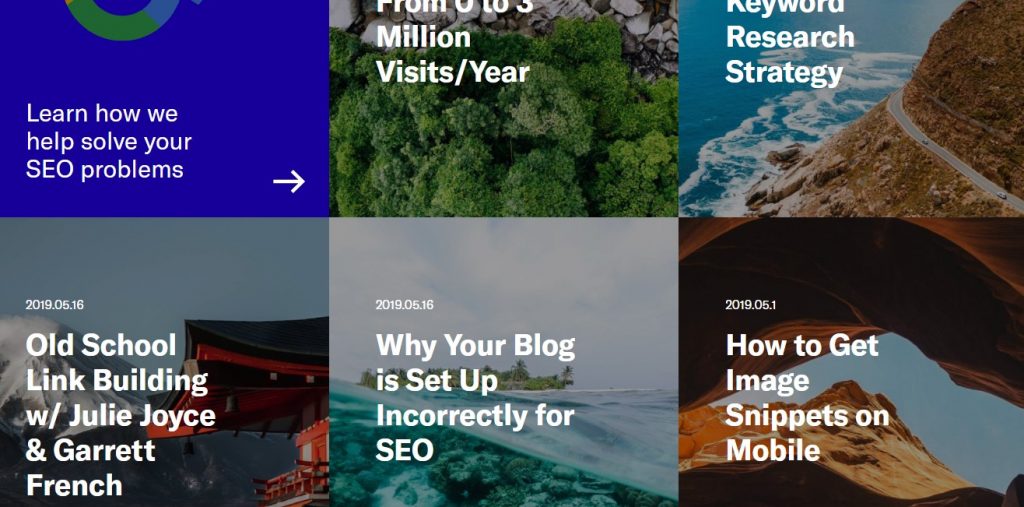 We love reading Siege Media.
Not only do they post regular, highly interesting and useful guides, but they easily have the best website design and user experience on this list too, making the blog a pleasure to browse.
What's particularly interesting about Siege Media is they often recommend doing things a completely different way to the bulk of the digital marketing crowd, making them an intriguing source of different opinions.
They are also rapidly growing their new YouTube channel which looks great, so consider giving that a subscribe if you prefer your learning in video format.
CopyHackers
CopyHackers is an excellent source of copywriting advice and techniques, and what joy it brings us to say that!
Copywriting is the foundation of digital marketing and you can optimise everything else perfectly but if your copywriting isn't effective, you aren't going to make sales.
With this being the case, it's rather disappointing that the world of marketing blogs is so light on copywriting focused outlets, but CopyHackers is picking up the slack with some very useful output.
From Facebook ads to blog posts to email subject lines, CopyHacker teaches you how to use words to persuade and does it well.
Leanplum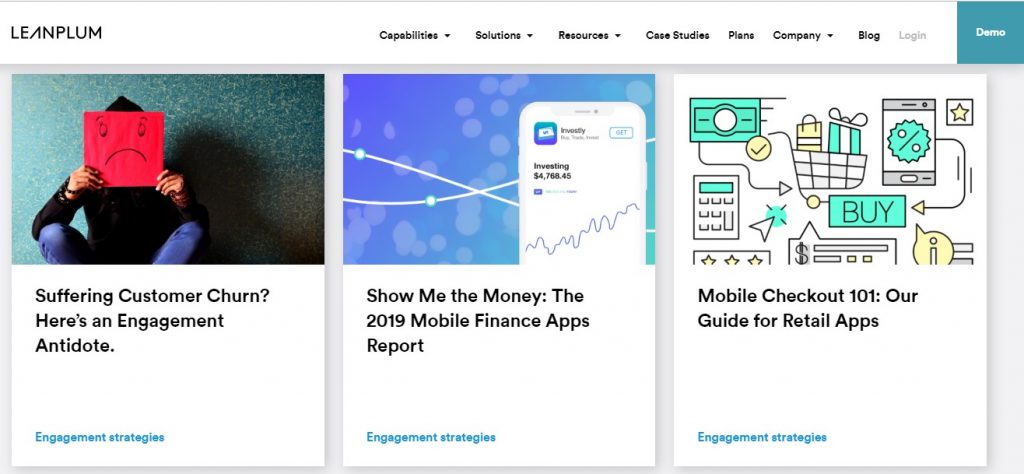 Another veritable unicorn in the world of the best marketing blogs, Leanplum focuses entirely on mobile marketing, something that isn't covered nearly enough considering how ubiquitous smartphones are in 2019.
From responsive web design to optimizing email marketing for mobile and from app design to mobile checkouts, Leanplum is a treasure trove for those interested in marketing via people's smartphones.
Seth Godin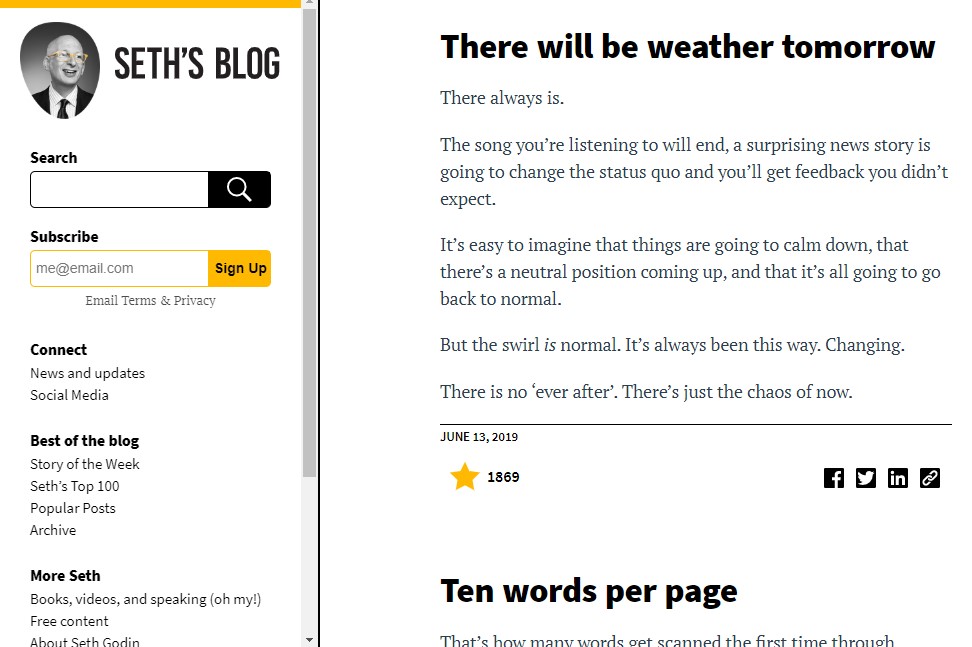 Seth Godin's blog is a unique addition to this list because it doesn't specifically focus on digital or internet marketing, but it gets a place anyway, simply because we can't think of any situation where a marketer could ask if we recommend it, and we would answer negatively.
Godin is an author of 18 books and a master of marketing, but his blog is more focused on general ideas and inspiration for marketers than it is on case studies, statistics and specific strategies.
Either way, inspirational it is, and considering it appeared in Time magazine's overall list of best blogs in 2009, we doubt it will stop being one of the best marketing blogs any time soon!
Thanks for reading our top 20 digital, content and social marketing blogs!
If you have any favourite blogs you think we might have missed, let us know in the comments and we will update the list!
Otherwise, keep your eyes on our blog for more marketing insights and request a proposal if you need help managing your online marketing strategy!