We're sure you're aware of this, but eCommerce businesses are the future.
The number of successful eCommerce businesses that are out there and the amount of sales they're making is rapidly increasing.
The decline of brick and mortar, the increased popularity of online shopping in emergent markets, and the continued dominance of Amazon will see to that.
This means if you aren't on board already, it's time to jump on the bandwagon by starting an eCommerce business.
It's understandable to be stuck for ideas when it comes to building and growing a profitable online business, but we've got some inspiration for you.
Whether you're a newcomer just looking to start out, or a seasoned online entrepreneur looking for new ideas, we've assembled some examples of the most successful eCommerce businesses for you to learn from!
Let's take a look:
Dollar Shave Club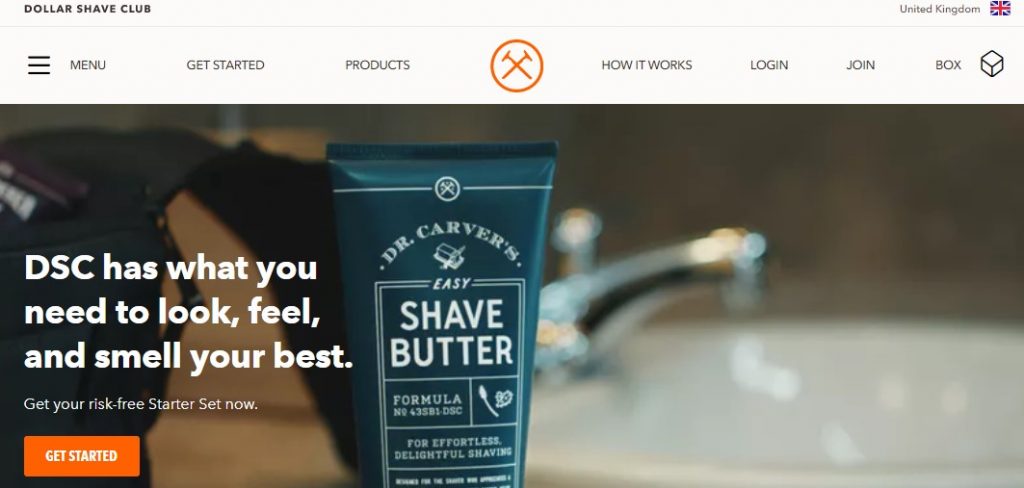 Dollar Shave Club is one of the shining examples of eCommerce success. Started by one man in 2011, the company was purchased in 2016 by Unilever for $1 billion.
How is this possible for a standard subscription box/eCommerce website that sells bog standard razors they buy wholesale from China?
The answer is product storytelling.
Dollar Shave Club was started by standup comedian Michael Dubin by chance after a friend asked him to help them sell 250,000 razors they had purchased from Asia.
Dubin realised that he could take all of the friction out of buying razors by simply delivering them automatically each month for $1 each.
This may seem obvious in today's age of obsessively removing friction and the growing success of subscription boxes, but in 2011 it was borderline revolutionary.
But it wasn't DSC's convenience and forward thinking that made it explode in success, it was this video:
So what can you learn from this that will benefit your own business?
In today's viral culture, content is one of the most powerful marketing tools there are, and it's entirely possible that one video can change the future of your business.
Companies have told stories to sell products since…companies and products have existed, but the rate at which these stories are able to spread and propagate is growing at an unbelievable pace.
This means two things:
There is now so much content in existence, that if you share average content that doesn't catch people's eye, stir up conversation or make them laugh – it probably isn't going to achieve much
Companies that are skilled at storytelling can reach customers more quickly, effectively and at a bigger scale than ever before, potentially for the cost of one piece of content.
If you learn anything from Dollar Shave Club or this post – it should probably be this:
Don't be afraid to let your personality or sense of humour shine through your business. Anything that makes you stand out or appear unique is amazing for business. Product storytelling is the future and you should get on board right now.
New Chapter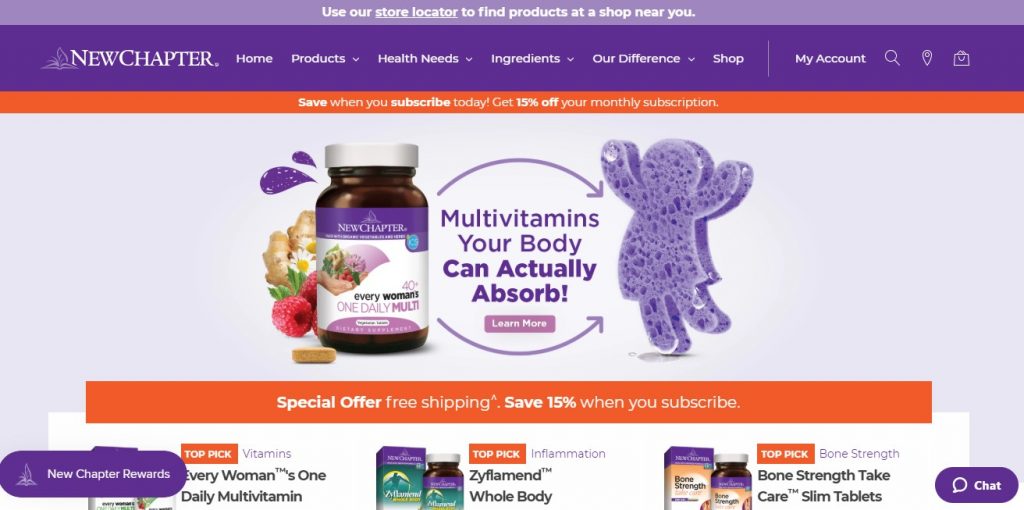 New Chapter, a health product website, is a success story of the modern age. In fact, they went from nothing to being a 7 figure business in under a year, making them one of the most exciting examples of online businesses in recent years.
In our time blogging about eCommerce marketing and selling on Amazon, we've given a variety of tips on how to improve customer loyalty, conversion rates and traffic.
These tips have involved things such as:
…And plenty more that you'll likely be aware of if you've been following us.
What's particularly impressive about New Chapter is that they implemented pretty much all of these things immediately, then efficiently A/B tested everything from then onwards.
This meant they started out with a well designed, cohesive and attractive website with tons of social proof, storytelling, retention techniques and more – and it's only improved since then!
Health products and supplements are one of the most crowded examples of online businesses, and New Chapter managed to stand out purely by sticking to the proven basics and mastering them – a textbook case of using data and proven techniques to your advantage.
Take a look at their website and just browse around, taking note of how many things are screaming at you to either purchase or engage in some other way.
If you can replicate this without making your eCommerce site look overly busy or crowded, you'll be on the right path!
ASOS

ASOS has built a powerful brand that is close to synonymous with online clothes shopping in the UK.
It's also slowly developed a website that is used as an example of how to get things right by smaller retailers across the country.
While in most cases, the best thing to do when trying to grow your eCommerce business is to hone in with laser-like focus on the one specific area you want to do better than anybody else, ASOS went the opposite way and aimed to offer such a large and wide range of products that anybody was able to find something they liked.
While we typically wouldn't recommend this – it worked!
From maternity clothes to plus-size clothes, and from celebrity fashion knock-offs to major brands like Nike, it is almost impossible that a customer won't find a product on ASOS that appeals to them.
The brand also focuses on embracing the new, with over 40 per cent of its product range only appearing on the site in the last 3 months.
Strategic discounts, a comprehensive range of brands and offering products at several different price points are just a few of ASOS's successful strategies, showing us that aiming to be the cheapest at all costs isn't necessarily always the way forward.
Luxy Hair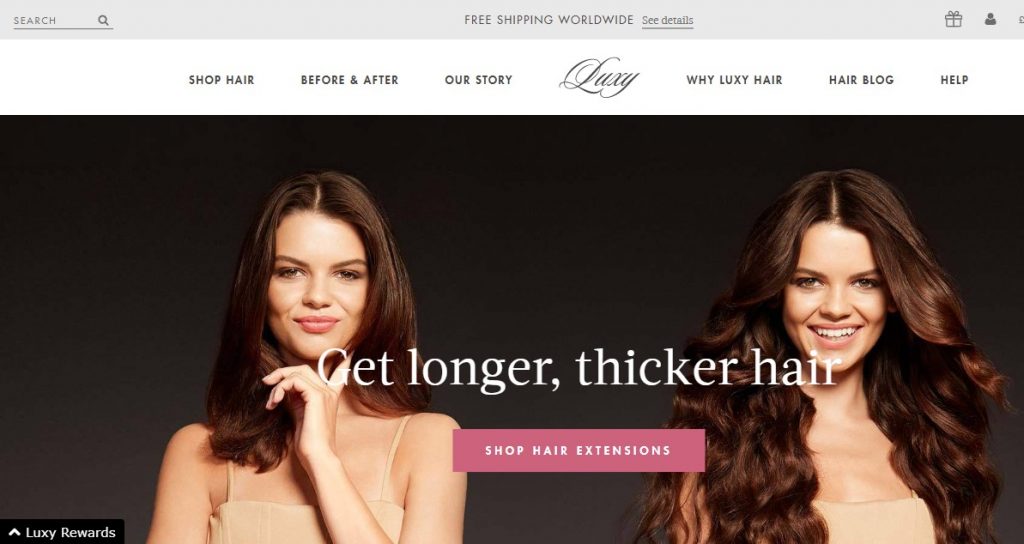 The founders of Luxy Hair discovered their gap in the market because they were struggling to buy high-quality hair extensions.
This is a great lesson and one of the most effective ways to find a gap in the market – if you're struggling to find a solution to your problem, chances are others are too, and so providing the solution could well be lucrative.
Luxy messaged as many suppliers as they could, asking a lot of questions that could be considered silly, but the point is they learned quickly and reaped the rewards.
Perhaps the most interesting thing about Luxy is that their traffic comes almost exclusively from YouTube – they post regular tutorials on how best to use hair extensions and regularly work with Youtube influencers.
With hard work building engagement on their Youtube channel and almost no other forms of marketing, Luxy has managed to amass 3.2 million followers and is now considered an authority in the world of hair extensions.
The biggest thing to learn from Luxy is that if you know your product has demand and you take it directly to the people, it is entirely possible to organically grow a huge audience without needing to push the boat out too much – a focused strategy and putting customers first can achieve that.
Beer Cartel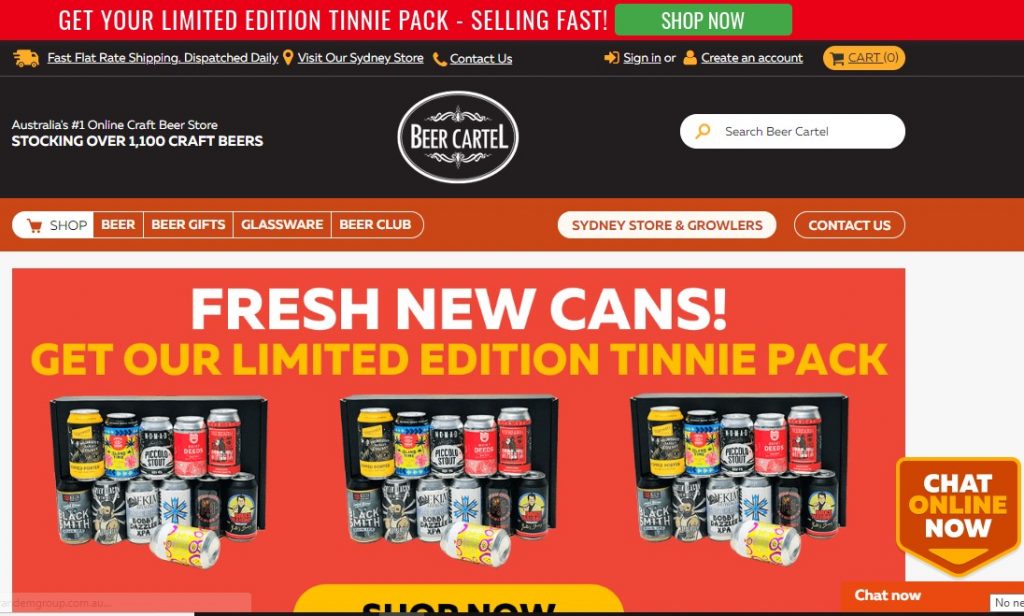 Founded in 2009, BeerCartel is the place Australians go to buy beer online, and they got there through the shrewd use of content marketing.
One of their best early moves was launching a craft beer survey in order to learn more about what their customers want and offering to share the results of this survey with any company that helped them get more people to fill it in, as well as $500 worth of beer to one lucky entrant.
This led to hundreds of breweries, pubs, and other beer companies sharing their survey and over 17,000 entries.
That's right, with one piece of content, Beer Cartel achieved a huge boost in web traffic, dozens of backlinks, and a variety of insights on Australian's beer drinking habits, the end result of which was a 34% increase in revenue.
If this tells us anything, it's that there's still space for new ideas in content marketing and that thinking a little differently to how people have before can make a huge difference for most types of eCommerce business.
Neon Poodle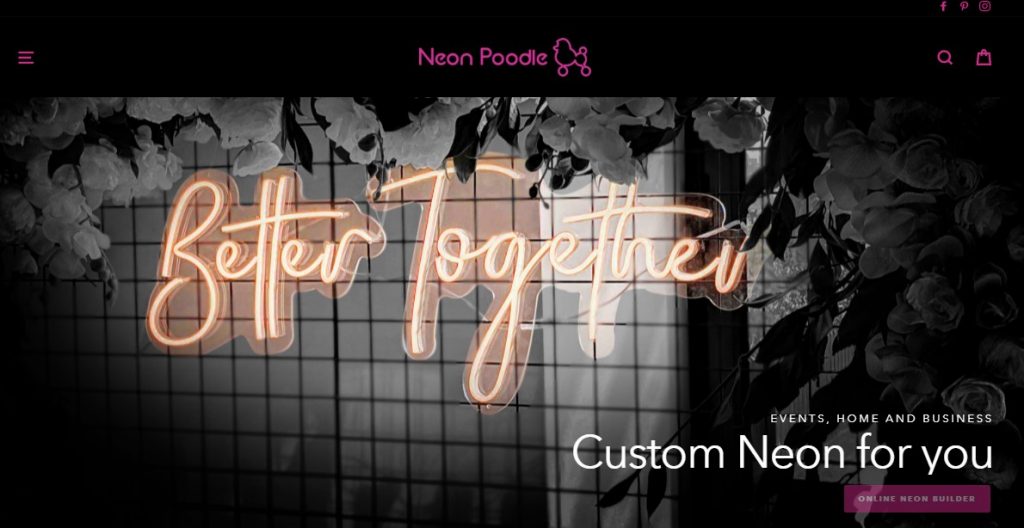 Sammy Gibson spent a lot of time looking for a child-friendly and child-safe customised neon sign to go in her daughter's bedroom.
After failing to find such a thing, she decided to create her own, with an emphasis on making them attractive, easy to customise and safe for children.
The end result was Neon Poodle, which is now not only the number 1 neon sign store in Australia but is growing rapidly in the US and Europe too.
This is a perfect example of how targeting an ultra-specific market is one of the best ways to start out and get a foothold, but it also tells us the importance of expanding into new markets, with Neon Poodle's revenue growing 232.14% since their international expansion.
Everlane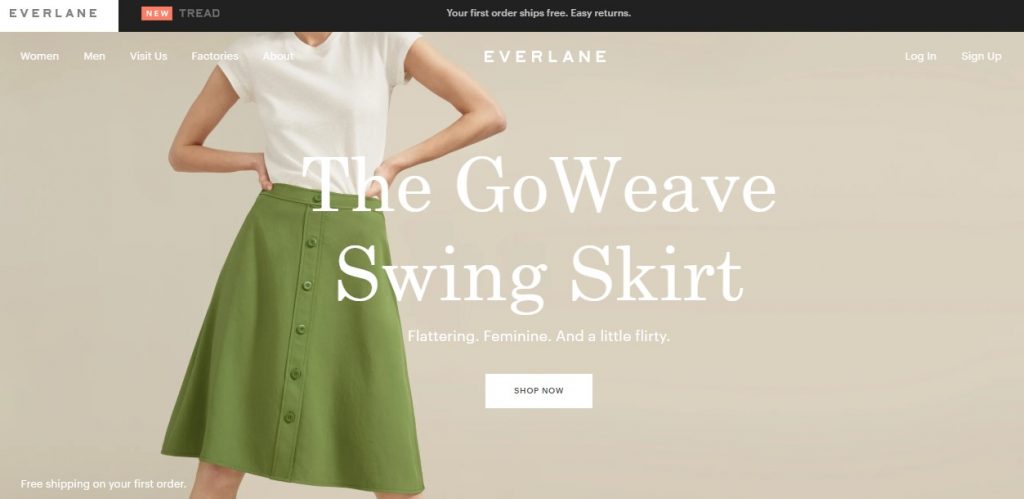 Historically, people have been a lot less cautious about where their clothes come from, compared to say, food.
In recent years this is rapidly changing, with socially conscious buying becoming more and more important and many of the top eCommerce businesses beginning to be more socially and environmentally aware.
Everlane is a clothing company that has arguably been at the forefront of this for a while, with their policy of radical transparency in regards to sourcing, manufacture, materials and pretty much everything else.
The modern consumer is much more ethically aware and interested in how things are sourced and made than ever before, but most companies don't give them anywhere near enough access to this information.
The fact Everlane does, has been a huge factor in building them a loyal following of respecting and motivated fans, whom of course recommend their clothes to other people with similar morals and standards, leading to huge word-of-mouth benefits.
Fans and influencers have even able to tour the Everlane factory, and they have great interactions with their fanbase including user-generated content, exclusive waiting lists, thank you notes and more, all of which has helped foster one of the most dedicated and loyal audiences around.
ModCloth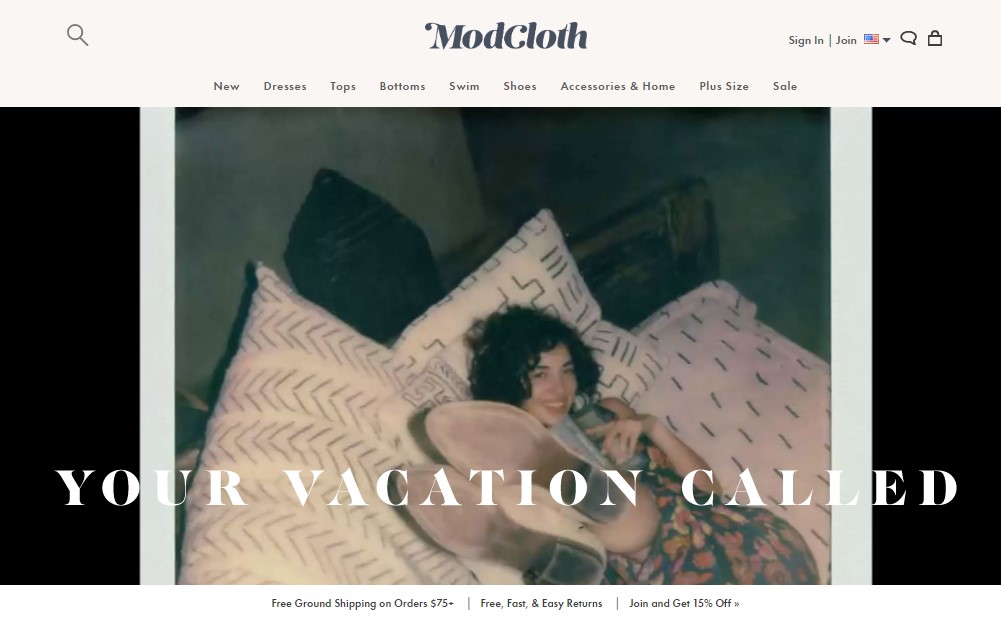 Back in 2006, ModCloth was nothing more than a small eCommerce site where Co-Founder Susan Gregg Koger would sell vintage clothes she found from markets, events and other websites.
Nowadays, ModCloth is a large company with its own manufacturing department and an amazing content marketing team.
They have done this by fostering a strong brand philosophy around being a helpful and social shopping community. Customers regularly tweet ModCloth and receive friendly, helpful replies such as recommendations on what to wear, fashion advice and products that can go well together.
They also launched a "Be the Buyer" campaign which essentially allowed their followers to vote on which of their new designs should actually be made. This makes your following feel valued and important which works wonders for their loyalty, but it also has the added benefit of ensuring that any new products you launch will at least have some decent level of demand.
ModCloth also runs a frankly excellent blog on where to find new vintage clothes, interviews with designers and more, and run an effective loyalty scheme and referral scheme.
There's a lot to learn from ModCloth about how to become an enthusiastic and genuine member of a specific niche, and how that can work wonders for your following.
SkinnyMe Tea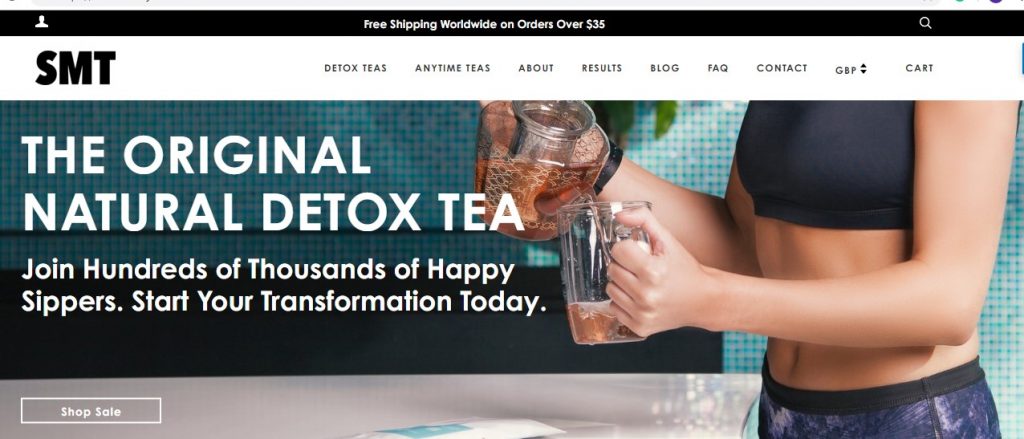 With over 1.3 billion people using Facebook messenger every month, and the importance of chatbots growing in many eCommerce business examples, it was only a matter of time before somebody successfully combined the two.
Browsing on SkinnyMe Tea, your eyes will quickly be drawn to a Facebook Messenger symbol on the bottom right of the page.
Clicking on this allows a customer to access SMT's chatbot sales funnel, where a chatbot will talk to you, recommend products, offer support, and even let you purchase immediately, directly from the chat window.
Even better?
Once customers leave the site, the chatbot's responses will seamlessly follow them wherever they use Facebook Messenger, reminding them of what was discussed and giving another chance to gain that purchase.
If you are planning on having a live chat or chatbot services on your site anyway, implementing Facebook messenger may well be a cheaper and more effective way to do the same thing, allowing your customers to engage directly through their preferred platform.
Ratio Coffee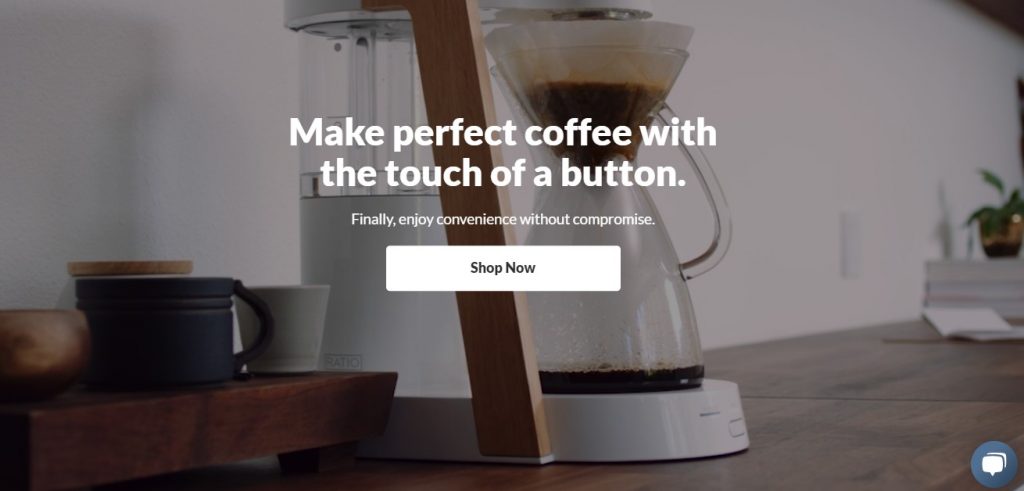 We've already discussed the power of effective videos and the effect they had on Dropbox in our guide to increasing Amazon sales.
Ratio coffee bet majorly on this, with almost every page on their site featuring a detailed, highly professional video:
This has a higher conversion rate than pictures alone, increases the time users spend on the page and shows your product in a variety of use cases and surroundings.
Ratio makes it their aim to evolve automatic coffee makers beyond the same feature set that's been around for decades, and their videos focusing on the benefits and experience of using one of their machines goes a long way to getting this message across.
This is it for today's recommendations!
For more ideas on how to boost your online sales and profits, check out our case studies to see exactly how we've boosted hundreds of our client's rankings in high competition search terms.
You can also check out our unique process to learn more about how we achieve unmatched Amazon ranking results that are guaranteed to work, every time.
For more regular amazing eCommerce examples and tips, keep it on AmazonSEOConsultant or sign up to our newsletter to be notified!