Going into 2019, the growth of online shopping is showing no signs of slowing.
More growth means more potential customers, and more ways to sell, but it can also mean higher competition.
The more the industry grows and evolves, the more doing the "same old" will be inadequate.
With the future and present landscape of online buying and selling constantly changing, the businesses that experience the most sustainable, consistent growth will be the ones that keep an eye on the future and are ready to capitalise on new technologies and new buying trends, regularly track online shopping statistics, and use them in order to be aware of new online shopping habits.
This means not just being aware of how many people will shop online, but how, where and when they will do it.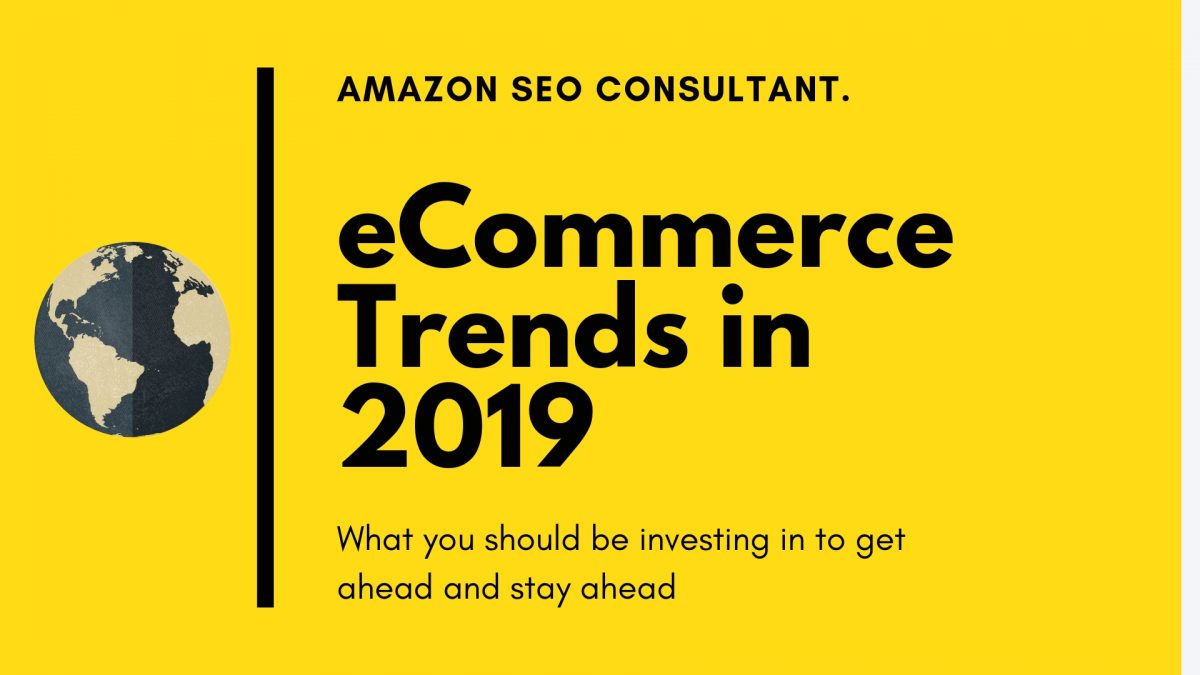 This detailed guide on emerging online buying trends in the eCommerce industry for 2019 and beyond, will take you through some of the changes in consumer behaviour expected by some of the worlds' leading online sales experts, and show you how you should be implementing them into your online marketing strategy.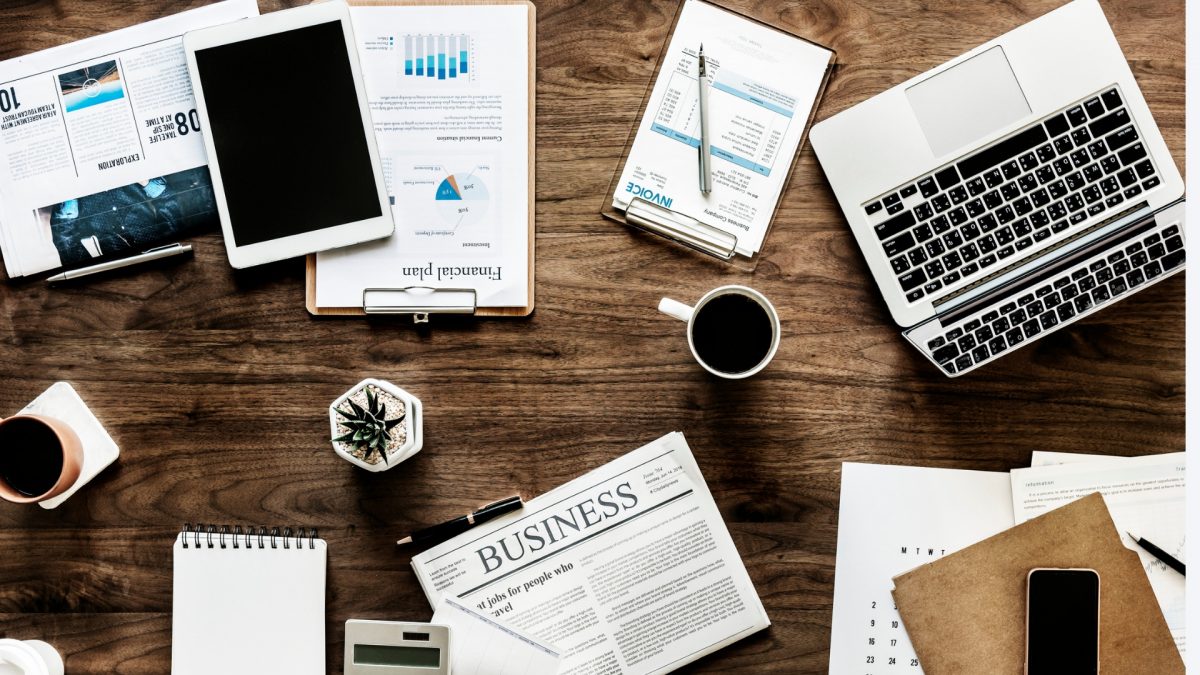 By reading this guide and following the steps, you should be able to not only encourage growth and success, but also to avoid "missing the boat" and falling behind your competition because you underestimated the importance of a new way to reach your consumer (or weren't aware of it at all).
With Statista saying the total worldwide eCommerce sales will hit 4.88 trillion US dollars by 2021, you want to be on this bus as soon as possible!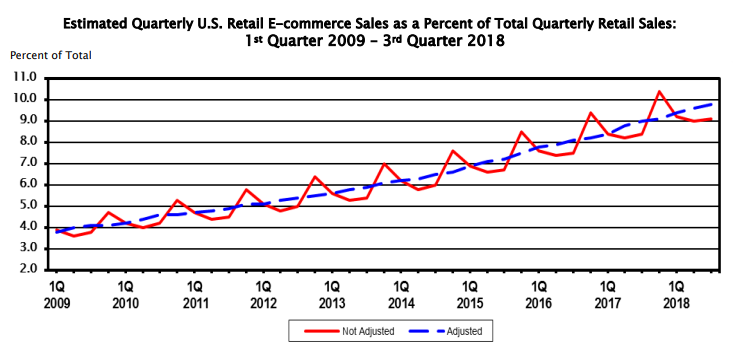 Which of the Latest eCommerce Trends Will Continue to Grow Through 2019?
Of course, before delving into the future and what it brings for eCommerce, it only makes sense to look back at 2018, the recent developments you may already be aware of, and how they are likely to develop and grow further into the new year and beyond.
One of the most prevalent stories last year was the complete domination of Amazon. For an idea, at the start of 2018 Amazon commanded 37% of the eCommerce industry. At that time, Sellbrite estimated that this number would reach over 50% of all online sales within three years.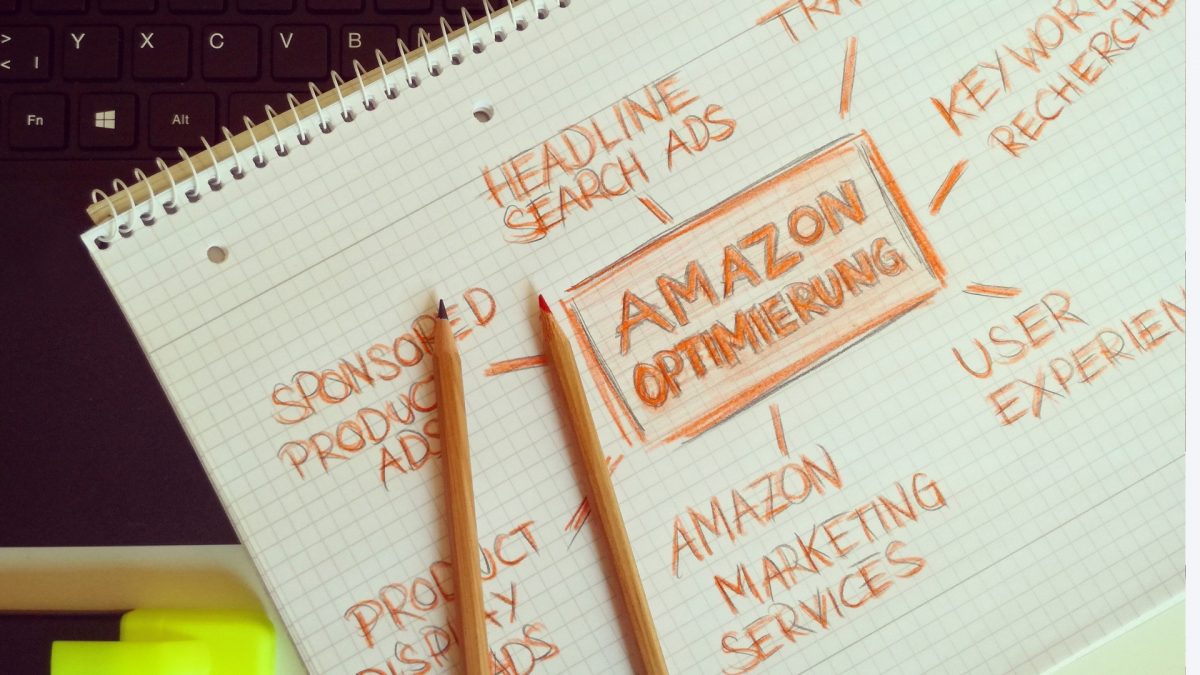 That sounds like pretty huge growth, right? While you might think so, Sellbrite actually underestimated the speed of Amazon's climb to world domination pretty massively, as that market share reached 49.1% within that year, making it all but guaranteed Amazon will control over half of all online sales in early 2019. Just for reference, that's 5% of all retail, offline included.
Just look at the growth we've achieved for some of our clients in our list of Case Studies, and you'll know why setting up the best possible products on Amazon with highly optimized listings is arguably the best step you can take in 2019.
Year over year, with no signs of Amazon's dominance declining, they are having a direct influence on the expectations of the customer, which is likely to lead to the market demanding better and faster shipping and logistics, advanced search capabilities, and many other developments focused around improving customer experience. After all, Jeff Bezos himself has made clear Amazon's aspirations to be "Earth's most customer-centric company".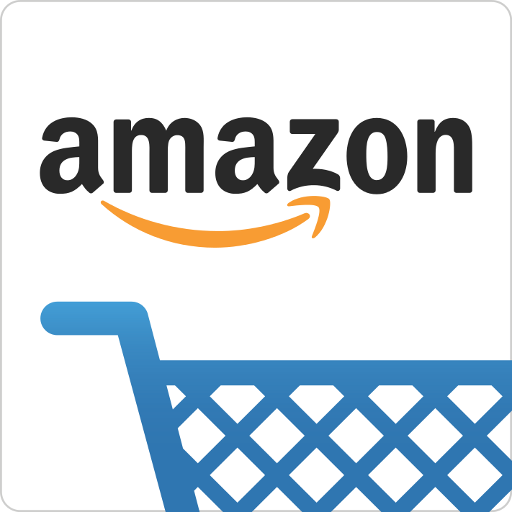 Let's take a look at how they might do that, and what we can learn from it:
How will Customer Experience Push Buying Trends This Year?
With Amazon having the freedom to continue to spend so much money and effort on removing any and all friction in their customer experience, the customers' expectations on what an online buying process should look like will grow too.
This means customer experience should be at the forefront of your 2019 strategy. As the gulf between Amazon's offering and that of other businesses continues to widen, customers will have less and less patience for any form of friction throughout the whole searching and ordering process, and the companies that stay on top of eliminating as much of that friction as possible, will reap the benefits.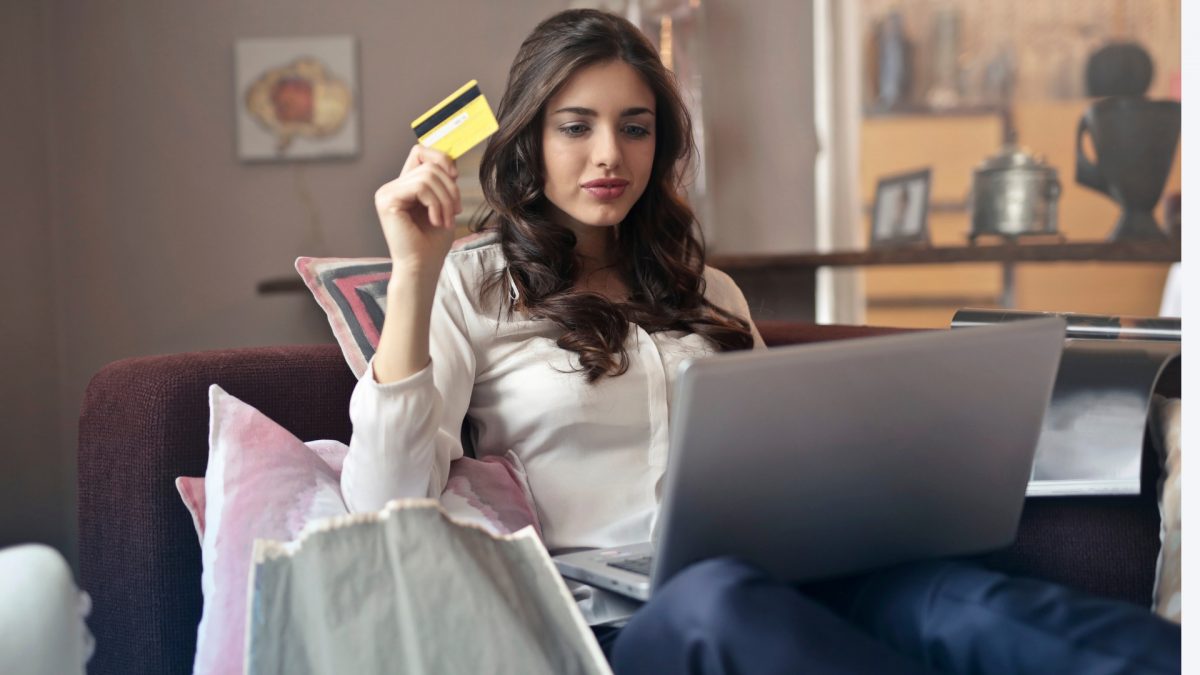 Areas you should be paying attention to, studying and investing in include:
More Personalised Offerings
Mobile Apps & Less Reliance on Traditional Browsers
The Resurgence of QR Codes
Improved Logistics, Faster Shipments
Better Visuals Than Ever
Visuals have always been a fundamental part of conversions and keeping your users' attention, but better ways of doing this keep being discovered, and the most successful ones get adopted by competitors, spurring new online purchase trends.
One technique that has been catching on with online shoppers recently and seems likely to be extremely visible throughout 2019 is offering a hero carousel that plays a video instead of just displaying images.
This is a great tool for grabbing the users' attention as soon as they land and forming a connection between them and your brand, improving bounce rates and increasing the time customers spend on your website.
Creative ways of striking a balance between desktop and mobile-focused design are likely too, as controversy continues over the currently omnipresent 'hamburger icon'.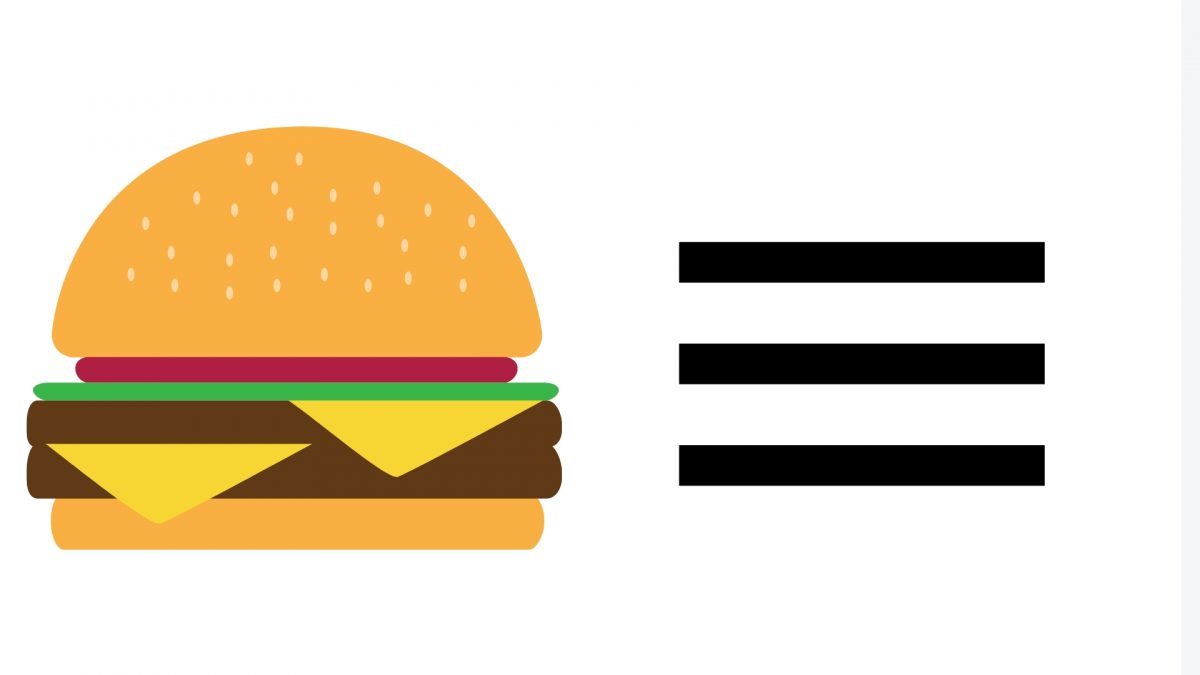 Advanced Search Options
Amazon & Google, as well as other giants of the industry, are constantly finding ways to make their searching facilities and SERPS more personalised, unique, and directly appealing to the searcher. You may remember when Google AutoComplete first started offering to finish users' search terms before they'd even finished typing them.

This has a huge amount of benefits, from saving time and providing suggestions to the user, to giving sellers or buyers ideas for the highest selling products from a certain brand.
Things like this add perceived value to an online store, so we are expecting one of the major ecommerce design trends in 2019 to be a refinement and development of this idea, possibly even ordering AutoComplete results based on which products are more likely to be of interest to the searcher specifically, as opposed to the overall most popular. That ties in with personalisation as a whole, which we will come back to later.
Chat Bots
On the one hand, live chat software has already revolutionised the way users and businesses communicate, helping to reduce expenses and time on the customer service end, improving customer loyalty and resolving problems quicker than could ever be possible via email alone.
On the other, machine learning is allowing us to take this concept even further and it's not implausible that some of the world's biggest companies will have AI employees very soon.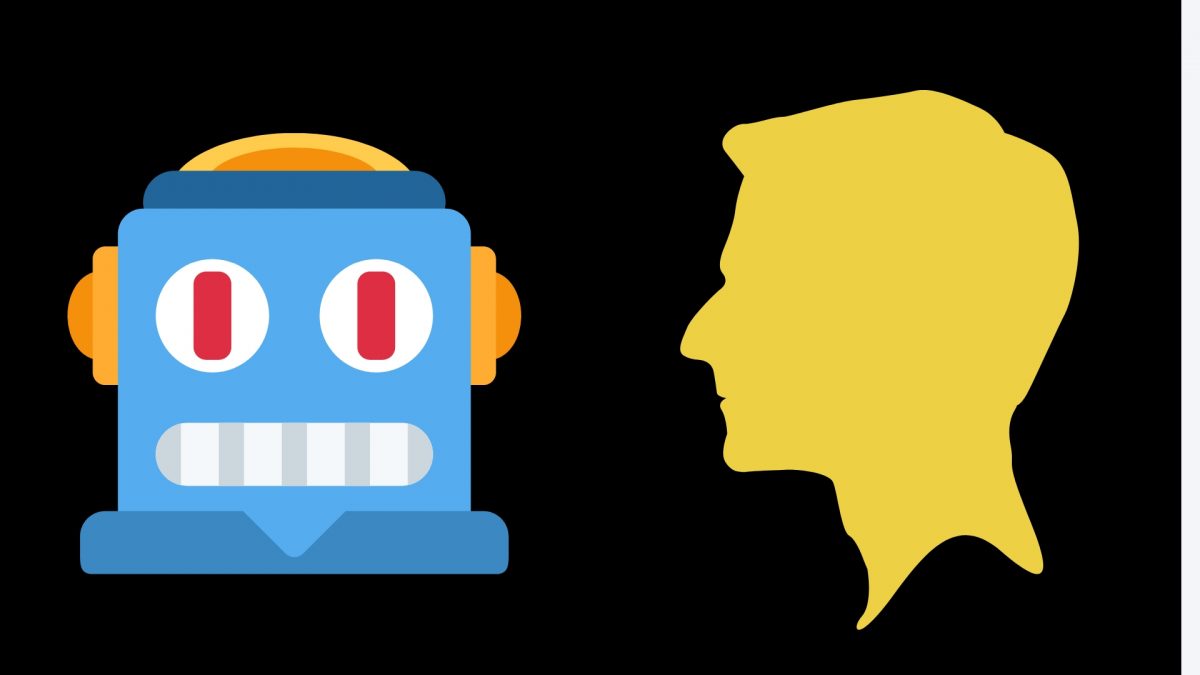 Chat bots take that live chat idea and allow the software itself to answer the most common queries, ask the customer questions, and solve issues without needing the intervention of a human customer services staff member. This can be set up by the seller and be extremely selective and systematic, meaning only the really important queries that the chat bot can't resolve alone will be forwarded on for actual humans to deal with.
They can even get more intelligent than that, acting as intelligent help guides for employees, offering personas that appeal to specific customers, and more, so we are really just at the beginning of what's possible.
A recent report on the subject by Oracle discovered that over 80% of businesses will be using chat bots for customer interactions by 2020, so it's a great time to get ahead of the game right now.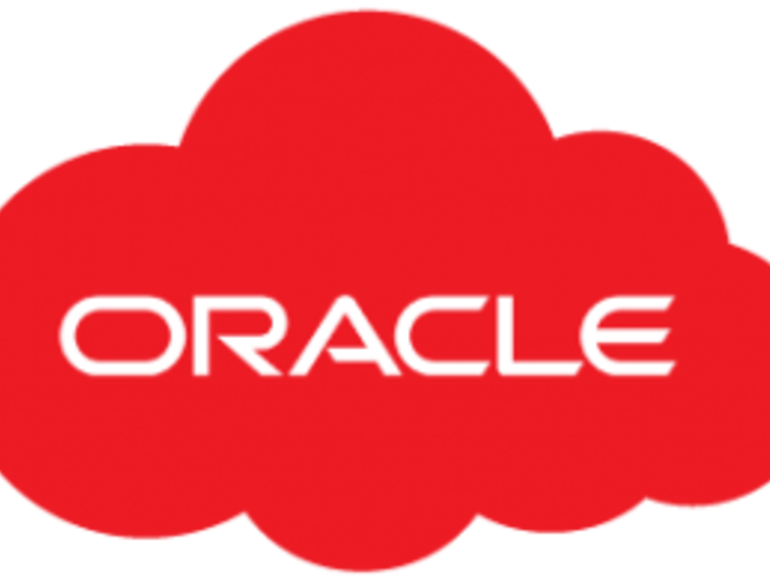 The report also suggests that a driving force behind this development is our expectations for "fast and accurate service" from our apps and websites, and our willingness to switch immediately when those expectations aren't being met. The simple crux of the matter is that, humans are no longer fast enough to satisfy our need for immediate satisfaction when it comes to online shopping and any issues or queries that may arise.
 More Personalised Offerings
Up to 45% of customers say they're more likely to purchase from a site that offers personalised results.
This type of system draws from all kinds of data sources, from a user's buying history, to the device they're using, location, time of day and more, as well as bringing back products from previous abandoned baskets for a second try.
Just like with chat bots, this software is likely to make a huge advancement this year as machine learning capabilities get more and more complex.
Even better, personalisation can improve conversion rates by up to 150%, and even increase average order values by 50%.
So, your customers can turn up intending to buy something new, and be reminded automatically of something else they wanted last week too!
Mobile Apps & Less Reliance on Traditional Browsers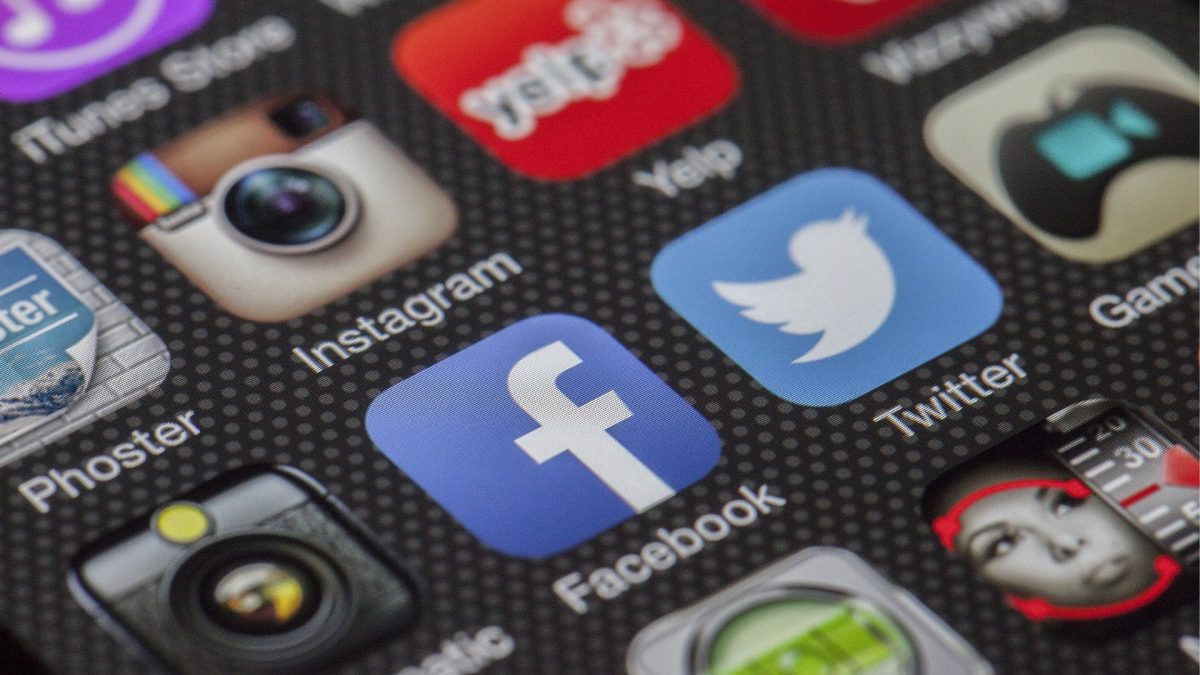 As I'm sure you're aware, the dominance of mobile shopping is here to stay. People nowadays carry their phones with them all the time and spend much more time using them than they do traditional desktops or laptops. Way back in 2016, SearchEngineLand reported that 60% of online searches now come from mobile phones, a percentage that can only have increased considerably since.
Search engines have been convincing businesses to make websites more mobile friendly for a while now, after all SmartInsights says users spend 71% more time on mobiles in the US, rising to 91% in Indonesia. But what you might not know, is mobile apps are used more than mobile browsers by a pretty significant amount.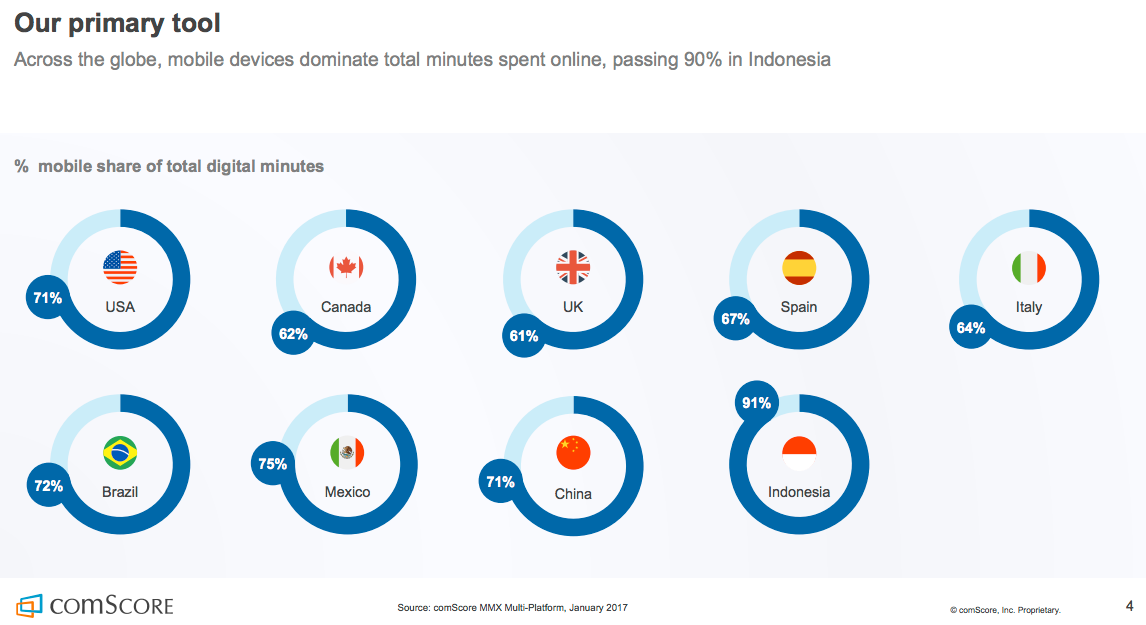 Part of this is motivated deliberately by businesses offering extra features and exclusive deals for apps, but users' also generally prefer the increased speed and usability of an app, with a survey showing that over half of US internet users would prefer to purchase via an app than a website.
One of the major parts of the ordering process that makes a difference here is when it comes to customers entering their details. This is usually the last stage, when the user is pretty sure they want to make the purchase. Despite this, a disproportionately large amount of mobile web browser users abandon their cart at this stage, and one major reason for this can be the cumbersome task of entering lots of sensitive details on a phone, often while out and about, on the train or mid conversation.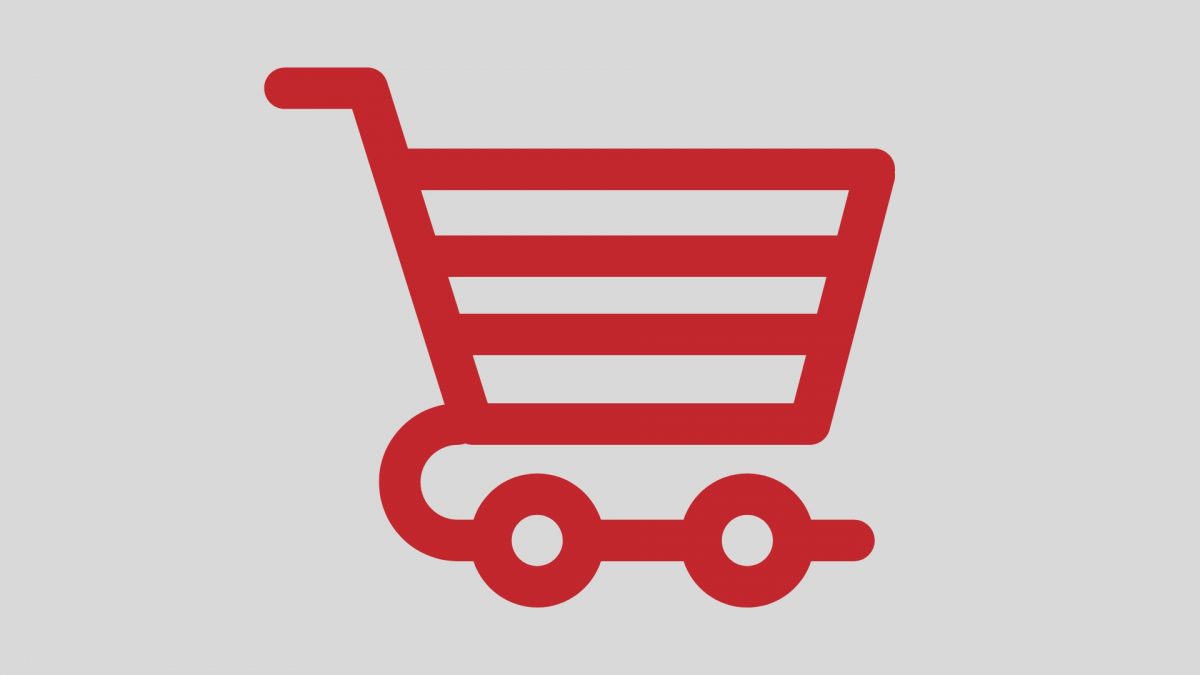 Mobile apps overcome this by saving customer details, allowing purchases in only a tap or two and massively increasing conversion rates.
Expect business to continue chasing this trend in 2019, and you'll want to pay attention yourself if you don't already have an app available.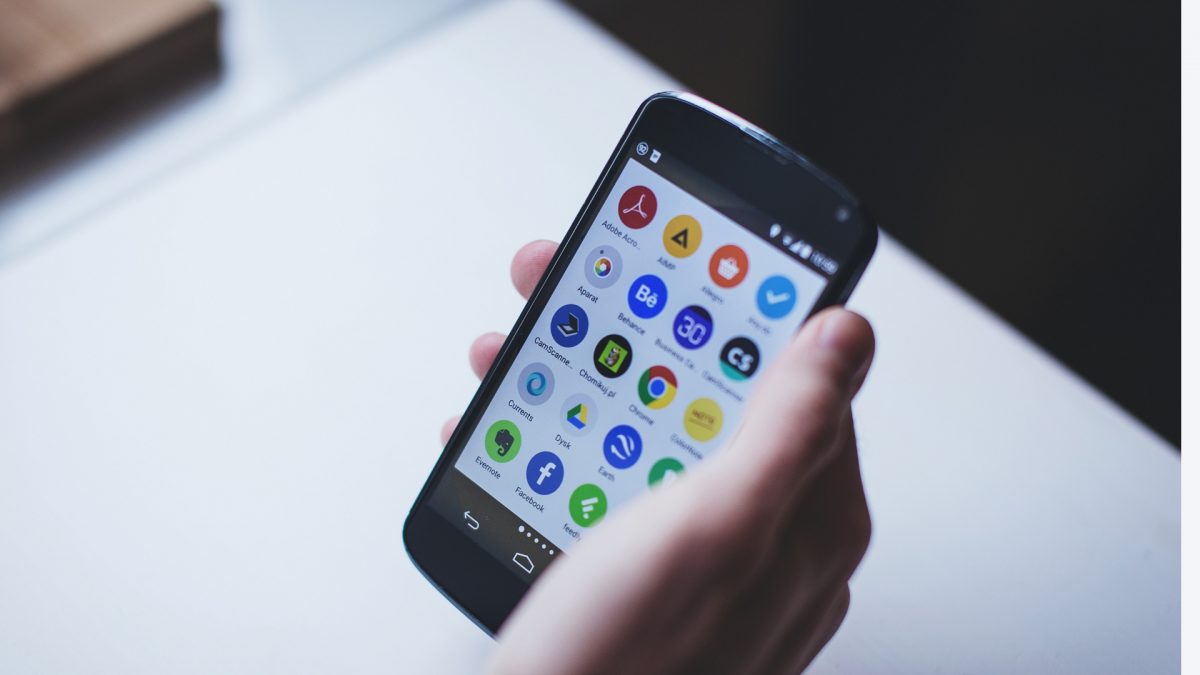 Between this and the increasing success of interest-driven ads through social media apps, it will be extremely interesting to see what happens to old-school browsers in the coming year. What's absolutely certain is they are no longer the main source of traffic for eCommerce businesses.
The Resurgence of QR Codes
Thanks to the general fears experienced by the High Street, along with successful and headline-worthy projects like Amazon Go, the response of brick and mortar stores to eCommerce is leading to convergence in a lot of areas. One aspect that's being pushed by many retail stores is the receipt and redemption of coupons and vouchers via smartphones, which according to Juniper Research will be surpassing $90 billion in total value, and 5.3 billion in volume by 2022.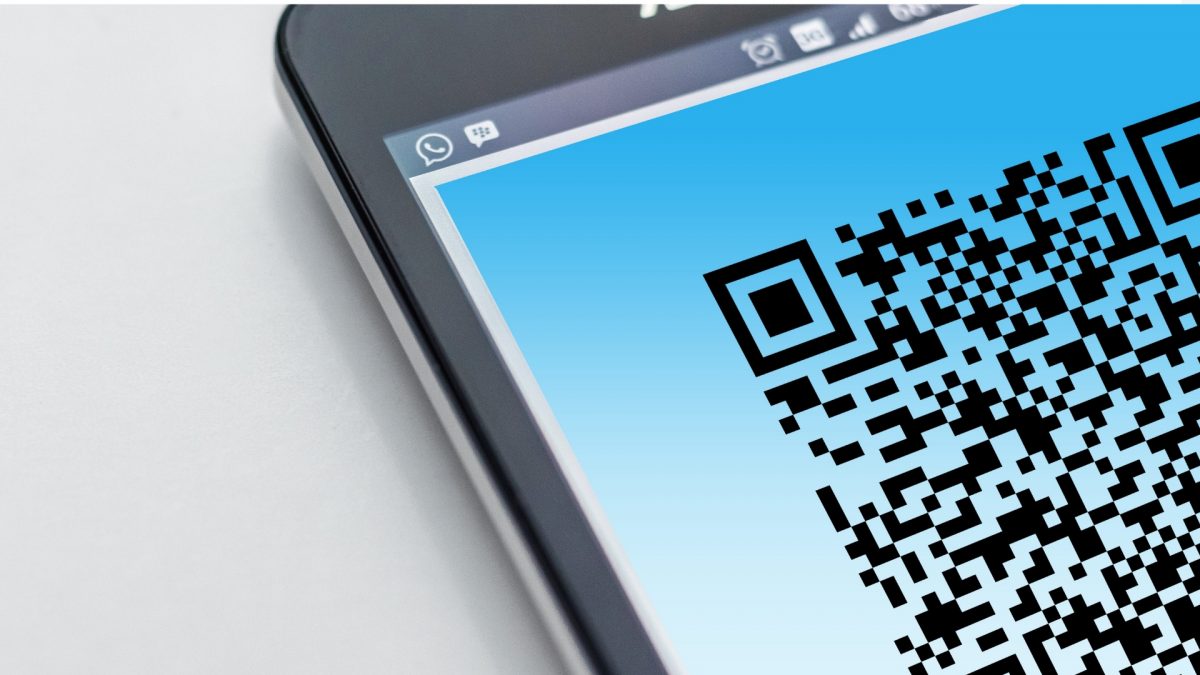 Another related technology is the ability to scan barcodes with your phone while wandering a shop, allowing you to automatically pay for each item scanned when you leave the store, completely negating the need for checkout staff or even self-service machines. This is rapidly being adopted by major retail chains like Asda and Wal-Mart.
As of now, it seems like QR codes are around to stay, and are certainly worth considering in your eCommerce strategies for 2019, however with competition from newer technologies such as NFC or even things like chat bots offering discount codes, QR codes are less of a sure thing than anything else on this list.
Better Logistics and Faster Shipping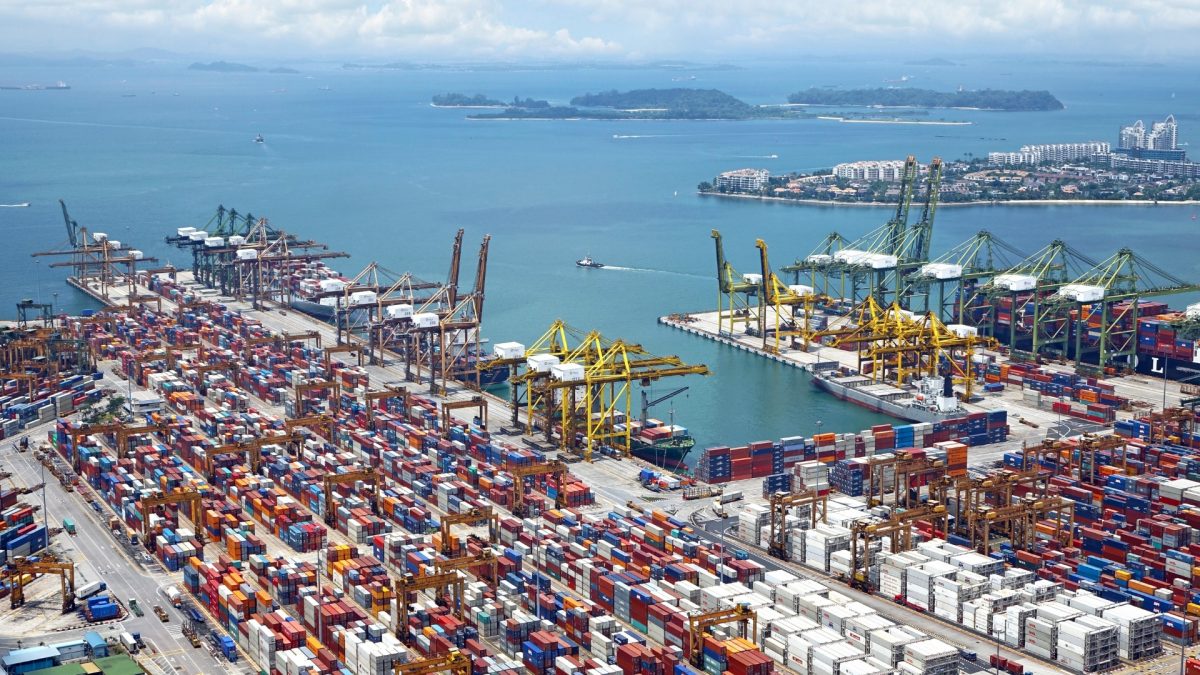 Thanks to the success of Amazon Prime, various delivery options such as same day delivery, time flexibility, drop-shipping, and more are becoming more and more desirable by the day. With Amazon already testing drone delivery in the UK, and collection lockers appearing everywhere, getting above and beyond the competition when it comes to logistics is becoming more and more crucial and will reward you with customer satisfaction and loyalty in 2019 like never before.
How will new Ideas Push eCommerce Industry Trends for 2019?
So, there you have a thorough summary of the most recent trends in the eCommerce industry that are likely to continue pushing buyer habits and online purchases in 2019, but what about even newer emerging trends that you might not even have considered in regards to their relation to eCommerce? For example,
Augmented Reality and Virtual Reality
These are recent technologies you are probably aware of but possibly haven't considered in regards to eCommerce at all. While Virtual Reality is likely further off, it could theoretically be used to allow customers to browse a "physical" store and even move products around in their hands before purchasing.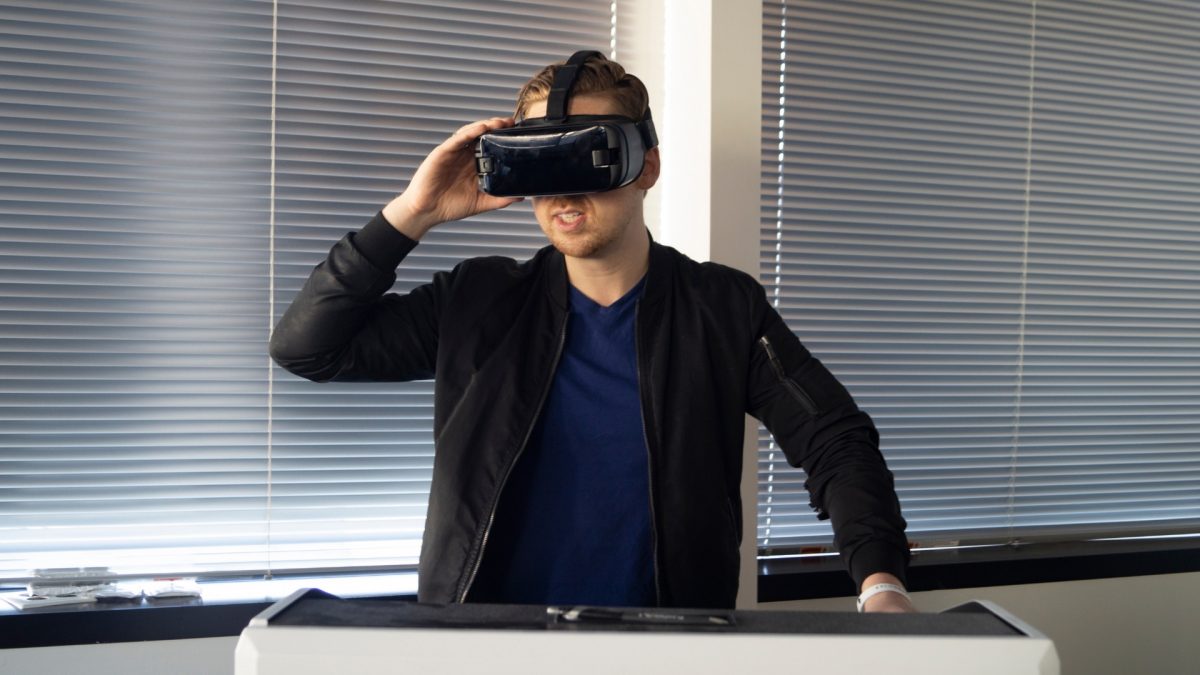 AR, however, is maturing more rapidly and already has a variety of interesting use cases.
The Dulux Visualizer App allows you to change the colour of your walls in real-time via your mobile phones camera, then instantly purchase the colour you decide on.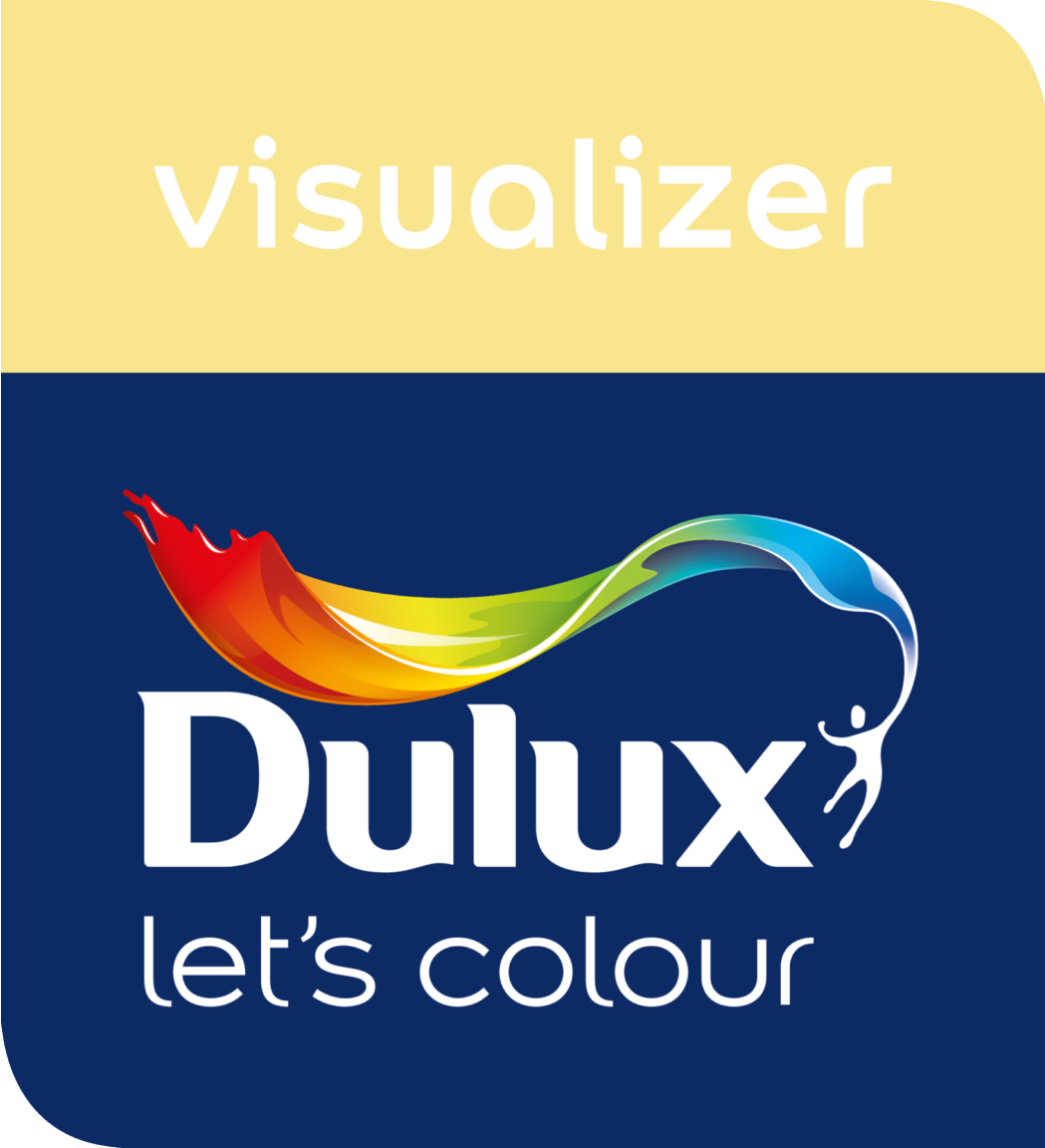 IKEA also offers a similar system that allows you to see how furniture and other items would look in the room of your choice, allowing you to make an informed purchase.
If you are trying to sell something that's highly visual or aesthetic, such as make up, sunglasses etc, it is definitely worth considering whether an AR app along these lines could take your conversions and customer interactions to the next level.
ROPO (Research Online, Purchase Offline)
This a fairly modern phenomenon worth taking note of. ROPO is basically when a customer browses a product online to find more information, but then purchases the product offline. One example of how stores capitalise on this is through Click and Collect schemes. Up to 88% of offline customers research online before buying, making this more common than you would likely at first assume.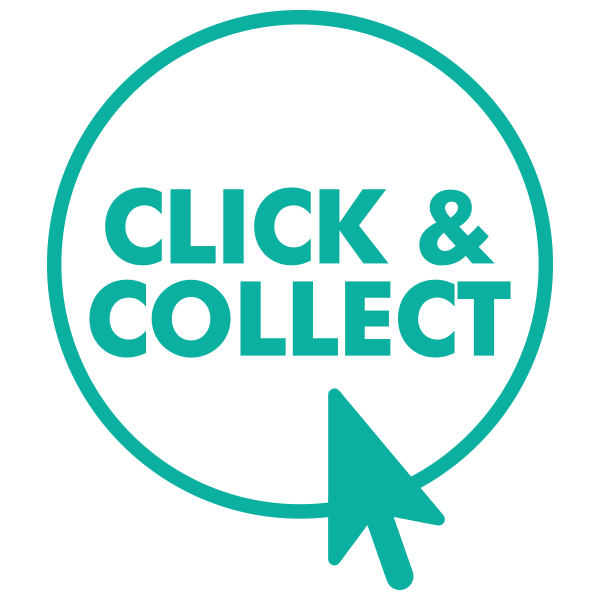 The opposite is called showrooming, which is when somebody is stood in a shop, considering making a purchase, but decides to make an online search first to see if the product options or prices available online are more attractive.
A customer at this stage could go either way, so being mindful of this and selling the benefits of buying online, as well as offering tempting delivery options could be very beneficial to your conversions.
Retail stores are already declaring war on showrooming, so eCommerce businesses would do well to be aware of ROPO and it's causes and effects.
Voice Searches and it's Effects on SEO
This is one of the most interesting ones and could have a huge impact on SEO and keywords. Thanks to Home Assistants like Alexa, and smartphone helpers like Siri, voice searches are becoming more and more common by the day.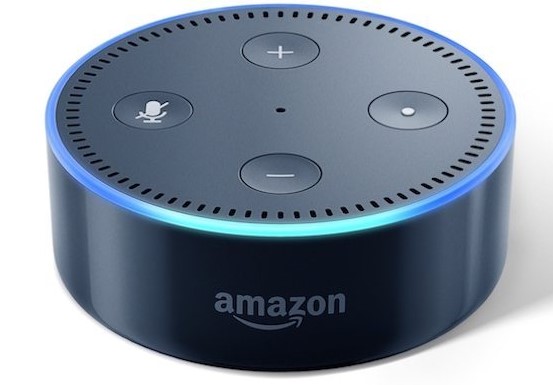 According to VoiceBot.ai, voice shopping was around $1.8 billion in the US and $200 million in the UK in 2017, numbers that by 2020 will become $40 billion and $5 billion respectively. If you don't think now is the time to focus more on voice searches, you aren't paying attention.
Due to the spoken out loud nature of voice searches, search terms tend to consist of slightly longer tailed keywords and online shoppers will likely respond better to slightly different results tailored to voice searches too. Dominos already allow customers to order via voice alone, which is another thing that will be used more and more, and could make a huge difference to certain demographics of online shoppers in 2019.
Ethical/Activist Consumers
Regardless of whether it's something you're interested in personally, more and more people every day are getting strong opinions about ethical consumerism and sourcing. Be sure to shout from the rooftops about any environmental or social benefits to your product, and of course be careful to avoid things during the product research stage that may be harmful to the image of your product or lead to a "moral boycott" that isn't necessarily deserved or could be easily avoided.
Final Shopping Trends Worth Considering
Here are a few final eCommerce trends, 2019 and beyond, that are worth keeping your eye on:
Subscription Boxes are a hot topic right now with Blue Apron, BirchBox and Graze leading the charge, but more springing up every day. They can be an additional revenue stream and help you target a specific niche, so it's definitely worth considering if your products are ones that can fit with the model. They can also do wonders for brand loyalty, but if you try to launch a subscription box for products that don't fit it, you can wind up wasting a lot of time and effort.
Influencer Marketing isn't going anywhere. Micro influences were a huge story of 2018, and, when choosing the right influencer for your product, can be one of the cheapest marketing methods with a surprisingly high ROI.
Analytics Software will keep improving and give businesses more power than ever, so keeping up to date with what new options are out there and what you can achieve with them is arguably the most important thing you can do, giving you new ways to make the most of your data and target your audiences.
Amazon Ranking and On-Page Optimization. This one is always the key to successfully overcoming your competition and making sure your products have the biggest impact they possibly can. It's nothing new but with changes to Amazon's A9 algorithm sure to keep coming, would you rather have industry-leading experts handle your Amazon rankings so you can focus your time on other things? If so, you can learn more about our unique ranking process here. If you still aren't sure exactly what we can do for you, take a look at our case studies to see what we have achieved for our other clients!