Here at AmazonSEOConsultant, we've spent years achieving unbelievable results ranking our clients products in highly competitive Amazon niches, all thanks to our self-developed and unique ranking process.
If there is one thing we've gotten to know in this time, it's Amazon sellers, what excites them, what they want in an Amazon seller tool, and of course, their pet hates.
If there is one thing Amazon sellers hate more than anything, it's filing tax returns.
Giving a huge chunk of your hard earned money away through a system that's clunky, outdated, fiddly and just plain badly-designed is never fun. In fact, it can often cause a lot of headaches, especially for the sole trader who has to manage it all alone.
Luckily, there is a solution in the form of Amazon seller tax software.
There are a bunch of Amazon sales tax automation tools out there that can keep track of how much you owe in each state or country, automate your tax returns based on the orders in your Amazon seller account, and generate invoices for easy record keeping.
Tools like this can make one of the most difficult and annoying parts of running an online business into something you barely need to think about.
But which tools provide the best value, and which are a waste of time?
Stick with us and you'll know very soon, because we're listing our top 5 best tax software for Amazon sellers based on years of experience working with clients of all sizes.
If you don't want to spend the run up to tax returns day panicking and full of stress, the answers are right here.
Just read along:
The Best Tax Software for Amazon Sellers
There are a ton of options out there when it comes to software that helps calculate your sales tax for Amazon sellers.
Some of them are extremely reliable, and some aren't.
This is why we've decided to bring you the five best, based on actual experience using the tools as well as discussions with our clients.
Let's jump right in:
Avalara

Avalara syncs with your Amazon control panel and pulls out all of your transactions to get a running total of your tax bill.
You can even define your location and tag different transactions with locations in order to get the appropriate tax breakdowns, state by state, or country by country when it comes to things like VAT in the UK.
They also have local experts in most countries that speak the language and are aware of tax laws and regulations.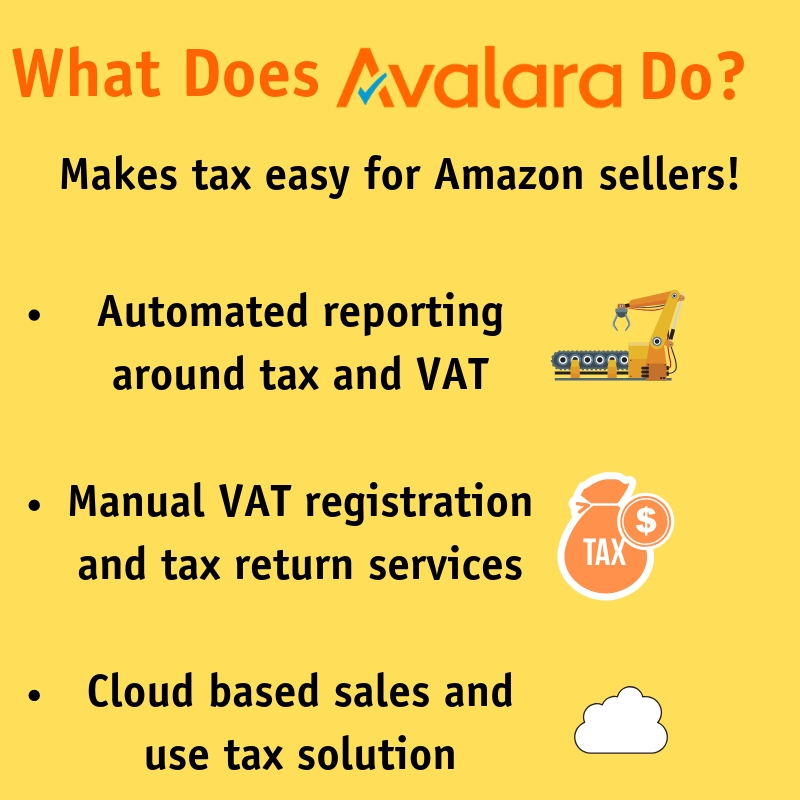 Avalara Tax is the name of their software tool which is available for just $20 a month, but Avalara also offers manual services thanks to their large team of expert accountants, so you can pay a little more to get things checked in person if you prefer.
Whereas the software tool simply calculates your tax bill accurately and makes it super easy for you to file your tax returns, the manual services involves actually submitting them for you so you can essentially forget about tax entirely – the one thing all business owners want to do!
When it comes to finding a way to make tax simple, Avalara is an excellent option that will mean:
No more panicked calculations last minute
No more spending time and effort keeping paperwork in order all year long
No more going back through transaction histories to find that one transaction you've missed
For us, all of the above is a no brainer for the price, and if you're a Amazon seller with limited time, we highly recommend Avalara.
We have reviewed Avalara in full, so if you would like to read about it in more detail, click the link.
SimplyVAT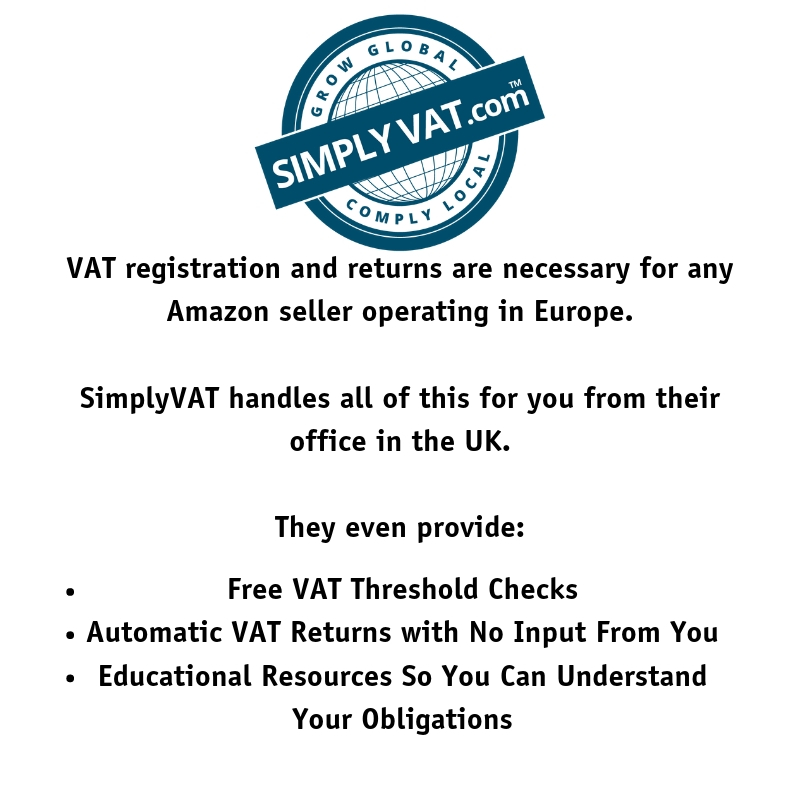 SimplyVAT is quite different to Avalara, but to us this is a diamond of a service and could completely revolutionise your business, simply because it makes to easy to scale globally.
If you sell on one of Amazon's European marketplaces, you will have to pay VAT.
This works differently to sales tax in the US, and as such it can be quite difficult for sellers from elsewhere to get their head around.
Hell, it's not even as easy as it should be for sellers from Europe who have been paying VAT all of their lives – this is a complicated process.
You'll be glad to hear about SimplyVAT then – the company is based out of the UK and is made up of accountants, eCommerce experts and tax specialists.
They aim to make VAT a non-issue for anybody, whether inside or outside Europe, and do a damn good job of this.
For our money, this is the best VAT solution for Amazon sellers bar none.
First up, they offer a free VAT compliance check.
This simply involves checking the countries you operate in and your sales volume in each to double check whether you should be paying VAT.
They can also handle your VAT registration for a one-off payment of $470.
From there, you are free to manage things yourself if you like, but for an ongoing $240 per year, they will handle all of your VAT obligations, including:
Taking care of all calculations including differing rates between countries
Generating invoices for all transactions
Raising your VAT returns
Filing them!
Whether this is worth the cost for you will depend on the size of your business and how much you hate handling VAT returns yourself, but for our money this is a no brainer.
If you're an Amazon US seller, expanding into Europe may just be the best thing you ever do, as you'll get access to millions more potential customers with expendable income, most of whom speak English.
VAT is the biggest obstacle to this and puts a lot of people off, but with SimplyVAT there is literally no excuse not to go for it.
To learn more about SimplyVAT, check out our full review.
Tax Jar is an excellent solution for Amazon sales tax and one of the best tax software options for Amazon businesses.
If you want to sync your Amazon seller account with tax software and then sit back, this is the solution for you.
They offer a basic package for just $17 a month that allows you to:
Get separate sales tax reports for every state
Integrate it with all of your sales channels – of course including Amazon, but also Shopify, Magento, or wherever else you may be selling
Automatic filing of tax returns for $25 per state
There is also a more premium solution that will cost you more depending on the size of your business – while this includes a bunch of nice extras such as 24/7 support and XLS exports, you have to pay extra for the tax returns whichever package you have, so the basic one may well be better value.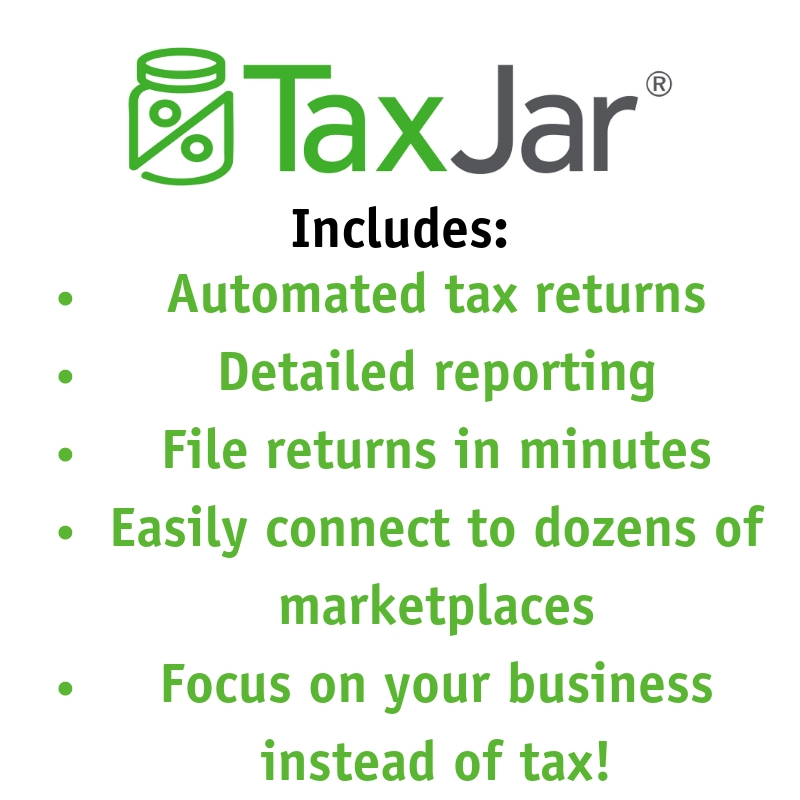 Tax Jar is used by some pretty huge businesses such as Coca-Cola, Microsoft and Dell, so it's certainly got some chops in the industry.
Avalara has better experts on hand if you want manual support, and SimplyVAT has the VAT game on lock, but for simple, fire and forget sales tax returns, Tax Jar is king of the hill for sure.
Full disclosure – Tax Jar is what we use in house, both for our own products and when clients need help managing their tax returns.
It's extremely scalable and easy to use for multiple different things or for businesses of any size, which is a huge benefit for marketing agencies like us – and is for you too if you're planning on scaling your business consistently.
Taxify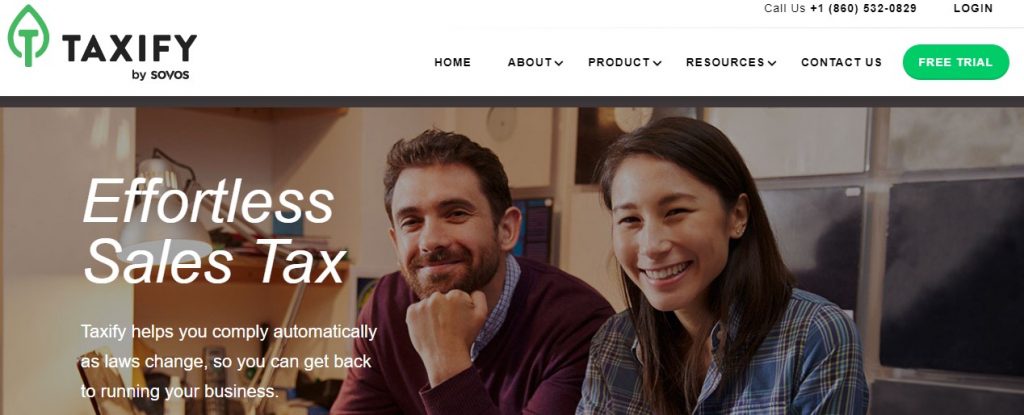 Taxify isn't specifically aimed at Amazon sellers, allowing businesses of pretty much any kind to automate their tax processes.
With that said, it does still integrate with Amazon and automatically collect the appropriate sales tax for each order, and can automatically file your returns for you.
It can even do this in the more difficult states like California, which may be a big selling point for those doing a lot of business there.
Taxify is managed via a web portal but it has a plugin for Amazon that allows it to draw your transaction data.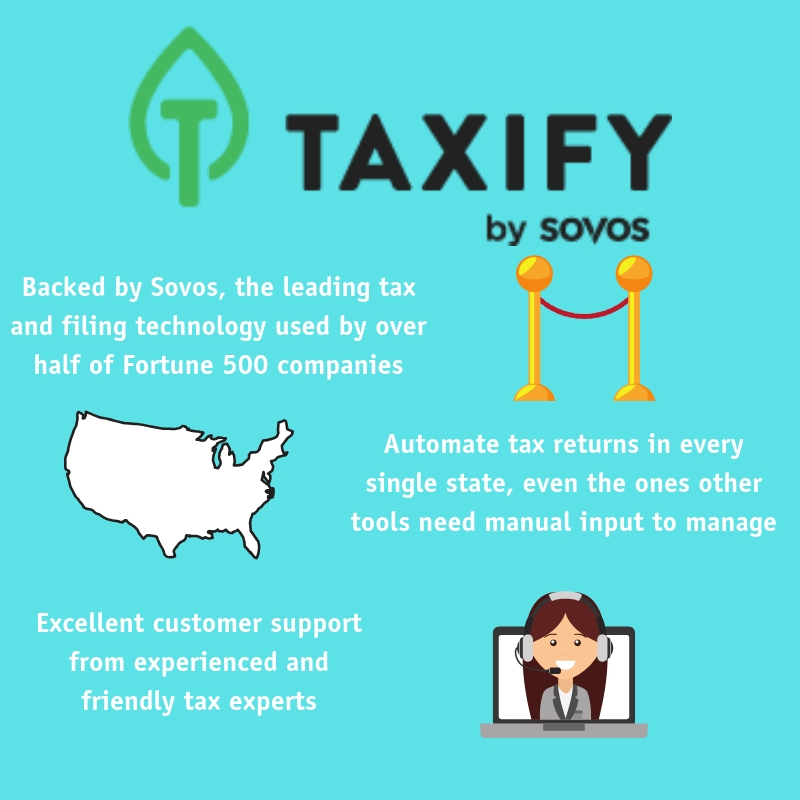 Taxify provides you with up to date tax rates and codes for every state, including accurate historical data that displays the correct tax rates for the time – all for over 14,000 tax jurisdictions.
Similarly to Tax Jar, Taxify is a "fire and forget" solution – you simply set it up, then allow it to prepare, file and pay all of your tax returns automatically with no further input required.
Taxify starts from $47 per month for smaller businesses with under 1,000 transactions per month, and scales upwards in 3 different packages, with the largest costing $247 per month for up to 20,000 monthly sales.
You can get a quote for larger numbers too, but on top of this monthly subscription you'll need to pay $27 for each professional state tax return.
Those of you from outside the US who are planning on using Taxify to manage your sales tax within the US will need a United States bank account to pay your tax returns from, but then this is super easy to set up and no real issue.
Personally we prefer Tax Jar, but Taxify provides excellent value, top quality automation, and easy scalability – making it an excellent choice for Amazon tax management!
A2X Accounting

This is perhaps the least well-known solution on our list, but a pretty handy one that we think will grow in popularity pretty soon.
A2X Accounting won't file your taxes for you – you'll still have to do that manually.
However, it does automatically track all of your Amazon transactions, tag each one with the correct sales tax and fees, and provide complete tax and accounting information.
This provides all the information and figures you need to easily and quickly file your tax returns yourself, or you can combine A2X with another tool to handle it all automatically.
There is a setting in A2X that splits your sales by country, included where goods are shipped both from and to.
This will then keep track of all the correct tax rates and provide a running total of what is owed for each country or state.
You can easily combine this with general accounting software such as Xero or Quickbooks to submit your file returns, as neither of those solutions can manage multi-country tax or VAT returns, but A2X will quite easily handle that for you.

Marketplaces supported are broad, including:
Canada
Mexico
The US
The UK
Germany
France
Spain
Italy
India
Japan
Australia
The excellent plus that comes along with this fact, is that you can easily scale your business globally while using A2X, and tax across all those different countries will continue to be a minimal issue that doesn't take up much of your time.
Prices range from $19 to $139 per month depending on your sales volume.
If you prefer to have all of your tax automation solutions in one place, then you will probably want to go with Avalara or Tax Jar – it'll just be easier to manage this way.
But if you already do your tax returns via Xero or Quickbooks, and simply want a tool to keep track of what you owe across different countries and states, A2X has you covered.
Conclusion
We hope this breakdown of the best Amazon tax management solutions has helped give you some ideas on how to make tax returns as easy and manageable as possible.
Considering how important tax is and the consequences if you don't pay – it's unbelievable how difficult and time-consuming governments make it.
Luckily all of the companies we've listed here are working hard to make sure you can focus on your business instead of spending a huge chunk of your time calculating tax rates and ensuring you don't miss any details.
From Tax Jar to Avalara, every tool listed here will make the job a lot easier.
We've done our best to break down which ones are best for which type of business, but if you're still unsure – dive into the websites for each and do some further research.
Luckily, these are all great solutions, and you can't go far wrong!
Does all of this sound a little too complicated?
Would you rather the #1 Amazon marketing agencies rank your products, boost your sales, or automate your tax obligations?
Check out our case studies to see the unmatched results we've achieved for our clients using our unique self-built process.
Interested to learn more?
Request a proposal to get in touch!
Otherwise, keep it locked to AmazonSEOConsultant for more regular guides for Amazon sellers.