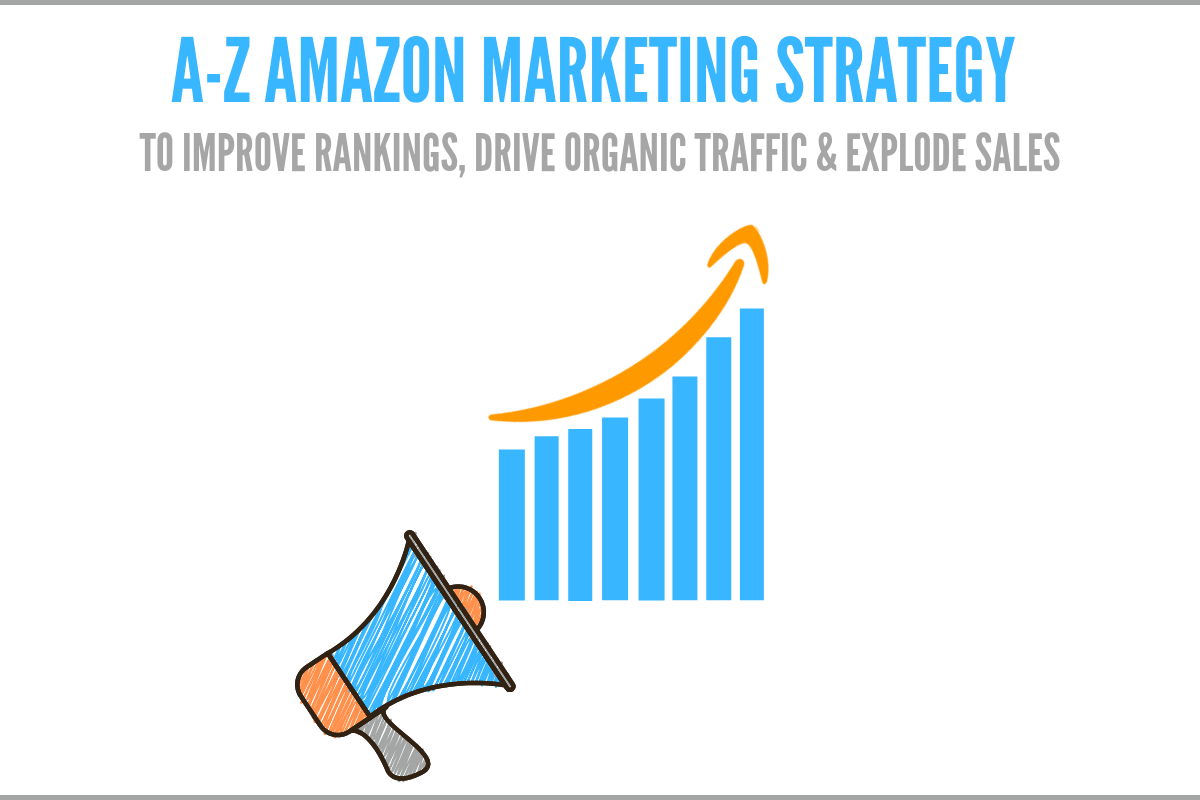 Updated June 2019
Amazon marketing strategies in 2019 come down to three core elements:
The Product: The product side of your Amazon marketing plan deals with conveying the superiority of the product.
Paid Marketing Strategies: Paid Amazon product marketing strategies like headline search, video ads, sponsored products and other display ads make for an essential part of time-bound Amazon marketing campaigns.
Organic Marketing Strategies: These include optimising on and off page factors to improve sales in a completely organic way.
In this Amazon marketing guide, we will focus on the third point – the organic marketing strategies for Amazon products. A big motive behind this post is to let our readers in on how these strategies routinely generate ROIs in excess of 1,000% for our clients.
Organic marketing strategies are and will always be relevant. In that sense, being able to rank your products for your target keywords should be your Number 1 Amazon Marketing Strategy. The reason is the longevity of the results. Once ranked (and assuming you have a good product at a competitive price point), you will continue to make full priced sales on an ongoing basis with no additional advertising costs.
The difference between your product being on the top of page 1 and generating real, organic, full priced sales vs being on subsequent pages and having to pay for exposure is exponential.
It all may appear chaotic and confusing, but there's always a method to the madness that is Amazon marketing strategy analysis. In this Amazon seller strategy, we're going to be outlining the exact strategies and steps we take to achieve consistently high rankings for our clients. We will also discuss a case study to understand one of the three core elements of having a successful Amazon brand.
Remember, when it comes to running your own Amazon marketing strategy, this guide contains all the information you need based on our years of experience, research and success in the area. If you work your way through this guide and implement every step correctly, you are sure to do well.
However, you can also request a proposal on how we could help you, allowing us to directly apply our experience to your products and business if that suits you better. Many of our previous clients and partners have loved how this has allowed us to apply our proven methods to boost their ranks and profits, without taking any time out of their day.
You won't find any other Amazon marketing services that can provide 100% guaranteed ranking increases that work every time.
Either way, there is no shame in wanting to do it yourself, so read on:
Update: This Amazon Marketing Strategy Guide has been updated to reflect the latest events, developments & techniques (2019).
.
Stage 1: Searcher Intent & Aligning Keyword Research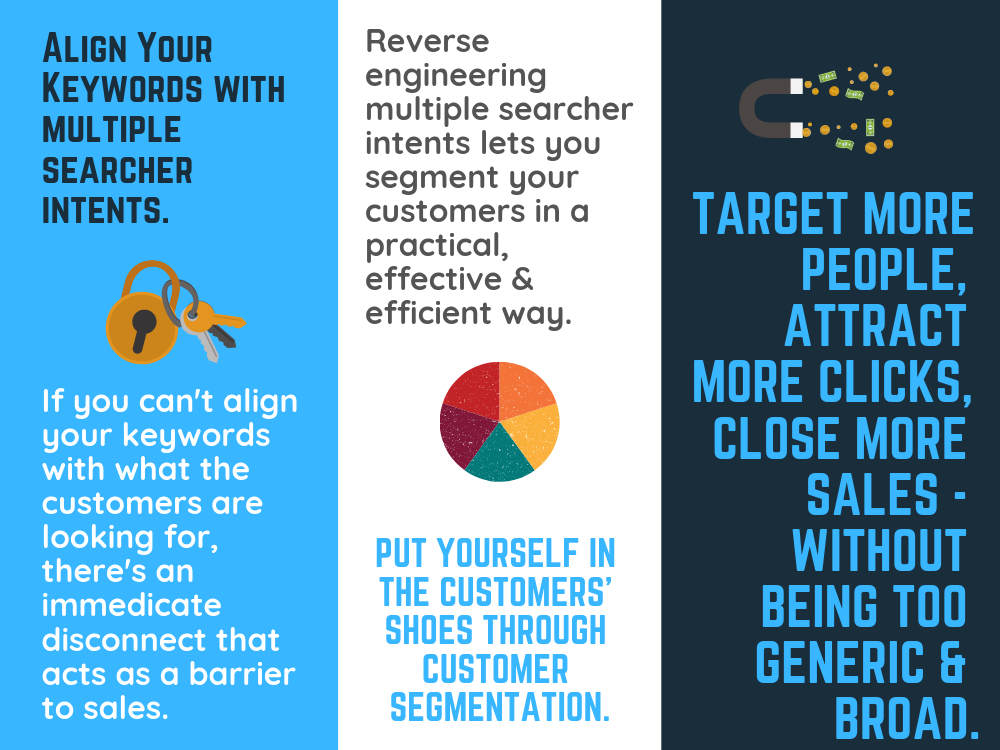 This is probably the most important and yet most overlooked aspect of understanding searcher intent. Every search query is backed by an intent – it could be placing an order, shortlisting options, comparing prices or understanding features. If you can align your products to these intents, the first battle is already won.
While keyword research is a huge part of achieving this alignment, it's important to look at this strategy as an on-the-go fusion of market research, consumer psychology and customer intent.
Assuming you are selling a high-quality product that solves an actual problem, the end result of your business transaction should always be a happy customer. But you know this isn't always the case. Directing the right customer to the right product at the right time is the key here. It takes a lot of effort, but don't let that put you off – this is the most sustainable way of letting your Amazon marketing campaigns pay for themselves.
This video provides some in-depth pointers on Amazon keyword research strategy so it's well worth giving a watch before continuing on:
Despite getting everything else right, you may still miss out on 'connecting' with your customers, and that brings us to the next point.
Customer Segmentation
Because Amazon is so large, it offers more opportunities than any other platform ever has. Unfortunately, what this also means is that 'getting found' by the right people isn't an easy feat. If you don't know what your potential customer wants and what they like, your Amazon listings are going to struggle.
The best case for careful customer segmentation and reverse engineering your ideal customer is made by the numbers.
Reverse engineering the search intent has some special advantages. Through this, you can put yourself in the customer's shoes and know exactly what their search intent is. This approach has a massive edge over conventional demographic research. As an Amazon seller trying to build a brand amidst all the noise, your primary concern should always be the intent-centric customer segmentation – not blind, misfiring demographic research. 
As we all know, changes are what keep the markets going. If there's no incentive for the change, nobody would give this a second look. Effective and efficient keyword research lets you stay on top of the changing market currents. You can keep ranking for evergreen keywords and still exploit short-lived, powerful trends. It's a win-win!
Does Your Keyword Convert?
Let's get to the meat of the issue.
The worth of every keyword you focus on will only be judged by the number of sales it drives. But how do you find keywords that convert? Have you well-and-truly got on top of the searcher intent for every keyword? How do you know if your cornerstone keyword is going to attract paying customers, and not just window shoppers?
Once you have enough data at your disposal, you can start running A/B split tests to tweak titles, images, bullet points and other on-page features to arrive at the 'sweet spot'. But assuming that the majority of sellers reading this post generate less than $100,000 per month per product, these tests won't do much. Having an innate, deep-rooted understanding of how Amazon's search algorithm works remains the only way of knowing if your keywords are good enough.
Target Everything Without Becoming Broad
Customer segmentation is very important even inside Amazon. We want to ensure we build a list of the most popular and useful search terms, but we also want to avoid integrating these into our content later down the line if it's going to reduce conversions.
This is an ongoing tug-of-war between two important ideas – keeping your listing wide open to maximise impressions while also keeping it specific enough to match the searcher intent. 
There's a trend going around now that involves putting as many keywords and variations into the title/bullet points/description as possible. This is a fairly effective way of reaching the widest set of people. This, however, isn't really going to do your searcher-intent perspective any favours.
Take this for example.
Mentioning "for men and women" in your title is a great way of reaching both demographics, but pretty terrible from a conversion or aligning brand point of view.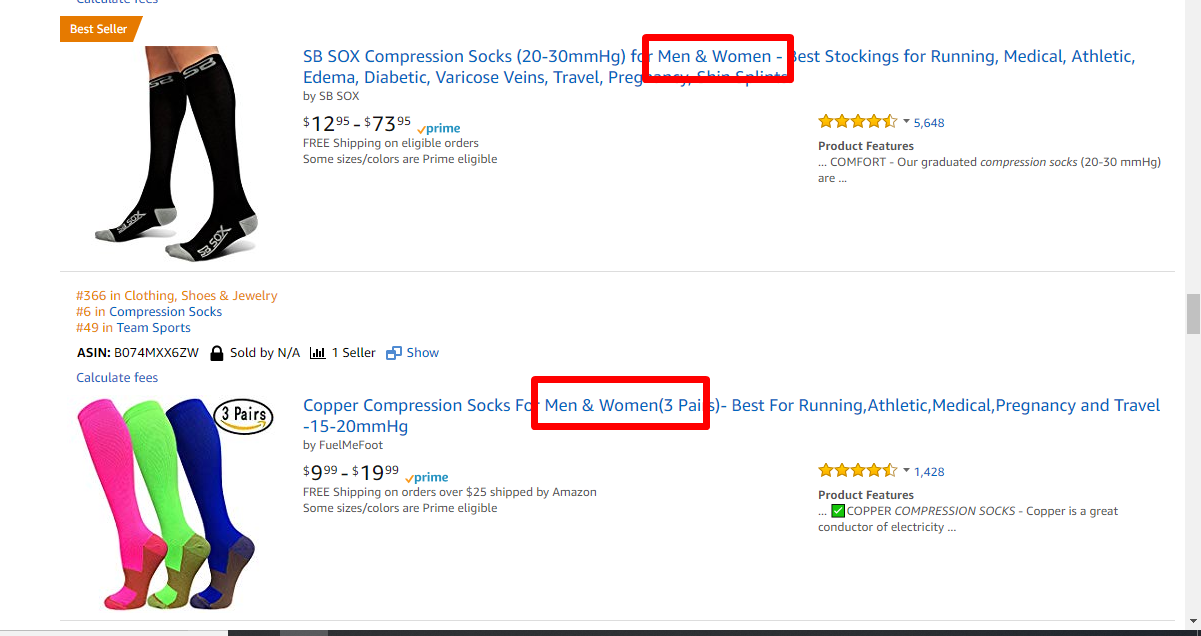 A good way of overcoming this dilemma is by differentiating between broad-spec variations using individually targetted listing titles. For this example, this could follow the format "BRAND | Best Compression Socks For Women | Features".
The specifics of the chosen demographic can be further targetted throughout the listing. You can prepare the listing copy from a woman's perspective to appeal to that particular set of customers.
This has two results:
a. You lose out on sales from most men who would otherwise have found your listing.
b. You close more women who think that this is exactly the product they were looking for.
As I said earlier, it's all about balancing these forces. By going for broadly specific groups of people, you not only improve your conversion rates, you build a niche brand image that is only going to help your cause.
Once you've determined your keywords it's time to move onto stage 2 – optimising your listing for conversions.
We won't dig into the details of listing optimisation here. If you want to learn more about how Amazon product optimisation works, jump over to this page, bookmark it for easier access and come back here to continue your journey of knowledge.
Stage 2: Product Listing Optimisation (For Amazon & Users)
Let's talk about how to start with competition analysis and build out additional changes that align into the keyword research and on page optimisation segments. If you aren't using competition analysis on a weekly basis inside your Amazon marketing strategies, you're potentially leaving a huge amount of money on the table.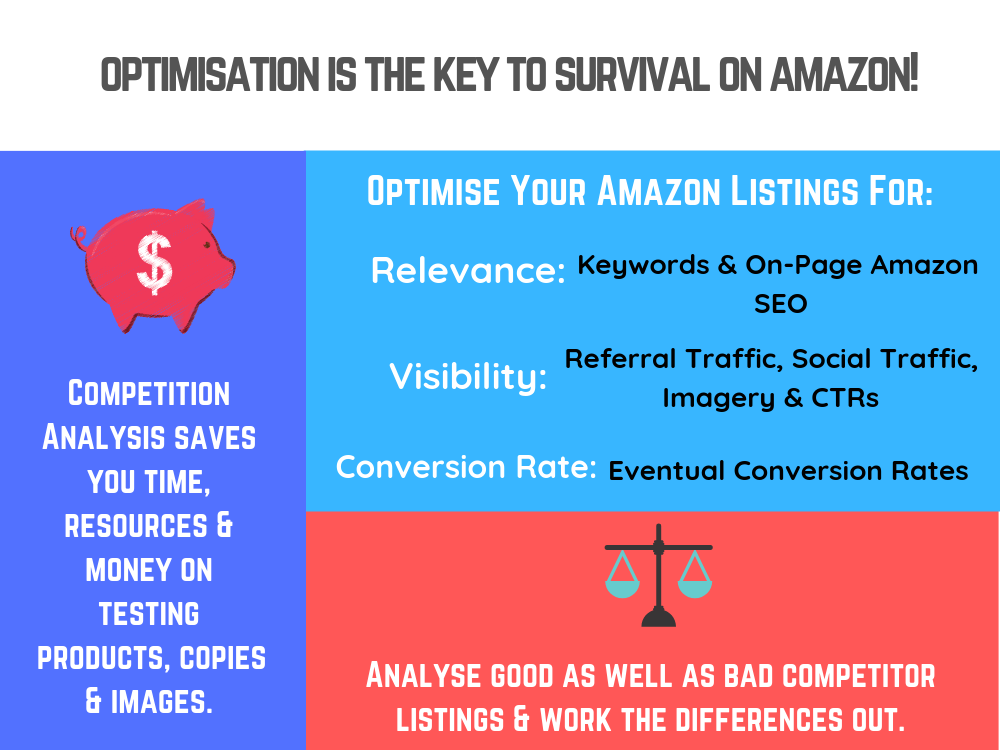 Start With Competition Analysis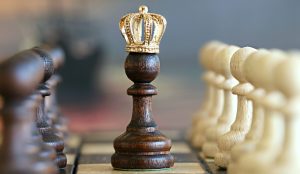 Competition analysis involves reverse engineering what keywords, copy, features, benefits and images your most profitable competitors are using and simply replicating these on your site.
It's a fairly common practice across the board to base business models on what's worked in the past. For some reason, Amazon sellers tend to overlook the power of replication – and this is exactly why competition analysis becomes important.
It's always easier to follow the most profitable competition than do everything yourself. These listings have already implemented A/B testing, full keyword research campaigns, split tested titles, bullet points and images and are now making hundreds of thousands in sales.
Remember – competition analysis isn't about copying. It's all about swimming with market currents and letting your products benefit from the momentum. 
Simply emulating the core concepts of these listings can gather enough steam for your products. Of course, the results will always be limited by how much you're willing to spend on your campaigns. It wouldn't make much sense to spend $50,000 or more for a product you aren't so sure about – especially when you're on a budget. But that shouldn't spell the end of the line for your Amazon marketing campaigns. Our bespoke RANK process is designed to help sellers just like you. To know more about how your products can start making money right off the bat, take a look at our case studies to see the kind of insane results we have achieved for previous partners.
The hardest thing to do on Amazon is getting started.
Amazon has its own algorithm that it uses to rank products. It's called the A9 algorithm.
A9 ranks products based on organically generated traffic and sales.
A new Amazon business will find it difficult at the beginning because new stores or new products don't tend to generate as much sales or organic traffic as established competitors. To overcome this, newer stores should be investing in relevant keywords that competitors are not using as much.
Just how Google uses backlinks as the measure of trust in a website, Amazon uses a host of metrics to decide which listing has the best chance of converting. Unlike Google, Amazon has a vested interest in your sales – the more you sell, the more they make.
Once you have the keyword, you need to use a tracker that will tell you how many clicks and searches you are getting for it. We recommend that you use KeyworX.
Competition analysis is an extremely important part of the Amazon ranking process. Knowing what people are doing not only makes your products 'market-ready', it also saves you time, resources and money. Thanks to the direct impact it has on ROIs, competition analysis has always been a vital component of our RANK process. If you'd like to know how a well-done competition analysis report can give your product a head-start, check out our order page to see what we offer.
Next Step – Analysing Competitor Listings
Competition analysis tells you what your competitors are doing. The next logical step is to do the very thing much, much better.
As we have just mentioned, one way you can do this is by looking at what keywords they are ranking well for and reverse engineer them to take for your use.
Another way is to go onto their listings themselves and take notes on how they optimise a product listing.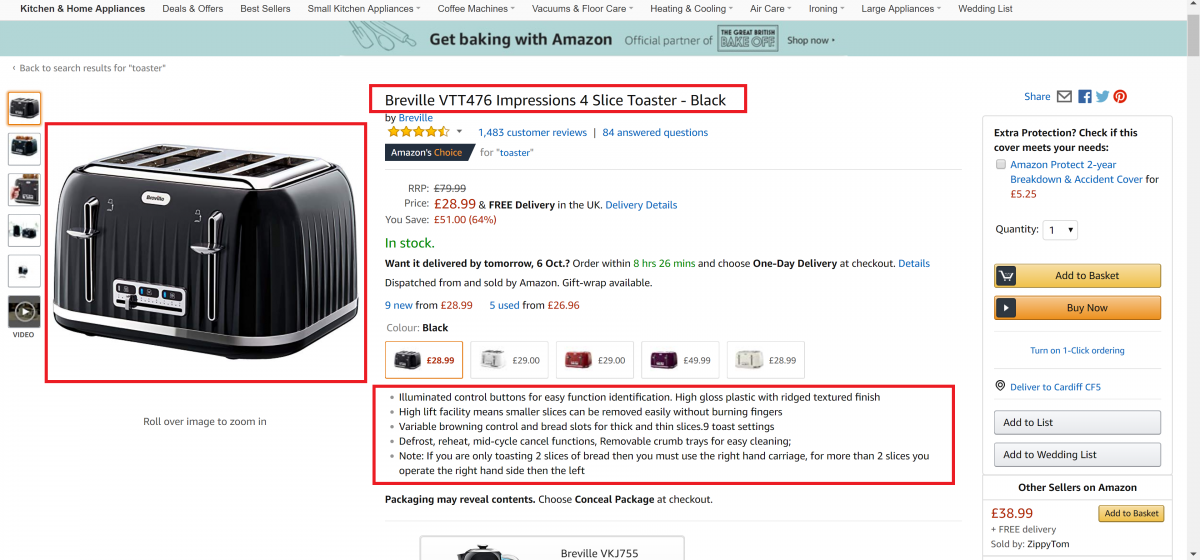 A9 looks for 3 things when it comes to a ranking a product:
Relevance: This is the first and the most heavily considered metric. In trying to serve their customers exactly what they are looking for, Amazon pulls up listings that have the highest degree of relevance to the search query.
Visibility: A9 loves products that do the hard work on their own. Product listings that gain visibility and gather momentum organically always rank higher.
Conversion Rates: As I said, Amazon wants to sell your product just as much as you do. To sell more products, they stick to listings that have a better history of conversions.
Each section of the product listing affects at least one of the three bullets. For example, the product title plays a big role in deciding the relevance, whereas the images are mainly for conversions.
When you analyse the listings published by your direct competitors, it's just as important to look at the bad examples as good ones. A direct comparison between the two will tell you – almost immediately – what the big differences are.
Stage 3: Product Development Improvements & Tweaking
I started this post saying that we will limit the discussion to the organic marketing side of things. However, the truth is, you can't expect any degree of positive results if your products aren't good enough. We see new products launched and new brands being unveiled on Amazon every single day. What's alarming is the fact that most of these bring no additional features, have no USPs, aren't competitively priced or provide value for money.
To get the best results from any Amazon marketing strategy, you need a product that you know people would want and like. Don't fall into the twilight zone of Amazon selling – hundreds of inferior products and listings aren't going to make your business any money. Product development has always been and will always be the most sustainable force behind sales. 
After the competition analysis and on-page optimisation elements are complete you should have an extremely good understanding of how to implement improvements into your product, whether this involves adding features, ways to reduce manufacturing costs, fixing problems other products have, or all of the above.
Basic business and economic processes are at work inside Amazon's search engine. Other sellers are going to out-price you if they can as the "market share" is up for grabs.
Market share in regards to Amazon can essentially be boiled down to "An extraordinarily high number of reviews including social proof past the level of buyer decision making."
Here's why product quality and features matter. Let's say you have to choose from two products that look the same, have similar listings and are at the same price point. The first one has 1,000+ good reviews at an average of 4.5/5, while the second one has 10 good reviews at the same average. Which way would you go? Amazon knows which!
Social proof is a direct function of quality. It can be a good indicator of how your product development plans are working out and what your next round of tweaks should focus on. 
Product development is a huge area that's best handled by experts. Since we – at our agency we only deal with the SEO and marketing side of things, I will only outline some important points in this regard.
How is our product different?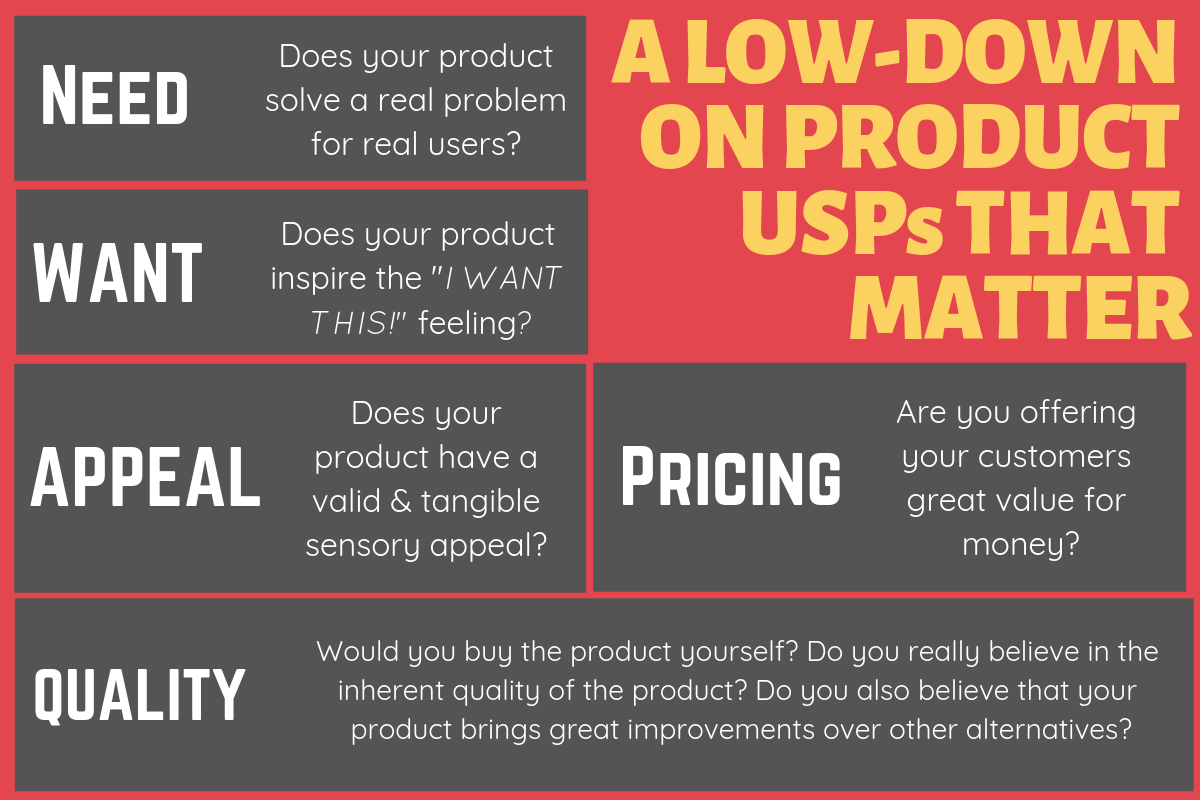 This is a criminally underrated aspect of product development. If you can't answer the question – How is our product different from dozens of others that look the same? – you aren't going to close many customers.
Do you think a customer would choose to buy your product if it was the same as another, but the competitors is either cheaper or has far more reviews?
No chance!
Your product must have a unique selling point.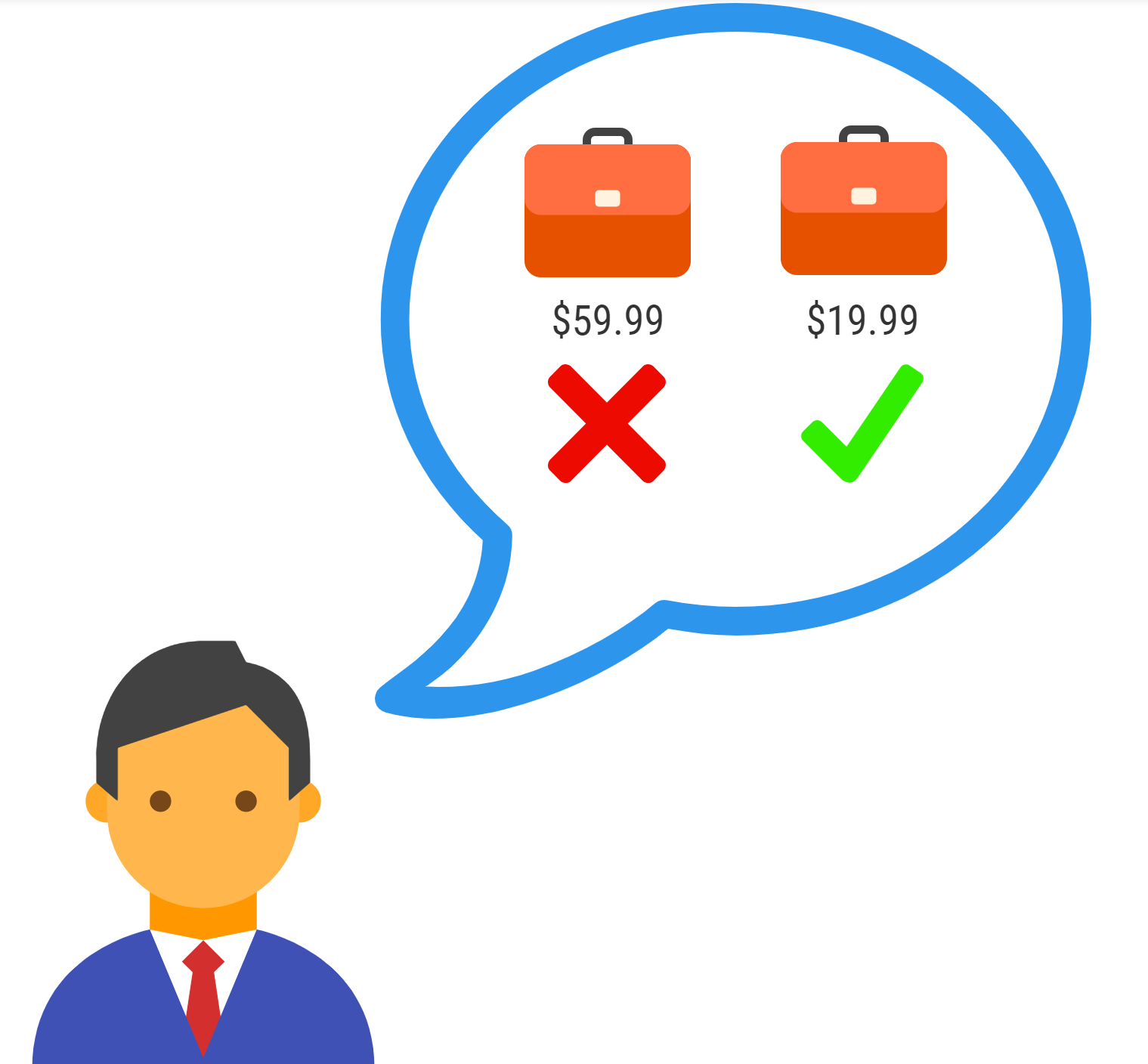 During the product development phase, it would be a good idea to offer a sample to a small test group. This will give you a good idea of the pros and cons your product currently has and from there, you can go back and improve it. It's better to collect this data before the product goes live. You don't want to harm your organic searches before you've even really begun. If it has been received well by the test group, expand the audience and create a landing page for it. Request for visitors to receive email updates about your product so that when it's available for them to purchase, they can use a link in the email to direct them to the product.
Every purchasing decision is based on five factors: need, want, appeal, quality and pricing. If your product has many USPs that align with all of these factors, you are on the right track. 
This is another way you can create organic searches for your product. Our original RANK process for Amazon Sellers is designed to encourage users to leave unbiased reviews that can greatly improve sales as well as the quality of your products. You can purchase keyword driven rankings right here!
Stage 4: Product Launch (Phase 1)
I like to split a successful product launch into 2 phases.
This can be thought of like the soft launch and real launch process that many brands now implement for larger releases of new products.
Drumming up interest before your product is available to purchase can generate a lot of hype. This can be used in your favour to boost organic rankings. Techniques such as creating content that pre-frames the product so that when it eventually becomes available, you already have a number of users waiting to purchase (we'll talk about why this is so important later on).
Other strategies such as social media or paid advertising work incredibly well if you have an experienced team to implement these.
According to Ambassador:
71% of consumers who have had a good social media service experience with a brand are likely to recommend it to others.
While we don't recommend setting up Amazon businesses on the spur of the moment (trust me – we come across dozens of FBA ideas every day), we have always advocated the need of social media presence of every business, small and large. So, if you're trying your hand at selling stuff on Amazon, start off with consistent and similar social media profiles to generate some buzz.
Initial Reviews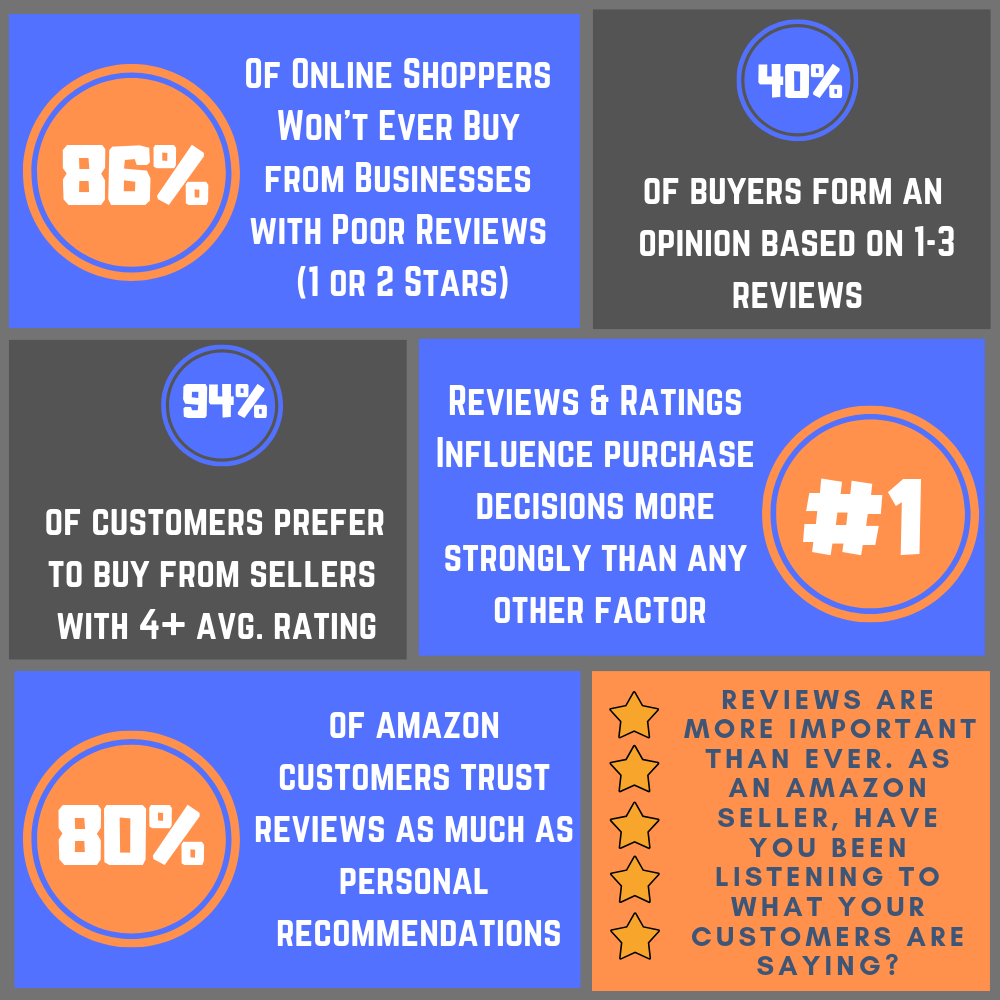 A great product, a listing that does this product justice and a bunch of pre-sold customers – these are three things you should have at your disposal during the launch phase one.
The issue here is, like everything else in business, it's tough to get going if you do not have any reviews, case studies or testimonials. In Amazon's world, everything is about those 5 shiny stars.
The only way to get a product properly reviewed is by the customer purchasing the product, using it themselves and have them write up about their experience.
Reviews are the lifeblood of Amazon businesses. 94% of regular online shoppers read reviews before checking out. On Amazon, customers who receive heavily discounted or free items are much likelier to leave positive reviews. 
You need to be aggressive in chasing for the first few initial reviews. Be proactive and seek them out. There is no downside to having a 'get 12 reviews or die trying' mentality.
Ask for Reviews
When a customer buys your product, make sure that they are sent requests to review it.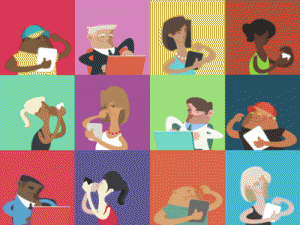 If there's one thing we've learnt running a successful Amazon marketing agency, it's that customers aren't obligated to act on your behalf. If you want them to provide feedback, you need to seek it out. If you want them to leave reviews, you need to ask for them.
Don't keep yourself from asking for reviews. We've learnt over the years that the best reviews you are going to get won't appear until you actively seek them out. A thing as simple as including a personalised review request in the product packaging can go a long way in this regard.
Be sure, however, not to go overboard. A couple of personally targetted emails should ideally do the trick in most cases.
Personal Networks
Alright, this is a rather contentious issue. Amazon's ToS advises sellers against using reviews from friends and family. At Amazon SEO Consultant, we prefer to stay on the right side of Amazon's policies. However, believing firmly in the ethics of legitimate purchases, we have already discussed why Amazon can't possibly track what they consider 'fake' reviews.
Having already propelled over 1,000 new products to the top of the Amazon SERPs with our home-grown Amazon product marketing strategy, we can say with confidence that your personal network can be the easiest and fastest way of gaining the first few reviews.
Stage 5: Product Launch (Phase 2) & the Organic 7-Day Window
Here's what you need to kick-start phase 2 of product launch: A user-tested product, a baseline of at least 20 reviews, sufficient inventory to meet the demand, a work-ready PPC set up (our Amazon PPC guide is a good starting point for this), a product listing that has been split tested, optimised and streamlined and, of course, compelling imagery/EBC features.
The importance of the Organic 7-Day Window cannot be overstated.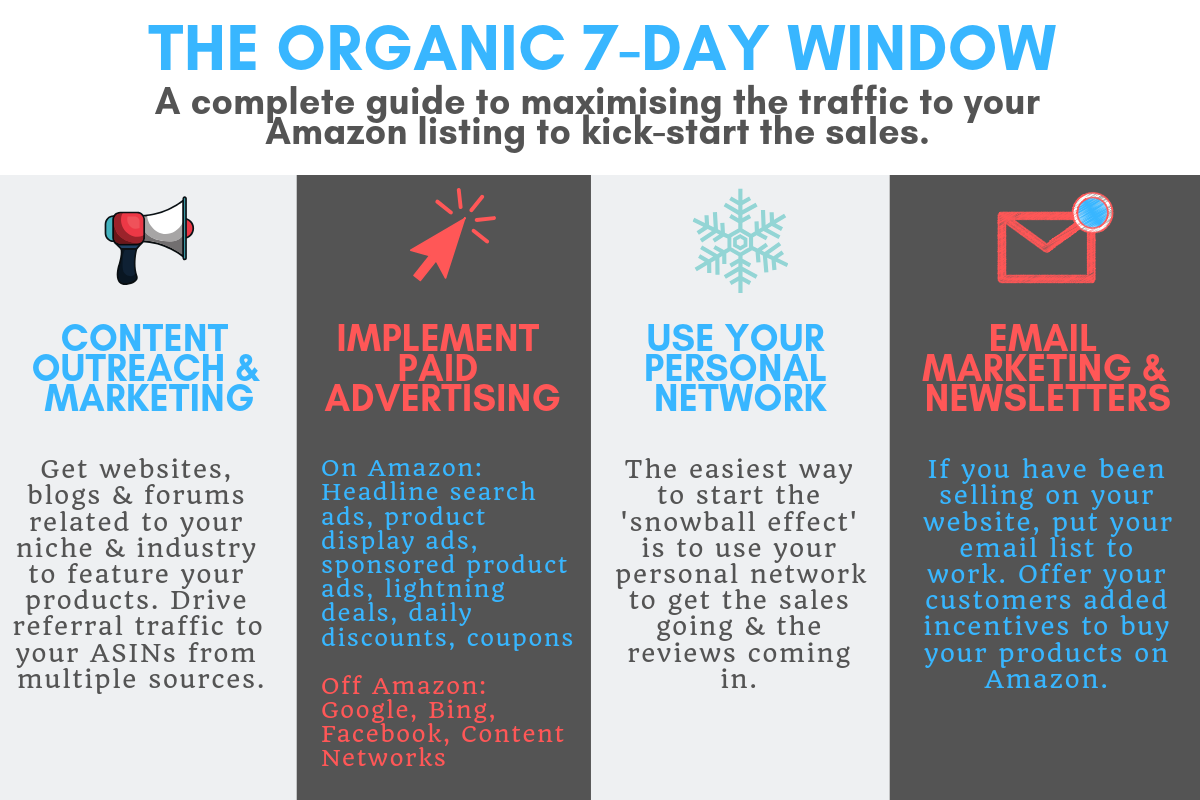 You need to generate as many real sales as you can in this time frame. There are multiple reasons why real sales are essential moving forward instead of discounted product sales but the core one is that these really move the organic rankings needle, especially if there's a keyword search function implemented too. That said, it's always a good idea to put your brand and products in front of potential customers using various deal options Amazon offers. Remember – real and full-priced sales count more heavily towards organic rankings.
This video goes in-depth on how to rank your product first in Amazon so we highly recommend having a watch if you have the time:
Either way, here are some more tips on how you can go about maximising your organic sales in this organic 7-day window:
Content Outreach
One of the first ways to generate initial sales is to get in touch with sites that are already linking to your competitors and simply offer them the same benefits as well as an additional incentive.
Another great advantage of using this method is that your customers will be linked directly to your product page and not just a search function in Amazon, meaning they are less likely to bounce over to a competitor.
Here's an example of a content piece about the best 5 trainers for flat feet on a fitness affiliate website called Ghost Fitness.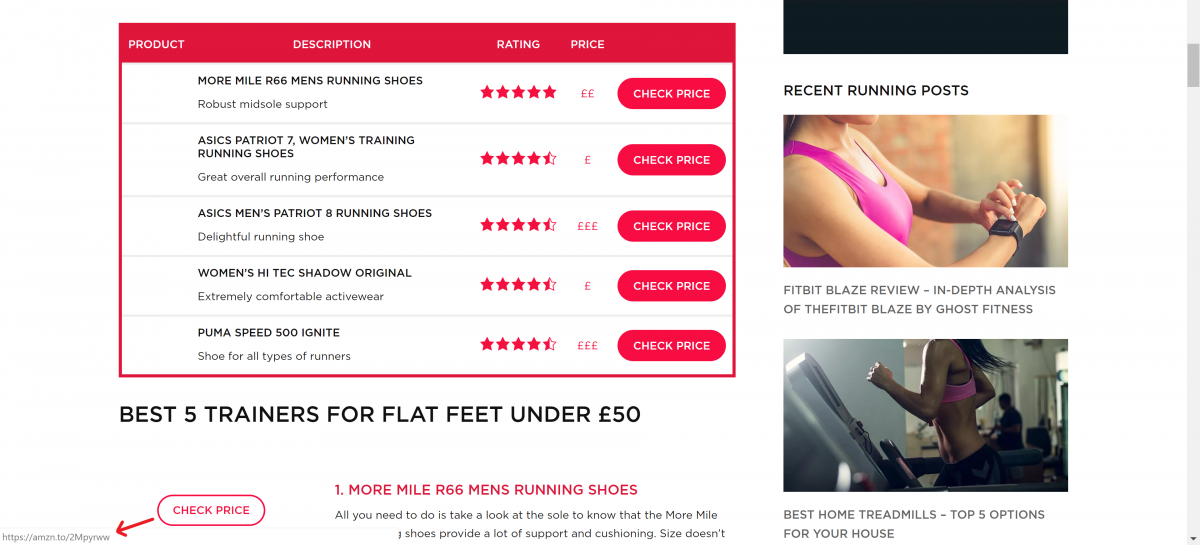 If someone clicks one of the links and goes on to purchase, the owner of the site earns a small commission. As a result, if you offer a better product (that will convert higher) they should want to implement this. But truth be told, in many cases, you have to "grease the wheels" and pay for placements on these lists. But the benefits far outweigh the costs.
Relevant and current content is also likely to be shared with friends, colleagues or associates. This will increase your exposure to a wider audience, driving more referral and social traffic to your product pages – a certain indication to Amazon that your product is worth pushing up the SERPs.
Implementing Paid Advertising
This method guarantees your product to be seen by potential customers on Amazon because Amazon is paid to show them – a simple give-and-take model of business.
There are three options available for a PPC campaign:
Headline Search Ads
Sponsored Product Ads
Product Display Ads
Headline Search Ads
These are displayed as a banner across the top of the search results pages. They are the most noticeable of all sponsored ads, generating the most clicks. Because of this, they tend to be the most expensive out of the three options.
Here is an example: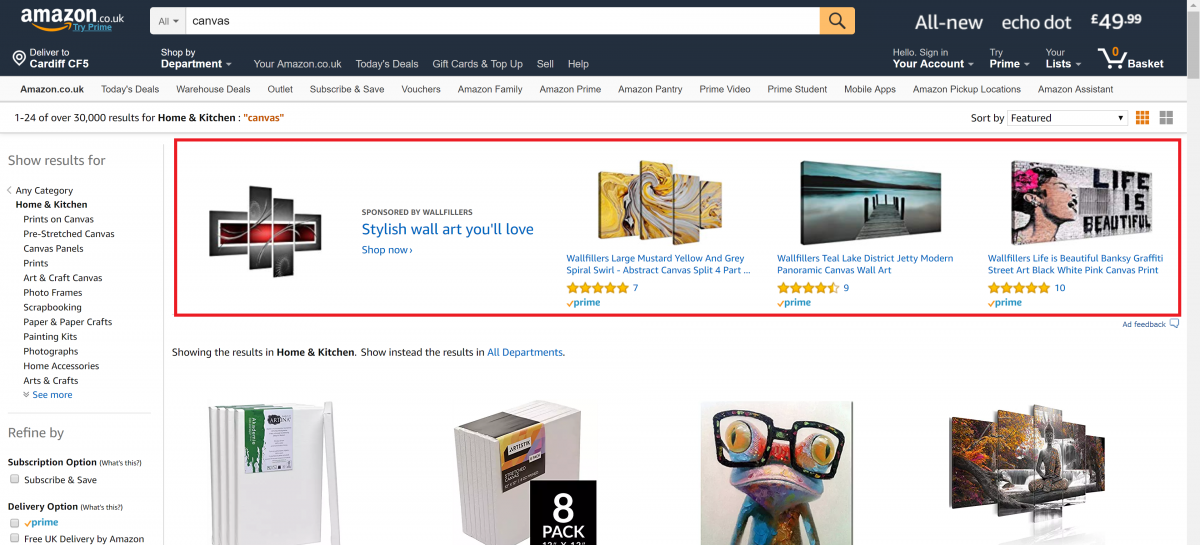 Sponsored Product Ads
These are similar to Headline Search Ads in that they show up near the top of the search results pages but they are shown slightly lower down the page. These ads are used to fill spots for individual products.
Staying with the canvas search term, here are examples: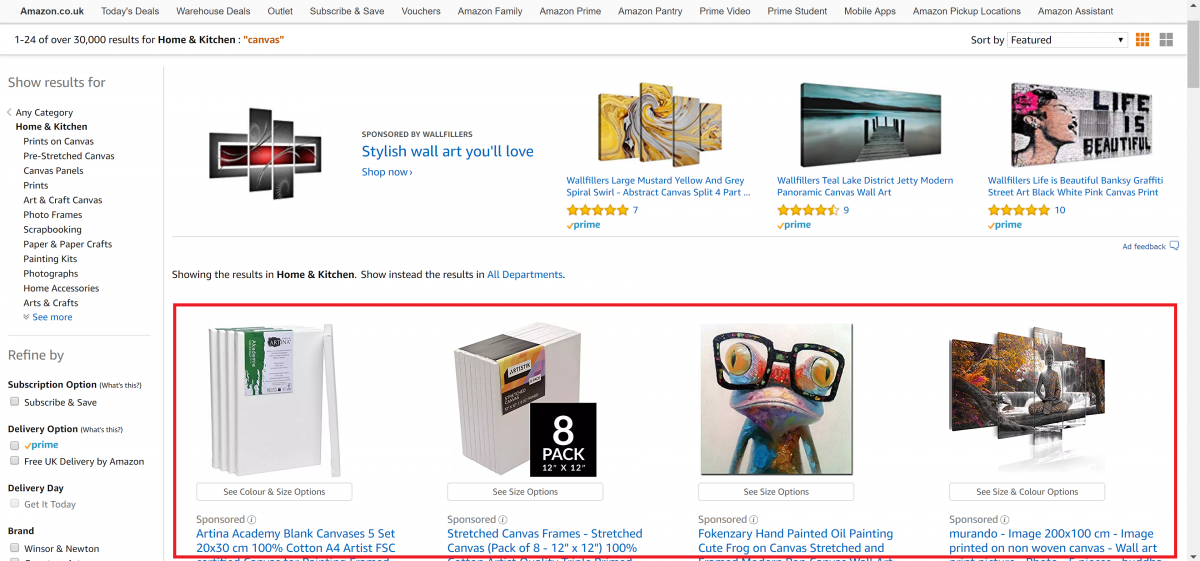 Product Display Ads
Both Headline Search Ads and Sponsored Product Ads are dependent on keywords.
Product Display Ads, on the other hand, are shown to customers based on their browsing habits. They appear on product pages as a function of three factors:
a. The product the customer is already looking at
b. The products the customer has added to their wishlist/cart in the past
c. The search history and patterns
Here's an example: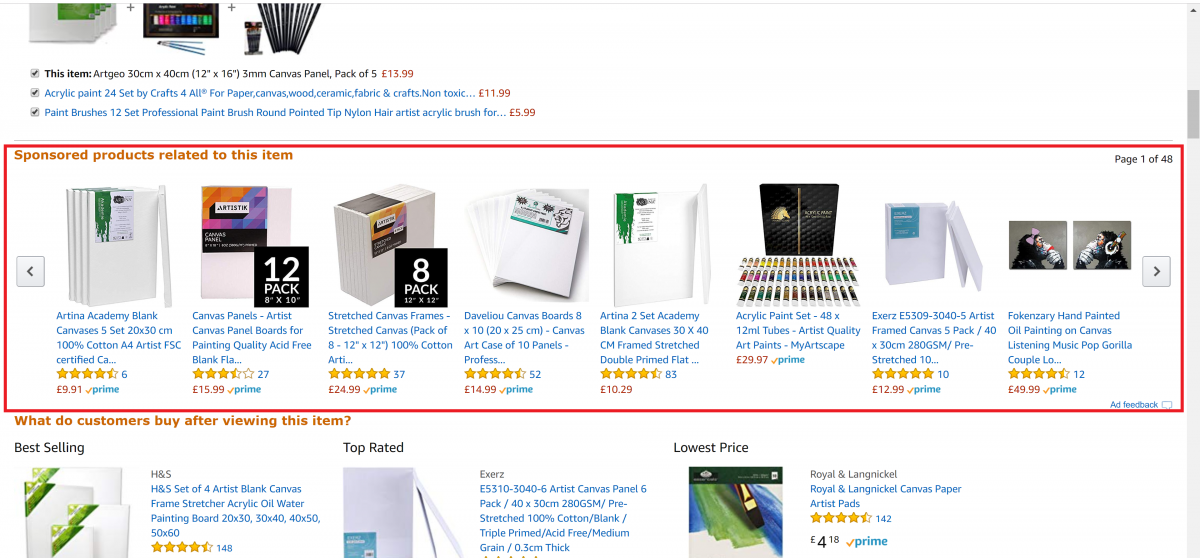 Implementing Amazon PPC ads does influence organic rankings – in a big way. It may not be the most cost-effective way, but it is the best fire-starter you need to explode the organic sales for your products.
By running PPC ads through this 7-day window, you drive more traffic to your product listings. More traffic means better CTR, higher conversion rates, more sales and more reviews. In short, running a quick PPC campaign gets your Amazon listing up and running at full throttle.
Our Amazon PPC Guide has all the answers to your questions in this context.
Implementing Paid Advertising (External Sources)
You need to have ticked certain boxes in terms of sales, reviews and clicks before Amazon SEO can actually benefit your product listings. While you wait for this, it's always a good idea to use third-party advertising platforms.
Using mainstream advertisers like Facebook, Google and Twitter, you can reach millions of potential customers at fairly reasonable costs. You can also contact bloggers from your industry to strike deals for banner ads and sponsored articles.
Have an Email List? Put It to Good Use!
Email marketing and newsletters are – even today – extremely effective in boosting conversions.
If you already have an email list of existing customers, you can launch email campaigns to get those first few precious sales going.
Don't Shy Away from Participating in Lightning Deals
Deals are all the rage – as they always have been. Online shoppers love nothing more than a hefty coupon code that works – and this is where you can set the wheels in motion for your products. Participating in lightning deals and daily discounts that Amazon regularly offers to their customers puts your products in front of millions of people – usually at little costs other than slashed prices.
Use your network
Use your network of family and friends to purchase the product at full RRP. It may not sound appealing, it may not look pretty – but it works. All you need are a few snowflakes to start a full-blown snowball effect.
Get as many of them as you can to buy your products and leave honest reviews. Once again, you have nothing to lose if they don't, and everything to gain if they do.
Stage 6: Keyword Focused Sales
This is the single most effective, efficient and sustainable way of creating an inventory of best-selling, top-grossing products. This is what got us started, this is how we made a name for ourselves in the world of Amazon marketing and this is what we are passionate about. In short, this is our turf.
Once the listing is live, and you've put processes in place to ensure the first 7 days will get the most sales possible, it's time to track where your keywords are ranking on a daily basis.
This can only be done by using a competent Amazon tracker tool. Many novice sellers try to track keywords using inefficient tools and dubious services. A word of warning – it won't work. Amazon Marketplace is a semi-closed ecosystem that is notoriously difficult to get a hang of. So, it's always better to go with a service that has a proven track record of performance.
The only keyword tracking solution we recommend to all our readers is the KeyworX tracker tool. We use Keyworx, in tandem with multiple other professional grade tracking programs, to track individual keywords and corresponding sales with incredible efficiency.
Here is a screenshot of it in action: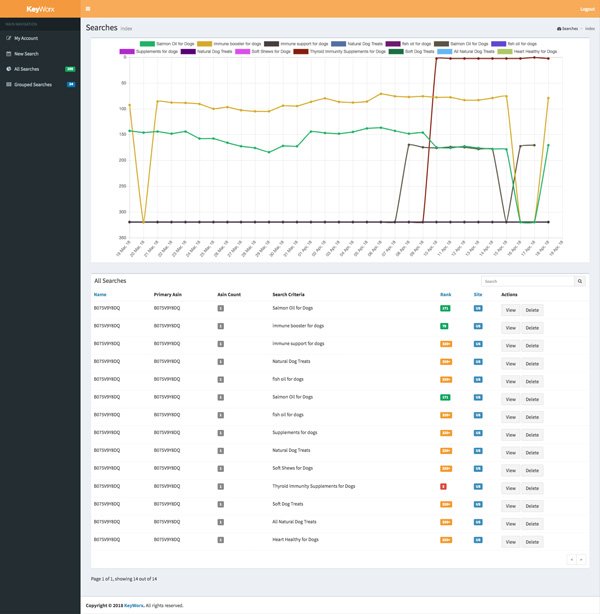 This gives you an insight into how each keyword has been contributing to the sales.
Tracking keywords focused sales affords you two valuable optimisation signals:
a. You can pinpoint what's working well so that you can scale it up.
b. You can also find what's wasting your character/keyword budget so that you can weed it out to improve the listing.
As an Amazon Seller, you should always – without exceptions – concentrate on mobilising your listings in the upward direction for important keywords. Ending up on any page other than the first isn't and shouldn't be acceptable. 
Your number one priority should be to get your product on the first page for your primary keyword(s). Once achieved, natural organic sales will start to take over and assuming you have a good product, your brand will continue to grow as a result. If your listings are at subsequent pages, you really need to ramp up your keyword focused sales using various marketing techniques we've talked about here.
Failing to do this will not only give your competitors a clear way ahead of you, but it will also spell the end for your business. It may sound harsh – but that's the brutal reality of selling on Amazon. Without a game plan, there really isn't any game to play.
Of course, if you aren't sure on how to go ahead with this even after reading this guide, you may wish to look at our order page to purchase keyword focuses sales directly from us, increasing your Amazon sales revenue 10X with guaranteed ranking increases that work every time, while you focus on running your business and finding new products.
Treat Organic Rankings As Your Cornerstone KPIs.
Out of all the key performance indicators you will be tracking, organic rankings are at the heart of all of them.
In fact, organic rankings are what you get when you boil every important indicator down to a measurable number. So, essentially speaking, improving organic rankings is the only sure-fire way of improving sales on Amazon.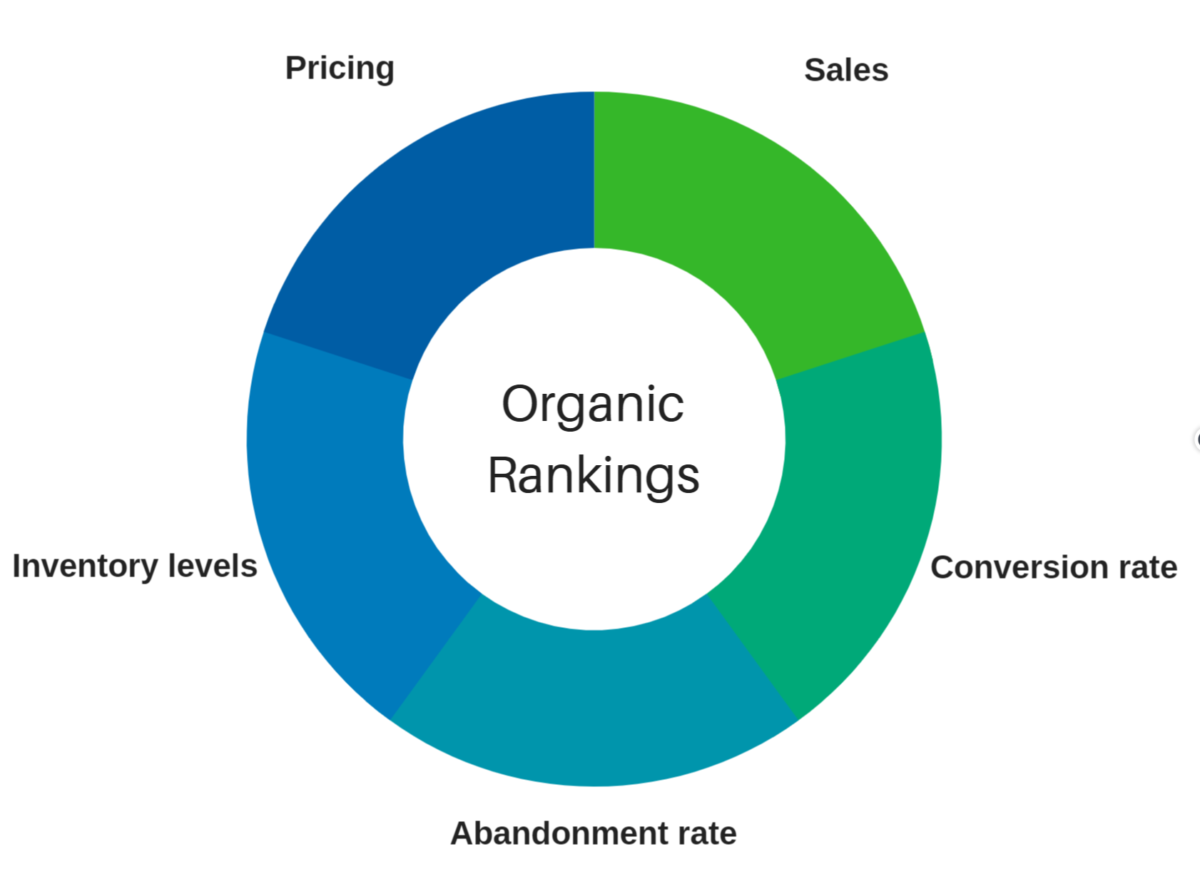 As you can see in the graphic above, organic rankings are influenced directly by the top 5 Amazon KPIs.
The organic ranking of a listing is what you get when you put together the effects from all other KPIs. So, treating organic rankings as your most important KPI automatically takes care of every metric involved in the process. The means may change and the themes may evolve, but the focal point of every Amazon marketing campaign should always be sales driven by organic rankings. 
Amazon's A9 algorithm constantly evolves depending on changes to the market and the environment. In a world now dominated by wanting everything as fast as possible and influenced by social media, demands can change at a rapid pace. While it's equally important to track and optimise every single indicator, doing it, on the whole, is what really counts towards registering sales.
View our Case Studies to see how we've used our Amazon marketing & SEO strategies to help over 100 sellers earn more through Amazon!
Don't Get Stalled – Skyrocket Your Sales with Amazon SEO Consultant!
This is our comprehensive Amazon marketing strategy we use to help clients grow their Amazon businesses by focusing on increasing organic rankings first. We have based this strategy on two counts – boosting short-term sales to improve the ROI and creating a stable platform to launch a sustainable and profitable business in the long term.
Being an Amazon Seller isn't easy anymore. The low barrier to entry has already spawned countless spin-offs that end up eating into the profits of legitimate, quality-centric businesses like yours. The best way to tackle this problem is by following a well-planned marketing strategy.
At Amazon SEO Consultant, our bespoke RANK process is designed to help Amazon businesses up their game through a series of extensively researched, tested and proven-to-work steps. Having already helped dozens of struggling Amazon businesses turn the corner in a matter of weeks, we bring on board the most diverse set of skills, expertise and on-hand experience.
You know your Amazon business has what it takes to make it big. We – at Amazon SEO Consultant – know how to unlock this potential with marketing strategies that give you some of the best possible ROIs going around. Request a proposal today for quick, reliable results that push your products up the rankings every single time and boost your profits immediately!
To learn more about how we make our Amazon product rankings stick in the long term, take a look at this video: