Reviews are a major part of the buyer decision making process – in many cases, the most important part.
Back in 2019, we brought you an in-depth guide to getting more reviews in Amazon.
While that post is still relevant and actionable today, (we recommend checking it out if you haven't already), some things have changed in regards to how to remove negative reviews on Amazon.
One obvious change is the removal of the ability to comment on a review, which reduces your options when it comes to dealing with incorrect or unfair ones.
However, this doesn't mean you're out of options entirely. For brand registered sellers, Amazon has released a new function that can be very powerful if used correctly. You probably already guessed, but it's the "Contact the Buyer" feature.
Responding to Negative Amazon Reviews
Please note that this is only applicable to Brand Registered sellers. We have pointed out the benefits of Brand Registry before and this only increases them.
Now, let's be clear – the first step in the battle against negative reviews is to have an excellent product. If you have one, you're in the best possible position to build up positive reviews, receive a minimum volume of negative ones, and keep your overall star rating looking good.
On the other hand, if you're selling a product that has glaring issues, all of the review strategies in the world won't save you from regularly receiving bad feedback.
If all or most of your negative reviews focus on one feature or issue people have with your product – it is worth spending the money and time to fix this issue before continuing – as this will dramatically reduce the results you can experience with this strategy.
Unfortunately, shoppers are much more likely to leave a bad review than a good one. More often that not, a "good product that makes the buyer happy" is just what is expected.
It takes over 20 positive reviews to reduce the impact of a single negative review and mitigate it's effect on your overall star rating.
Contact Buyer
To use this new feature, in your Brands menu, select "Customer Reviews".
Any review that is less than 4 stars will have a button next to it saying "Contact Buyer".
This will then give you the option of either refunding the buyer, or simply sending them a message.

If you choose to send a message, Amazon provides a useful template: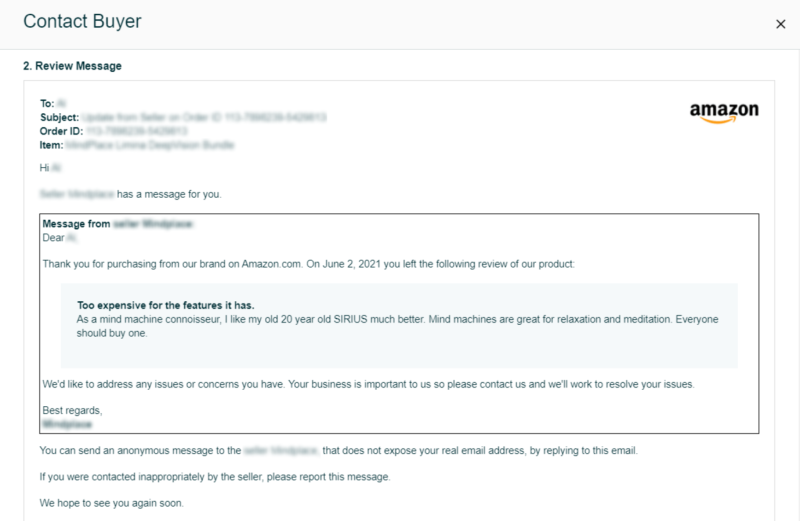 This is your chance to provide brilliant customer service, put the issue right for the customer, and hopefully get them to edit or delete their review as a result.
Please remember – the final onus for changing the review lies on the customer, and if they decide not to, you have no further options. It's also against Amazon's terms to directly ask them to delete a review, which is why you have to be a little strategic with your messaging.
Here are some tips for how to respond:
How to Respond to Negative Reviews on Amazon
In order to connect with your customers, build brand authority and loyalty, and reduce your negative feedback, you need to show customers that you provide an excellent service, that any order where this isn't the case is an aberration, and that you are willing to do whatever it takes to make things right.
Here are our most effective steps to follow for doing so:
Ensure the Review is Legitimate
It's a shame this has to be a point at all. But unfortunately, it's very common for competing brands to leave false negative reviews in order to hurt their competition's brand image.
There have also been cases where dodgy sellers have sold counterfeit branded items on Amazon, leading to wildly inaccurate negative reviews on the listing page for the actual product.
If you believe this may be the case, or that the reasons given for the negative review are unreasonable or impossible, report the review to Amazon and you may find that it gets removed automatically.
Respond Professionally & Without Emotion
Remember, a negative review isn't a personal attack. Even an unfair one based on a misunderstanding of the product. Even a meanly written one that is deliberately trying to offend you.
The reviewer doesn't know who you are or where you are, and therefore your response should be based on facts only – what did they pay for, and did they receive it? If so, how can you confirm this? If not, how can you ensure they do?
For example, if a customer ordered a blue variant of your product but wanted green, a screenshot of the listing title with "blue" and the product image will often be enough to make them realise their error. Regardless, wording this in a polite way and avoiding making them feel stupid about the situation will make them come away with a more positive outlook.
Customers are more likely to buy products with a lack of negative reviews, or that clearly have a customer-centric model.
Therefore, simply replying in the correct way will not only make them more likely to be a repeat customer in the future, but will have a negative impact on others too.
The "ask for review" button is also a helpful way to boost positive reviews and help drown out negative ones. It should be used on all of your orders once they have been delivered a set amount of days ago (usually 7-14).
Put The Issue Right
The above example where the complaint is entirely the customers error, is easy to resolve. But what about if they're justified? Maybe the fault is yours and one of the units was damaged or unfit for use. Maybe it's Amazon's fault and the wrong variant was dispatched.
In this case, simply show that you care – apologise profusely and provide some perspective on what went wrong from your end. Offer a refund or the correct variant to be dispatched immediately, ensuring the buyer gets what they originally expected. If the buyer is happy with the action you've take, they'll usually remove their negative review or add an edit to update people with your solution. If they don't you could always try nudging them to do so a few days later. This will help protect any future orders from that customer, any that may have been discouraged by their negative review, and help protect your brand image, all while you're still building up your positive reviews.
Look for Reoccurring Issues
If your reviews all mention the same issue, it's likely this is a genuine problem with your product that needs to be fixed in order to dramatically reduce the volume of negative reviews in the future.
Likewise, if all of your positive reviews sing the praises of one feature or factor of your product – add this info to the listing to sell your benefits better and hopefully increase sales.
Looking for Help?
As the #1 Amazon marketing agency, we can offer a wide range of review management strategies including white and grey hat solutions.
To discuss the best way to maintain your review count, contact us now with your enquiry.